The discussion for today is all about the best WooCommerce Partial Payment Plugins.
Now, before we get into the review of the WooCommerce deposit and partial payment plugin, you should probably know something:
What is partial payment?
Partial payment is the amount a user can pay that covers a portion of the total amount. For example, lets say a product costs $1000 dollars and you, the admin, is allowing 20% partial payment. It means if the customer can buy the product by paying 20% of the full invoice cost – $200 to be exact, as long as the full payment is done before a pre-defined period.
And you can do these things with a WordPress deposit and partial payment plugin.
Our review consists of a couple of great partial payment plugins that are easy to use. We took into account their features, usability, and pricing to judge their overall usability.
So, without further ado, let's get started!
Best WooCommerce Partial Payment Plugins – The Choices
There are plenty of plugins out there for enabling WooCommerce partial payments for your online WordPress store. However, not all plugins will allow you the ability to easily configure the settings. Sometimes, the set up is way too complicated.
That's what we tried to avoid!
We wanted to provide you with options that are easy to use and doesn't take too much time to setup.
Here are the top choices we could find:
The ProductX partial payment feature allows users to configure partial payments for customers with ease. The feature comes bundled with the ProductX WooCommerce builder plugin.

One of the notable features of the plugin is the fact that you can create full WooCommerce sites using the ProductX plugin. Also, you can enable product pre-orders, back orders, currency switchers, and more – all with just one plugin.
The key selling point of the partial payment in ProductX is the fact that it's super easy to configure. Let's see what else it can offer.
Key Features
It's a feature that's very easy to set up.
A dedicated partial payment setting panel for smooth control.
Disable payment deposit methods from the controls.
Set custom deposit status from ready-made options.
Enable different partial payment methods with ease.
Partial payment works for variable products as well.
It is a part of a plugin that enables you to build complete online stores.
Pricing
The ProductX WooCommerce partial payment feature comes as an addon with the ProductX builder plugin. Pricing for a single site license with 1-year support starts from $49. For a lifetime license, pricing starts from $149 for 1-site.
And yes, there is a free version of the plugin available for you to try out.
Who Should Use This Plugin?
The ProductX plugin isn't just for users who are looking to use the partial payment feature. It caters to users who want to create proper online WooCommerce stores and take advantage of the partial payment feature. If you're one of those users, do check out the plugin and take it for a spin.
The WholesaleX partial payment is another great option – if you are looking to set up a partial deposit payment feature for wholesale customers. It's a feature that's convenient to set up for a B2B wholesale store without any hassle.

And the great thing is, it comes as a part of the WholesaleX plugin – a B2B WooCommerce wholesale plugin that allows the ability to set custom user roles and dynamic rules to make wholesale purchases easier. Also, features like the custom registration and login form builders offer excellent usability, both for the store admin and the customer.
The partial payment feature of WholesaleX is a part of the WholesaleX wallet – you need to enable it through the WholesaleX wallet settings for partial payments on your WooCommerce wholesale store.
The execution of this partial payment feature is a bit different (we'll talk about it later on). For now, let's look at the key features:
Key Features
It's super easy to set up with the global and local settings.
Top up your WholesaleX wallet and use it for partial payments.
Allow partial payment for specific user roles.
Enable WholesaleX wallet partial payment for offering payment discount.
An opportunity to create a wholesale store along with the partial payment feature.
Pricing
The partial deposit feature is a part of the WholesaleX plugin – you can use the free WholesaleX plugin and see if it the feature is worth it.
The are 3 types of paid plans with a starter and a lifetime option. The pricing for the starter pack with 1-year support for 1-website starts from $129. The agency plan with 20-website support for 1-year (the most popular plan) starts from $299. The lifetime agency pack with 20-website support will cost you $699.
If you wish to grow your business, you may want to check out other pricing tiers.
Who Should Use This Plugin?
The plugin is for wholesale B2B and B2C users who are looking to offer the partial payment feature to their clients. Not only that, the users are getting to use advanced features of the WholesaleX plugin.
If you are one of these users, do check it out.
Deposits and partial payments for WooCommerce is another great option for users who are looking to enable partial deposits for the customers.

It is a standalone option that can help users make partial payment on pricey products – allowing you to retain potential customers (more on that later).
Here are the key features:
Key Features
You can enable store-wide partial payment control.
Deposits and partial payments control is available for unauthenticated users.
Partial payments can be enabled as fixed or percentage amounts.
You can enable product-level partial payments with the settings.
Pricing
Pricing for the deposits and partial payments plugin for WooCommerce starts from $43 for 1-site with support for 1-year. They also have lifetime plans as well. A free version is also available.
Who Should Use This Plugin?
It is a great standalone option for users who are already using some WooCommerce plugins on their online stores. If you are looking for an individual plugin for WooCommerce deposits and partial payments, make sure to check it out.
Another nifty plugin in our list of the best WooCommerce partial payment plugins is one from Codeixer. The deposits for WooCommerce is a user-friendly WooCommerce part payment plugin that has all the necessary features you need to set up deposits and partial payments for your E-commerce store.

So, what features can you expect from this plugin?
Key Features
Proper controls for setting fixed deposits or percentage deposits.
It features support for all types of payment methods.
Setting up partial payments is easy enough.
Custom settings for individual products is available.
Pricing
This plugin has 3 different pricing plans. The starting price for 1-website license with 1-year of support is $59.
Who Should Use This Plugin?
It's a simple and easy to use plugin anyone can use. If you need a plugin that helps with product deposits and partial payments, definitely give it a try.
How to Add WooCommerce Partial Payments to Your Online Store?
There are different ways you can control partial payments for your WooCommerce store. In this discussion, we will share 2 different scenarios here:
How to Enable WooCommerce Partial Payment for Retail Products?
The process for adding partial payment for a retail product is super simple with the ProductX WooCommerce plugin. Here's how to do it:
Install the ProductX WooCommerce plugin
Enable the Partial Payment Addon from the ProductX Addon Settings
Go to a product
Enable partial payment for that product
Select the deposit type (fixed rate or percentage)
Set the deposit amount
Update the product
Here's a quick video to help you out:
If you follow these steps, in the product page, you will be able to see the partial payment option added to the specific product page [The product where you want the partial payment option to be enabled].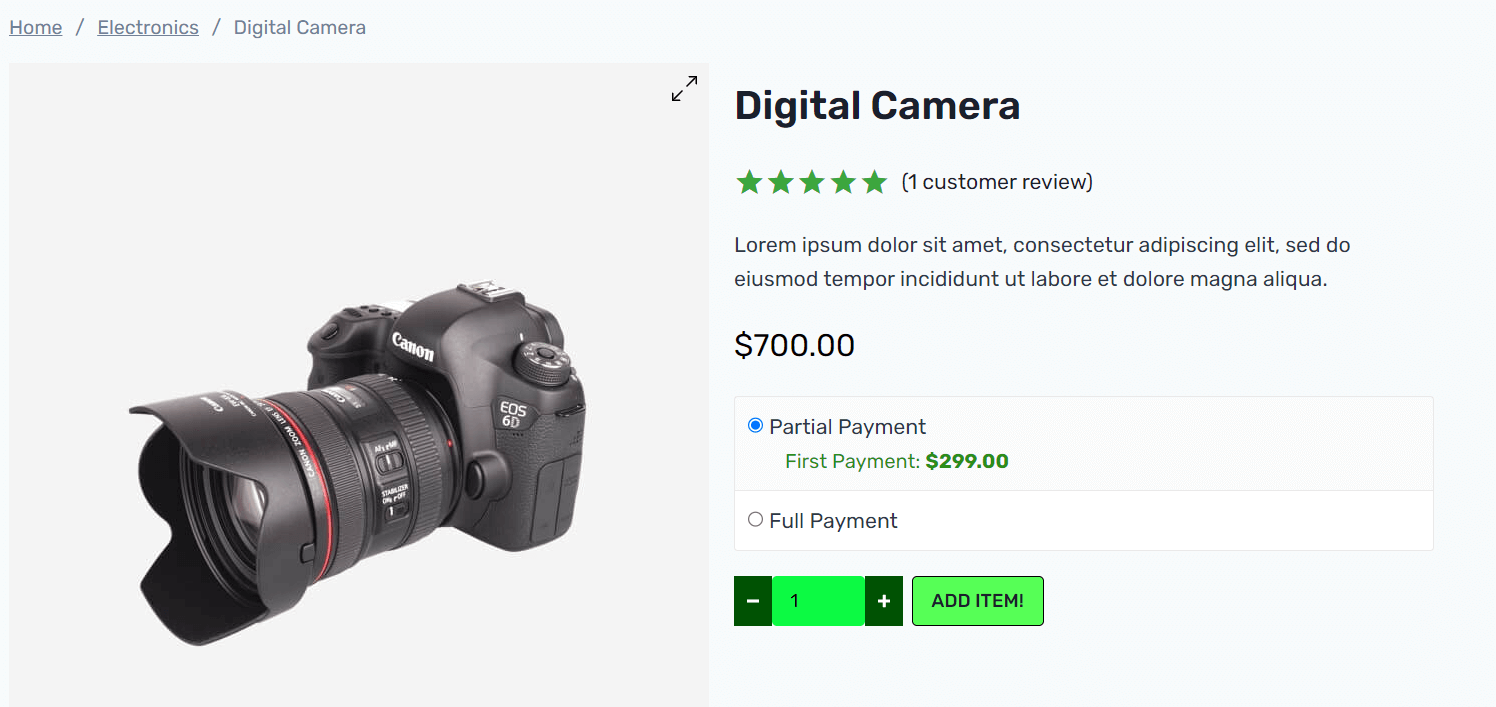 In the checkout page, you will see the following: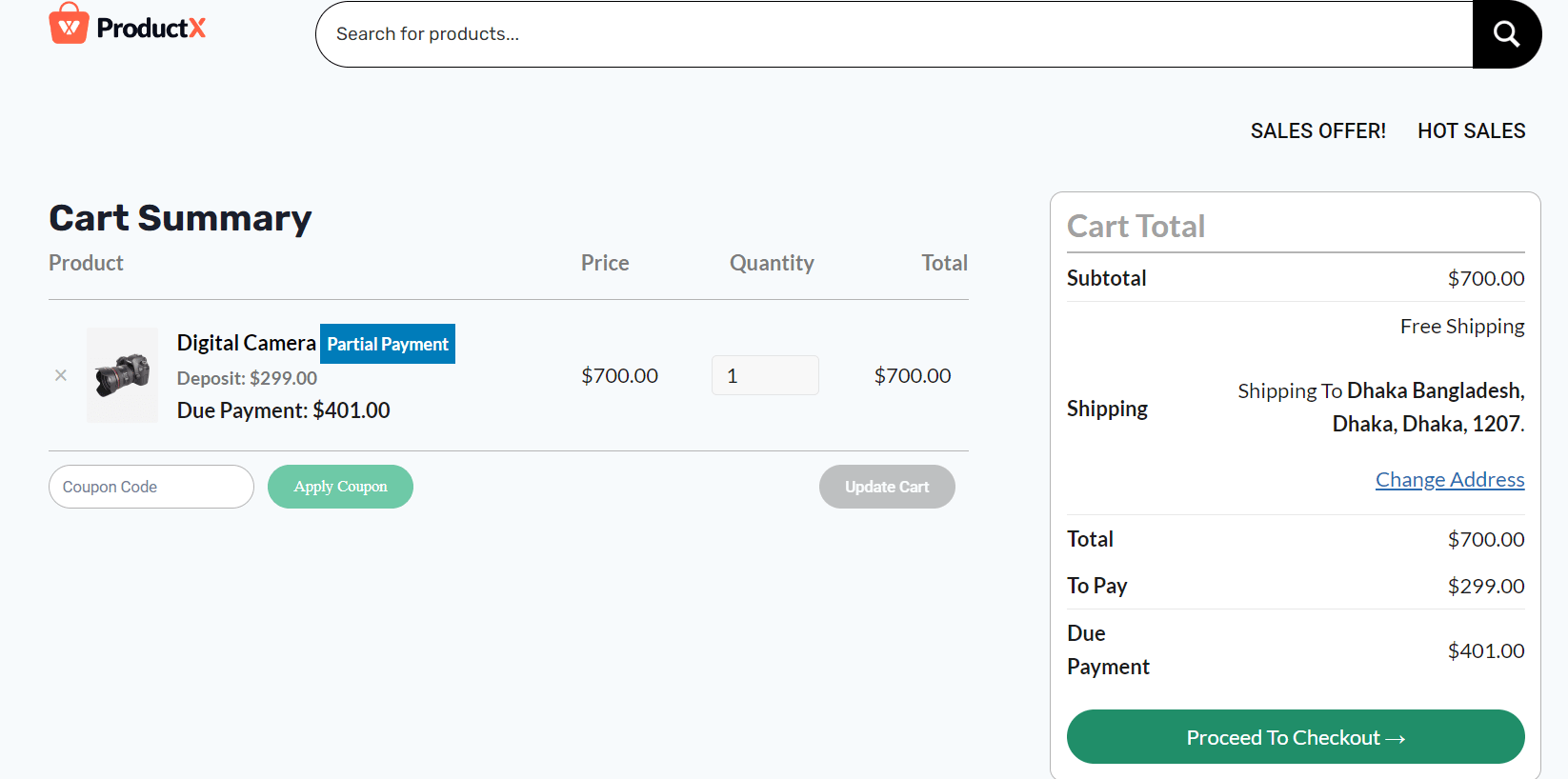 Finally, once you complete the payment, in the thank you page, you will find the following order details: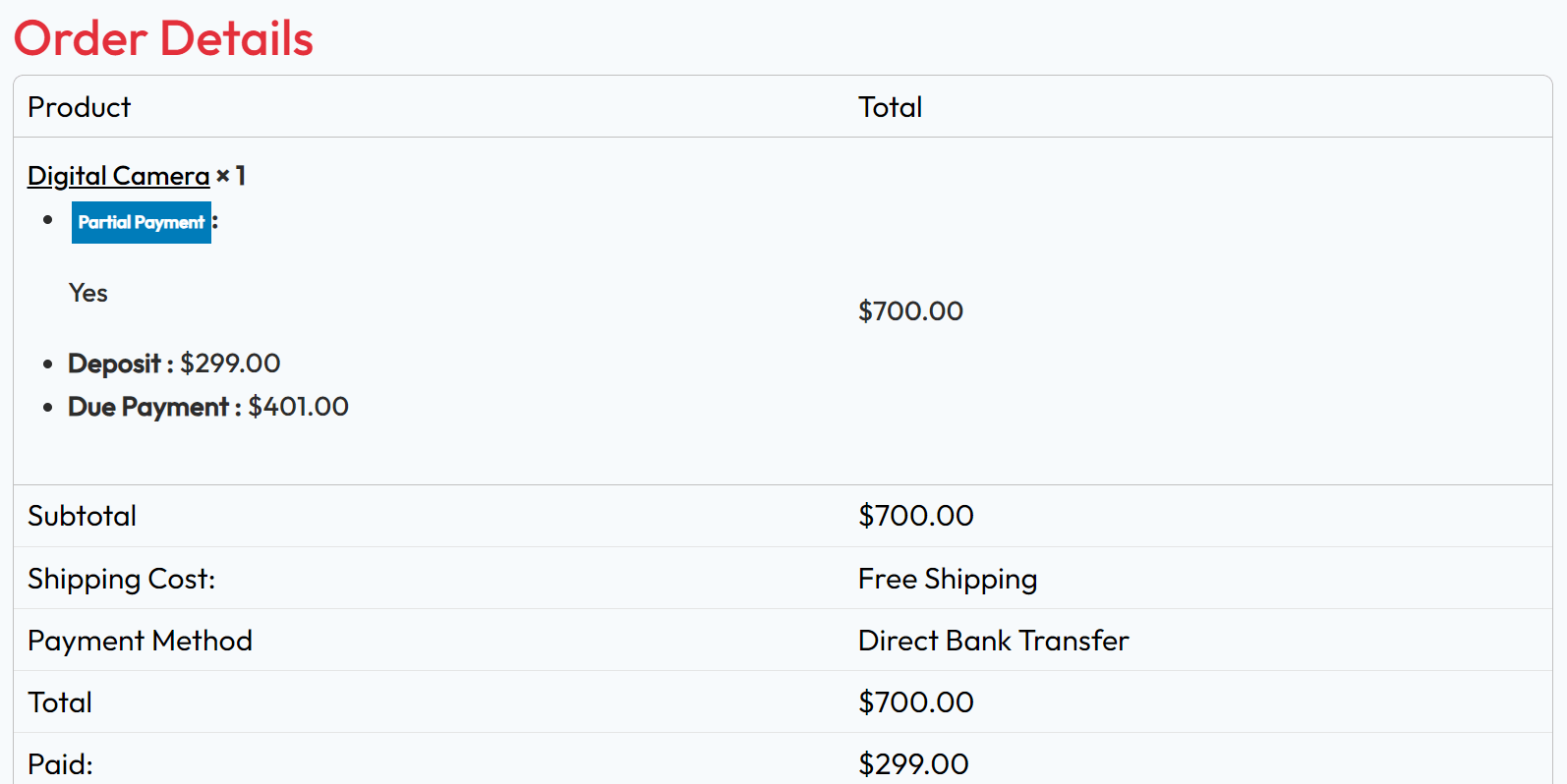 *** You can create the single product page, cart page, thank you page and other WooCommerce pages with ProductX. Check out the following resources to learn how you can create these pages:
Relevant Resources
How to Enable Partial Payments for Wholesale Products
The process for adding and using the partial payment feature is a bit different with WholesaleX. You need to use the WholesaleX Wallet to make partial payments for wholesale products.
Please note that you need to add funds to the WholesaleX wallet for a specific user for the partial payment to work. Also, the wallet balance will be used to make the partial payment.
Now the process to add partial payment for a registered user (the partial payment will be made with WholesaleX wallet) is to:
Install and Activate the WholesaleX plugin
Go to the WholesaleX addon page and activate the wallet addon
Go to the WholesaleX settings from your WordPress dashboard
Choose the wallet settings
Enable partial payment through wallet balance
Enable WholesaleX wallet payment for the specific user(s).
Please note that you need to enable WholesaleX wallet from the WooCommerce payment settings. You can add payment discounts using the dynamic rules if you like.
Now, when a specific user makes a wholesale purchase, he or she will have the option to make partial payment with WholesaleX.
Relevant Resources
If you aren't really sure how it all works, check out the resources down below:
How Can Deposits and Partial Payments Help to Increase Online Sales?
There are several advantages to leveraging deposits and partial payments:
Budget consumers feel urged to buy pricey items if they can make payments partially – allowing you to broaden your customer base.
An increased customer base means it will help with better conversions.
Establishing a brand loyalty will become easier.
A wider customer base means better A/B testing opportunities.
These are some of of the advantages that will lead to better growth of your online store.
FAQ
In this section, we will try and answer some questions that may come to your mind.
What is the difference between deposit and partial payment?
Sometimes, deposit and partial payment can be applied in the same case. However, a deposit is a payment that is done against a guarantee (the buyer is committed to make the full payment in time). And a partial payment is a percentage or fixed amount paid against a full amount. Of course, the user must commit to make the rest of the payment. 
How do I do partial payment in WooCommerce?
The customer will can make a partial payment for a particular product if the admin of the WooCommerce store enables partial payment for the product.
What is the minimum amount I can add partially when making wholesale purchase?
When you are using the WholesaleX wallet, you will have to use the whole amount of the wallet to make a partial payment for a wholesale purchase. Of course, if the amount of the purchase is less than the wallet balance, you can use the wallet balance to make the purchase.
How to enable payment methods in WooCommerce?
You can enable payment methods in WooCommerce by doing the following: 
1. Go to WooCommerce > Settings from your WordPress dashboard
2. Select Payments
3. Enable the desired payment methods 
Please note that you need to enable the 3rd party payment methods (like the WholesaleX wallet) from the WooCommerce payment setting as well.
Finally…
You now know about a couple of options that are worthy of being the best WooCommerce partial payment plugins.
However, there maybe some options that we overlooked. Maybe you are using a partial payment plugin that offers something more.
If that's so, do share it in the comments down below. We would like to take it for a spin ourselves. Also, while you're at it, check out various WordPress video tutorials on our YouTube Channel. Also, find us on Facebook and Twitter for regular updates!