Do you want to set up Wholesale User Roles for WooCommerce? If that is the case, you have arrived at the correct place. This article will walk you through the process of creating user roles in for wholesale WooCommerce stores.
By default, WooCommerce does not provide a wholesale user role for its customers. Because of this, to set up one or more wholesale user roles for your WooCommerce store, you will need a plugin like WholesaleX. It is essential for WooCommerce store owners that sell to both retail and wholesale customers.
Therefore, continue reading to learn how to create wholesale user roles in WooCommerce.
Why Should You Create WooCommerce Wholesale User Roles?
Creating wholesale user roles in WooCommerce has several advantages for the store owner. For wholesale customers, you can provide a different pricing or discount option. You are also free to create a number of various wholesale user roles and assign each one a unique pricing.
Suppose you have multiple wholesale user roles: Regular, VIP, and Pro. In that case, you can generate different wholesale pricing that corresponds to your preferences. Offer items to both B2B (business-to-business) and B2C (business-to-consumer customers). Creating a wholesale user role gives you the most flexibility.
With WholesaleX WooCommerce B2B solution, creating WooCommerce user roles are very easy. And not to mention that it is a complete B2B Solution with an added bonus of B2B, B2C and B2B+C Hybrid plugin.
How to Create Wholesale User Roles
Now that we know the basics of wholesale user roles, let's move forward with the process of adding them.
Video Tutorial
Here's a video tutorial for you to understand the process visually.
Installing WholesaleX
First, you must install WholesaleX to set up different discounts, including user role-based pricing.
Go to the "Plugins" section on your WordPress dashboard.
Then click on "Add New."
On the right search panel, type "WholesaleX."
You should now see the WholesaleX plugin.
Click on "Install."
Then you can click on the highlighted "Activate" button.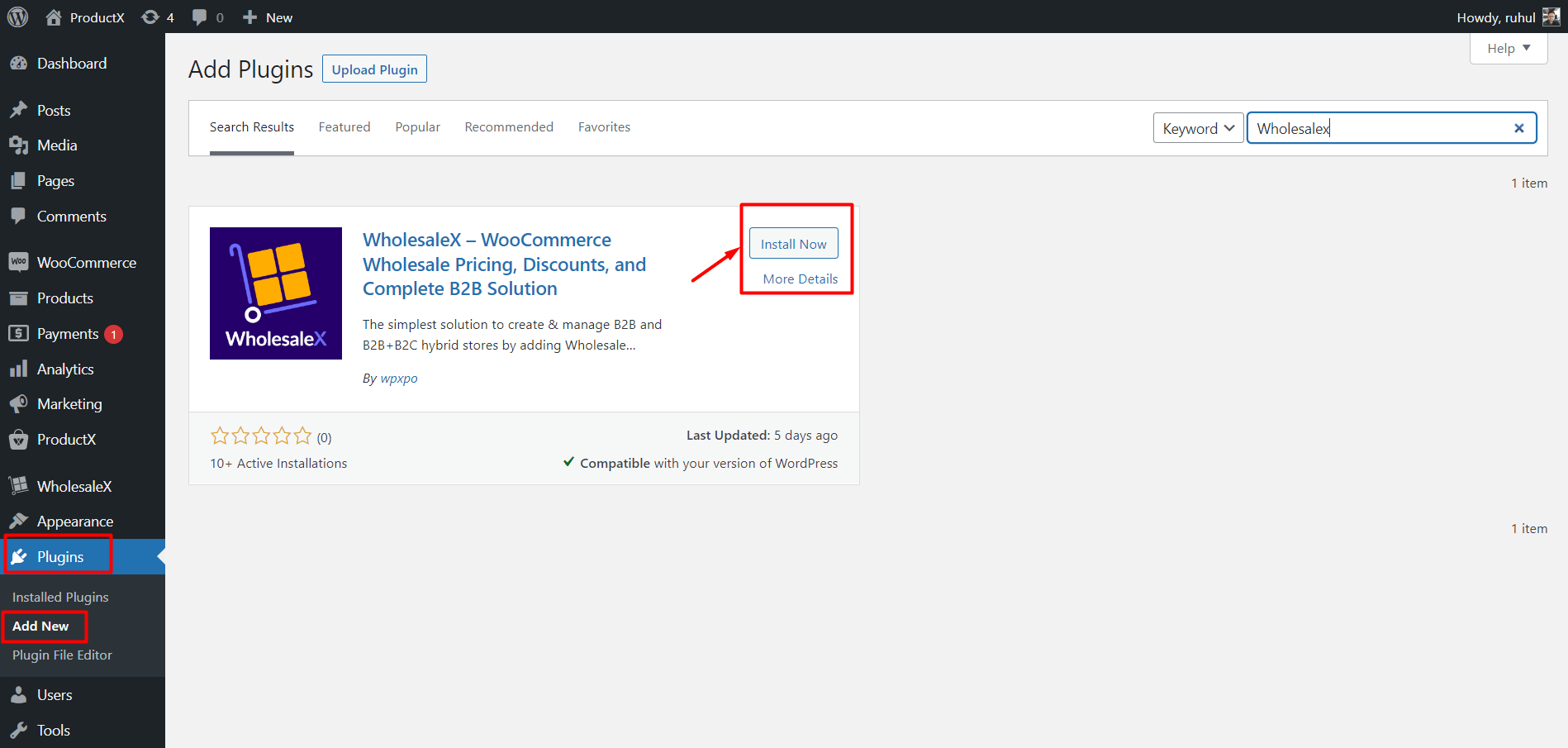 You can start using WholesaleX and its features now.
Creating User Roles
Now, to Create User Roles:
1. Go to "WholesaleX" → "User Roles" from WordPress Dashboard.
2. Now select "Add New Role." You'll see an "Untitled Role" bar added.
You can only create B2B user role for your WooCommerce stores. The Guest User and B2C User role is created by default in WholesaleX.
3. Now expand the "Untitled Role" to see the settings. You can change the "Name", add "Credit Limit", change "Display Prices", select multiple "Payment Methods", and even add the "Free Shipping" option.
WholesaleX let's you create multiple user roles. So, you can name your role like VIP, Pro, Premium, etc. You can add credit limits in wallet and we have WholesaleX wallet feature to implement WooCommerce store credit system. You can rather choose to show the default price of a product or, include/exclude tax with the product for specified user. Then you can select up to 4 different payment methods, such as, Direct bank transfer, Check payments, Cash on delivery, and WholesaleX balance payment (WholesaleX Wallet).
4. After you're done with your settings, click "Save" to create a new role.
After saving you can comeback and change your specific role settings again. And to create other roles, simply click the "Add new role" button to create another role and set it up accordingly.
And that's how you can easily create Wholesale user roles with WholesaleX.
Advantages of Using Wholesale User Role
Using WooCommerce's Wholesale user roles is the most effective method to get the perfect setup for your store. This feature not only allows you to hide your wholesale pricing from customers who are shopping at retail stores, but it also gives you the ability to:
Provide wholesale buyers with shipping alternatives
Shipping items can be pricey, particularly when dealing with large quantities of items in a single purchase. Your customer satisfaction ratings could improve if you offered one-of-a-kind shipping options to your wholesale clients, which would help them save money.
Restrict wholesale payment gateways
There are costs associated with using a lot of different payment systems, including PayPal. You can cut this cost for your wholesale business by requiring your customers to pay using bank transfers or one of the many alternative payment methods with lower transaction costs.
Provide wholesale tax exemption
Customers who buy at a wholesale price to resell the items could be eligible for a tax exemption. You can support this using specific user roles.
Create wholesale tiers
You can give varying wholesale discounts for the many different clients if you create user roles specific to each of these categories of consumers.
Although it is possible to create some of these combinations by establishing password-protected pages and using the native user role capability of WordPress, in most cases, this is not the most effective method.
It takes a significant amount of time to do so, and the system is tough to maintain in the long term due to the fact that adjustments are not readily made. However, with WholesaleX, you won't face these issues, as WholesaleX can handle situations in the most user-friendly way.
Conclusion
The default user roles that come with WordPress are undeniably useful features. Nevertheless, wholesalers can make customer management more efficient by having improved accessibility to role-based settings and pricing, shipping, and payment systems options. You will also be able to give tax exemptions and offer customized discounts for customers who are particularly loyal to your brand.
You can check out WordPress video tutorials on our YouTube Channel. Also, find us on Facebook and Twitter for regular updates!