Are you looking to create Wholesale User Roles for your WooCommerce store? You've come to the right place! This article will guide you through the process of setting up user roles specifically for wholesale stores in WooCommerce.
WooCommerce doesn't have a default wholesale user role for its customers. Therefore, to create one or more wholesale user roles for your WooCommerce store, you'll require a plugin like WholesaleX. This is crucial for WooCommerce store owners who cater to both retail and wholesale customers.
To learn how to create wholesale user roles in WooCommerce, keep reading.
How to Create Wholesale User Roles with WholesaleX
By default, you cannot create wholesale user roles. So, to tackle this problem, WholesaleX lets you easily create and manage user roles.
Let's check how to create wholesale user roles for your WooCommerce store with WholesaleX.
Video Tutorial
Here's a video tutorial to help you create wholesale user roles.
Step 1: Installing WholesaleX
You already know you cannot create wholesale user roles by default. So, you will need to install and activate the WholesaleX plugin.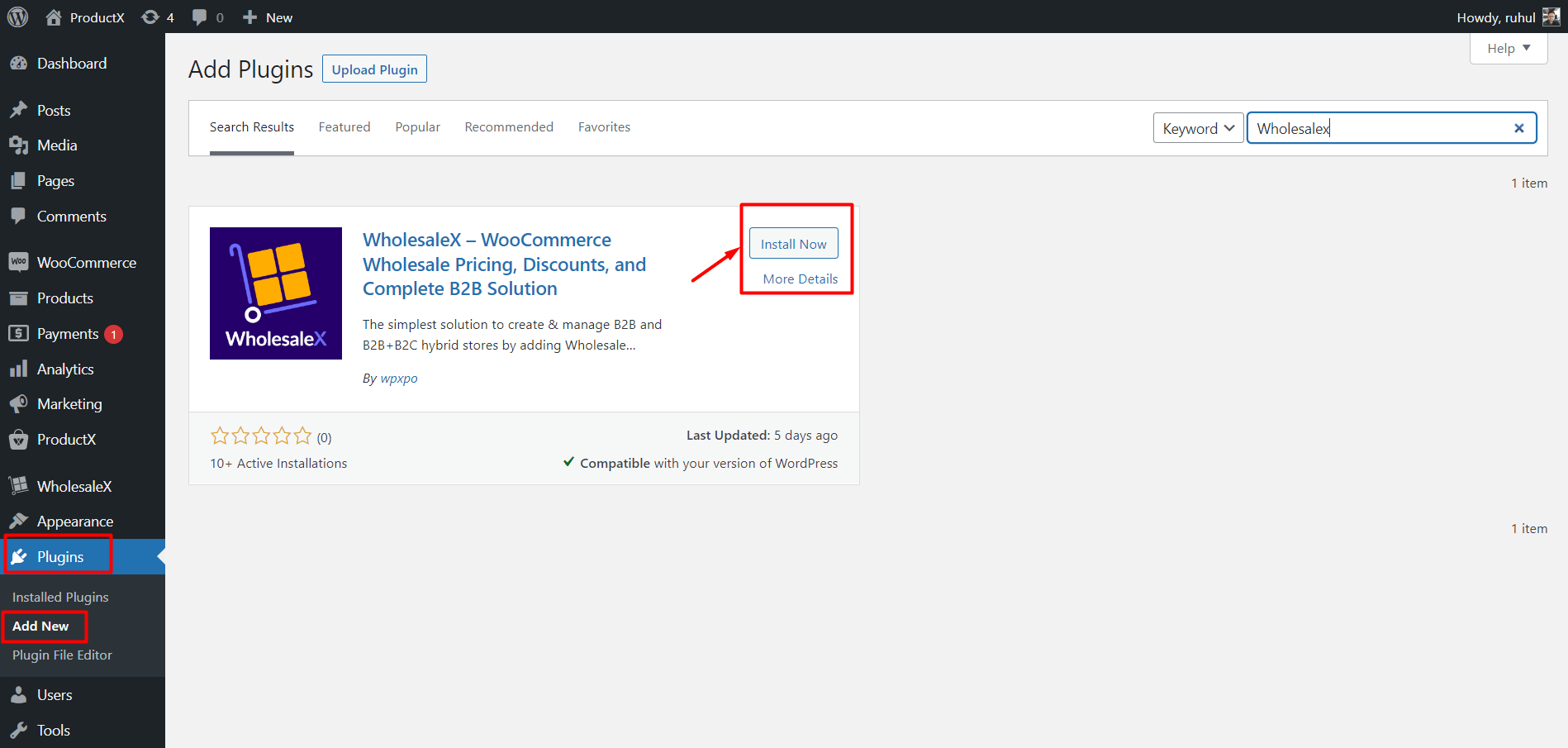 Once you activate it, you can easily create wholesale user roles with WholesaleX.
Step 2: Creating a New User Role
Now, let's create a new user role for the store. You cannot create B2B roles by default, and that's why we used WholesaleX.
To create a B2B User role, we have to go to the User Roles section of WholesaleX.
Once we go there, you'll see some default roles are already created. Also, you will see a button to "Add New B2B Role."
When You click it, a new field will be added named "Untitled Role."
When you click it, the section will expand, and you can customize it according to your choice.
Let's explore all the things you can set.
Step 3: Set A Name for the Role
The first thing everyone should understand is to name the role. Naming is important because you need it when using certain parameters or creating dynamic rules for various discount options.
Step 4: Set Credit Limits
You might want to restrict some users with a certain credit limit. That means they can't have more than the set amount of balance in their WholesaleX Wallet.
Step 5: Adjust the Price to Display
Now, you might have multiple roles for different sets of users. For example, General B2B Users, VIP Users, VVIP Users, and you want to set whether to include tax or not.
There are 3 options in Price to display. Default, Include Tax, and Exclude Tax. All the roles will have a Default (WooCommerce Default) option and will show the price you set with or without tax in the WooCommerce settings. And include/exclude tax shows the price including tax or excluding tax for a product on this user role.
Step 6: Adjust Payment Methods
You can also set payment methods for certain user roles. You'll find the following options in the Payment methods:
Direct bank transfer: This enables the Direct Bank Transfer option for this role.
Check payments: This enables the Check option in checkout.
Cash on delivery: This enables the Cash on delivery (COD) options for this user role.
WholesaleX Balance Payment: This will let users of this user role use the WholesaleX Wallet as a payment method.
Notify Main Account for Approval: This option is for Subaccounts, and enabling this will notify the main account when their subaccount users try to buy a product.
Note: You need to add payment methods in WooCommerce settings. Once you add those, all the payment methods will be available here.
Step 7: Adjust Shipping Options
WholesaleX also lets specify shipping methods, like Free shipping, Flat Rate, and Local pickup options. You can choose multiple options for single-user roles according to your preference.
Note: You need to add shipping methods in WooCommerce settings. Once you add those, all the shipping methods will be available here.
Step 8: Other Facilitation and Restriction Settings
WholesaleX also has some additional restrictions and facilitation options for user roles. Let's check them out!
Disable Coupons: This option will restrict the coupon option for the users of this user role. So, users of this role won't be able to add any discount coupons in the checkout.
Enable Auto Role Migration: You can choose this option to let users of this role auto-migrate to an upgraded role. When you enable this, another field will appear named "Minimum Purchase Amount to Migrate to This Role." You can set an amount in the field so that when a user of this role purchases the defined amount, they will be automatically upgraded to a higher tier.
Replace Add To Cart with Add To Quote: WholesaleX also has a Request a Quote Feature. That means customers can send quotation requests for a better price. And with these options, you can change the regular "Add to Cart" button with "Add to Quote," so users in this role can directly request a quotation for a better price.
Enable Subaccounts Creation Option for This Role: The subaccount feature lets users create subaccounts in their accounts. Creating subaccounts is disabled by default. But, if you enable this option, all the users in this role can create subaccounts against their accounts.
Disable Wallet Addon for This Role: As we mentioned before, WholesaleX has Wallet as a payment method to use the wallet balance to pay for their products. But you can turn off that option for users using this setting.
Step 9: Save/Update the Role
After adjusting all the settings, you have to save this; otherwise, the role won't be created.
Also, you can make any necessary changes for any roles in the future. Don't forget to click save to update the changes you made.
And that's how easily you can create wholesale user roles using WholesaleX.
Let's find out some of the benefits of why you should create wholesale user roles.
Why Should You Create Wholesale User Roles For Your B2B Store?
It's a common practice to hide wholesale prices from retail customers to avoid any confusion regarding the cost of your products. You can achieve this in WooCommerce by creating wholesale user roles.
This feature not only hides your wholesale discounts from retail shoppers but also provides additional benefits such as:
Role based Pricing: Add role based pricing for users. You can create customized pricing options for users on a certain role to boost your business.
Multiple Wholesale Discounts: To provide varying wholesale discounts for different customer types, you can create user roles for each and implement tiered pricing.
Limit Payment Options: Limit payment options for lower fees in your wholesale business. Consider using bank transfers or methods with minimal fees to save money.
Tax Exemption: Customers may qualify for tax-exempt status if they buy wholesale items to resell. To accommodate this, you can create custom user roles that provide tax-exempt status to wholesale customers.
Customized Shipping Options: You can offer unique shipping options for wholesale customers and improve satisfaction and loyalty by reducing extra shipping costs.
Resources You'll Love
Conclusion
In conclusion, creating wholesale user roles in WooCommerce using WholesaleX is the most important step for B2B store owners. It allows you to customize options for B2B users. It provides additional benefits such as multiple wholesale discounts, limited payment options for lower fees, tax exemption for qualifying customers, and customized shipping options. By implementing wholesale user roles, you can efficiently manage your wholesale business and cater to the specific needs of your wholesale customers.
You can check out WordPress video tutorials on our YouTube Channel. Also, find us on Facebook and Twitter for regular updates!