There has been a rise in online retailers offering free shipping to attract more consumers. Customers who value straightforward pricing plans are likely to respond positively to free shipping, giving online merchants an additional edge in the market. And FYI WooCommerce free shipping encourages potential buyers to go for more shopping.
Why Should You Offer Free Shipping?
Delivering orders at no cost is a winning tactic for client retention and acquisition. The downside is that without a well-thought-out delivery plan, it may be rather expensive for smaller and medium-sized shops to provide it.
Customer purchases can be impacted if delivery prices are too high. When customers see that shipping costs will be more than anticipated, they typically leave their carts.
Free shipping is more important to online customers than coupons. Many consumers would rather not pay for shipping costs, even if waiting a little longer for their purchases to arrive.
When they need the item, they buy it immediately, and other customers don't mind paying a premium for expedited shipment. On the other hand, suppose you want to increase your profit margins and cover the expenses of offering free shipping. In that case, this is an excellent alternative to consider offering.
When selling online, it's crucial to provide customers with various delivery alternatives.
WooCommerce Free Shipping
Free shipping is a great way to entice clients to purchase with WooCommerce. The abandonment rate of shopping carts decreases, and the conversion rate increases when free shipping is offered.
This is because free shipping is a universally appreciated perk that encourages shoppers to make a purchase immediately. However, how many different strategies exist for handling WooCommerce's free shipping? An in-depth analysis is provided here.
How to Set Up WooCommerce Free Shipping?
Let's discuss the installation procedure.
First, go to WooCommerce settings-> Shipping. Then click Add Shipping Zone.
Select your zone name and regions. You can add mutiple regions on the section. Then, click the button labeled "Add shipping method."

A modal window will appear. Choose "Free shipping" from the available options, then click the Add shipping method button.
Now, you can see that Free shipping has been added and activated in that zone. To enable or disable the shipping method, just click the button. If you hover the mouse over the shipping method, choices to Edit and Delete the method will appear. Click Edit for more options.
If you choose the Edit option, a prompt box will appear.
Here, you can modify the shipping method's title.
Additionally, you can configure various criteria to decide how free shipping is applied on the Cart page.
The conditions are the following:
N/A
A valid free shipping coupon.
A minimum order amount.
Minimum order amount OR a coupon.
Minimum order amount AND a coupon.
Now that we've seen the default WooCommerce free shipping methods let's spice things up.
ProductX: Free Shipping Modifier
Well, well, well! Come here looking for the spiciness, eh! Yeah, we understand, and that's why ProductX has brought something fascinating to your shop! A plugin full of customization, including a cart page. So let's discuss what's appealing in the free shipping section!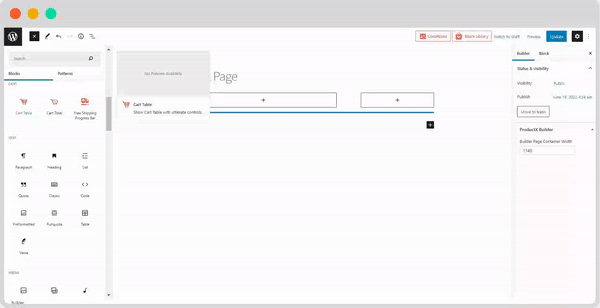 First things first is the progress bar. Which you won't find on the default WooCommerce cart page. This is a massive issue for both sellers and buyers. Sellers cannot correctly showcase their Free Shipping progress, and buyers can't see their progress of getting a Free Shipping on their purchase, which is a massive disadvantage.
ProductX has understood the problem and brought a fantastic solution to sort this issue. The Free Shipping Progress Bar by ProductX Gives you a progress bar to showcase how much more you need to add to get free shipping.
And guess what! You can fully customize the bar and its placement and modify texts and colors accordingly.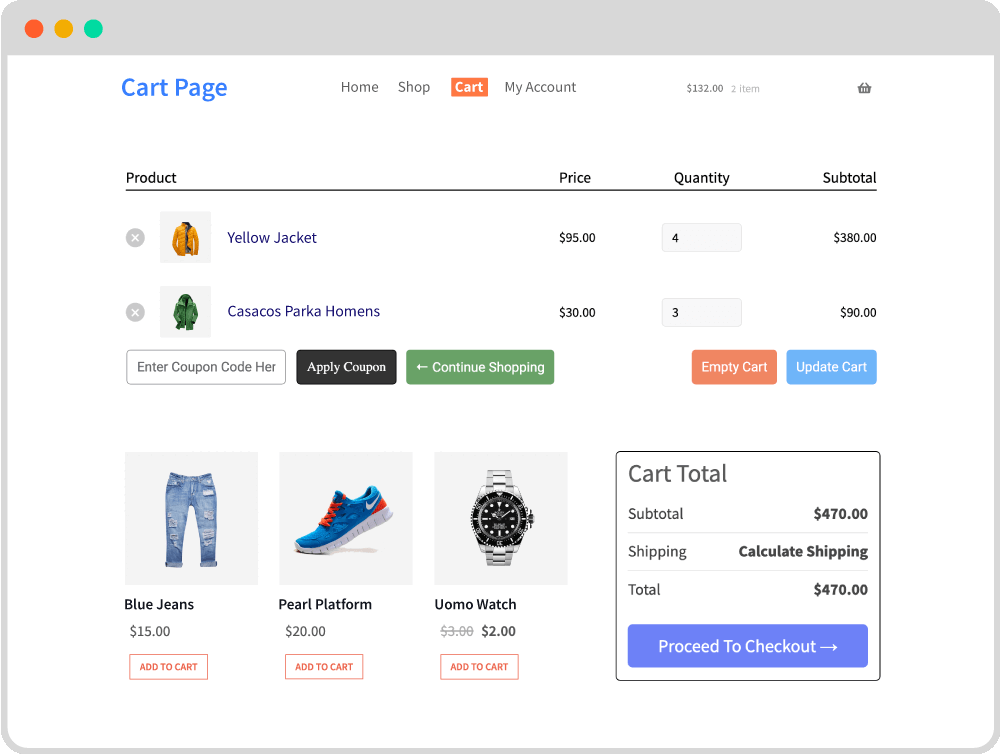 Then, the ProductX Cart Table will help you showcase the selected items on your cart. And Cart Total will help you show the total, shipping, and subtotal costs. And yes, you guessed right, you can place them anywhere, and all things are customizable from font size, location, color, and much more.
Is that it? You might ask! A big NO…
With ProductX, you can build your very own custom shop page in WooCommerce. Did we forget to mention it earlier? You bet we did. And ProductX enables you to quickly and easily create stunning product grids, product lists, category lists, product sliders, product carousels, and much more.
Conclusion
When executed properly, WooCommerce free shipping has the potential to provide your business a variety of advantages, including increased customer loyalty and retention, increased sales volume, and improved conversion rates.
In addition, free shipping makes customers less likely to abandon their carts. It can even push buyers to place more expensive orders in order to take advantage of the free shipping offer. We hope that by reading this post, you will be better equipped to set the free shipping plan for your WooCommerce store. Leave a comment if you have a question about the subject.