WooCommerce is a powerful e-commerce platform enabling businesses to create online stores. Many companies and entrepreneurs use it to build their businesses on the web.
But when it comes to wholesaling it lacks many important features like the WooCommerce Wholesale order form. This feature allows businesses to sell products in bulk to their customers, which can be extremely beneficial for businesses that sell products with multiple uses or in large quantities.
Today we will be showing how we can add the bulk ordering form in WooCommerce wholesale store using the WholesaleX WooCommerce B2B solution, an amazing B2B+B2C hybrid plugin for WooCommerce that has all the necessary features for the perfect wholesaling solution.
What is WooCommerce Wholesale Order?
The WooCommerce wholesale ordering feature allows businesses to unlock the bulk ordering feature for WooCommerce B2B stores. Customers can select desired products in bulk and purchase them directly. It helps the customers not to go through each product and add them to cart one by one, rather add multiple products in bulk quantities from one place.
How to Set WooCommerce Wholesale Order Form with WholesaleX?
WholesaleX's new feature: Wholesale Ordering and Wholesale Order Form, is here. So, let's not waste time and dive into its settings and usage.
Video Tutorial
Here's a video tutorial for you, so you can understand the process better.
Installing WholesaleX
First, you have to install WholesaleX. WooCommerce doesn't let you create a B2B store or create a wholesale order form. WholesaleX opens up a vast opportunity and is a complete solution for your WooCommerce wholesale store.
So, to install WholesaleX: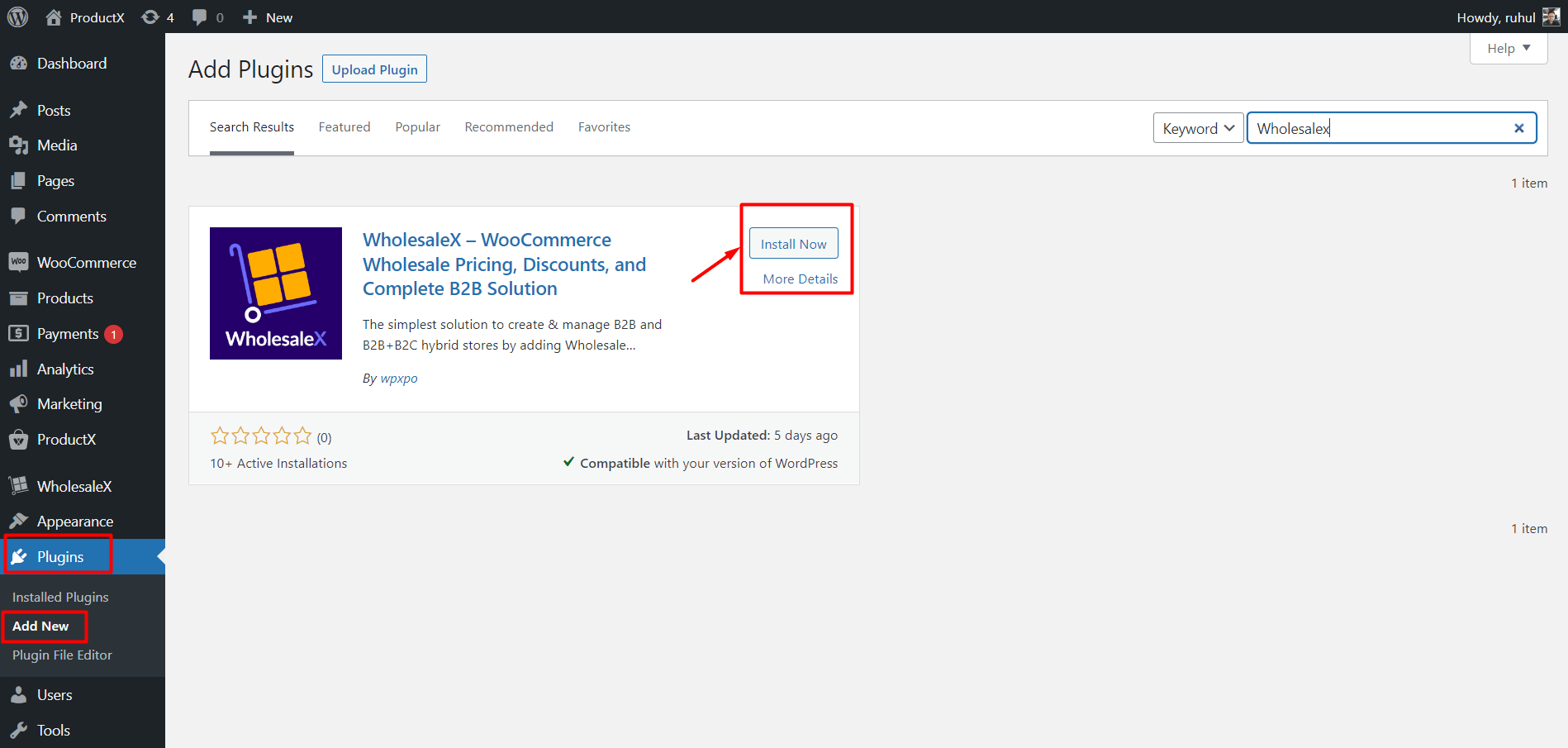 Go to the "Plugins" section on your WordPress dashboard.
Then click on "Add New."
On the right search panel, type "WholesaleX."
You should now see the WholesaleX plugin.
Click on "Install."
Then you can click on the highlighted "Activate" button.
WholesaleX unlocks features like WooCommerce wholesale order form, which is important for any wholesale store.
Activating Addons
First, you must activate the WholesaleX Bulk Order addon to use the feature.
To do that:
Go to the WordPress Dashboard.
Select WholesaleX and go to Addons.
Enable the Bulk Order addon by clicking the toggle bar.
When you successfully enable the bulk Order addon, all registered WholesaleX users can use the bulk ordering feature using the WooCommerce wholesale order form.
How to Use the WooCommerce Wholesale Order Feature of WholesaleX?
Let's move forward with how to use the feature.
Any logged-in/ registered user can use this feature.
Go to My Account Page.
Select the Bulk Order option.
Use the search bar to find desired products. Also, you can use the category and tag to locate desired products easily.
Select your product(s).
Use the "+ Add Product" button to select multiple products.
Specify the product amount in the quantity box.
To directly go for the purchase, select "Add to Cart."

If you don't want to purchase immediately, select the "Save Order List," then name your list and click save.
Once you are on the cart page, you can change your mind and still save the order list by clicking "Save as purchase list."
Also, you can use our request a quote feature by clicking "Request Custom Code." Here's a guide for using the WholesaleX request a quote feature.
WooCommerce Wholesale Order Form Settings
Once you activate the addon, you can change a few order form settings.
Go to WholesaleX → Settings → Bulk Order to change the settings.
In the settings, you can change the following options:
Clear session after saving the purchase list [Enabling this will clear the selected products after saving the order to purchase list.]
Clear the cart page after saving the purchase list. [Enabling this will clear the cart page if you save the order from the cart page, and not purchasing it.]
Disable Filter on Bulk Order Form. [Enabling this will disable the product filtering option.]
Also, you will get a shortcode to use the form on any page.
How to Create a Separate Page for Wholesale Order Form?
As we have said in the previous section, you can get a shortcode from the WholesaleX → Settings → Bulk Order section.
Copy and paste the code into any page using the shortcode block. And you will be able to use the wholesale order form on any page.
Let's create a separate page for it.
Go to WordPress Dashboard → Pages → Add New.
Name your Page. (We named it the Separate Bulk Order Form for better understanding.)
Add the "shortcode" block.
Copy the shortcode from the WholesaleX → Settings → Bulk Order section.
Now, paste the shortcode in the shortcode block.
Publish the Page.
And you are done creating a separate page for WooCommerce wholesale order form.
Benefits of WooCommerce Wholesale Order
The wholesale ordering feature enables businesses to manage their inventory more efficiently. By setting different pricing tiers, businesses can better control the amount of stock they have available at any given time.
This feature also allows businesses to easily track orders and shipments, so they can quickly respond to customer inquiries and resolve any issues that may arise.
The wholesale ordering feature also helps businesses to manage their customer relationships better. Businesses can reward their loyal customers by offering discounts on bulk orders and encouraging them to purchase more frequently.
This feature also allows businesses to easily identify customers who are purchasing in bulk, so they can provide them with personalized customer service and better understand their needs.
The wholesale ordering feature is important for any business looking to maximize profits and build strong customer relationships. By offering discounts on bulk orders, businesses can attract more customers and encourage them to purchase more frequently.
This feature also helps businesses better manage their inventory and track orders, responding quickly to customer inquiries and resolving any issues that may arise. For these reasons, the wholesale ordering feature is essential to any successful e-commerce business.
Conclusion
The WooCommerce wholesale order form is an excellent feature for any wholesale business looking to streamline its ordering process. Its ability to quickly create, edit, and manage orders provides a powerful and efficient solution for businesses of all sizes.
With its ease of use, this feature is an invaluable tool that can help businesses save time and energy while ensuring their customers' orders are processed quickly and accurately.
You can check out WordPress video tutorials on our YouTube Channel. Also, find us on Facebook and Twitter for regular updates!