WooCommerce variation swatches allow you to showcase various types of your products. It's one of the simple features that can make an impact if you use them correctly to show different designs or styles of your products.
But there are plenty of plugins for variation swatches in the WooCommerce space. How do you choose the right option for you?
It's why we are here today.
We will go through some of the potential variation swatches plugins to help you choose the right plugin. However, there is a problem.
Not all plugins come with the same feature set. Some are packed with features, others value simplicity. We are here to investigate just that.
So, let's see the list and find out what each plugin has to offer:
Best WooCommerce Variation Swatches Plugin
As mentioned earlier, there are several options out there that can be useful to you. However, they may be lacking important features you may not know about. So, our list will guide you.
Here are our top choices:
The ProductX 'variation swatches' is a versatile feature many WooCommerce users can leverage to showcase various product variations. And it comes bundled with the powerful features of ProductX, including the powerful WooCommerce builder for building custom WooCommerce sites.
The feature allows users to showcase various product attributes like the color and size. You are free to set custom variations just the way you want.
You have global settings to set particular parameters to show the variation swatches. Also, you can show customized labels as well. Furthermore, you have the ability to make it a dropdown – offering a customized experience to your users.
In short, you get:
Key Features:
An easy-to-use utility for novice users.
A powerful variation swatches feature bundled with a powerful builder.
Change global settings to show the attributes in a customized way.
Show variation as labels for different attributes.
Show variation swatches to your desired position.
Freedom to show swatches on the product page or archive page.
It is compatible with various page builders like Elementor, Divi, etc.
It is compatible with popular WooCommerce themes as well.
Who Should Use It?
The ProductX 'variation swatches' is useful for both novice and advanced users. It's easy to learn and use on your product or archive pages of your WooCommerce store. And the pro version unlocks a whole new world of possibilities. So, do check it out and see if it meets your needs.
Pricing
The WooCommerce variation swatches come bundled with the ProductX plugin. Pricing for the yearly plan starts from $49 for a single website and $149 for a lifetime, single-site license. There is a free version of the plugin available for use. Check the other pricing tiers to learn more.
YaySwatches by YayCommerce is a great plugin when it comes to showing attractive product variations swatches for your WooCommerce store. YaySwatches offers a wide range of customization options, allowing you to choose from various shapes, sizes, and styles for your swatches. This allows customers can see the actual colors and make more informed purchasing decisions.
With this WooCommerce variation swatches plugin, your customers can easily choose your product variations, upgrade more immersive user experience, and make it easier for them to explore different color options. Your store can stand out from the crowd by offering a perfect shopping experience to customers.
YaySwatches allows you to display the attributes of products such as color, size, brand, etc. through various formats including color, button, dropdown, and image, which let you customize the style you like. Furthermore, customers can see the variations in both the shop/categories page and product page, which helps them shop faster and enhance the shopping experience.
You also have all right to define the number of swatches and the number of buttons to be displayed on your shop/categories page. This will help improve product visualization, restrict the jampacked of swatches and buttons, and bring a visually pleasing design.
Besides, YaySwatches also assists you in customizing the appearance of sold-out variants. You can decide the style of this variant from the available styles. And a ton of other options to take your shop to the next level.
You get access to various useful features like:
Key Features:
Custom swatch bubbles display different product attributes.
Set a limit to product swatch bubbles.
Automated product image swatches offer good usability.
Hide product variations that are out of stock.
Who Should Use It?
Users who are looking for an independent variation plugin with powerful pro features can certainly look at this option. The feature set has a lot of promise and will help you create effective variations of your products.
Pricing
The plugin has two different pricing tiers, yearly and lifetime (one-time payment). There is a free version of the plugin available as well. Pricing for this WooCommerce variation plugin starts from $59.
WooCommerce Product Add-Ons Ultimate empowers online retailers to offer customers a more personalized and interactive shopping experience. With this plugin, you can effortlessly create custom product options and additional services to cater to diverse customer needs.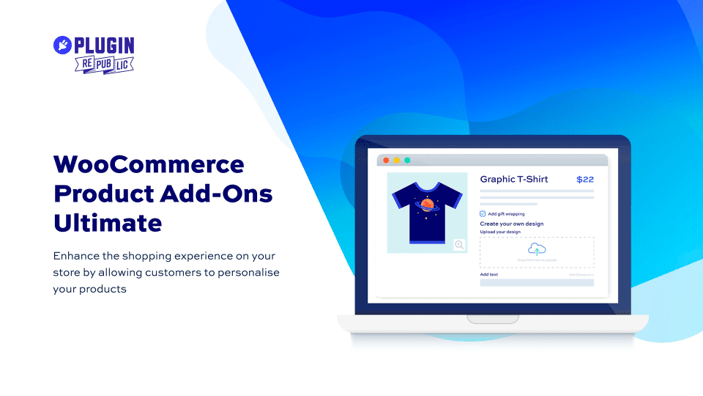 Among the various features, you have:
Key Features:
It allows you to add unlimited product options, enabling customers to personalize their purchases.
Create dynamic product choices based on user selections.
Easily assign prices to product add-ons, whether it's a fixed cost or a percentage-based fee.
Customize product options globally across your entire store or apply them on a per-product basis.
Who Should Use It?
WooCommerce Product Add-Ons Ultimate by Plugin Republic is a feature-rich plugin that empowers you to offer customization options, increase sales, and provide an engaging shopping experience to your customers, ultimately boosting your e-commerce success.
Pricing
Add-Ons Ultimate has both Yearly and Lifetime licenses. Prices start at $69 for a single-site license.
The variation swatches plugin by Acowebs is a great option for users who are looking for a dependable plugin. You can rely on the functionality of this plugin without the need for any specialized skills. It has all the features you need to show product variations on your WooCommerce store.

So, what are the key features of this plugin:
Key Features:
It's compatible with popular WooCommerce themes.
The user interface is simple and easy to understand
There are ample customization options
Turn attributes to show beautiful product variations
Who Should Use It?
It is a standalone variation plugin for novice users. If you are looking for a singular option that works for you, you should certainly take it out for a spin.
Pricing
Both lifetime and early pricing models are available for this plugin. A free version of the plugin is available as well. Pricing for a single-site license starts from $39.
FAQ
What is a swatch in E-commerce?
It is an entity that shows the availability of a product in various colors, sizes, etc. In short, it shows what varieties are available for a particular product.
How to add product variation swatches to the WooCommerce shop?
You can add variation swatches using the ProductX plugin using the following steps:
Install and activate the ProductX plugin
Enable the variation swatches addon
Create product attributes
Create a variable product
Add a product image along with gallery images
Create variations for the product
Add image variations for the product
Configure color and size swatches
Configure image swatches for products
If you follow these steps you will be able to showcase product variations.
Is it necessary to create an attribute for each variation?
Yes, you need to create an attribute for each variation if you want to show it properly on your site.
Final Thoughts
You now know which are the best WooCommerce Variation Swatches plugins. However, there are other options out there we may have missed. If you know or using such a plugin, make sure to sound off in the comments below.