We are excited to announce the launch of PostX ChatGPT, a powerful WordPress AI content generator designed specifically for WordPress. With PostX ChatGPT, you can effortlessly generate high-quality content within your WordPress editor, enhancing your productivity and streamlining your content creation process.
What is the PostX ChatGPT WordPress AI Content Generator?
Effortlessly create AI-powered content directly on your WordPress pages with PostX ChatGPT. Get unlimited content generation opportunities, adaptive writing tones, and an easy-to-use interface for seamless content generation. Say goodbye to writer's block and unleash your creativity with PostX.
So, let's see what you can do with the PostX ChatGPT: WordPress AI Content Generator.
Easier Content Creation
Create stunning content effortlessly with PostX ChatGPT. Generate high-quality articles, titles, summaries, translations and more for your WordPress website. Say goodbye to content creation struggles and hello to seamless AI-driven content generation.
With PostX ChatGPT, you can generate a variety of content types:
Essays: Generate well-structured and thought-provoking essays with ease.
Bullet Points: Create concise and organized bullet point lists for quick reference.
Pros & Cons Lists: Generate balanced pros and cons lists for effective decision-making.
Story: Let your creativity flow and generate captivating stories.
Outlines: Generate structured outlines to organize your ideas and enhance readability.
News Articles: Stay up-to-date by generating news articles on various topics.
Quotes: Inspire your readers with compelling quotes generated by ChatGPT.
Verses: Channel your inner poet and generate beautiful verses effortlessly.
Unlock the power of AI content generation with PostX ChatGPT and streamline your creative process.
Intuitive Content Modification
PostX ChatGPT helps you generate content and provides powerful tools for modifying and refining your existing content. Take advantage of these features to elevate the quality and effectiveness of your content: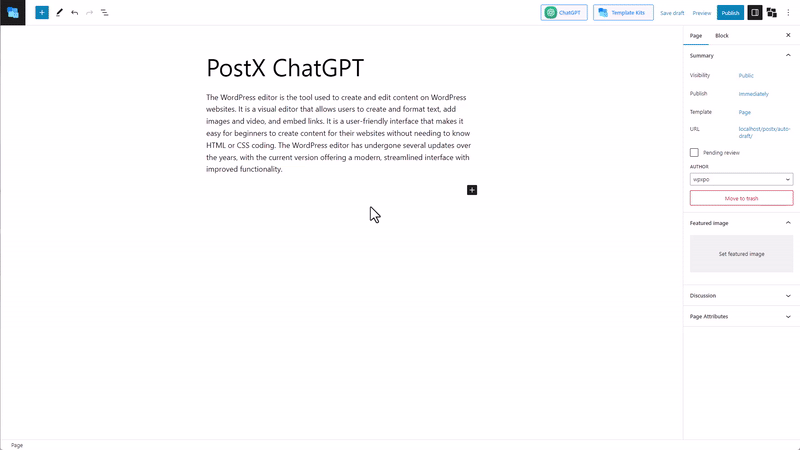 Rewrite: Easily rephrase your content with the rewrite option. Enhance clarity and flow by restructuring sentences and paragraphs, ensuring your message is effectively communicated.
Improve: Take your content to the next level with the improve option. Refine sentences, add details, and make your content more engaging to captivate your readers and leave a lasting impression.
Make Shorter: Condense your content to make it more concise and to the point. Trim unnecessary details and streamline your message for maximum effectiveness.
Make Longer: Expand your content by adding more information or elaborating on key points. Provide additional context, examples, or insights to enrich your content and provide a comprehensive experience for your readers.
Summarize: Create a brief and informative summary of your content. Capture the essence of your message concisely, perfect for introductions, overviews, or providing quick insights.
Introduction: Generate an attention-grabbing introduction for your content. Craft compelling opening paragraphs that captivate your audience and set the tone for your piece.
Conclusion: Craft a compelling conclusion that wraps up your content effectively. Summarize key points, provide a call to action, or leave a lasting impression on your readers with a well-crafted conclusion.
Convert to Passive Voice: Transform your content into passive voice to change the tone or emphasize different elements. Adjust the language to create a more formal or objective tone or shift the focus onto the recipient of the action.
Convert to Active Voice: Convert your content to active voice for a more direct and engaging style. Infuse energy and dynamism into your writing by emphasizing the doer of the action and creating a sense of involvement.
Paraphrase: Express the same meaning using different words or phrasing. Enhance your content's uniqueness and versatility by finding alternative ways to convey your ideas.
Outline: Generate a structured outline for your content to organize your ideas and improve readability. Create a framework that guides your writing and ensures a logical flow of information, making it easier for readers to follow along.
Customize your content to perfection with these powerful options provided by PostX ChatGPT.
How to Use the PostX ChatGPT Content Generator?
Let us show you a small overview of how the WordPress AI content generator by PostX works.
Video Tutorial
Here's a video tutorial of PostX ChatGPT Addon, so you can explore it visually.
Step 1: Turn on the ChatGPT Addon
As we mentioned before, PostX ChatGPT is an addon for WordPress, which enables PostX users to use the WordPress AI Content Generator. To use the feature, you need to turn on the addon.
So, first, turn on the ChatGPT Addon from the PostX Addons page.
Do you know PostX provides several other addons to help you create your news/magazine site just the way you want.
Step 2: Activate Secret Key
Now you need to activate the OpenAI API Secret Key. Click the settings icon beside the ChatGPT addon, and you will see a box to paste the key.

Click the link below the box to the ChatGPT secret key generation page.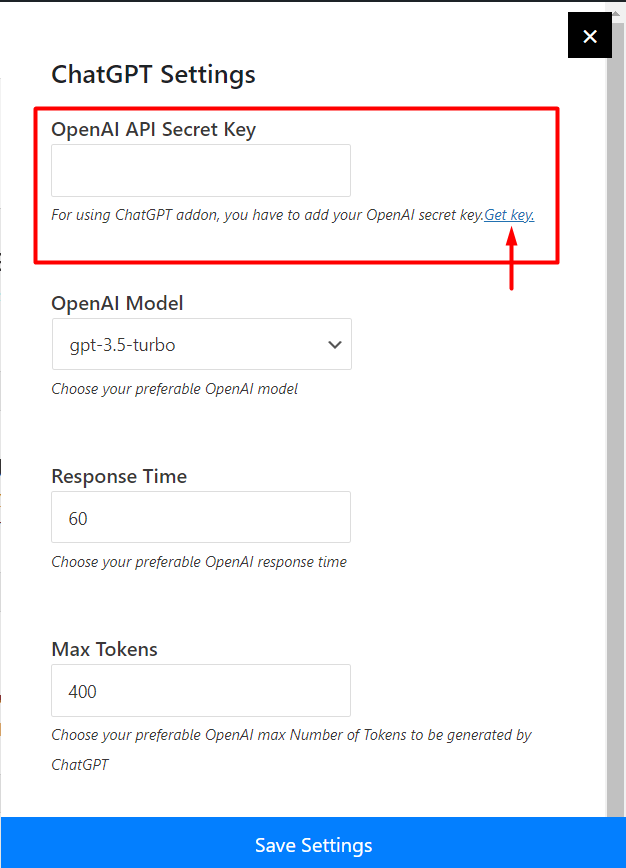 Login and create a secret key if you have not before. Copy the key and paste it into the box.
Now your ChatGPT addon is fully activated and ready for use.
Step 3: Creating a Complete Blogpost using PostX ChatGPT
To use it, go to any page and see the ChatGPT icon on the top of the WordPress editor.
Click on it, and you will see a text field to give your input and a dropdown for writing style, tone, and language.
So, we are going to create a blog post. Let's create something about the WordPress editor.
We will use this prompt: "Write a Blogpost about WordPress Editor." We also need to select the style, tone and language. So, for writing style, we chose Descriptive; for writing tone, we chose Friendly, and the writing language is English.
Then you just have to click the "Ask ChatGPT" button to generate your content.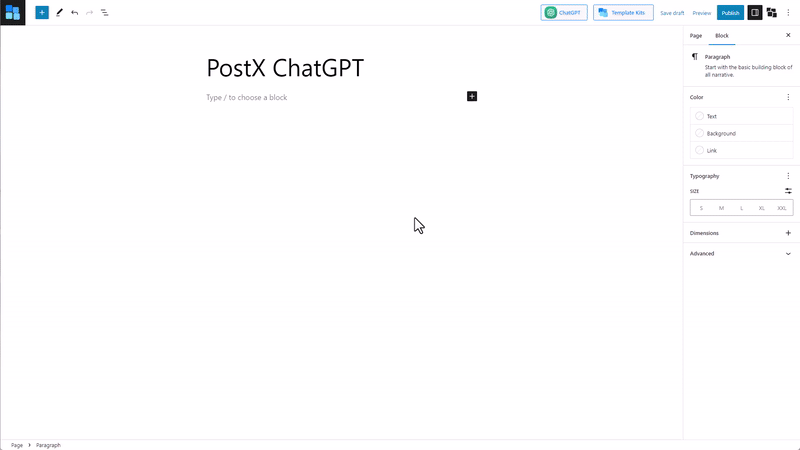 Now, we have to import the generated content.
Step 4: Importing Generated Contents
Now, you can click the "Import" button to keep the generated content in your WordPress editor. Or you can click the "+New Prompt" to generate other content. Also, you'll have different customization options to make the generated content just the way you want.
PostX is a complete solution to create news/magazine based sites. Which also includes creating different types of pages for your website, which you can do easily with PostX Dynamic Site Builder.
Create amazing news/magazine sites in no time with PostX! So, what are you waiting for?
✨ Get PostX Now! ✨
Benefits of PostX ChatGPT AI Content Generator
Here are a few benefits of the PostX WordPress AI content generator:
Time and Effort Savings: With PostX ChatGPT, you can generate high-quality content for your WordPress website in a fraction of the time it would take to write manually. Say goodbye to hours spent brainstorming ideas and crafting content – let AI do the heavy lifting for you.
Enhanced Productivity: PostX ChatGPT lets you focus on other essential aspects of your website by streamlining the content creation process. Spend less time on content generation and more time on strategy, marketing, and growing your online presence.
Versatile Content Generation: PostX ChatGPT is not limited to a specific type of content. Whether you need articles, titles, summaries, or translations between multiple languages, the AI-powered addon has you covered. It offers a wide range of options to suit your specific content needs.
Adaptive Writing Tones: Tailor your content using the adaptive writing tones feature to resonate with your target audience. Choose from a variety of writing styles, such as formal, informal, optimistic, and more. Connect with your readers on a deeper level by aligning the tone of your content with their preferences.
Polished and Error-Free Content: PostX ChatGPT ensures your content is professional and error-free without the need for manual proofreading. Impress your audience with well-crafted and polished articles.
Seamless Integration with WordPress: The ChatGPT Addon seamlessly integrates with your WordPress editor, making content generation seamless in your workflow. No need to switch between different platforms or copy-paste content – generate and import directly within WordPress.
Cost-Effective Solution: Compared to hiring professional content writers or investing in expensive content generation tools, PostX ChatGPT offers a cost-effective solution. Enjoy the benefits of AI-driven content generation at a fraction of the cost.
Resources you'll love
Conclusion
PostX ChatGPT revolutionizes the way you create content for your WordPress website. With its powerful AI capabilities and user-friendly interface, you can effortlessly generate high-quality content with just a few clicks.
Say goodbye to writer's block and time-consuming editing tasks, as PostX ChatGPT handles everything for you. Experience the simplicity and efficiency of AI content generation, unlock your creativity, and take your WordPress website to new heights.
Try PostX ChatGPT today and witness the future of content creation.
You can check out WordPress video tutorials on our YouTube Channel. Also, find us on Facebook and Twitter for regular updates!