It's no surprise that WooCommerce has become so popular; it streamlines the process of setting up a web shop and selling goods and services online. The result is fierce rivalry in the online retail industry, with new shops always opening.
Although many businesses use WooCommerce, many business owners struggle to boost revenue. Moreover, they must develop and execute strategies that distinguish them from rivals.
This article will share some fantastic tips and tricks to increase WooCommerce sales.
Tips and Tricks to Increase WooCommerce Sales
You are here for tips and tricks; let's not waste any time sharing them with you. So, without further ado, let's get started.
Flash Sales
One of the most common strategies for boosting sales and customer foot traffic is holding a flash sale. Customers get a feeling of urgency since they can watch the number of items for sale decrease as they shop. Flash sales boost revenue, especially when accompanied by a visible countdown timer.
Increasing foot traffic to sale sections is a typical result of flash sales, which is why many retailers now advertise them on social media. ProductX has product filtering to filter which products you want to showcase in a customizable way.
Cross-Selling and Upselling
Cross-selling and up-selling are well-known sales strategies. They include selling related items in online marketplaces. This strategy is often used in the search for complementary products or services. If you want to boost your WooCommerce revenue, you should know that cross-selling is a powerful tactic. And guess what? ProductX is a one-stop solution to get the most out of your WooCommerce Store. Yes, it allows you to cross-sell and upsell your products in a completely customizable way.
Up-sell Strategy
Boosting sales using WooCommerce upsells is a simple way to get clients to spend more. I mean, how? It's your job to suggest complementary items to improve their current buy. In this approach, you may steer consumers toward your more costly offerings. You'll provide a comparable but more costly or unique option when upselling.
Cross-Sell Strategy
Cross-selling is a great way for people to purchase more of your offering. Don't forget that cross-selling offers similar items to the primary offering. There is a particular order in which more accessories must be presented to the customer for them to feel compelled to buy them.
Say the consumer has put a pair of winter boots in their shopping basket. A good cross-selling strategy, in this case, would be to pitch related items, including thicker socks, longer shoe laces, and shoe polish.
Offer Free Shipping
It's been used for a long time because it works. The incentive to buy is free delivery, a holdover from mail orders. You can restrict the promotion to a certain number of purchases or make it available to anybody who places an order. One suggestion we have is to cover the delivery cost for new customers. Customers are more likely to find your business this way, expanding your clientele.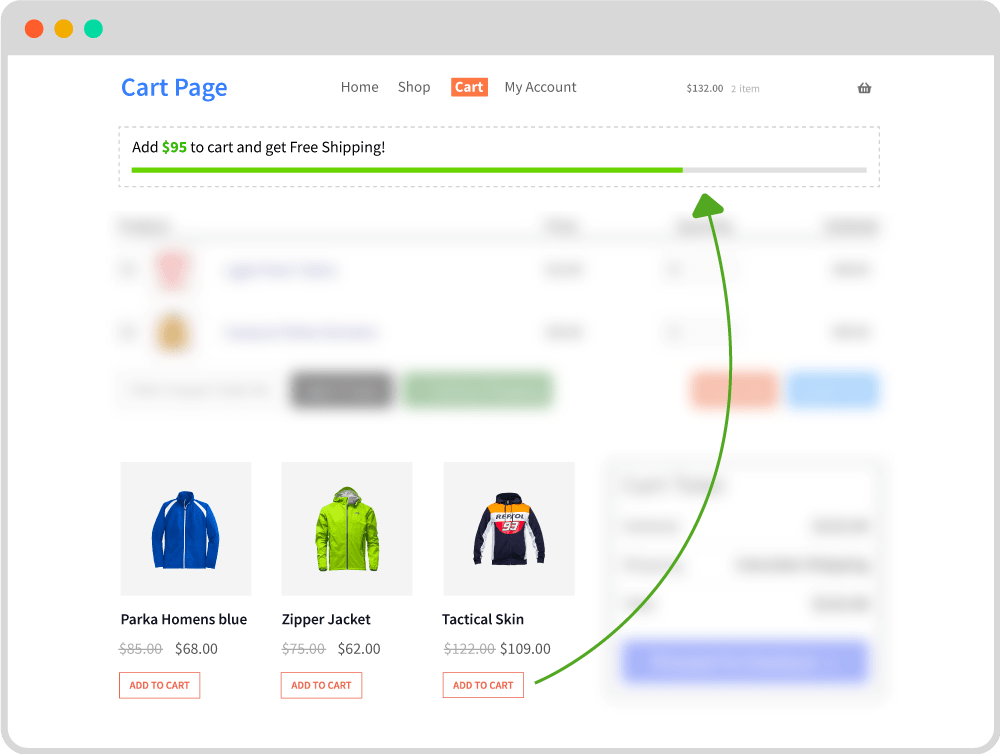 One issue that most WooCommerce users face is that they can't showcase the free shipping progress bar by default, which plays a negative role on buyers, which is why ProductX came up with a solution to add a customizable progress bar.
Perfect Banner Placement
Customers are more likely to return to popular, easy-to-navigate online shops and destinations. One effective strategy is to create eye-catching banners to promote the latest sales, releases, items, and specials at your WooCommerce businesses.
These banners aim to attract customers' attention, educate them, and guide them to particular product pages in your online shop.
Advertising banners on many online stores are lost between the abundance of text and visuals, resulting in low traffic. This means you must consider where you put the banner and how it appears about the other material on your shop page and the products themselves.
These banners should catch the eye with their bright colors and joyful designs while also conveying the spirit of your shop.
Optimize website speed
A fast-loading website that lets customers easily explore items is essential for every online retailer. WooCommerce sales are unaffected by website performance, but it might determine whether or not you attract new consumers. Customers may abandon your site if they wait too long for it to load. As a result, your website must load quickly.
Selecting a reliable WooCommerce hosting service is one way to guarantee this. You may also choose a theme that will improve the speed of your website by avoiding complex plugins and themes. Finally, you may enhance your website's performance and decrease its processing time with several tools.
Integrate high-quality product images
Images of products on an online store's homepage should be engaging enough to attract customers. Having high-quality images and symbols improves the shopping experience for customers. Additionally, they are critical in getting people to buy from your WooCommerce shop.
Improving your online shop's aesthetic appeal depends on high-quality photographs. However, these images shouldn't be so large that they negatively impact load times. For example, your WooCommerce store's load time might increase if you upload low-quality photos without optimizing them.
Also, you need to showcase the products, so not only high-quality images you need to take care of but also how to showcase them. For example, variation swatches, product sliders, or carousels can enhance their visibility and capture potential customers.
Provide Discounts and coupons
If you want to increase sales and conversions on your WooCommerce site, lowering prices is a certain way. Offering sales is a win-win for the business and the clients.
Your WooCommerce store's sales, income, and conversions may be increased via various discounts, including percentage discounts, price discounts, product discounts, bulk discounts, bundle discounts, and more.
Popup plugins can be used to boost the exposure of coupons and discounts.
Quick Checkout Option
The success of every online shop is directly tied to the quality of its checkout system. A faster checkout procedure can attract customers to your shop because of its convenience. However, many online retailers are starting to fret about cart abandonment.
Businesses have responded by using new strategies, such as emailing clients checkout reminders or providing incentives for full carts. In addition, you can encourage customers to finish their purchases by providing a speedy and easy checkout process.
The WooCommerce quick checkout features allow you to customize the checkout process for individual customers, speed up the checkout process, and hide specific fields and product types.
Live Chat
Running a successful online store is challenging without solid and reliable customer service. Customers will have questions and concerns about whether you offer digital or physical goods. These also need consideration. Customers won't always be able to fill out a contact form, and users won't always want to wait for a response.
A live chat is a quick and easy way to solve consumer issues.
Live chats are efficient for learning about your client's problems, desires, and requirements. And to address their pressing issues via two-way conversation, sharing screens, and distributing links to relevant support materials.
So, as we can see from the above, you need to adapt and execute some methods to increase WooCommerce sales. And you can use plugins to help this increase even better. Such a plugin is ProductX, as it helps to customize and showcase your products better while taking some of the abovementioned tactics.
So, excited to know more about ProductX and how it enhances your WooCommerce store? Click here to Find out!
Conclusion
The strategies mentioned above are only some of the most advanced options to increase WooCommerce sales and drive more customers to buy. Even though two businesses are in the same field, the strategies that work for one may not be appropriate for the other. So, we hope you use some of the approaches, if not all, and wish you good luck in your future endeavors.
You can check out WordPress video tutorials on our YouTube Channel. Also, find us on Facebook and Twitter for regular updates!