ProductX has recently introduced another fashion layout in its Starter Pack library. It is the third fashion variation for those who want to showcase their fashionable products in an organized and visually appealing way.
There is a proverb that says "Fashion Is Like Eating, You Shouldn't Stick to the Same Menu". So why you are still sticking to the old-school layouts of WooCommerce? ProductX offers a variety of design variations and a powerful WooCommerce Builder to completely redesign your full WooCmmerce store within a few clicks.
However, for now, let's stick to the main topic. The new fashion layout is a niche specific and properly optimize starter pack to jump-start idol WooCoommerce store creation.
Why This Fashion Layout is So Special?
You are probably thinking why this is one so special? In that case, I think you didn't get the chance to explore the design variation of ProductX. The new WooCommerce site owners mostly focus on the Shop and Single Product Pages. But about the Home Page? And idol WooCommerce store should also have a well-decorated Home Page along with all other pages. So, that's why have included various starter packs based on multiple niches. Although all of the starter packs are amazing for now let's check out the offerings of the new fashion layout.
Explore Fashion Layout 3 Demo
Attractive Hero Section
Whenever we think about an idol landing page, the first thing that comes to our mind is the hero section. Because it stays at the top of a webpage. So if you want to make a conversion-focused home page make sure you have a gorgeous hero section. The good news is we have already created an attractive heroes section for you in the new layout. However, you may want to change the image with your desired one. And, you can easily do that without any hassle.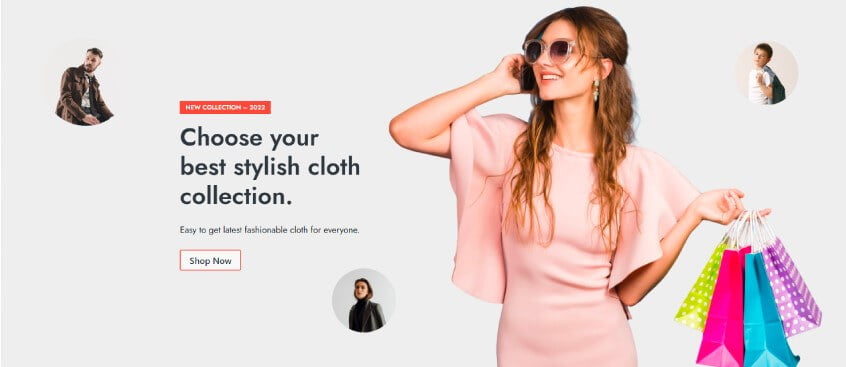 Product Category Grid
Product categories are imported WooCommerce knows that. That's why it includes an option to showcase product categories on the shop page along with featured images as single products. But ProductX is one step ahead of WooCommerce. It comes with two product category grids with full customization options. So that, you can display product categories on any page and exactly how you want. 
Ajax Powered Filter
ProductX is also powered by Ajax filtering options. As you can see in the layout, category filtering options are added in the new arrival section. However, ProductX also has an advanced filtering feature that comes with all important options.
Stylish Product Carousel Section
Do you want to showcase your products with style? The stylish product carousel is your solution. As you can see in the layout, you can create a unique visual experience with the help of the product carousel block of ProductX.
Synchronization
If you are already using ProductX, add the new fashion layout to the template kit by clicking on the synchronization button. If not, get ProductX now to explore all start packs and limitless possibilities of WooCommerce store creation.
1 Click Import
The good news is you can easily import the available start packs of ProductX with a single click. Just, go to a page where you want to add the starter pack. Explore the available options click on the import button ad that's all. Your desired layout pack will be added to the page you are editing. And then you are also welcome to customize every section of the imported Started Pack as per your demand.
Explore Fashion Layout 3 Demo
Stay Tuned For More
That's about the new fashion layout of ProductX. Don't forget to share your thoughts about the layout in the comment section. Stay connected with us to be up to date with the most exciting plugins. More exciting and conversion-focused features will be coming soon. Some of them are right around the corner.
Did you know there's a sale going on? Don't miss the chance to get the massive 70% discount this Cyber Monday.
Explore Cyber Monday Deals