Introduction
What indicates the success of your WooCommerce business? Good lead conversion and decent traffic, right?
But, there is another important metric that plays an important role as well.
And that's the average order value, otherwise known as the AOV.
The average order value is an imperfect, yet important business metric that can tell you whether or not your marketing efforts are yielding proper results.
It's a metric where you get the idea of whether or not your customer retention strategies are working and how well your marketing strategy is working.
Today, we will be shedding some light on the matter. We will be showing you the basics of what is an average order value, how to increase your average order value, answers to some important questions, and more.
But first, let's try and understand what exactly is the AOV.
What is the Average Order Value?
In order to understand the average order value (AOV) take a look at the following example:
Let's say you own a clothing WooCommerce store with total revenue of $1500. The $1500 revenue comes from a total of 150 orders. So, your average order value will be:

(1500 / 150)$ = $15
It means each customer spent $15 on each purchase from your WooCommerce business.
Do take note that this is not the only metric to consider when you want to understand the full growth of your business. Still, it's not something you should take lightly.
From this metric, it is clear that if you manage to increase the value per order, then it will help increase the overall AOV. It's simple math.
How to Calculate the Average Order Value (AOV)?
From the previous example, you should have a clear idea of how to calculate AOV. So, you can see what the formula is going to look like:
AOV = Total Revenue in Sales / Number of Orders (Sales)
This simple math is very powerful, it can easily tell you how to segment your market efforts based on your customer behavior.
You can get better insights if you use customer segmentation by various demographics – average age, product interaction, ordering styles, and more. This way you will better understand whether your marketing efforts are yielding better results.
How to Find Average Order Value in WooCommerce?
You can easily get this metric from your WooCommerce WordPress website by going to WooCommerce from your dashboard. Then go to Reports>Orders>Sales by Date>Year. Once there, you'll have to divide the "net sales in this period" by the "number of orders placed".
This is just one answer. We would urge you to check out the FAQ section where we answer some very important questions.
Why AOV should not be Your Only Business Metric?
According to experts, no single metric of central tendency can offer a complete picture of your WooCommerce business. Rather you need to look at all the relevant metrics to find out the correct information.
For instance, if you only look at the AOV (which is the average of all the orders in a certain period or Mean), and avoid the metrics like the middle or median value of the orders and the orders that are happening frequently, you will not get the full picture of the customer interaction with your WooCommerce business.
For example, if your AOV is $20 but your common amount of purchase is $12, you need to pay attention to both metrics to get the right idea of interactions from your customers.
As a whole, using the relevant metrics, you can easily get a full view of how your users are interacting with your business and whether or not your marketing efforts are bringing you the right outcome.
What are the Strategies to Increase Average Order Value?
There are plenty of strategies that can positively impact WooCommerce AOV. But, some strategies work better.
Here are 11 "field-tested" strategies to increase AOV:
Design the product page properly
Offer a tailored experience to the user
Use upselling and cross-selling effectively
Make product bundles that work
Highlight the trending products
Offer free shipping
Use Discounts wisely
Downsell product addons
Design a proper customer loyalty program
Offer decent customer support
Use social media
Now, let's get into the details!
1. Work on the Product Page Design
Your product page is one of the first things a customer sees when they find their desired item. According to Convertcart, 87% of the users believe a product page needs to have the right information.
On top of that, 67% of customers think that product visuals work better than product descriptions.
So, it is a good idea to design a product page properly. According to Jessica Bonacci, a proper product page should have:
A proper product description
Important details of the product
High-quality images and/or videos
E-commerce SEO for product rankings
Good product navigation
These are the things you need for your product page to succeed. And if your product page succeeds, it has a positive impact on your AOV.
Question:
"I am using WooCommerce. How do I design the perfect product page that has all the elements?"
You will find the answer to this question in the bonus section.
2. Offer a Personalized Experience
A personalized experience can go a long way.
It doesn't just help to increase the average order value. It helps you establish yourself as a brand in the eyes of your customers.
Because through something personal, you are offering a "solution" to the users' problems. And 53% of them do not complete the purchase if they don't find the correct solution through the experience.
So, make sure to plan your WooCommerce store and all the pages to offer solutions to your customers.
Check out the bonus section to see how it's done.
3. Use Upselling and Cross-selling Strategies
Do you understand the concept of upselling and cross-selling? They are a great way to increase your AOV and Lifetime Value.
Upselling and cross-selling to existing customers can yield 60-70% conversions according to a marketing study. And chances of retaining an existing customer is only 20%.
The following sections will help you understand how upselling and cross-selling work:
Upsell Products
Upsell products are the ones that are higher in value than the ones that a user chooses to buy initially. It is to prompt the user to upgrade to a better product option that is high in price. For example:
A user may opt for a better watch with better build quality in contrast to the initial option.
Someone may want to go with a dress with a better design than their initial choice of dress.
A user may choose to opt for a tablet computer with better RAM and Storage.
Upselling has a direct impact on AOV, as the customer is choosing an item with a higher price than the initial option.
There are instances where customers like the idea of a suggestion for a better product. This happens at times when the customer is looking for a proper upgrade.
Cross-sell Products
These are complementary items that a customer would like to buy with their regular purchase.
For instance, if you're looking to buy an Apple Smartphone, you may need to buy a charging adapter and a lightning cable separately. The charging adapter and the lightning cable are cross-selling products in this scenario.
There are other examples as well:
If someone wants to buy a laptop, he or she may need a travel case and a wireless mouse.
Small furniture accessories may be included with a large furniture item.
Electronic accessory items are to be sold with large-investment items [As mentioned earlier].
Cross-selling also has a great impact on AOV. Customers appreciate this as they do not have to spend the time to look for smaller, yet essential items to complete their shopping experience.
This increases the customer lifetime value alongside the AOV, allowing you to enhance the overall experience.
Some things to follow:
Don't be pushy with the customer. Remember, they can easily move from your WooCommerce store. So, make sure to include items that will be useful to the buyer.
In general, if someone is out to buy a product that is worth $200, it will be hard to convince them to go beyond that budget. Suggesting important items that are useful, yet significantly low in cost can be beneficial. The chances of the customer being willing to spend an extra $20-$50 are logical. But the item you wish to suggest needs to be something the user will be interested in buying.
Tools like ReConvert, Zangerine, Funnel Wolf, and others offer a unique insight. They tell you which products customers buy together. This way, you don't risk offering irrelevant items to the customer, which can play a role in increasing the average order value.
4. Bundle Similar Products
According to Matty Meyerson @Dearselfskincare says:
"We have found the single best tool we have done to get people to buy more is to offer product "bundles." We pair products that work well together in our skincare line and give a discount to buy the bundle."
Bundles can work wonders. If you can bundle the right products, the chances of getting conversions are very high.
Effectiveness of Product Bundles
You can also prompt users with product bundles. Product bundles in WooCommerce are optional items. Customers can get these items in configurable quantities with the items they want to purchase.
For instance, if a dress is available with multiple colors of caps and accessories, users can choose between these products by selecting the quantities. The items will be added to their carts.
Like cross-sell and upsell products, product bundles can also play a role in increasing the overall AOV.
An ideal example of product bundles can be shown below:

Imagine you are selling to someone about to start a rock band. They are looking to buy a top-notch drum set. The price for that is $600. Now if you bundle a good set of speakers, drum rug, drum bags, and stick holder all together as a bundle with a discounted price [say the total bundle costs $800 after a discount], it can work as a great Call-to-Action.
Here's another example:
Campers often like to grab all their gear together. If you go to the Wooded Nomad's website, you'll see that they have particular bundle options for various customers. This is a great example of product bundles that offer value to the customer while increasing the value.
BOGO discounts are also a great way to increase the average order value. According to Shopify, 60-66% of users favor BOGO discount offers. And around 90% of them admit to getting a product on BOGO discount at least once.
BOGO discounts are highly suitable for B2B+B2C WooCommerce websites. To effectively add BOGO discounts, you can check out the following:
How to Create BOGO Discounts for WooCommerce Store?
To effectively implement BOGO discounts in a B2C+B2B hybrid store, you can use the ProductX and WholesaleX plugins. Both these plugins work smoothly with one another.
The Black Friday Wave is LIVE! Save BIG on the ProductX + WholesaleX Bundle. Create wonderful WooCommerce sites for B2B and B2C business at a DISCOUNTED Price!
5. Highlight the Trending Products
Highlighting the trending products is a common practice among marketers. It means highlighting the product images and information better.
This strategy can impact your overall sales as well as help increase the average order value.
So, it is crucial to design the product page and the shop page effectively. There are some great WooCommerce page designs you can take inspiration from. Make sure you highlight your brand properly in the process.
6. Set a Free Shipping Threshold
Shivbhadrasinh Gohil, CMO at Meetanshi adds this:
"Offer free shipping for a minimum cart total. Customers love free shipping and tend to buy more to avail the facility."
The statement clears up one thing:
Free shipping, with a strategic twist, works!
Experts predict that you should create a scheme with a minimum of 25-30% headroom. You can experiment with more and see if it works for you.
Remember, you're not trying to weed out weak customers. So, you'll need to make sure to prepare a scheme that doesn't hold the customer captive in any way.
For example, if the AOV is $25, you can offer 'Free Shipping' at $40-$50. Customers would love to include the extra $15-$20.
Neal Taparia, CEO of Solitaired, supports the price reframing idea:
"One tactic I've used across my businesses is to reframe pricing. For example, our current offering is $2.99 a month. We saw a 26% increase in conversion when we said it's less than one coffee at Starbucks. When you anchor pricing to something else, you create a different value perception."
7. Use Product Discounts Wisely
Product discounts are like a double-edged sword.
They can either have a positive on the Average Order Value, or the opposite. Because sometimes, discounts can cause more confusion than offering a 'solution'.
Still, customer psychology indicates that – discount offers impact their purchase decisions.
So, the chances of increasing AOV are good if you offer discounts correctly. But, you need to plan it the right way.
For example, offers running for a limited time have way better conversions! Limited-time promotions are a great thing.
If you offer a special deal for a very short window (24-48 hours or less), you create a possibility of increasing your average order value. So make sure:
Offer value-centric Calls to Action.
Keep the promotion copy small.
Be honest and specific.
Make it easy to understand.
In this regard, there are 2 resources we would like to share with you:
If you are looking for effective Black Friday Marketing Strategies, then you can check out the five tips we have to effectively increase your sales and AOV:
5 Black Friday Marketing Strategies That Work
Knowing about the strategies isn't enough. You need to prepare your website to make the most of these strategies. So, you need tips on preparing your site:
5 tips on Preparing Your WooCommerce Store
Coupons and gift cards are a great way to offer discounts. And these strategies are very versatile as you can use them for multichannel marketing. Use them to your advantage to increase AOV and LTV.
8. Downselling Product Addons
This is a sneaky little strategy you can use.
Downselling means offering a low-price product to a customer if he or she decides to buy a high-price item. The concept is similar to upselling and crosselling.
But it works! Here's an example:
If a customer looks to buy a $100 product, you can offer a $10 item that's related to his/her purchase.
9. Design a Customer Loyalty Program
Customer loyalty programs are there to increase customer retention.
Make sure to have a proper customer loyalty program in place. Here are some tips you can follow:
Choose a proper name and prepare to create a deeper feel.
Develop a proper experience. Make sure it feels like a game.
Ensure customers have different avenues of enrollment.
Offer value-focused incentives to the users that are non-monetary.
Research indicates that a focused loyalty program can increase the average order value by 12-15%. So, make sure to focus your efforts.
10. Design a Good Customer Support System with Live Chat
You need a good customer support system to make your strategies work. And for that, a live chat system can work wonders.
Live chat is a necessity nowadays. Especially when you're dealing with sophisticated products. Customers, in general, like to understand how the product works firsthand.
They want to get a feel for the product before they buy the product.
Even buyers who are "About to" make a purchase may need a bit more push before they can hit the 'Buy' button.
In short, Live chat is a promising weapon that is often underutilized by WooCommerce businesses. Experts predict that live chat can increase the overall AOV by 10-15% in general. So, setting up this 'necessity' should be imminent.
11. Use Social Media Properly
Readers are very active on social media. A huge portion of this traffic likes to buy products after seeing reviews in the social space and real-world use.
As a matter of fact, the study suggests that 68-72% of customers will only buy a product from your WooCommerce business after reading an online review (social space on the web).
A good strategy here is to share customer reviews on your company's dedicated social channel. You can ask social influencers to review your products. These strategies can easily help increase the AOV.
Bonus Sections
Remember we talked about redesigning your product pages? Well, there's a plugin called ProductX that can help you achieve that:
How to Design WooCommerce Pages with ProductX?
ProductX is a WooCommerce builder plugin that can help you build WooCommerce Pages just the way you want. You can use the highly customizable product blocks or the pre-made templates. On the topic of ProductX, it is worth mentioning that the built-in builder is a super powerful feature that can work wonders. There are 2 great resources we would like to point you to.
But before that, why not check out a quick video on how the WooCommerce builder works:
Now, let's take a look at the resources on creating proper WooCommerce pages:
How to Build a Shop Page?
The shop page will show up as the shop page template you create. You can create it in 1 of 2-ways:
Use a pre-made template
Use the ProductX blocks
Both methods are clearly laid out for you in the following resource:
How to build a shop page template with ProductX?
Here's a home page we designed with some advanced features of ProductX: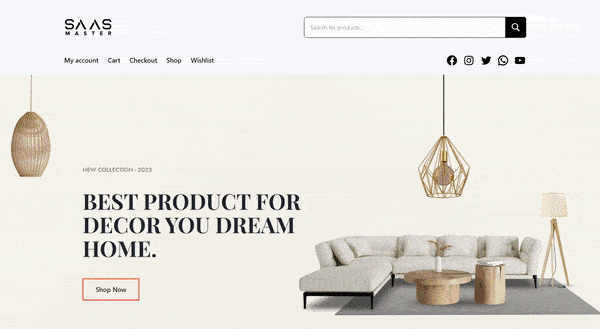 The design shows the power of ProductX (why is it so powerful in contrast to other WooCommerce builders). Do check out the link mentioned above to check out how can you create a proper shop page.
How to Build a Single Product Page?
The single product page is a very important thing to get right. So, you may want to do some research before walking into the process. Remember, you are creating a single product page template to show on your single product page.
But, you can rely on ProductX to get the job done. Again, you will have 2 methods mentioned earlier. Check out the resource below to learn how to create proper a single-product page:
How to Create a Single Product Page Template?
Here's the back-end view of a single product page. You are at will to create the design you want. Again, do make sure to use your brand assets properly.
Here's a single product design snapshot from the backend: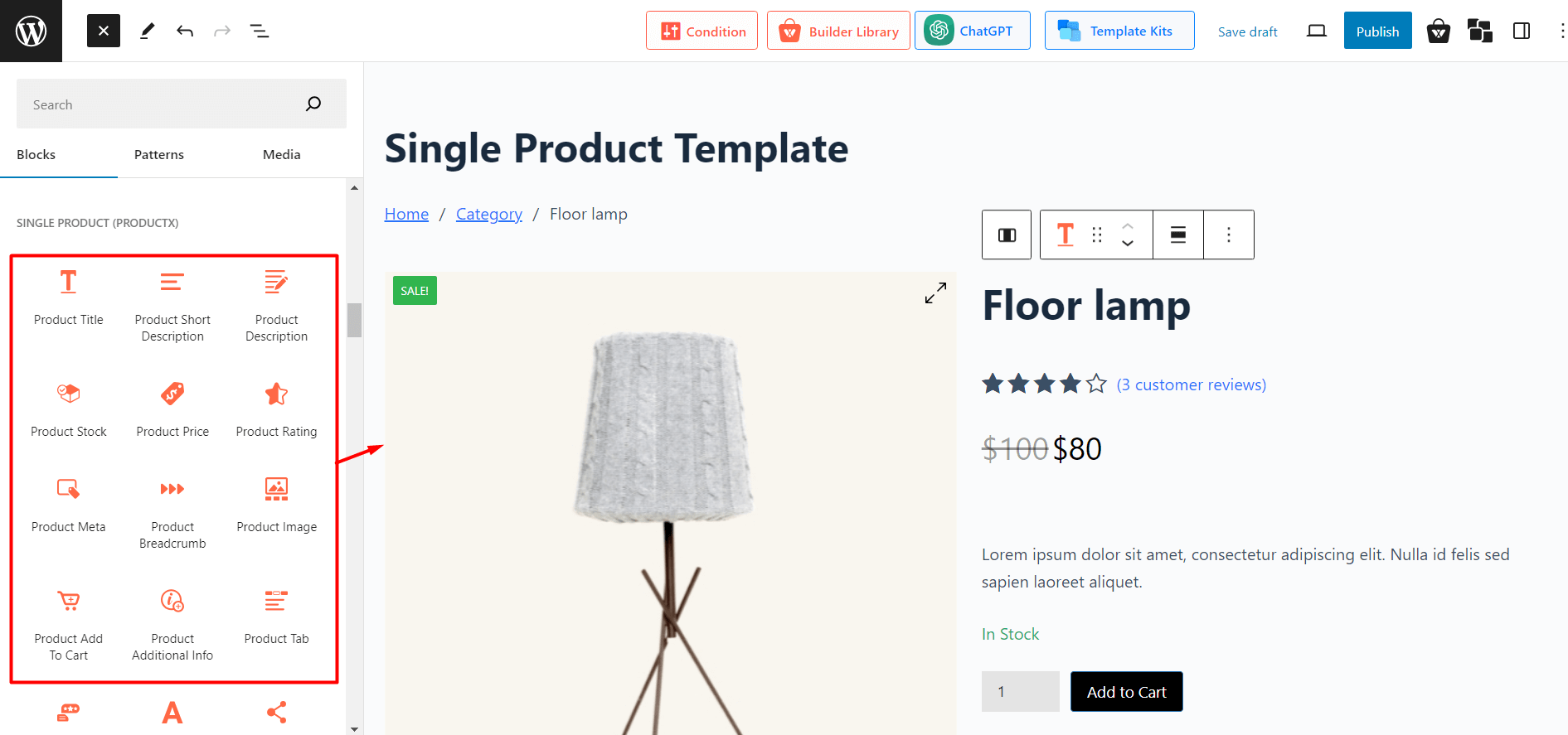 This is just one example.
Do you want to explore other Pro features of ProductX? The WPXPO Black Friday Wave is LIVE! You can SAVE Up to 55% on ProductX right now!
FAQ
Make sure to go through this section carefully. You will find some useful information crucial to the topic.
What does the average order value tell us? 
It is the average value per customer order placement. This means if you place an order on a website or a mobile app, the average value per order of a customer is the average order value. It is a key performance metric that helps track customer behavior and helps with business decision-making. 
How important is the average order value?
The average order value is important for 3 reasons: 
1. It helps to increase/expand marketing capabilities. 
2. Reduces the customer acquisition time. 
3. Reduces the customer payback time as a whole.
Overall, if you can increase the average order value, you can increase your overall market expandability by acquiring more customers and reducing the time to receive revenue. 
What is the difference between AOV and ATV?
In many cases, users use the terms AOV and ATV with the same meaning. However, there is a difference between the Average Order Value and the Average Transaction Value. 
The average order value is the divided result between the Total Sales Revenue and the Total Number of Sales. 
AOV = Total Sales Revenue / Total Number of Sales 
On the other hand, ATV or Average Transaction Value is the money that is spent by each customer per transaction. So, if you want to know how to calculate ATV, you can use the following: 
ATV = Total Sales Revenue / Total Number of Transactions 
The math is simple. Let's say you've had $5000 in revenue for 1 month. The number of transactions in that month is 20. 
So, the ATV of that month will be, (5000/20)$ = $25 
AOV offers better insights into customer behaviors than ATV.  As things like shipping time, and taxes on certain items across international borders may be out of the hands of the WooCommerce business owner, it's difficult to predict the effects of ATV. 
On the other hand, AOV doesn't have any concerns with tax issues, shipping, or other such metrics. As a whole, it offers better insights than ATV.   
Does the average order value include taxes?
Yes, AOV in the orders report includes shipping and taxes. However, there may be no mention of returned or refunded orders. 
Does average order value include discounts?
Yes, deductions/discounts from customers and other relevant inputs directly impact the overall average order value. So, there is an impact of discounts on the overall average order value. 
What does 'high average order value' mean?
A 'high average order value' or AOV essentially means that you are getting more out of each customer. This results in less effort, yet getting better revenue out of every customer.
How to increase the B2B average order value? 
The key to increasing the average order value (AOV) for B2B (business-to-business) is to increase customer interaction. A great way of doing this is to increase the overall customer experience by offering each customer a unique experience. You can leverage upselling, cross-selling, product bundling, and other such WooCommerce features to increase B2B average order value. 
How do you increase the frequency of an order?
The reason for increasing your order frequency is two-fold. First of all, it helps you gain new customers (getting new customers and retaining them is 4-5 times harder than selling to an existing customer). Second, you increase the overall possibility of sales to the new customer, which increases from about 18-20% to 65-70%. 
The calculation, according to experts, goes something like this: 
If the number of customers making 1-purchase = 40, the number of customers making 2-purchases = 50 and, the number of customers making 3-purchases is = 20, the order frequency will be: 
(50+ 20) / (40+50+20) = 0.63 or 63% (approximately). This is the probability of a customer who made a 1-purchase and is prepared to make a 2nd purchase. 
Here are the tactics you can follow: 
1. Introduce renewable products to promote the 2nd purchase. 
2. Introduce/sell products that are complementary (offer a fast charger with a smartphone). 
3. Explore the possibilities of introducing 'repeat business' opportunities. 
4. Offer 'micro-emails' after a certain period of purchase time. 
5. Make sure to offer the 'right product at the right time' to the customer. 
5. Introduce membership schemes if possible. 
What is average order frequency?
It is the measure of the average number of orders placed by an individual customer. You can get the average order frequency (AOF) per month by doing the following : 
Total Number of Orders per Month/ Total Number of People per Month = AOF for the month.   
How do you forecast repeat customers?
Repeat Customer Forecast (RCF) is a key way of evaluating business leads. It can play a major role in increasing the average order value. You can include it in the long-term plan for customer retention, building insights into the lifetime value a customer provides to the business. 
The key goal here is to understand how customers can provide lifetime value to the business to ensure overall growth. This goal also includes the fact that you can increase your average order value in the long run. Data can only take you so far. You need a concrete strategy for repeat customers and a Lifetime Value (LTV) Prediction for each potential customer.
For repeat customers: 
1. You need to understand how an individual is reacting to your products within the social media platform. 
2. Focus on offering a customer personal value rather than looking for business value all the time. This creates customer retention. 
3. Understand their shopping pattern and activities.  
For LTV prediction: 
1. Understand individual customer demographics. 
2. Look into purchase behavior pattern change. 
3. Understand how is their reaction to your products and business. 
4. What they're purchasing and their shopping preference in a year.  
These metrics will help you increase your average eCommerce order value in the long term. 
How to find the average order value in Google Analytics?
In order to find the average order value in Google Analytics, you'll have to: 
1. Go to analytics.google.com and log in to your account. 
2. Go to conversions>eCommerce>overview. 
You will now be able to see the AOV of your entire business along with other important metrics. 
How to optimize AOV on Facebook ads?
Facebook is one of the key places for boosting your online business(s). And without Facebook ads, it's pretty much impossible to do so. 
Facebook has different types of ads, and it's pretty much a guarantee that you'll spend quite a big amount on ads to boost your business (Cost-per-Click costs around $0.97, Cost-per-Thousand impressions costs around $7.19, and more). 
In return, these efforts will help increase your AOV. 
1. Increase your audience size through proper targeting. 
2. Build your sales funnel and optimize. 
3. Optimize your Facebook budget through an optimized 'Learning phase'. 
4. Optimize ads for different sales funnels.
Final Thoughts
If you've made it this far, then congratulations. You now have some important insights on how to increase your average order value. Just make sure of one thing.
Do your research thoroughly before jumping into anything. Once you do your research, you can easily use the above-mentioned strategies for your particular WooCommerce business.
Good luck!