Introduction
There are 5 potential Black Friday Marketing Strategies you can try this season.
According to sources, in 2023, the eCommerce market potential will be more than $9.8 billion this Black Friday! Not just that, more than 1/3rd of the population in the US will be looking to make a purchase through WooCommerce stores this holiday season.
So, you are a WooCommerce store owner. You are looking to make your mark this holiday season with your online presence.
Do you know what you need?
A proper set of strategies that will help you get better sales!
Since reports suggest that WooCommerce-based purchases will rise by 10.14% from 2022, it is crucial to implement certain strategic actions.
Otherwise, it will be impossible to get ahead of the curve and grab a chunk of the 50% of customers who start making purchases early.
So, how do you start?
Black Friday and Cyber Monday: What's with All the Hype?
Black Friday is a day filled with discount offers and deals for shoppers. It takes place right after the US Thanksgiving – a day of joy and appreciation. Historically, many employees have a day off during this time.
After Black Friday, there's another reason for celebration – Cyber Monday!
Cyber Monday is a PRIME day for online shoppers! The National Retail Foundation came up with the term back in 2005. Since then, online shoppers get to buy tech products at a HEAVILY discounted price!
It's a field day for online buyers because of the great deals and promotions on tech products!
One more thing. Cyber Monday takes place on the 1st Monday after Thanksgiving.
Since we are talking about shopping on Black Friday and Cyber Monday, let's take a look at some interesting stats!
An average American plans to spend between $430 and $500 during the Black Friday and Cyber Monday Period.
In contrast to an average day of shopping, interaction increases to a whopping 512% during the Cyber Monday season!
Among the top 50 retailers, 88% offer some form of discount during Cyber Monday.
The average discount during Cyber Monday is 30% in the US.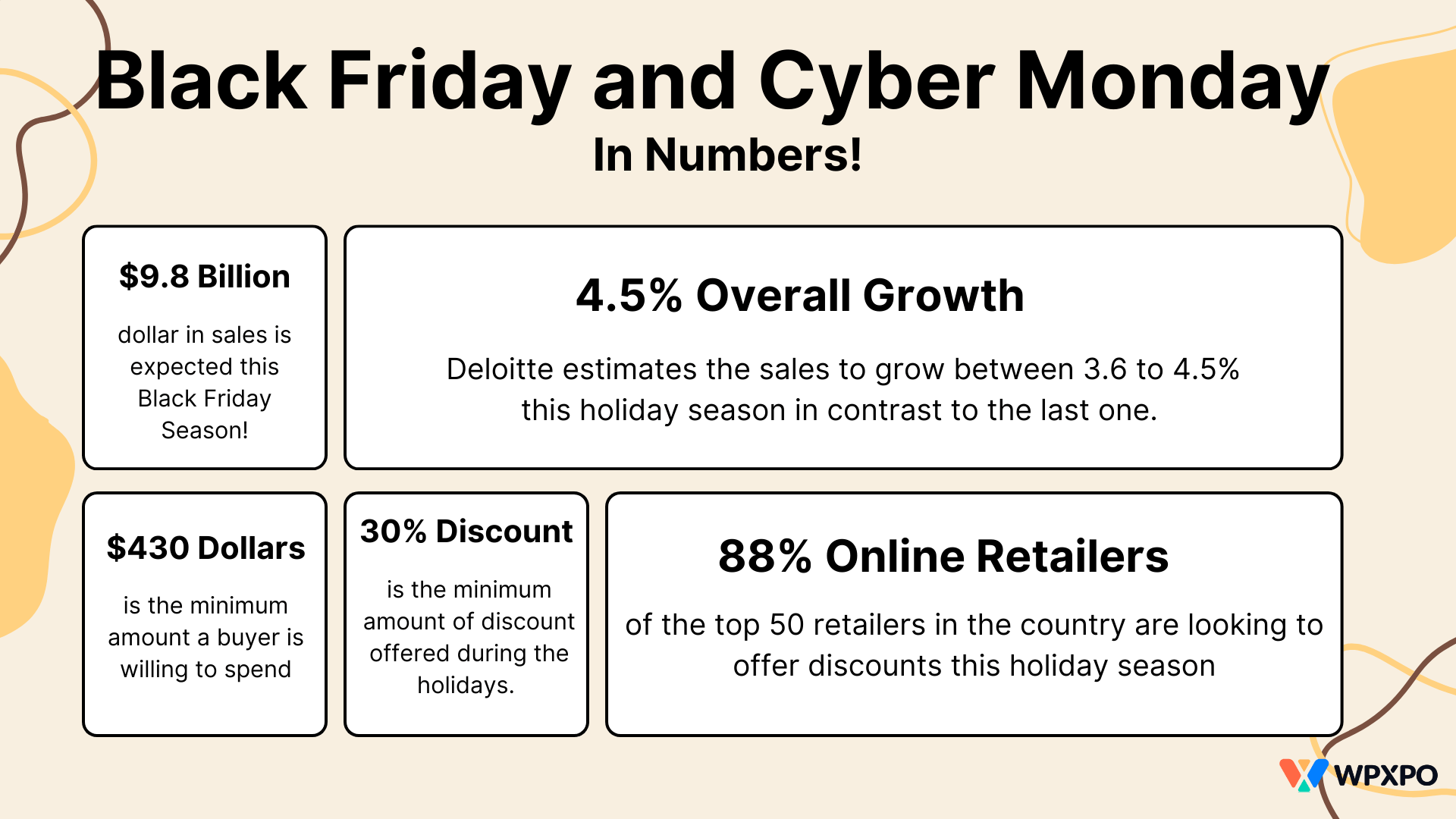 Black Friday Marketing Strategies: Starting from the Ground Up!
Although we are going to work with Black Friday Marketing Strategies, there is one question that needs an answer:
Should you plan for both Black Friday and Cyber Monday?
Well, the answer to that question is a bit technical. The very first thing you need to keep in mind is: you need to have your footprint on the internet. Meaning, you need to have a WooCommerce store without delay!
Let's say you don't want to do it right now. If that's the case, then you may want to keep your plans limited to Black Friday.
However, there's been a surge in online sales – over 11 billion dollars. You need to ask yourself:
Can I afford to be offline? Or do I need an online WooCommerce store today?
The simple answer is, you need to set up an online store today! And you need to plan for both Black Friday and Cyber Monday since they offer enormous sales potential!
In essence, you need to plan for both Black Friday and Cyber Monday. Because you simply cannot afford to lose a piece of the massive sale that's going to be generated!
You are now clear on your objectives. Good!
Now, we start with the implementation of the strategies:
Strategy 1: Leverage the Power of SMS Marketing
SMS marketing has a 53.5% CTR (Click-through rate) and open rate – far more potent than email marketing.
And there's a good reason for that as well:
Over 43% of customers prefer 2-way SMS communication. It is something marketers leverage along with other marketing channels. And 91% of them have reported it to be effective!
It's one of the great Black Friday marketing tips you can put into practice.
So, how do you plan something like this:
Start planning for the SMS Campaign Early
According to Barbara Casey from Mobile High 5:
"Texting for small business is truly a gold mine that awaits."
This is not just true for small businesses. Medium and large businesses can benefit from it as well. The stats below will tell you why:
As we probably mentioned earlier, Black Friday and Cyber Monday shoppers typically start charting their shopping plans 2-3 weeks in advance.
And there's the fact that young adults find SMS marketing more viable. 28.5% of them prefer texting over any other forms of communication.
So, you can gain the early shoppers – under which you can reach the young adults and other buyers.
So, the best way is to start early. Here are 4 questions you need to ask yourselves before making chalking out a plan:
Who are my target customers?
What type of SMS should I craft for them?
Am I offering the right deals?
What is the competition doing this year?
These questions will set the tone for your campaign.
Carefully Craft an SMS with a Proper CTA
In order to craft the perfect SMS, you need to have the answer to the previous 4 questions ready.
It will help you craft the perfect SMS for the campaign. The following section has a couple of templates you can use for your campaign.
SMS Marketing Template Examples
Here are some example SMS templates for Black Friday Marketing:
"EARLY BIRD DISCOUNTS: Get X% OFF on Y Items. Click on the [LINK] to learn more. Type STOP to stop receiving SMS from Z Store."
"X MORE DAYS LEFT, discounts to expire on Y Items. Type STOP to opt out of promotions."
"Ready for some BLACK FRIDAY FUN! Grab X% discounts on Y Items."
"Get a free X with every Y purchase this BLACK FRIDAY! Visit the [LINK] to get an exclusive look!"
"Y Days to Go! Once it's gone, IT'S GONE! Don't miss this amazing deal on X Items this Holiday Season! Click the [LINK] to learn more."
These are just a few examples. You can bring your own twist, make changes according to your user base, and craft the SMS(s).
However, if you want to offer special discount offers or coupon codes, you can create something like this:
"You are SPECIAL to us! USE [CODE] for an EXTRA X% DISCOUNT! Dial [NUMBER] with the CODE Get the DISCOUNT COUPON!!!"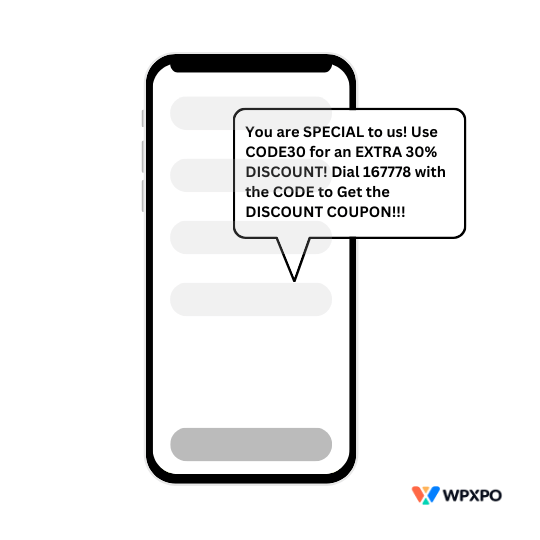 Again, this is just an example. You can also send promotional offers like:
"Use Code [CODE] to get X% OFF on Y products! Dial [NUMBER] with the code to get your DISCOUNT COUPON!"
Pro Tip: For SMS marketing success, it is crucial to keep the SMS size below 160 characters. Anything more than that can result in "Less-than-Expected" conversions.
SMS Collection and Follow-Up
SMS collection can be very tricky. A viable way of collecting phone numbers is to use a catchy form.
The form needs to appeal to the customer by urging the customer about the upcoming deals. Your loyal customers will likely be interested in receiving offers from your end.
And yes, you will need to segment your customer list. You need to identify which customers will get you the best conversions via SMS marketing.
Now the question is, how do I follow up with the customer?
SMS Marketing Follow-Up
According to a study, the cart abandonment rate is around 76-78%. It means that users add items to the cart, but don't complete the purchase.
You need to take action to reduce this number. To do that, a follow-up email can help.
In the follow-up email:
Remind the customers that they did not complete the purchase.
Offer them a coupon code.
A Call-to-Action; telling them to make the purchase before the offer ends.
A final call before the offer ends!
The last thing you need to do is:
Add a personal touch to your SMS(s). Without your own personal flair, buyers will not be convinced about your business. Something personal in your SMS will help sell your brand to the customer.
Strategy 2: FOMO Marketing for Black Friday
FOMO stands for "FEAR OF MISSING OUT!". It means the user is in "Fear" of missing out on a special offer.
Marketers take advantage of this marketing strategy by:
Showcasing the people buying products from your website
Adding a countdown timer to create urgency in an offer
Showing the number of people who bought items from the store
Sharing real-life customer experiences of your customers
All the points mentioned above have one thing in common:
They try to "persuade" the customer that they are "MISSING OUT" on a running offer in your store.
Now there are a couple of ways to implement a successful FOMO strategy:
1. Creating a sense of urgency through short-term deals on your website
More than 50% of customers buy an item because of an ongoing deal on a WooCommerce website.
This is because they think the promotion will be over before they can take advantage of a promotion.
This works great in favor of a WooCommerce marketer. And he/she can take advantage of this feature by promoting early bird or short-term deals.
For example, an offer like: "60% OFF, ONLY for an HOUR!" will stir the minds of the buyers, persuading them to make a decision quickly. And this translates to better sales and conversion.
Fortunately, you can create these offers and promotions with the ProductX WooCommerce Builder Plugin. The Banner Maker Block allows you to create wonderful banners for promotional offers.
And yes, you can build stunning WooCommerce shop pages as well.
2. Building a proper eCommerce shop page with ProductX WooCommerce builder
Before we start building an eCommerce page with ProductX, it's probably a good idea to learn something about the ProductX plugin:
ProductX is a WordPress WooCommerce plugin that allows you to create proper eCommerce websites without the need for any additional page builders. With the help of the WooCommerce builder, you can create custom WooCommerce shop pages and single product pages with just one click.
Here's a sneak peek of the builder:
That's not all, you are free to build your full WooCommerce store and customize how you want to show the products and their variations.
Enough said, let's take a look at how you can build a custom shop page for your WooCommerce store:
To do this, you need to:
Install and activate both the WooCommerce and the ProductX plugin
Go to ProductX > Add Ons
Enable the WooCommerce builder addon
Now go to ProductX > WooCommerce Builder > Shop
For now, choose a shop page template and click on import
In the editor panel, make changes to the template
Finally, save and publish the template
Now, these are the very simple steps of creating a WooCommerce shop page. You will find more on it if you read the following:
How to Build a WooCommerce Shop Page Template?
You will find all the information you need on the resource mentioned above.
Here's the shop page of a furniture website we created with ProductX: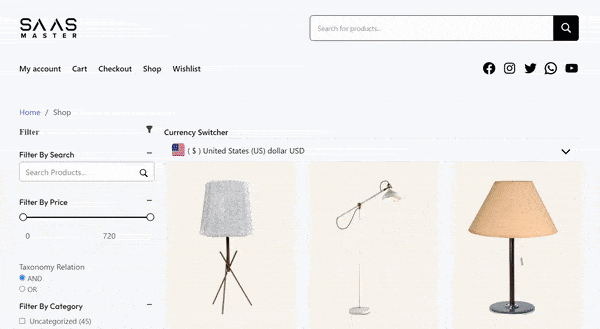 According to reports, 52% of online shoppers do not find the right information on the product page. Reports also suggest that the bounce rate for product pages is 61.1%. This indicates that product owners need to make efforts to update their product pages as well.
Fortunately, ProductX has the solution for you:
ProductX features a wide array of single product page blocks that help you create custom WooCommerce single product pages with ease. Also, you can import one of the pre-made designs, make changes to it, and publish it.
You will find the relevant information in the following resource:
How to Build a WooCommerce Single Product Page Template?
Our list of Black Friday Marketing Strategies, so far, guided you to make your site formatting better (you already know why it's important). Now, let's talk about creating promotions!
3. Creating banner promotions using the ProductX Banner Maker
Banner Makers offer a great advantage for FOMO marketing.
According to research, 56% of people are afraid of missing special events. These include special sales promos, offers, etc.
And FOMO affects millennials as well, to a great degree! 60% of them are prone to making impulse purchases.
You get the idea.
The ProductX Banner Maker can be very useful in this case for:
Letting buyers know about potential offers running in your store.
Letting shoppers know about any limited time offers.
Here are 4 steps to create a promotional banner using the ProductX banner maker:
Create a page or prepare the space where you want the banner
Bring the banner block to the page
Use a pre-made banner template or build your banner from scratch
Save changes to the page and publish it
Using the banner maker is super simple for FOMO promotions. Also, you have an extended number of features to work with. Here's a detailed guide on how to do it:
How to create a promotional banner?
You can do a lot with the banner maker. Just follow the above-mentioned resource to learn more.
Strategy 3: BOGO Discounts on Black Friday
BOGO discounts are a great way to clear out your shop inventory for new products. Since many shop owners like to clear out the inventory to bring in new products, it can be a highly effective strategy this holiday.
Also, shoppers love the kinds of discounts where you buy one product and get another one for free (Buy X get 1 Free BOGO discount). 65% of them love all-out BOGO discounts.
Also, 95% of buyers got BOGO discounts at least once!
You already know about creating and promoting product offers with ProductX. If you add WholesaleX, you unlock B2B wholesaling powers for your WooCommerce store.
Here's a quick look at the features of WholesaleX:
WholesaleX is a proper wholesale plugin that can help create proper B2C+B2B wholesale stores.
It lets you add tiered pricing for your products along with BOGO discounts. Here are the steps you need to follow:
Install and activate WooCommerce, ProductX, and WholesaleX plugins
Go to WholesaleX > Dynamic Rules from your WordPress dashboard
Set the discount rule to BOGO
Update the Products and the User Roles for BOGO discounts
Save the rule
The great thing about WholesaleX is the fact that you can apply a variety of BOGO discounts and other discounts with it. The following resource will be of great help if you want to add BOGO discounts this season for better sales:
How to set BOGO discounts in WooCommerce?
Now BOGO discounts are very useful, no doubt about that! However, you need to create a sense of urgency – it's why you need to combine BOGO and FOMO together.
Run the BOGO offer for a very limited time. It's shown to yield better results (check out the FOMO section).
ProductX and WholesaleX can do great things together. If you're thinking of kicking your eCommerce journey, you can get the ProductX and WholesaleX bundle at a GREAT DISCOUNT this BLACK FRIDAY.
Strategy 4: Marketing Ads for the Holidays
Marketing ads can be a great motivator for shoppers who are looking to spend this Black Friday and Cyber Monday.
According to reports, users use somewhere between 34% to 35% of Google ads.
Also, among other channels for marketing, they spend 17-18% on Facebook ads, 15% on Amazon ads, and 32% on other ad channels.
So, it is clear that Google ads can give you the best possible results. There's only around a 3 to 4% difference in running ads on other channels – such as your website. You can use the banner maker for that.
Paid Media Ads can work wonders if you use them on the right platform. 68% of Gen Z discover new brands and products on Instagram. So, if you play your cards right with paid ads, you can target a whole lot of new users.
Since 46-49% of users come to eCommerce stores from Social media, spending "a bit extra" on social media paid ads can come through for you.
Although ads can make a difference, there are a couple of things you need to know here:
Your ad funnel should be ready in advance. This will help you find prospective customers, engage with them, target them, and retain them. Starting a minimum of 2 weeks ahead of the sales can be beneficial.
Not all of your ads will reach the customer – so, make sure to market on multiple channels. It increases your chances of success.
Use custom ads for different channels. This increases your chances of success by a great degree.
Share your stories on different channels. Be humble and honest in your approach
Share customer stories in ads – share real experiences of users on what benefits they received from your products.
Ad spending grew 188% in the last couple of seasons. Marketers want to expand their funnel and gain as many users as possible.
You need to spend your ad money wisely as well. Otherwise, it may not reach the "right" users.
Data suggests different conversion rates for different regions:
UK: 4.2-4.4%
US: 2.8-3%
Canada: 7.0-7.1%
Australia: 4.2-4.3%
As you can see, for different regions, the conversion rate is different. This tells us that you need a different strategy for retargeting ads in various regions. It's simply because people have different takes on ads.
Strategy 5: Bundle Offers, Upsells and Cross-sells
Bundle offers can be of great help this holiday season for 2 reasons:
It helps to clear out your inventory and bring in new products
Users show interest in products that come in a bundle with other products. It plays a role in increasing the Average Order Value (AOV).
Before we show you how you can leverage AOV (Average Order Value) with bundled products, here's how to add bundled products to your WooCommerce store:
How to Add Product Bundles to WooCommerce Store
To add bundled products to WooCommerce, you can do the following:
Go to Products > All Products from your WordPress dashboard
Choose and select "Edit" for the Product you want to create a bundle
Find Product Data on the page
Choose Grouped Product from the dropdown
Then from the left-hand panel select Linked Products
Write the name of the product and add them one by one
Save or update the product.
Here's how we added some products to sell it as a grouped product. We are offering a product as a bundle: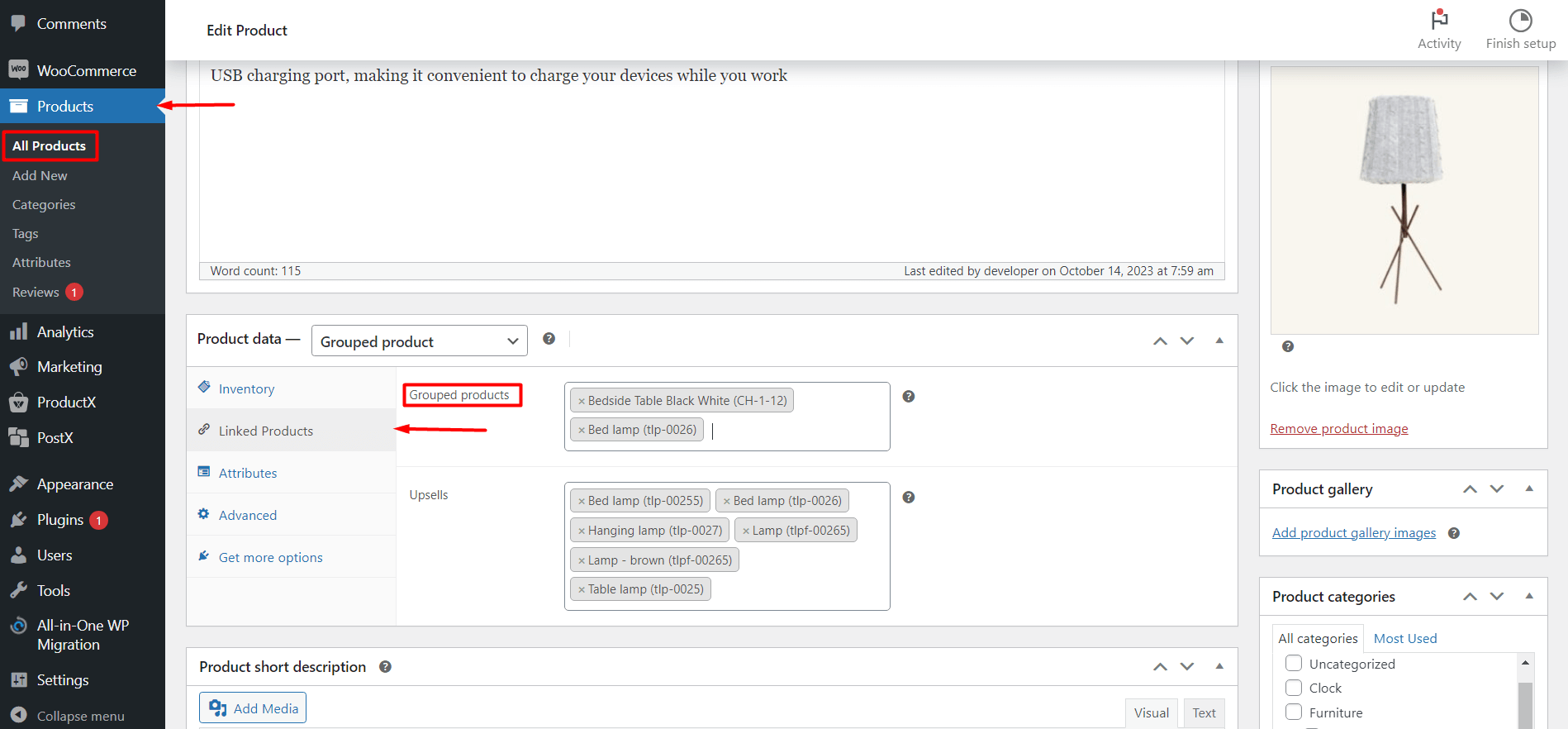 Here's how the grouped product looks like in the single product page (built with ProductX):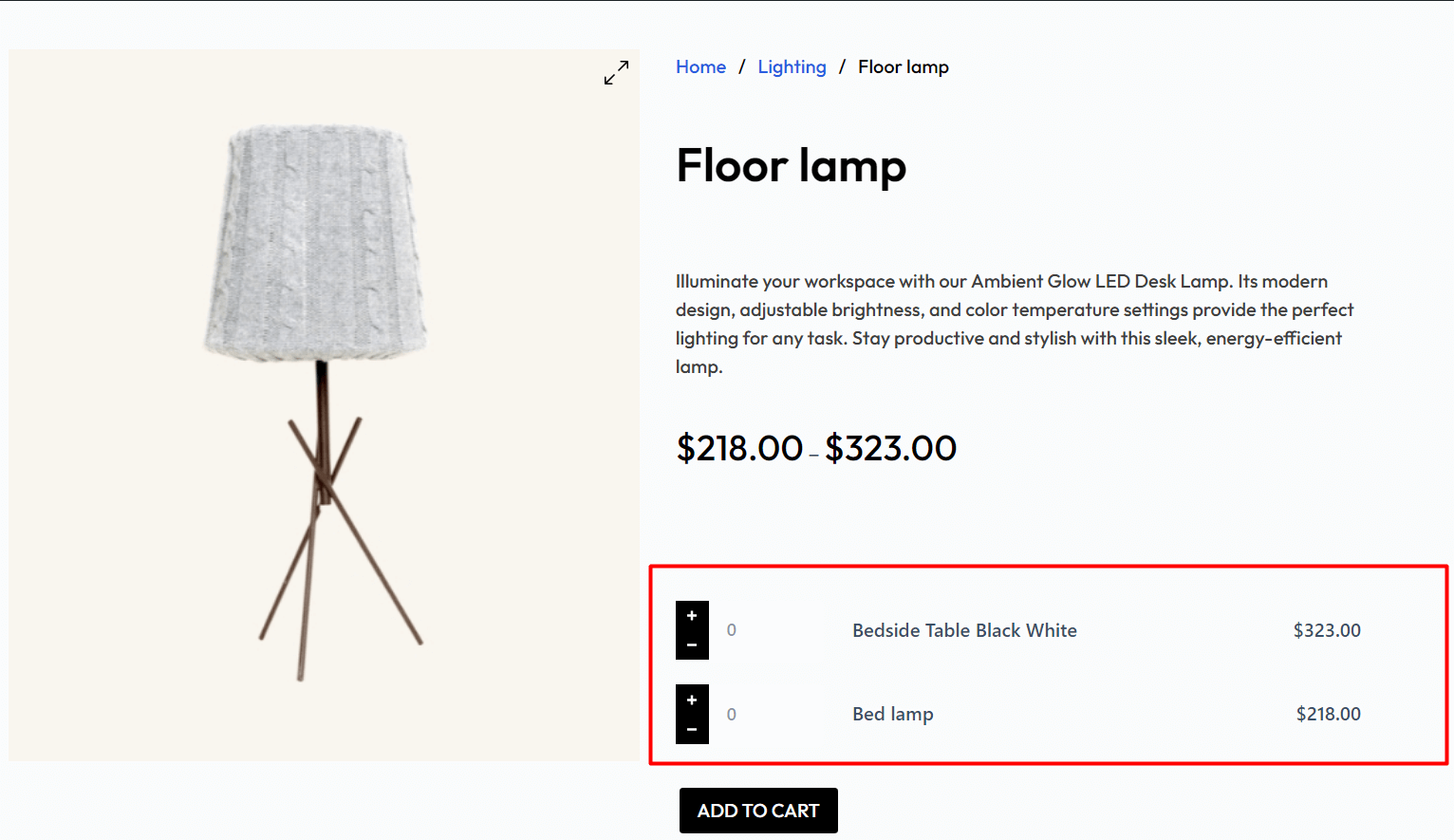 We have an in-depth guide on the topic. Check it out:
8 Strategies for Increasing Average Order Values
What is Upselling?
Upselling and cross-selling can be highly beneficial for WooCommerce businesses. This holiday season, you include upsell and cross-sell strategies to your site.
Upselling refers to the strategy of selling "upgraded" products. An example here is in the food industry. If you are looking to eat a small burger, the person behind the desk often asks you to get a 'larger' burger instead.
He or she tries to sell a larger order to the customer.
Advice from Marketers on Upselling Strategies
Igor Avidon of Avidon Marketing Group shares his insights on upselling:
"Your upsell offer would act as an incentive to encourage the customer to make a quick decision and buy more from your site."
According to Igor, customers find upselling to be a welcome nod. They find motivation to explore your store, see if there is anything useful to them.
Another marketer, Guerric De Ternay, says that you need to keep your customers in mind and build your upselling strategy around them.
"A big mistake when creating an upsell strategy is to be too focused on trying to sell something rather than trying to help your customers.

It's important to be aligned with your customer's goals."
He stresses that customers need to feel welcome in your store. So, make sure to design your upsell strategy with the customer in mind.
Michelle Ebbin from JettProof suggests product bundles:
"Upselling customers is easier to do if you can take the thinking out of it for the customer.

A great way of doing this is creating product bundles!"
According to her, it takes guesswork out of the way for the customers. They feel encouraged to buy from your store.
What about Cross-selling?
As for the concept of cross-selling, it's easier to understand with the smartphone example:
You do have a smartphone right? When you are buying a smartphone online, typically on the cart page, you will find the store trying to push you to buy a charger or a pair of wireless earbuds.
That is the concept of Cross-selling. If you have any doubts, make sure to check out our write-up on the process of cross-selling:
Learn to configure product cross-sell.
Cross-selling can seem overwhelming if you are trying to push it to the customer. Jerrel Reigada suggests WooCommerce owners not to oversell before the conversion.
This leads to an overwhelming number of customers who may not make the purchase.
Bonus Section: What about Email Marketing?
Yes, you cannot overrule email marketing as a viable strategy. According to reports, buyers who receive and open emails are 138% more likely to buy products from your shop.
Also, the open rate for emails is 3.24%, higher than the typical opening rate during regular times.
For this reason, marketers urge you to start early. According to Kalo Yankulov:
"Start Early! Many shops start their promotions 24-48 hours before the holiday season starts. The customer's inbox is already overwhelmed at this point."
The point is, that your email may not reach the customer at all! 
The bottom line is, you must start early.
That's just one thing. Among other things, you can:
Keep it clean and get straight to the point
Find the optimal hour so that the user finds your offer right away
Use brand visuals to help your offers stand out
Make sure to highlight key offers with your brand colors
Optimize the email for mobile, since 85% of the users use a mobile device to open emails!
You need to start straight away if you are looking to increase your sales. For WooCommerce users, Yaymail has a cool guide to creating custom emails. You may want to check that out.
Final Thoughts
Implementing Black Friday Marketing Strategies can seem daunting. As a matter of fact, not everyone can make the right decisions simply because of a lack of data.
We tried to bring all the relevant information in one place – simply to help you build your plan effectively. And the tools needed, ProductX and WholesaleX, can be of great use to you as well.
Deloitte estimates an increase in sales as much as 4.6%. So, you better get started!
And yes, thank you for making it to the end! If you have any suggestions, do let us know in the comments section below.