WooCommerce is an incredibly powerful eCommerce platform allowing merchants to create robust online stores. But, to truly maximize its potential, online store owners must use some of the best WooCommerce plugins available.
Plugins offer the chance to add extra features to the store without writing complex code. In addition, they are extremely easy to install and activate, often with just a few clicks.
However, choosing the right plugins can be intimidating with so many available options. To simplify the selection process, we've outlined the key factors to consider when selecting extensions for your store and provided a list of the top WooCommerce plugins to check out.
With this information, you can decide which plugins you need to develop the perfect WordPress eCommerce store.
If you're looking for a way to showcase your products, ProductX is a great WooCommerce plugin to turn to. With its slider, grid, and list of products, it can make shopping easier for your customers. But this plugin has even more features, such as a wish list, a quick view function, and more. These features can help you create a more engaging and interactive shopping experience for your customers.
ProductX provides a range of essential features known as WooCommerce product addons, including WooCommerce builder, product comparison, flexible wishlist, flip image, product quick view, backorder pre-orders, partial payments, backorders call for price, and more.
Consider if you need these features when deciding if this plugin is right for you. It might be better suited for building an entire store than just a product showcase. ProductX can provide you with a multitude of features to help you create the perfect shopping experience for your customers. Make sure to take the time to explore all of its features to ensure that they fit your needs. This is one of the best WooCommerce plugin as it gives a complete solution.
Features
WooCommerce Builder: The ProductX WooCommerce Builder gives you the power to completely redesign your store pages with custom templates. Choose from a selection of pre-made templates, or use the 40+ drag-and-drop site building blocks to create your own from the ground up.
Variation Swatches: The Variation Swatches transform the dropdown variation selection options into Swatches buttons. This addon is not limited to color swatches but can also be used to create image and label swatches.
Advanced Product Filter: Make it easier for customers to find the right products with multiple filter options.
Advanced Query Builder: Display desired products in desired positions and reordered them based on criteria.
Product Wishlist: Allow customers to make lists of products they wish to buy in the future.
Pre-Order: Promote upcoming products and improve cash flow by offering pre-orders to customers.
Backorder: Receive orders even when products are stocked out and will be restocked soon.
And a lot more.
Price
ProductX – Gutenberg WooCommerce Block is a freemium plugin. You can try it out for free from WordPress or opt out of the premium version for $49 a year to get the most out of ProductX.
Bringing your business to the next level is now easier than ever with WholesaleX – the ultimate B2B and B2C hybrid WordPress plugin. Dependent on WooCommerce, this eCommerce plugin allows you to transform your WordPress website into a fully-functional wholesale marketplace.
With WholesaleX you can create a dynamic environment where buyers and sellers can come together, making the business easier and providing an enhanced shopping experience. Whether you're looking to create a dedicated wholesale marketplace or a hybrid one, WholesaleX takes the hassle away, ensuring a stress-free setup. Get ready to amplify your business with the power of WholesaleX today!
Features
Dynamic Pricing: The dynamic rules lets you create the ideal pricing structure for your business and customers while setting store-wide discounts, user/role-specific deals, and even individual product discounts.
Request a Quote: Customers can request custom quotes, and store owners can offer the best prices for their products. It's an awesome way to boost sales, satisfy customers, and make shopping more efficient.
Bulk Order: The Bulk Order addon is the holy grail of time-saving for any B2B store. Quickly select products in bulk and place orders in an instant. Plus, save your order list as a Purchase List for future orders.
Private Store: Create your private store with WholesaleX and customize product visibility to fit your business needs. Keep your store secure by requiring customers to register and log in to view and purchase products. Take charge of who can access and buy from your store.
And much more.
➡Check out all the WholesaleX Features right here!⬅
Price
Unlock the full power of WholesaleX with our premium version for just $74/year. Or try it out for free from WordPress!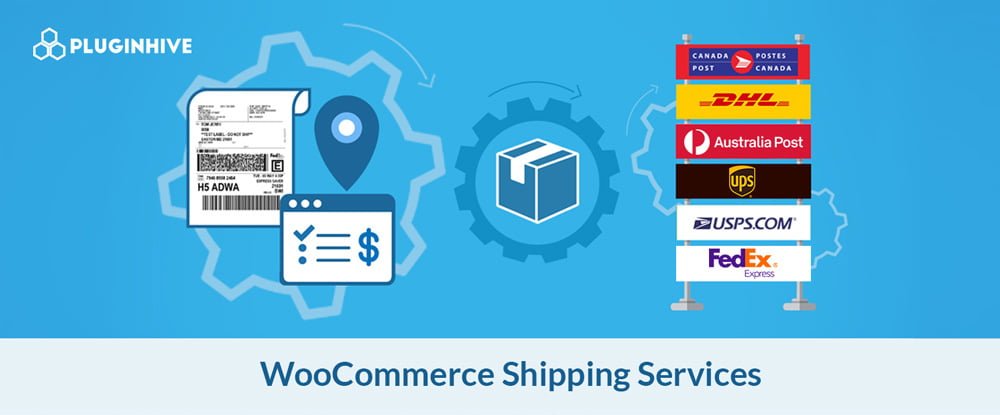 If you're planning to ship with multiple carriers, WooCommerce Shipping Services is one of the best shipping plugins you can use. It is certified by top global carriers like FedEx, UPS, Australia Post, DHL, and Purolator.
It seamlessly integrates with your WooCommerce store and automates the entire shipping process. It allows you to display live carrier rates, print shipping labels, schedule pickups, print packing slips, and track your orders in real-time.
Features
Expand shipping across borders: Ship your products to multiple locations with a list of domestic and international shipping services.
Multiple packaging options: Pack your products using different packing methods like box packing, weight-based packing, quantity-based packing, and stack packing.
Keep customers updated on their packages: Send live order tracking updates to customers over email as soon as the shipping carrier updates the tracking status.
Price
Try out the plugin under a 14-day free trial. Subscriptions start at $9 per month for up to 100 orders and up to $99 per month for unlimited orders.
Using the PickPlugins Product Slider for WooCommerce plugin, store owners can easily add a well-designed product slider to their WordPress theme or page builder. It's the perfect solution for those who don't have the option of a product slider or want to upgrade their existing one. Not only that, but this plugin is also an excellent tool for promoting products within blog posts. With it, store owners can write posts about their products and direct customers to their stores.
Features
Customizable columns for different devices: You can set the number of columns for the slider on different devices.
Autoplay enabled on page load: The slider will automatically transition to the next product after loading the page.
Customizable speed and timeout for autoplay: You can set the speed and timeout.
Rewind and loop enabled: The slider will rewind and loop so that it will never stop and continuously cycle through each product.
Price
The free plugin includes most of the necessary features. The Premium Version, available for $29, can be downloaded to unlock additional themes and 30+ themes and layouts, such as the top-rated products and recently viewed items.
YITH WooCommerce Wishlist provides customers with the same "Favorites" list available on popular e-commerce stores like Amazon. For some brands, allowing customers to save specific items for later can be beneficial. By integrating with WooCommerce, the transition between the two is effortless. This feature not only offers customers a more pleasant experience but can also help increase your sales.
Features
Create multiple wishlists: Users can create and manage multiple wishlists while sorting products by category or other parameters.
Privacy management: Set a privacy option for each wishlist and add privacy on sharing.
Advanced Wishlist Management: Easy drag & drop feature, move products from one wishlist to another, and download the wishlist content whenever you want.
Price
The basic plugin is free. However, you can upgrade to the premium version for $89.99 to gain access to additional features.

The WooCommerce Customizer plugin simplifies customizing WooCommerce with visual settings, allowing users to adjust the number of products displayed on each page, modify the login text, and much more without hiring a developer. This plugin expands the range of settings already available in WooCommerce and provides an easier way to make these customizations.
Features
Add to Cart Button Text: Customize, add, or edit add to cart button text anytime.
Change Additional Information Text: Modify other additional texts easily with a visual editing setting (no code needed).
Change Number of Displayed Products: Select the number of products displayed per page
Price
This plugin is completely free to use.

The WooCommerce Menu Cart plugin was designed to add a shopping cart button to the main navigational menu of websites. This is often necessary when a WordPress theme is not specifically designed to accommodate WooCommerce but is still compatible. By installing this plugin, users can easily add the shopping cart icon to the top of their page, making the shopping experience more convenient for their customers.
Features
Add Cart Icons: Choose over 10+ cart icons and add them anytime.
Cart Details Flyout: Add a flyout effect in the cart with a customizable direction control.
Price
The premium version of this plugin starts from €29.00.
Conclusion
It is important to determine what areas of your store need improvement, identify potential issues, and select the most suitable WooCommerce plugin. All the plugins offered have distinct functions, so deciding on the desired objectives is best.
We have tried to add the best WooCommerce plugins for you to choose from. If you think we should add several other products, please let us know the names, and we will surely add them to our list.