WooCommerce is an incredibly powerful eCommerce platform allowing merchants to create robust online stores. But, to truly maximize its potential, online store owners must use some of the best WooCommerce plugins available.
Plugins offer the chance to add extra features to the store without writing complex code. In addition, they are extremely easy to install and activate, often with just a few clicks.
However, choosing the right plugins can be intimidating with so many available options. To simplify the selection process, we've outlined the key factors to consider when selecting extensions for your store and provided a list of the top WooCommerce plugins to check out.
With this information, you can decide which plugins you need to develop the perfect WordPress eCommerce store.
If you're looking for a way to showcase your products, ProductX is a great WooCommerce plugin to turn to. With its slider, grid, and list of products, it can make shopping easier for your customers. But this plugin has even more features, such as a wish list, a quick view function, and more. These features can help you create a more engaging and interactive shopping experience for your customers.
ProductX provides a range of essential features known as WooCommerce product addons, including WooCommerce builder, product comparison, flexible wishlist, flip image, product quick view, backorder pre-orders, partial payments, backorders call for price, and more.
Consider if you need these features when deciding if this plugin is right for you. It might be better suited for building an entire store than just a product showcase. ProductX can provide you with a multitude of features to help you create the perfect shopping experience for your customers. Make sure to take the time to explore all of its features to ensure that they fit your needs. This is one of the best WooCommerce plugin as it gives a complete solution.
Features
WooCommerce Builder: The ProductX WooCommerce Builder gives you the power to completely redesign your store pages with custom templates. Choose from a selection of pre-made templates, or use the 40+ drag-and-drop site building blocks to create your own from the ground up.
Variation Swatches: The Variation Swatches transform the dropdown variation selection options into Swatches buttons. This addon is not limited to color swatches but can also be used to create image and label swatches.
Advanced Product Filter: Make it easier for customers to find the right products with multiple filter options.
Advanced Query Builder: Display desired products in desired positions and reordered them based on criteria.
Product Wishlist: Allow customers to make lists of products they wish to buy in the future.
Pre-Order: Promote upcoming products and improve cash flow by offering pre-orders to customers.
Backorder: Receive orders even when products are stocked out and will be restocked soon.
And a lot more.
Price
ProductX – Gutenberg WooCommerce Block is a freemium plugin. You can try it out for free from WordPress or opt out of the premium version for $49 a year to get the most out of ProductX.
Bringing your business to the next level is now easier than ever with WholesaleX – the ultimate B2B and B2C hybrid WordPress plugin. Dependent on WooCommerce, this eCommerce plugin allows you to transform your WordPress website into a fully-functional wholesale marketplace.
With WholesaleX you can create a dynamic environment where buyers and sellers can come together, making the business easier and providing an enhanced shopping experience. Whether you're looking to create a dedicated wholesale marketplace or a hybrid one, WholesaleX takes the hassle away, ensuring a stress-free setup. Get ready to amplify your business with the power of WholesaleX today!
Features
Dynamic Pricing: The dynamic rules lets you create the ideal pricing structure for your business and customers while setting store-wide discounts, user/role-specific deals, and even individual product discounts.
Request a Quote: Customers can request custom quotes, and store owners can offer the best prices for their products. It's an awesome way to boost sales, satisfy customers, and make shopping more efficient.
Bulk Order: The Bulk Order addon is the holy grail of time-saving for any B2B store. Quickly select products in bulk and place orders in an instant. Plus, save your order list as a Purchase List for future orders.
Private Store: Create your private store with WholesaleX and customize product visibility to fit your business needs. Keep your store secure by requiring customers to register and log in to view and purchase products. Take charge of who can access and buy from your store.
And much more.
➡Check out all the WholesaleX Features right here!⬅
Price
Unlock the full power of WholesaleX with our premium version for just $74/year. Or try it out for free from WordPress!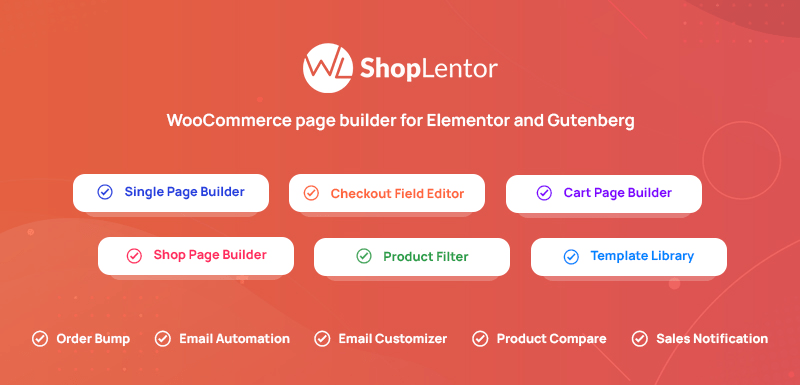 ShopLentor is a powerful WooCommerce plugin that offers a comprehensive set of features to enhance your WooCommerce store's functionality and performance. With this plugin, you can customize your WooCommerce store in just a few clicks and create a more engaging shopping experience for your customers.
ShopLentor is compatible with both Elementor and Gutenberg page builders and provides excellent after-sales support through a dedicated team. You can speed up the customization process of your WooCommerce store with over 105 Elementor widgets, 54 Gutenberg blocks, numerous ready templates for various pages and 24 functional modules available. There are tons of common and advanced features like Wishlist, Product Filter, Product Comparison, Quick View, etc. and so on.
Features:
Multistep Checkout Process
Shoplentor's multi-step checkout feature simplifies the buying process for customers, driving more efficient and seamless purchasing. With a logical, step-by-step checkout process, your customers can breeze through placing and confirming their orders.
Email Automation
ShopLentor's Email Automation feature is a powerful tool that helps you streamline your email marketing campaigns and boost your sales. This efficient module enables you to create sophisticated automated email marketing campaigns easily.
Email Customizer
With these powerful features, you can effortlessly customize and design stunning email templates that reflect your brand's identity.
Checkout Field Manager
With this feature, you can create and customize fields on the checkout page, tailoring it to gather specific information or capture additional details that are important to your business.
Partial Payment
With this feature, you can offer flexible payment options to your customers, allowing them to make partial payments for their orders.
Order Bump
Order Bump is a helpful feature that facilitates upselling by offering customers special discounts on additional products right on the checkout page.
Shopify Style Checkout
The Shopify-style Checkout module offered by ShopLentor revolutionizes the WooCommerce checkout experience, providing customers with a seamless and efficient process for quick ordering.
Sales Notification
Engage your customers and boost conversions on your WooCommerce store by displaying recent sales notifications or pop-ups. This feature showcases real or custom WooCommerce orders, creating a sense of social proof for potential customers.
Pre Order:
ShopLentor's Pre Order feature is a powerful tool that enables you to offer your customers the ability to pre-order products before they are available in your store.
Back Order:
ShopLentor's backorder feature allows customers to reserve products that are out of stock. This innovative feature ensures customers can place their orders without worrying about the item's unavailability.
ShopLentor Price:
ShopLentor comes in both free and premium versions. You can download the free version from WordPress or purchase the premium packages starting at $59 per year, or make a one-time lifetime purchase for $149.

WP SmartPay is a cutting-edge payment gateway plugin designed for WordPress websites. It enables businesses to easily accept payments online because of its seamless integration and user-friendly UI. WP SmartPay streamlines the payment process and offers a secure and dependable solution for your online transactions, regardless of whether you manage an e-commerce store, a membership site, or a service-based business.
Features:
Easy Integration: WP SmartPay provides hassle-free WordPress website integration. You may rapidly start receiving payments thanks to the simple installation process made possible by the setup wizard. To get started, you don't need any technical knowledge or coding abilities.
Multiple Payment Options: This plugin offers a number of payment options, giving you and your clients choice. Major credit cards, PayPal, and other well-known online payment channels are all acceptable forms of payment. WP SmartPay reaches a wider audience by offering a variety of options, improving your conversion rates.
Advanced Security: The security of your transactions and customer data is a top priority for SmartPay. To protect sensitive information, it makes use of strong encryption techniques and adheres to industry best practices. You can be confident that your payments are secure and that the information of your clients is protected thanks to built-in fraud protection mechanisms.
Customizable Payment Forms: Make use of WP SmartPay's configurable options to modify the payment forms to meet your particular requirements. To coordinate with the style and branding of your website, you may easily create and edit payment forms. With this flexibility, you can offer a seamless user experience and keep your website's design consistent.
Price:
WP SmartPay offers flexible pricing plans to cater to the diverse needs of businesses, ensuring that you only pay for the features you require. The Essential Plan starts at $99 per year and is designed for those who have a single website. For businesses with multiple websites, the Business Plan costs $149 per year and allows payment management for up to 5 websites. The Agency Plan, priced at $349 per year, is perfect for agencies or businesses with unlimited websites.
WP SmartPay's pricing plans are designed to be affordable and flexible, ensuring that you get the features and support you need without breaking the bank. Whether you're a small business or a large enterprise, WP SmartPay has a plan that fits your requirements and empowers you to provide a seamless payment experience for your customers.

Looking to enhance your WooCommerce store and create an immersive shopping experience? Extra Product Options is the perfect plugin for you. Seamlessly integrate custom addons into your WooCommerce store and expand the range of features and functionalities available to you.
With its intuitive drag-and-drop form builder, you can effortlessly create and arrange custom options according to your unique requirements. From checkboxes to dropdown menus and text fields, you have the freedom to offer a diverse range of personalized choices to your customers. Defining prices for each custom option becomes a breeze.
You can easily set individual prices for specific options, enabling dynamic pricing that caters to different customer preferences and needs. Enhance the overall user experience and streamline the product selection process with just a few clicks.
Don't miss out on the opportunity to maximize your WooCommerce store's potential. Stand out from the competition by offering an engaging and personalized shopping experience that will leave a lasting impression.
Features:
● Dynamic Pricing: Set individual prices for specific options, allowing you to offer flexible pricing based on customer preferences and choices.
● Easy Section Positioning: Effortlessly arrange sections within your product options to create a seamless and user-friendly layout, enhancing the overall shopping experience.
● Extensive Customization: Offer checkboxes, dropdown menus, text fields, and more to provide a wide range of personalized choices.
● Enhanced Product Presentation: Transform the default dropdown variation selection options into visually appealing swatch buttons, such as color, image, and label swatches, providing customers with a more interactive and engaging product selection process.
● Drag and Drop Form Builder: Easily create and arrange custom options using the intuitive drag-and-drop interface, giving you complete control over the layout and presentation of your product options.
And a lot more.
Price
Extra Product Options (Custom Addons) for WooCommerce is a freemium plugin. You can try it out for free from WordPress or opt out of the premium version for $49 a year.
Keeping logistics well-organized and efficient is crucial for every online business owner as the eCommerce sector continues to grow. Customer satisfaction is greatly influenced by shipping, which also has an effect on the business's reputation. The ReachShip WooCommerce Multi-Carrier & Conditional Shipping Plugin stands out as an excellent choice for WooCommerce users looking to simplify the shipping process and provide customers with a smooth experience.
For WooCommerce stores, this is a powerful tool that will increase conversion rates and speed up the shipping process. This plugin offers a simple and user-friendly way to manage shipping operations with a wide range of functionality and easy integration.
With the help of this plugin, WooCommerce store owners can integrate a wide range of shipping providers into their websites, including UPS, USPS, FedEx, DHL, and Australia Post MyPost Business.
Features
Automate the process: Because shipping labels and tracking numbers are generated automatically, there is no need for manual data entry.
Live tracking: Real-time delivery tracking information is provided to customers, which enhances their entire experience and builds a sense of trust.
Bulk printing: The plugin enables businesses to print shipping labels in bulk, which lowers costs and boosts productivity.
Schedule pickups: With the help of the ReachShip plugin, you can effortlessly schedule pickups for your shipments at any time of day that works for the customer and the store owner.
Data analytics: With the help of comprehensive data reports and analysis, you can optimize the shipping process.
Conditional & table rate shipping: Both conditional and table rate shipping are available.
Safe and custom packaging: Your packages may be customized according to your needs and are quickly and safely packed.
Price
The plugin is free to use.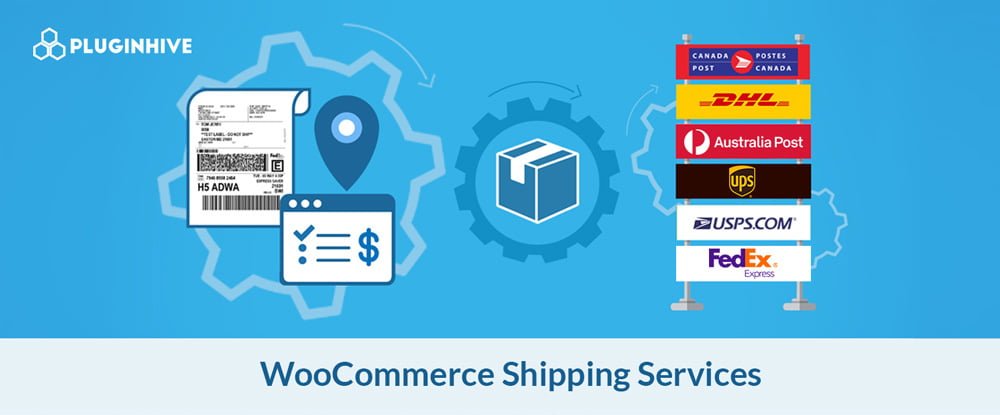 If you're planning to ship with multiple carriers, WooCommerce Shipping Services is one of the best shipping plugins you can use. It is certified by top global carriers like FedEx, UPS, Australia Post, DHL, and Purolator.
It seamlessly integrates with your WooCommerce store and automates the entire shipping process. It allows you to display live carrier rates, print shipping labels, schedule pickups, print packing slips, and track your orders in real-time.
Features
Expand shipping across borders: Ship your products to multiple locations with a list of domestic and international shipping services.
Multiple packaging options: Pack your products using different packing methods like box packing, weight-based packing, quantity-based packing, and stack packing.
Keep customers updated on their packages: Send live order tracking updates to customers over email as soon as the shipping carrier updates the tracking status.
Price
Try out the plugin under a 14-day free trial. Subscriptions start at $9 per month for up to 100 orders and up to $99 per month for unlimited orders.
Using the PickPlugins Product Slider for WooCommerce plugin, store owners can easily add a well-designed product slider to their WordPress theme or page builder. It's the perfect solution for those who don't have the option of a product slider or want to upgrade their existing one. Not only that, but this plugin is also an excellent tool for promoting products within blog posts. With it, store owners can write posts about their products and direct customers to their stores.
Features
Customizable columns for different devices: You can set the number of columns for the slider on different devices.
Autoplay enabled on page load: The slider will automatically transition to the next product after loading the page.
Customizable speed and timeout for autoplay: You can set the speed and timeout.
Rewind and loop enabled: The slider will rewind and loop so that it will never stop and continuously cycle through each product.
Price
The free plugin includes most of the necessary features. The Premium Version, available for $29, can be downloaded to unlock additional themes and 30+ themes and layouts, such as the top-rated products and recently viewed items.
Whether you have a simple, variable, affiliate, group, or custom product, you can instantly import your data with this WooCommerce product import export plugin. It allows you to import or export all products in different file formats, like Excel, CSV, TSV, and XML. You can batch these product data while processing import/export.
With this plugin, you can effortlessly import or export custom meta fields, third-party plugin fields, and hidden meta fields. You can use multiple filtering options to export product data. The plugin lets you import or export product data based on tags, categories, stock, individual products, etc.
Features
Schedule import/export processing: Use multiple FTP to schedule import/export product data from/to another website. This smart option saves time from manually transferring data in WooCommerce.
Different file formats: Send or retrieve product data in multiple file formats, like CV, XML, TSV, and Excel, based on the store requirements. Pre-saved mapping is available to migrate data immediately.
Import/export data logs: View the history, cron schedules, and history of product data migration. You can quickly troubleshoot data migration, record the data processing success/failure, or more.
Custom import/export: Use certain conditions to filter data, including images, attributes, and metadata. Edit bulk product data or merge product information while importing/exporting.
Price
Product Import Export Plugin for WooCommerce is a freemium plugin. You can install the free product import export plugin from the WordPress repository or download our premium plugin for $69/year.
Woo Audio Preview Pro by Wbcom Designs is a WordPress plugin that seamlessly integrates with your WooCommerce store, allowing you to add audio previews to your product pages. It supports multiple audio formats, offers easy audio management, and will enable you to create playlists and tracks for a curated listening experience. The customizable audio player is mobile-friendly and responsive, and you can gain valuable insights through built-in analytics. Enhance your customers' shopping experience and increase sales with this powerful plugin.
Appealing product presentation and efficient data management make a WooCommerce business successful. And Ninja Tables is a WordPress plugin that empowers WooCommerce stores to organize and showcase product details perfectly.
Ninja Tables provides an outstanding experience, engagement, conversions, and overall success, standing as a valuable addition to any WooCommerce business. Create, customize, and display WooCommerce product tables with ease.
Don't miss out on the opportunities to optimize the dynamic features of Ninja Tables to excel at your WooCommerce business.
Features
Effortless Data Management: The user-friendly interface makes data organizing simple. Store owners can develop and customize tables to meet their unique needs without having to learn code. Ninja Tables supports unlimited data.
Integrations: Ninja Tables effortlessly integrates with Google Sheets and Fluent Forms. Users can import-export CSV/JSON files to create tables and also import from TablePress.
Drag-and-Drop Table Builder: Create data tables to suit your requirements using Ninja Tables' drag-and-drop builder. It's fast and free!
Interactive: You can fine-tune the design of tables using customization tools like buttons, icons, and media options to make sure they complement the branding and aesthetics of your store.
Colors and design: Customize table colors and keep buyers intrigued. Colorful cells, rows/columns, buttons, texts, or table backgrounds create a nice experience for customers. Built-in designing options or the custom CSS/JS can change the table layout however you want.
Responsive Design: Ninja Tables makes sure product tables are responsive to all screen sizes, catering to mobile shoppers. Enable "Stackable Table," "Responsive Breakpoint," or merge/split cell options.
Sorting and Filtering: Customers can easily add sort and filter, facilitating quick and relevant searches.
Conditional Formatting: Apply conditions to table cells so you can highlight or change cell data. Product tables will respond to the conditions and appear more advanced.
Lightbox: Image or iframe lightbox options will display product images or videos in a much clearer way.
Price
Ninja Tables is a freemium plugin with free and pro options both. Users have free access to many of the plugin's essential features, including Ninja Charts and Drag and Drop.
The Pro version price starts from $79 (Get Special Discount!) and has both annual and lifetime plans.
WooCommerce Subscriptions is a powerful Plugin designed to seamlessly integrate with your WooCommerce-powered online store, allowing you to offer subscription-based products and services to your customers. This plugin enhances your e-commerce capabilities by enabling you to create and manage subscription plans, automate recurring payments, and provide a convenient subscription management interface for both you and your customers.
Key Features:
Flexible Subscription Plans: Create a variety of subscription plans tailored to your products or services. Set different billing intervals, trial periods, and pricing tiers to cater to diverse customer preferences.
Recurring Payments: Automate the billing process with recurring payments. Customers' credit cards or preferred payment methods will be charged automatically based on the subscription plan they choose.
Trial Periods: Offer trial periods to attract potential subscribers. Let customers experience the value of your offerings before committing to a full subscription.
Synchronized Renewals: Ensure smooth and synchronized subscription renewals for all customers. Minimize disruptions and provide a consistent experience.
Customer Portal: Empower customers with a user-friendly portal to manage their subscriptions. They can upgrade, downgrade, pause, or cancel subscriptions as needed.
Renewal Reminders: Automatically send renewal reminders to subscribers before their subscription renews. Reduce churn and enhance customer satisfaction.
Discounts and Special Offers: Implement discounts and special offers for subscribers. Reward loyalty and incentivize longer subscription commitments.
Integration with Leading Payment Gateways: The Subscription for WooCommerce Plugin seamlessly integrates with popular payment gateways including Eway Gateway, Authorize.Net Payment Gateway For WooCommerce, WooCommerce Stripe Payment Gateway, WooCommerce PayPal Checkout Payment Gateway, WooCommerce Amazon Pay, Braintree for WooCommerce, and Mollie Payments for WooCommerce.
Price
Subscriptions for WooCommerce Pro are available for only $129 per year. Alternatively, you can also explore our woocommerce subscriptions free.

Stock Sync for WooCommerce with Google Sheets allows easy syncing of product stock between WooCommerce and Google Sheets. This plugin offers a bidirectional stock sync feature to make sure you stay on top of your business from anywhere you want. It also allows the ability to update product information such as name, SKU, short description, stock status, and custom fields directly from Google Sheets.
Features:
Two-directional stock sync: This plugin automatically syncs product stock and other information (name, SKU, details). The sync happens bidirectionally, which means if you update your sheet, your website's stock gets auto-updated. It makes the tricky stock management simpler and streamlines your business.
Product information editing: You can edit product name, short description, SKU, and stock status from the connected Google Sheets.
New product addition: Stock Sync allows you to add new products to your WooCommerce store from the connected spreadsheet. Once you add a product on Google Sheets, it gets auto-updated on your site.
WooCommerce custom fields sync: WooCommerce custom fields allow you to add additional product data to your products. With custom fields sync, you can edit your custom field data from Google Sheets.
Display total sales count and product category: Get a full overview of your sales count and view product categories from the connected sheet.
Price
Stock Sync for WooCommerce with Google Sheets is available in both free and paid versions. The free version is available on the WordPress plugin repository. And the paid version pricing starts at $47.20 for 3 sites
WPLoyalty is a WooCommerce points and rewards plugin that offers a range of features designed to enhance customer loyalty. It's an ideal choice for store owners who want to keep their customers engaged and encourage repeat business.
With easy integration into your existing WooCommerce platform and a user-friendly interface, WPLoyalty takes the complexity out of customer loyalty programs.
Features

Easy Setup

Starting a customer loyalty program doesn't have to be complicated. WPLoyalty is designed to seamlessly sync with your existing WooCommerce settings, making it incredibly straightforward to unite your online shop with your new loyalty program.
Versatile Point-Based System

Offer points for a range of actions such as purchases, product reviews, social media shares, etc. This not only rewards customers but also encourages various forms of engagement with your store.
Dynamic Tiered Rewards

Motivate customers to interact more and spend more with tiered rewards. Customers can level up through different tiers, each offering better rewards and perks.
Comprehensive Analytics Dashboard

Keep an eye on your loyalty program's metrics with an in-built analytics dashboard. Track points, redemptions, customer behavior, and more, all in real time.
Automated Email Notifications

Automated email notifications keep your customers in the loop. Inform them when they've earned or spent points, and send reminders when their points are about to expire.
Multi-Language Capability

Expand your program's reach with WPLoyalty's multi-language support. This feature allows you to connect with a broader customer base by offering the program in multiple languages.
Price

WPLoyalty offers a free version that covers basic features to help you start your customer loyalty journey. For those looking for advanced functionalities, a Starter plan is available for $99 / Year, a Professional plan for $129 / Year, and an Agency plan for $129 / Year.
YITH WooCommerce Wishlist provides customers with the same "Favorites" list available on popular e-commerce stores like Amazon. For some brands, allowing customers to save specific items for later can be beneficial. By integrating with WooCommerce, the transition between the two is effortless. This feature not only offers customers a more pleasant experience but can also help increase your sales.
Features
Create multiple wishlists: Users can create and manage multiple wishlists while sorting products by category or other parameters.
Privacy management: Set a privacy option for each wishlist and add privacy on sharing.
Advanced Wishlist Management: Easy drag & drop feature, move products from one wishlist to another, and download the wishlist content whenever you want.
Price
The basic plugin is free. However, you can upgrade to the premium version for $89.99 to gain access to additional features.

The WooCommerce Customizer plugin simplifies customizing WooCommerce with visual settings, allowing users to adjust the number of products displayed on each page, modify the login text, and much more without hiring a developer. This plugin expands the range of settings already available in WooCommerce and provides an easier way to make these customizations.
Features
Add to Cart Button Text: Customize, add, or edit add to cart button text anytime.
Change Additional Information Text: Modify other additional texts easily with a visual editing setting (no code needed).
Change Number of Displayed Products: Select the number of products displayed per page
Price
This plugin is completely free to use.

The WooCommerce Menu Cart plugin was designed to add a shopping cart button to the main navigational menu of websites. This is often necessary when a WordPress theme is not specifically designed to accommodate WooCommerce but is still compatible. By installing this plugin, users can easily add the shopping cart icon to the top of their page, making the shopping experience more convenient for their customers.
Features
Add Cart Icons: Choose over 10+ cart icons and add them anytime.
Cart Details Flyout: Add a flyout effect in the cart with a customizable direction control.
Price
The premium version of this plugin starts from €29.00.
Conclusion
It is important to determine what areas of your store need improvement, identify potential issues, and select the most suitable WooCommerce plugin. All the plugins offered have distinct functions, so deciding on the desired objectives is best.
We have tried to add the best WooCommerce plugins for you to choose from. If you think we should add several other products, please let us know the names, and we will surely add them to our list.