WordPress is a very popular platform that many website builders and business owners use. One of the most common reasons for building a WordPress website is to sell products to the customers through the websites. It is very important that the products are displayed properly to the customers.
There are many WordPress Product Showcase plugins that make the job of displaying the products a walk in the park. There are many plugins for you to choose from and each has its own benefits. Having the right WordPress Product Showcase plugin would make the designing of your website very easy. 
1. ProductX – Gutenberg Product Blocks for WooCommerce
One of the best WordPress WooCommerce Product showcase plugins that you can pick from is the ProductX. It is very easy to use and comes with a ton of features. It has a free version that you can use on multiple websites.
You would get a starter pack that would help you if no ideas are coming to mind. There are many options for layout that you can choose from. You can customize the pagination of the product's display. You can make the product slider automatic or change how it would be displayed to your customers. You also get an option to choose if the reviews and comments of other customers would be visible to your visitors.
ProductX allows products to be displayed in any section of the page and it provides a lot of options for customization. The options are easy to understand making it one of the best Free WordPress Product Showcase Plugins.
2. Ultimate Product Catalog
With this plugin, you get three layouts that you get full liberty to customize. You get a lot of options in the plugin to make it easy for the visitors to search for their desired products. You can place the products in various categories and sub-categories using this plugin.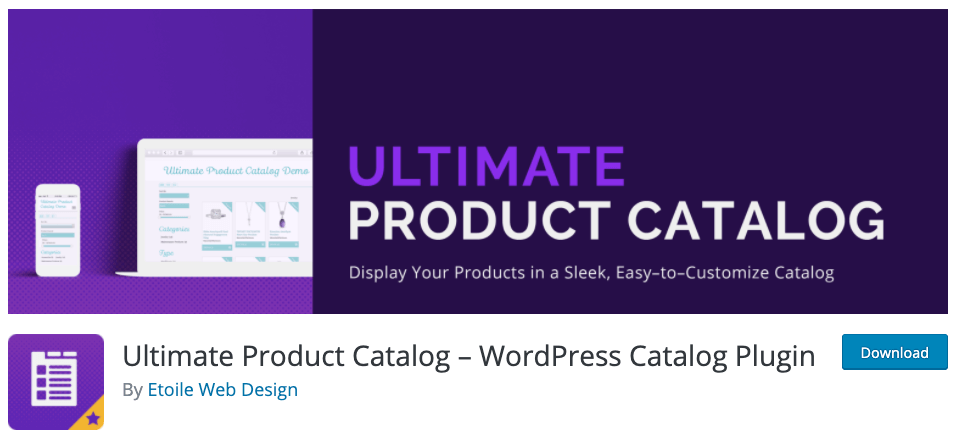 You get a widget that helps you choose whether to display the new products or to display the products randomly. You can also place all the choices for the visitors to take the decision.
The plugin is fully responsive with all other devices so you don't have to make an extra effort. It is compatible with WooCommerce and you can upload an unlimited number of products in your online store. It is a good solution especially if you are promoting an affiliate offer.
3. WooCommerce Category Showcase
As the name suggests, the plugin is fully compatible with WooCommerce and can be used to extend the abilities of WooCommerce. It is fully responsive and allows you to showcase your products in a slider format. It allows the products to be showed to your audience in a professional and attractive way.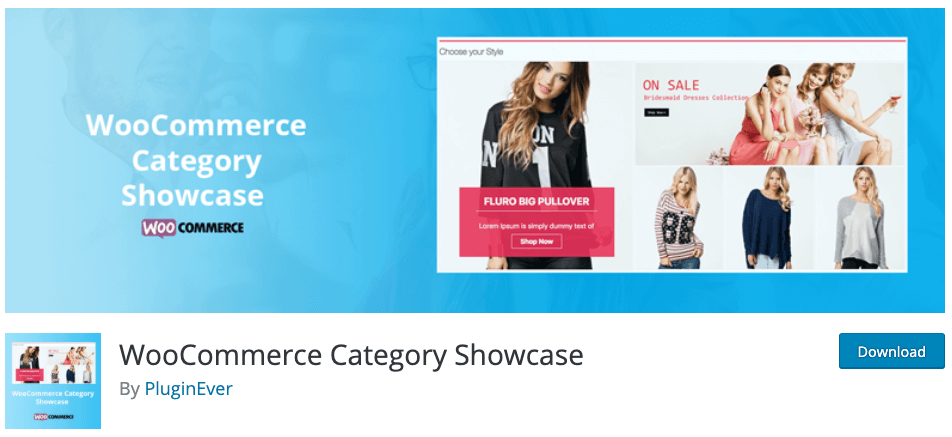 The slider that would be created to showcase the products would be responsive. It gives you an option to split the products based on their categories and their sub-categories. The plugin is simple which makes it very light-weight. If you want your website to load faster, then WooCommerce Category showcase is also a great option.
You can choose to showcase the name, category, title, and other parts of the product. You can also add various interactive hover animation that helps the product display look interactive to your audience.
4. ShopConstruct
This plugin allows you to sell both digital and physical products in your online store. You can upload files that are the final products of the customers. The customers would get access to digital products after making payment to you.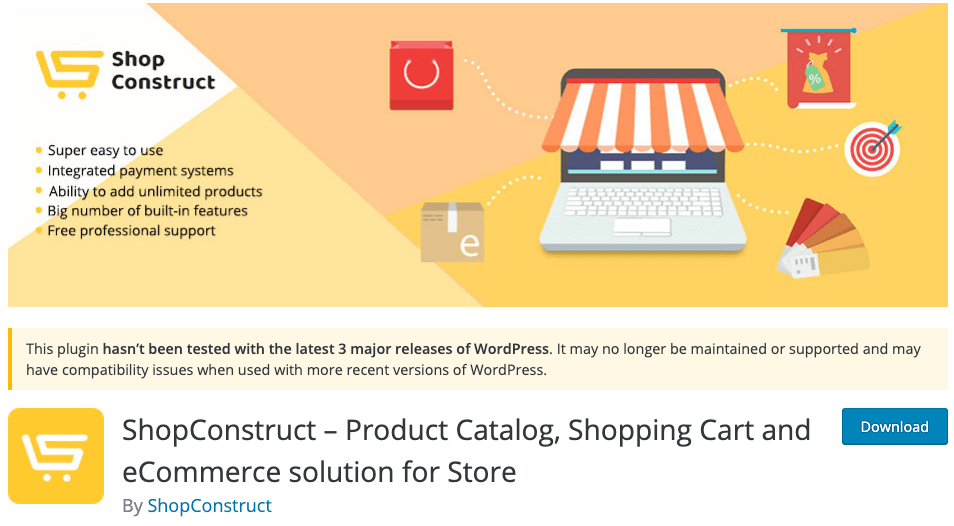 You can also create amazing fashion products for your visitors and choose the name, description, slug, ID, and other important parts of the product description that is important for the customers to know before buying. You can easily manage the reviews submitted by your viewers from one place. You also get Ajax filtering in this plugin which makes the experience better for your customers.
You can select the countries that you ship to so people don't get confused. You get to choose from multiple currencies and also which currencies your customer would see based on their location. You get a variety of payment options to provide to your customers to pay with using this plugin.
5. Woo Product Showcase
The Woo Product Showcase is one of the best choices when it comes to free WordPress Product Showcase Plugins. It allows you to show the products in a grid layout and also create shortcodes easily for them.
You can also display the WooCommerce products in a list format with the help of this plugin. The Product displayed would be responsive for all the various devices. The plugin can be used along with WooCommerce. You get a variety of product catalog design options with this plugin. You can also generate shortcodes for them very quickly.
You can select the product express feature that would allow you to list a product with images, titles, and other details in the display in a neat and efficient way so the user doesn't have to click to find out more about the product.
6. WP Product Gallery Lite
WP Product Gallery Lite has many layouts that you would be able to play with. You can display your products in a grid layout, slider layout, and also in the form of a list. You can also sell digital products with this plugin. Your customers would be able to download the book easily.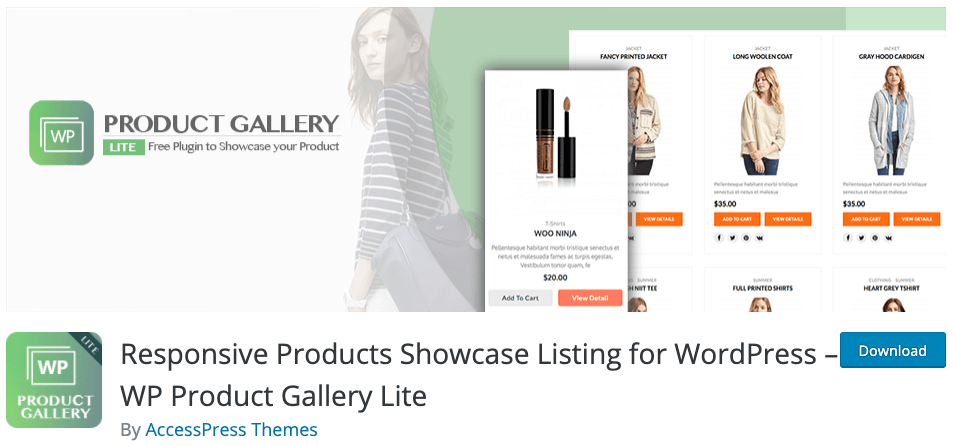 With WP Product Gallery you would be able to show your audience the products in a unique and appealing way. You can create an unlimited number of products using this plugin. You can also add the unlimited design along with adding categories and taxonomies for your products.
You can provide your users with an amazing user experience. You can choose how many products you want to display initially to your customers. There are 4 different types of templates that you can choose from. Your WordPress eCommerce Website will have a unique way to show the products if you use this plugin properly. It is fully responsive and you can use it by shortcodes as well.
Conclusion
The right WooCommerce Product Showcase Plugin would make your online eCommerce store look irresistible to your customers and ultimately bring in more sales. You would be getting all the amazing features for free using ProductX plugin.
It is a good idea to know about each of these plugins and if possible use them all and then make a decision. It would cost you some time but finally, you would get more customers if you use the right plugin for your online store.