All WooCoommerce site owners want to increase their sales. But for that, we have to give a flexible environment to the shoppers while they are visiting our site. But one of the most common difficulties is that we are not able to showcase the products the shoppers are looking for. This problem mostly occurs when we have numerous products of multiple categories. So what to do?
Limiting product categories or the number of products in our WooCommerce store can seem to be the solution. But it is actually not. As we have to keep increasing the number of products to increase our sales. There is another smarter solution that all giant eCommerce sites are using. WooCommerce Product Filter is the best solution for this kind of problem.
If you are thinking that, WooCommerce already has a product sorting option by default. But it is not enough for the online stores that are having numerous products of various categories. We have to let the shoppers filter products by attributes, categories, or even a price range they want.
Now the question is, how to add product filters to WooCommerce stores? Well, that's what we going to explore in this blog post. But before going into we have to be clear about what our product filters are and why we should add product filtering features to our WooCommerce store. However, if you are familiar with this you can skip to the tutorial part of this blog post.
What is WooCommerce Product Filter?
WooCommerce Product Filter refers to letting the shoppers find their desired products based on multiple criteria that include product attributes, categories, price, rating, color, sizes, etc. It helps shoppers find their desired products effortlessly.
For example, one wants to buy a red t-shirt of medium size within the budget of $5 to $10. For that, he/she can use the clothing category or t-shirt subcategory, choose the medium from the size selection option, and set the desired price range. So, the shopper can easily get the product if that is available in the store.
Why We Should Add Product Filter to WooCoommerce Stores?
Adding Product Filtering is must having feature for any eCommerce store whether it is built with WooCommerce or not. There are many reasons behind this statement. But the main reason is that with the filtering features both the store owners and shoppers can be benefited simultaneously. How?
Let's just think about what we do while shopping offline. Most of the time we share our requirements to store owners/salespeople. And then he/she shows us products or guides us to the area from where we can the product based on our requirements. We offer the same experience to the shoppers with the product filtering feature. As a result, the shoppers will be satisfied with the flexibility and as online store owners, we can increase our sales as most of them will become returning customers.
Introducing WooCommerce Product Filter Blocks of ProductX
As if you have come so far while reading these blog posts that means you really want to let the shoppers filter the products of your WooCommerce store. There are two ways to do that, you either can hire a developer or use a Product filtering plugin.
I guess you are willing to use a plugin as you are already in the WordPress and WooCommerce ecosystem. We have the perfect plugin for you that can not only help you to add a product filtering feature but also expand the capabilities of WooCommerce with numerous features and various add-ons.
ProductX is an all-one solution for WooCommerce stores finely crafted to ensure all essential features within a single plugin. So that, you don't use multiple plugins. However, let us stick to the main topic and you can learn more about the ProductX offerings by clicking here.
So, if you want to add the WooCommerce Product Filter using Product, you have to use this plugin as a complete solution. For example, you want to add the filtering feature to the shop page. For that, you have to create a custom shop page with the product filter feature. So that, you can completely change the default WooCommerce shop page with a conversion-focused one. Now let's see what we can do with filtering blocks of ProductX.
WooCommerce Product Filter By Attributes
WooCommerce Product Filter By Price
WooCoommerce Product Filter By Category
WooCommerce Product Filter By
Ajax Product Search
👉 Get ProductX Pro to unlock all conversation-focused features and skyrocket your sales!
How to Add WooCommerce Product Filter to Shop Page using ProductX
Now, let's see how we can add the product filtering option to a custom shop page. For that you can follow the below steps:
Turn on Builder Addon
First of all, make sure you have properly installed and activated the ProductX plugin on your site. As we are going to create a custom shop page we have to turn on the WooCommere builder addon. Here's how:
Navigate to the ProductX section
Now, click on the Addons section
Turn on Builder from the available option
Create a New Shop Page Template
Now, we have to start creating a new template for the shop page where we will display products with all filtering options. For that:
Click on the Builder Option of ProductX
Click on the "Add New" Button
Give the name of the template
Choose Shop as the type of template
Click on the save button and start customizing
If you want to learn more about creating and customizing the WooCommerce shop page check out the blog by clicking here.
Add WooCommerce Product Filter to the Shop Page
Now, it's time to add the WooCommerce product filter block to the shop page. First of all, decide where you want to add the filtering option on the left side or on the right side. And, which product blocks do you want to add? ProductX multiple product grid and product listing blocks.
For instance, I want to add a product grid block with the filtering option on the left side. For that, I have to add a column block of a 30/70 ratio.
Then I am adding the product filter block on the left side and product grid #1 block on the right side of the column block.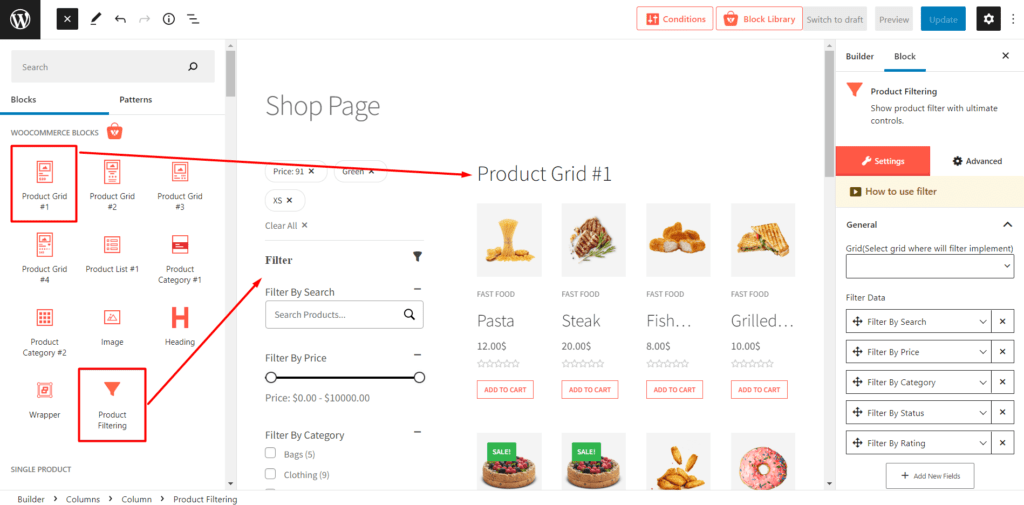 After adding the blocks we also need to connect the filtering option to the product block by clicking on the dropdown select option as you can see in the below image.
That's all, the filtering options will be available for the particular product block. But keep reading blog posts and check out the available customizing options of the Product Filter. And, if you want to explore the customizing option of the shop page visit the blog by clicking here.
WooCommerce Product Filter Customization Option
Although it is not mandatory to customize the Product filter block as it is sorted quite nicely. However, we do believe that different people have different choices. So it is totally okay if you don't like the default presentation. Following are the available options if you want to make changes:
Adding or Removing Filtering Options: From the filter list selection option you can add or remove filtering options. So that, you can control which options to display and which not.
Filtering Label Text: From this section, you can change any of the label texts of the filtering options with whatever text you want.
Search Style: The ajax search features of ProductX comes with lots of customization options. You can change color, and background color, and adjust border radius and padding.
Conclusion
That's all about the WooCommerce product filter. Now you can start creating your custom shop page with filtering options to let your shoppers find their products with ease. If you face any difficulties or have any queries, feel free to comment below. We are looking forward to hearing from you.
👉 Get ProductX Pro to unlock all conversation-focused features and skyrocket your sales!