So you're looking for the best free WordPress theme for personal blog in 2021?
Well, you're not the only one.
Don't forget, 41% of all websites are on WordPress. So naturally, there is a great demand for fast-loading WordPress themes. And there is a very simple reason behind it.
Site owners want more people to know about their products/services. And that requires the WordPress websites to load faster.
And yes, the site needs to 'Look the part' as well. This way, there will be more engagement from the users.
And the most important thing for a fast WordPress theme must be customizability. Site owners need to feel they are in control of the site's design and other alterable features.
In short, the overall experience needs to feel like a custom-fit, high-fidelity solution for your WordPress-related needs.
Coblog: Best Free theme for Blog in WordPress?
Can Coblog stand up to some of the top players in the field of fast-loading WordPress themes?
ABSOLUTELY!
When we started working on a free WordPress theme for the general masses, we had some boxes to check.
Fast and Lightweight.
Highly customizable.
Super Easy to Use.
These are the 3 main goals we set out to accomplish. And thanks to our highly effective team of developers, we are happy to inform you that the Coblog theme checks all these boxes!
It's a Fast and Lightweight Theme
Before talking about Coblog being a 'Fast' theme, let's talk about what makes it a lightweight WordPress theme.
First of all, it's less than 1-megabyte of download. So you don't have to wait too long for this theme to download. It only takes a couple of seconds to install and activate.
And that's because of the following reasons:
We have implemented industry-standard HTML coding (it's simple and minimal).
Highly optimized HTML and rich snippet implementation.
There's no 3rd party javascript implementation. Our solutions are custom-built from the ground up.
We implemented a customizer that offers better fidelity and control.
No CSS-frameworks implementation.
All of these things blend together and offer you a seamless WordPress experience. And these are the main reasons why Coblog is the best free WordPress theme for personal blog in 2021.
Just look at the site loading time:
As a whole, Coblog is mighty fast. For this reason, you can easily use it as an SEO-optimized WordPress theme. We can assure you, it's going to offer excellent performance in SEO site speed metrics.
Now let's see why it's so customizable.
It's Highly Customizable
Now there are a few things to consider when you're measuring customizability. We will answer each of these considerations one by one.
1.Does my WordPress theme support popular site/page builders?
The Coblog theme supports some of the popular WordPress site builders. Our theme supports:
Gutenberg
Elementor
Divi Builder
Beaver Builder
SiteOrigin Page Builder
Visual Composer
As you can see, the list is pretty substantial. And all of this is possible because of the ground-up design of the Coblog theme. And yes, you won't have to deal with any CSS breakdowns while you customize your WordPress site.
Now if you wanted to get a more 'hands-on' approach and keep your site speeds high, then you may want to consider a compatible WordPress blocks plugin.
PostX: The Gutenberg Post Blocks Plugin for Coblog
PostX offers the ultimate flexibility when it comes to the best free WordPress theme for personal blog.
PostX is a Gutenberg blocks builder which allows the Coblog theme users to create stunning markups in seconds. The premade post blocks along with the starter packs offer excellent flexibility and control when building a WordPress blog.
With PostX, you get a decent number of blog variations. Also, the typography settings allow you to customize your blog posts just the way you like them.
Furthermore, the AJAX-pagination feature allows you control over the posts you want to show. Add the powerful query editing feature and you have an excellent plugin that offers seamless blog customization.
And yes, you do get the option to add custom CSS as well. Moreover, you have post slider add-ons that allow you to build responsive blogs in a matter of seconds.
PostX comes with a number of free features for you to explore. So, you can get started with your WordPress journey pretty much without spending a dime!
2.Is it fully responsive?
Our expert developer team went ahead and made an exceptionally responsive WordPress theme. It means you don't have to do any custom coding to make your site adjust to different screen sizes. Coblog theme is completely adaptable to laptop, desktop, tablet, and (most important) mobile screen.
After all, you will need to reach more than 3.6-billion smartphone users don't you think?
By the way, in case you were wondering about the mobile page speed, here's the Google Page Speed Insight:
In short, if you wish to choose Coblog, then mobile usability will be top-notch no doubt. Again, it's all thanks to some clever code-smith work.
3.Is it developer-friendly?
What is the best free theme for WordPress?
To some users, the answer includes developer options. It's the necessary settings you'll need to add custom CSS styling to the website.
Coblog checks the box for developer friendliness. You have the option to add any custom CSS properties and Coblog will accept the design changes without a hitch.
4.Can I turn it into a WooCommerce Store if I want to in the future?
If you ever want to turn your WordPress site into a WooCommerce blog, then Coblog has the option for that as well.
Coblog features excellent support for WooCommerce. If you have the urge to sell create and sell personalized services, then our best free WordPress theme for personal blog has your back.
Speaking of WooCommerce, there is a plugin you should know about.
ProductX: The Coblog Compatible Gutenberg Post Blocks for WooCommerce
You've guessed it right!
ProductX is a WooCommerce blocks plugin that offers Coblog theme users to start an eCommerce entity in a matter of minutes.
Let's say you're coming up with your own custom product/services. You need a quick and easy way to set up an eCommerce store alongside your personal blog.
With ProductX, you can quickly get up and running with your WooCommerce store. You're just a few clicks away from creating an easy and tasteful storefront.
How do you do that?
Well, for starters, you have premade layouts for products. This allows you to choose products and stack them into categories as well. The Advanced Query Builder of ProductX can be your best friend in this case.
As a whole, the categorization feature is of ProductX is very powerful. On top of that, you have an advanced product listing features to categorize your products according to your user base. And the product wishlist feature offers the freedom to choose products their way.
And we don't need to remind you, a better experience allows for better sales.
Oh yes, ProductX comes with an array of free features for you to try out. And we can promise you:
ProductX + Coblog = eCommerce Success!
It's Super Easy to Use
Thanks to the use of standardized and optimized HTML coding, the Coblog theme is super easy to use.
It's more like pressing the mouse a couple of times. And you're done more or less.
The feature-rich customizer helps out a lot in this regard. With the Coblog theme, you have the option to customize the theme styling as well as the header styling. You can also change the color profiles of the theme to match your WordPress blog theme.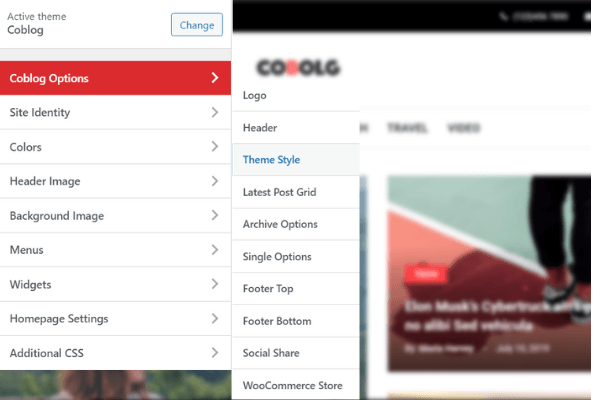 Moreover, if you choose to use PostX and ProductX WordPress plugins, your choices to blog designing increase by ten folds.
Overall, if you take a look at the overall feature set, you'll see why we are calling it the best free WordPress theme for personal blog in 2021.
Now, there's only one question for us to answer.
Is Coblog just a WordPress Blog Theme?
NO.
Coblog is a multi-purpose theme that has multiple use cases. You can use it as the best WordPress theme for fashion blog, news portals, magazine blogs,s and much more.
And you can do all of these with the free Coblog WordPress theme. But if you want to get more creative, then you can also use PostX Gutenberg blocks to make your site even more appealing.
Also, you can use ProductX as well to build a quick WooCommerce store.
And yes, all of these plugins have completely free features. Then again, the Pro features do allow you to have a more tailor-made experience.
Final Thoughts
As you can see, the Coblog theme checks all the boxes for being the best free WordPress theme for personal blog in 2021.
First of all, it's FREE. Second, the level of customization is second to none. To top it all off, you get proper support for disruptive plugins like PostX and ProductX.
All in all, for someone who wants to start a WordPress site in 2021, the feature set is a steal. We can assure you, you won't find such features in other similar WordPress solutions.
Check out Coblog and start your WordPress journey today.