Coblog is fast loading WordPress blog free theme in WordPress directory. When we want to choose a free theme for our personal blog site or news site, then our major concern is site speed, site design, SEO ready, rich snippets and rich customizable option. There are lot of free theme in the market which is completed all this features.
But you can seem that why you choose WordPress directory theme?
You don't have to take any confusion because of it's good quality. In WordPress theme directories have to meet rules and regulations. To compare other marketplace WordPress theme directories theme is less messy and light weight. Thats why most of the theme company are not interested in WordPress theme directory. Coblog is an outstanding free theme of all kind.
1. Super Fast
Blocks is a super fast theme than others. It's super fast because of its coding style. It has a minimal third party script that uses inside the theme. Most of its scripts are written from scratch and well organized.
2. Plugin Supports
Nowadays, people are using many plugins in website, page builder is all of the common. Most of the common issue of the free theme is not working well with all the major page builder. Most popular page builder like Gutenberg, Elementor, Divi, Oxygen, Visual Composer, Braver Builder etc. has a full support in Coblog. And other popular plugins are also working great with Coblog.
3. Customizer Option
Coblog has stunned customizer option any other theme customizer. Has lot of customization options like color, background, font, header builder, footer builder and many more. It is very hard to find rich customizer options in free theme.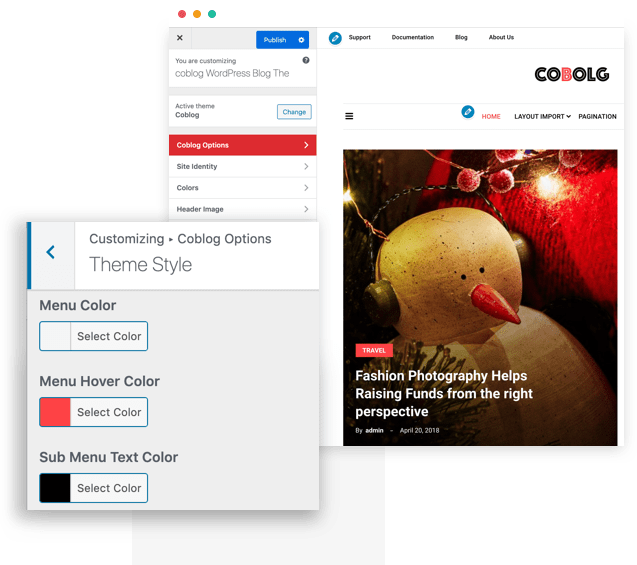 4. Single Page Variation
Single page setting is another awesome options for this free theme. You can change your single page design using few clicks. You can setup each single page with different settings that is very easy. Its stunning default design is just awesome. You don't need to switch the default design of the single page.
5. Category Settings
In WordPress Theme category settings is very hard to find. Coblog is a free theme which has the best Category settings in the WordPress. Category page is also ready for your site.
Finally if you need the Post List, Post Grid, Post Slider, Post hero section, you can use "Gutenberg Post Blocks". Because Coblog can not give you all this kind of Gutenberg block in their free theme. And this plugin is working well with this free theme. "Gutenberg Post Blocks" this plugin can help you not only enrich but also empower your blocks.