Are you considering grabbing that one and only opportunity to grow your company and increase your profits? Trying to implement wholesale or B2B/ business-to-business transactions in your WooCommerce store? Want an all in one wholesale solution?
Have you searched for other available choices on the market but found that they are all too complicated to use?
Are you unable to make heads or tails of anything? Do you need assistance in developing a B2B, B2C, or hybrid B2B+B2C store?
Don't get worried since WholesaleX is here to help!
Instead of spending time and money creating a new website only for wholesale customers, you can use WholesaleX WooCommerce B2B solution to register wholesalers on your current WooCommerce platform while continuing to take care of your regular consumers. With WholesaleX, you can do more than just that.
You should go with WholesaleX since it is the best option. Very simple to comprehend and implement to make your goal come true. Now that WholesaleX is out, wholesaling in WooCommerce and expanding your business's potential will be more than just a dream.
WholesaleX: The All In One Wholesale Solution
If you're running a B2B or B2B+C hybrid business in WooCommerce, WholesaleX is the complete solution you need to succeed. What sets it apart is the fact that it has a straightforward design and navigation without sacrificing any essential functionality.
It just takes a few minutes to enable wholesale pricing on an existing WooCommerce shop, allowing you to offer bulk savings right now. You may dynamically control everything, including users, discounts, shipping, tax, and much more, with the help of the strict rules you can put up for them.
When it comes to wholesale solutions for WooCommerce, WholesaleX is both the easiest and most effective all in one wholesale solutions.
With WholesaleX, you get a lot of stuff, including a dynamic rules system, tiered pricing, a store-specific wallet, an in-built chat feature, and more. Adjusting a few minor parameters is needed to have the WooCommerce wholesale B2B shop up and running.
It is also feasible to operate a B2B hybrid shop. WholesaleX supports switching between business-to-business (B2B), business-to-consumer (B2C), and a combination of the two (B2B+B2C hybrid.
So, stop waiting around and start using WholesaleX now.
Why don't we show some fantastic features WholesaleX provides? You'll be amazed.
WholesaleX Features
Here are some of the features WholesaleX provides.
Advanced Dashboard
WholesaleX Dashboard gives you powerful insights into how your wholesale store is performing. You can create sales reports for strategic decisions and sales monitoring with various options like:
Date Range
Gross Sales
Net Sales
Total Sales
Shipping Sales
Tax Sales
Refund Sales
Coupon Sales
There are also other options like:
Top Customer
Recent Orders
Registration
At a glance, you can check how many messages you have in conversation and how many approvals are pending in the new registration.
Dynamic Rules
WholesaleX has an amazing dynamic rules system. It is the comprehensive solution to the issue of assigning global prices, wholesale discounts, payments, tax exemptions, and shipping regulations.
The dynamic rule system makes it possible to adjust price and discount rates for individual customers or multiple customers and products simultaneously.
Establish wholesale pricing on a global scale.
Make the same product available at a variety of price points.
Offer a one-of-a-kind payment-based discount.
You can hide products from particular users or even from multiple users.
Tiered Pricing
WholesaleX lets you set dynamic tiered pricing depending on quantity for particular or numerous users. Highlighting quantity-based discounts on the product page is a great way to encourage people to purchase.
Create price tiers for the entire store or each individual product.
Set a user-based tiered pricing for all or specific products.
Choose your preferred tiered price structure from among many premade choices.
Show the price tiers below or above the "add to cart" button.
Set a time restriction and a maximum discount level for tiered pricing.
User Roles
You can create a set of user roles and provide diverse offerings to each of those user roles using WholesaleX. Create user roles and then manage them more efficiently by providing predefined options.
Choose between an automated and a manual approval process for users.
Place them in suitable predefined user roles.
Set credit limit parameters for user roles.
Tax exemption settings for specific users or groups of users.
Registration Form
Create your own unique registration form, and then use a shortcode to turn that form into a registration page with WholesaleX.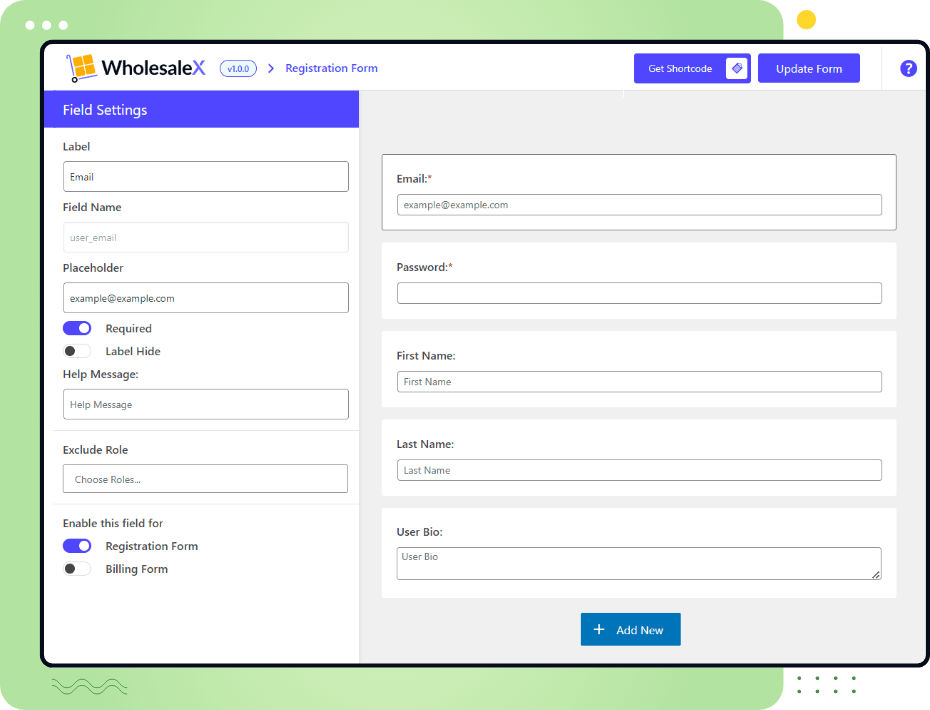 Make registration forms for both B2B and B2C users.
Hide field for specific user roles.
Make desired fields required/mandatory.
Create a separate page for the registration process
Wallet Management
Customers who shop at your store can WooCommerce store credit in their WholesaleX Wallets and then use the wallets as a payment method when they buy items from your store.
It will be accessible on the "My Account Page" of the user and the checkout page when the customer is making any purchases. In addition, as the administrator of the store, you can manually deposit funds into the accounts of any users.
Add and store funds in the WholesaleX Wallet as a user.
Add funds to specific users as the store administrator.
Use the wallet as a payment method.
Conversation
Make the most of the built-in conversation system of WholesaleX to ensure you are always in touch with your customers. B2B customers will find the conversation option on their "WooCommerce My Account Page".
There, customers can start a conversation with the store administrator. Additionally, there are three different conversation options: inquiries, quotes, and regular messages.
Dynamic conversation system for B2B users.
3 conversation options: Inquiry, Quote, & Regular Message.
Conclusion
WholesaleX is the easiest all in one wholesale solution. Running a business with WholesaleX becomes very easy. You do not need to have any experience with coding, nor do you need to understand it. A perfect solution to all the problems wholesale business owners often experience and several others.
WholesaleX just started its journey, and we will improve it by adding many more functionalities as time passes. So, enjoy the easiest wholesale solution, WholesaleX, and boost your WooCommerce B2B wholesale store to the peak.
You can check out WordPress video tutorials on our YouTube Channel. Also, find us on Facebook and Twitter for regular updates!