Are you looking for the best WordPress Slider Plugins?
You don't have to look any further. We took the liberty of going through some of the slider plugins for WordPress. Upon review, we came up with a couple of options you may find useful.
We took various factors into account like the pricing, support, functionality, etc., and came up with this list of WordPress plugins. This list should be more than enough to help you find the right plugin.
But first, let's talk about the concept of a WordPress slider.
Does Everyone Like the WordPress Slider Concept?
Sliders can either be a hit or a miss.
Some users love them. Others don't really love them that much. It all depends on preference. In general, having a powerful slider can help convey a proper message to a user about your website or mode of business.
However, there is a chance that it will hamper your website's performance.
The reason behind it is simple.
Not all WordPress developers understand the philosophy behind a slider. For this reason, they pack too many features – oftentimes not thinking how it will impact the user's website. This can lead to slower load times that can impact overall performance.
But the general rule of thumb is simple:
If you want to help users understand the purpose of your blog, or know what type of products you are selling on your online store – it is a good idea to use a proper slider.
What are the Best WordPress Slider Plugins?
There are a couple of WordPress slider options that are better than the others. Our list is about those particular options. One of the problems with such lists is the fact that you need to check out each individual and see whether they serve the purpose or not.
So far, we've come up with a short list of options that will meet your needs. However, some options may be more prominent than others. You will have to choose which plugin will be best for your needs:
The reason why the PostX plugin is at the top position is simply because of its unique post slider. The PostX slider comes with 2 unique options. You can use both these different setups to create a proper slider to showcase your blog posts.
Here's a quick overview:
There's another advantage with the PostX plugin – it's a full-fledged site builder that you can use to create news-magazine sites, travel blogs, recipe websites, and more. All you have to do is use the dynamic site builder to build the pages and you're good to go!
You can use the PostX slider within these pages or create a custom page to showcase the slider where you can show exclusive items from your end.
Key Features
An easy-to-use post slider.
It features a library of designs you can use for quick deployment.
Choose from a number of layouts to create your favorite design.
Slider speed and auto play options are available for better usability.
Proper image control to showcase image posts effectively.
A powerful query builder is available to show specific post items.
Other settings are available to showcase categories, meta, and others.
You can use the slider as a reusable block to deploy your designs faster.
Shortcode support is available as well.
Pricing
Please note that the features of the slider come bundled with other features of the PostX site builder plugin. Pricing for the plugin starts from $49 for 1 site license with support for 1 year. There's a lifetime plan as well that starts from $149 for 1 site. Also, a free version of the plugin is available as well.
Who Should Use This Plugin?
The PostX plugin is for those who are not just looking for a post slider but want a full blog site builder. For such users, the PostX plugin can be a game changer. Do check it out.
The ProductX WooCommerce slider gives you an opportunity to showcase your products in a unique way. Just like the previous plugin for slider in WordPress, you have plenty of functionality features to showcase your products.
Here's an overview of the product slider:
And yes, it is a proper WooCommerce builder plugin you can use to create awesome-looking WooCommerce stores. Just use the in-built WooCommerce builder to create product pages in just a few clicks.
Of course, you can use the slider anywhere on your online store. Just drop the block onto a page and customize it to showcase products that speak of your brand.
Now the question is, what features is it packing?
Key Features
A drag-and-drop slider that's easy to use.
It comes with pre-made patterns that are easy to deploy.
Various layout options to use on your product page.
Slider animation and speed settings are available for proper usability.
A powerful product filter for showcasing the right products.
Product image settings to showcase products in the right way.
Other settings like the add to cart button, discounts, etc. are available.
You can use the slider as a reusable block to deploy your designs quickly.
Pricing
Again, the product slider comes bundled with the ProductX WooCommerce Builder plugin. Pricing for the plugin starts from $49 for a single site with 1-year support. For a lifetime plan, you need to spend $149 for a single site license. A free version of the plugin is available as well.
Who Should Use This Plugin?
If you are looking to build a proper slider and build a WooCommerce store at the same time, this plugin is for you. It's a lightweight option that has plenty of power to create full WooCommerce stores. Do check it out if you're looking for a slider plugin with site-building capabilities.
The Product Gallery Slider for WooCommerce is a simple WordPress slider that has some unique features.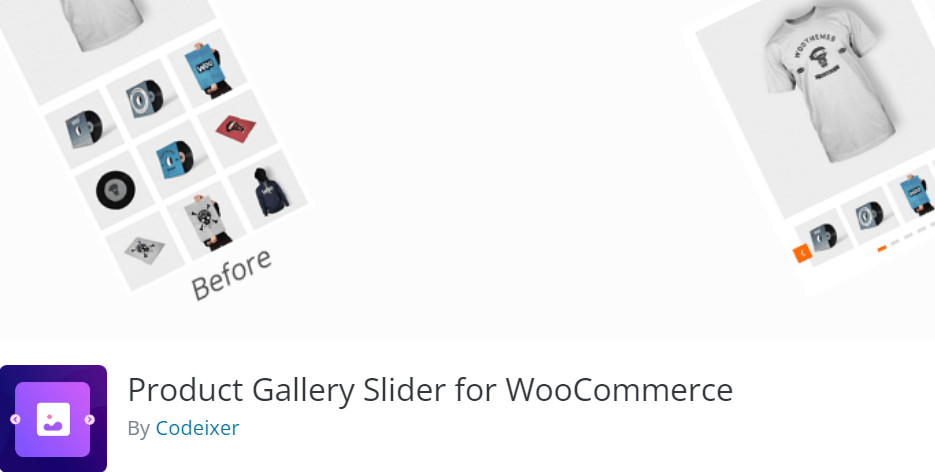 Although it's not a full site builder of any sort, it is a lightweight option you can use to showcase products on your WooCommerce store. The plugin allows online store admins to create a product image gallery of choice.
Key Features
It has full slider control and image settings for proper usability.
You can enable or disable lightbox image settings.
You got support for Elementor, Divi, and other WordPress builders.
Shortcode support is available for added flexibility.
Pricing
Pricing for the pro version of the plugin starts from $79 for a single site license with 1-year support. For a lifetime license for a single site, pricing starts from $189.
Who Should Use This Plugin?
This is a proper WooCommerce showcase plugin that has support for major page builders. If you are looking for a solo plugin with good product showcasing capabilities, you may want to try it out.
B Slider is a free WordPress slider plugin that comes with a couple of interesting features.

It's a standalone slider for the WordPress block editor that has all the right features to showcase potential items from your blog. Here are the key features:
Key Features
You have animation and duration controls for the slider.
Different layout options are available.
Various slider transition settings are available.
Use it anywhere on your site with shortcodes.
Pricing
The pro version of the plugin starts from $19.99. There is a free version of the plugin available in the WordPress directory.
Who Should Use This Plugin?
It's a simple plugin for simple users. If you don't want to get into the hassle of building something from scratch, this plugin for slider in WordPress can be very useful.
How to Choose the Best WordPress Slider Plugins?
There's no right way to choose a WordPress plugin. All WordPress plugins have their benefits and flaws.
But when you are choosing a WordPress slider plugin, there are a couple of things you need to look for in a plugin:
The plugin should be lightweight and easy to use.
See if it has some pre-made patterns. Pre-made patterns are often useful for quickly deploying a slider – whether you are using it for a blog or on a WooCommerce store.
A slider should be like a Lego block. You can simply drag and drop it on a page. This is a must-have feature for any WordPress or WooCommerce product slider.
The slider plugin should have support for a wide range of themes. Also, there should be proper support for other popular plugins as well.
The design properties should be feature-rich. You should have granular-level support for changing various design properties of the slider.
There should be different animation settings sliders. At least there should be an automatic and manual mode for using the slider.
You need to have proper image settings within the slider settings. Without proper image settings, you will not be able to showcase your message or product to your readers or buyers.
For product sliders, in particular, you need to have proper support for WooCommerce. Without it, you may not be able to showcase your products to the audience.
FAQ
How do I add a slider in WordPress?
The general way to add a slider in WordPress is to: 
1. Go to a page or post where you want to add the slider. 
2. Click on the "+" icon on the top-left. 
3. Search for the slider block. 
4. Drag the slider on the page. 
5. Change the settings of the WordPress slider. 
6. Finally, publish the page or post with the slider. 
How does a WordPress slider animation work?
For different WP sliders, the settings are different. However, in general, settings for the animation effects of a slider are in the slider block settings. Settings may vary depending on the plugin.
What is a Slider Layout?
A slider layout is a pre-made design that shows you how the slider looks on a page. It's different from a pattern in the sense that it shows you how a block is 'laid out' or presented on a page. A slider layout can have different design patterns.
How do I add a slider button in WooCommerce?
If you wish to use the ProductX plugin, then you don't have to worry about adding a button to your WooCommerce slider. ProductX slider layouts have built-in buttons you can customize to showcase your store products.
Bonus Section: Resources You May Like
The following resources will help you create better website designs. You can go through them and apply them if you want:
Finally…
We don't expect you to think these are the only best WordPress slider plugins out there. There may be some options out there we did not cover.
Still, the slider plugins we discussed here have potential. They are easy enough to understand and use. And they are fairly lightweight options with plenty of nice features.
Still, if you think we missed a couple of options, make sure to share them in the comments below. And while you're at it, check out various WordPress video tutorials on our YouTube Channel. Also, find us on Facebook and Twitter for regular updates!