Most eCommerce store owners are concerned about customer retention strategies. The WooCommerce store credit system can contribute to increased customer loyalty. Depending on your business strategy, you can let customers use their store credit to make purchases.
In this article, we will discuss the advantages of setting up a store credit system and then walk you through a tutorial on how to add WooCommerce store credit for your customers.
What is Store Credit?
Business owners are familiar with the phrase "store credit," as almost all online businesses have regularly used it in recent years. It offers enormous advantages to both shops and customers, enhancing sales and customers' shopping experience.
Currently, all standardized processes are controlled by a system. Therefore it has grown into a feature that all online stores attempt to include. Therefore, what is a store credit? And how it benefits business. Let's find out!
The term "store credit" refers to a scheme that allows businesses to offer customers credit when they make purchases or return items. These amounts are not actual currency; they are held in the customer's account for future use.
Store credit is not exchangeable since it can only be used at the stores that issued the credit. However, its worth can be converted into a monetary value to acquire other products. In the event of a return or exchange, store credit might function as a reimbursement. The shopper can exchange returned products for a full refund in the form of store credit at the original store.
WholesaleX Wallet Management System
The use of point, cashback, or rewards point systems has been more popular recently. Additionally, some users wish to add funds to their wallets to use those cash for future purchases.
WholesaleX, a B2B, B2C, and B2B+C hybrid WooCommerce plugin, is an all-in-one solution for your WooCommerce Store. It surely provides all the important features, but interestingly using WholesaleX WooCommerce B2B solution is much easier and more user-friendly. Anyone can use it without grinding much.
Along with other necessary features, WholesaleX provides users with a wallet option. Via this, store owners can add funds to users' wallets, and users can deposit funds into their own wallets. Also, with the WholesaleX wallet, you can use it as a standard payment method when shopping for your desired products.
How to Add WooCommerce Store Credit with WholesaleX
Now that we know about WooCommerce store credit and WholesaleX, let's move forward with the process of adding it.
Installing WholesaleX
First, you must install WholesaleX to set up different discounts, including user role-based pricing.
Go to the "Plugins" section on your WordPress dashboard.
Then click on "Add New."
On the right search panel, type "WholesaleX."
You should now see the WholesaleX plugin.
Click on "Install."
Then you can click on the highlighted "Activate" button.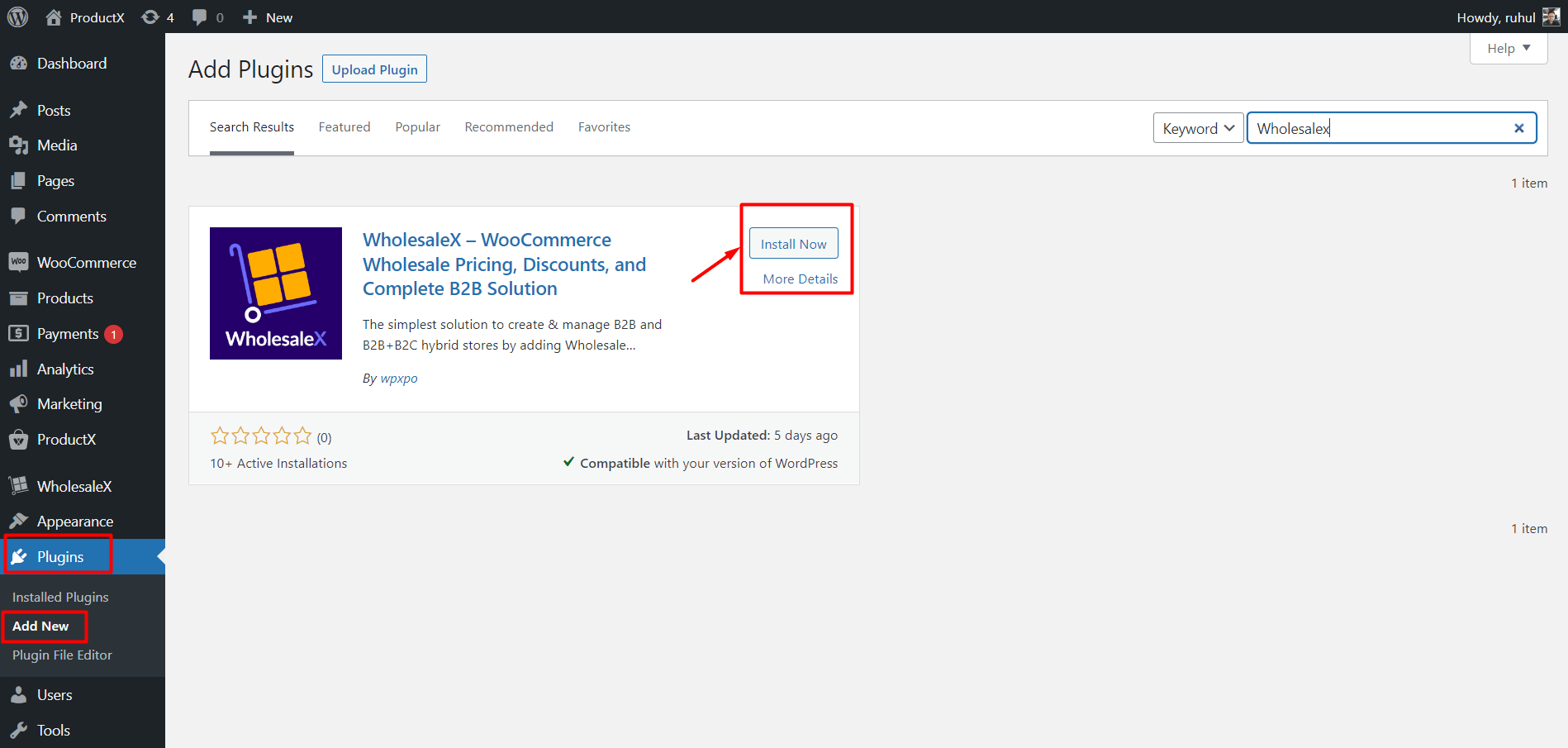 You can start using WholesaleX and its features now.
Enabling WholesaleX Addons
To use the WholesaleX Wallet system, you must first activate the addon. To do that:
1. Go To WholesaleX→Addons.
2. Turn on the "Wallet" addon.
Now, you can use the wallet system of WholesaleX.
Adding WooCommerce Store Credit as Store Owner
To add store credit as an owner, you need to:
1. From the WordPress Dashboard, Go to WholesaleX → Users.
2. Select the user you want to add credits to.
3. Scroll down until you see "WholesaleX Profile Settings."
4. In the "Credit" box, type the desired amount of store credit you want to add for this particular user.
5. Scroll down to the bottom of the page, and click "Update Profile."
Now to see how many credits you've added, go back to "WholesaleX Profile Settings." In the "Credit Balance" section, you can see how much store credit this user has.
Now, let's see how to add WooCommerce store credit as a user.
Adding WooCommerce Store Credit as A User
To add WooCommerce Store credit as a user:
First, you need to go through a basic registration process. Once you're done logging in to your profile, you will see the "My Account" option.
2. Go to the "My Account" page. Now, click the "WholesaleX Wallet."
3. Click the "Add Balance" and type your desired amount in the "Enter Amount ($)" box.
4. Click proceed.
5. Complete the Checkout and billing process, and click "Place Order."
Now to see how much balance you have, Go to the "WholesaleX Wallet," and click the "My Account" page. And you can see your WooCommerce store credit in the "Wallet Balance" section.
As you can see, using WholesaleX is very easy, as we claimed. Anyone can handle the system without any difficulties.
Advantages of WooCommerce Store Credit
There are quite a few benefits of adding WooCommerce store credit. Adding to that, store owners and buyers will gain some specific advantages if your store has WooCommerce store credit or a WooCommerce wallet system.
Let's check out some of the advantages, shall we?
Advantages for Store Owners
Here are some of the advantages store owners will gain:
Improve Customer Relationships
Developing client loyalty while operating an online store takes a lot of work. Most internet stores failed to satisfy their clients with their service and never established positive relationships. Online retailers must focus better on facilitating their customers' online purchasing experience, so they continue to return. Providing store credit enables businesses to increase client retention and satisfaction with online offerings.
No Revenue Loss
When businesses give cashback returns, they lose money, which is why some retailers do not accept them. Refunding a purchase may improve the customer experience, but the corporation must ultimately absorb the loss. Store credit is advantageous for both customers and merchants. With a return policy properly executed, store returns will help successfully manage income and make online shopping more customer-friendly.
Push Customers to Spend More
Customers may spend more money on your items if you provide store credit. When online retailers provide a return policy, it demonstrates their reliability. It encourages customers to think they are doing fair business. When a store's return policy is sensible, buyers feel more at ease purchasing more items. Customers who believe their money is secure are more inclined to purchase more things from the shop.
Advantages for Buyers
Here are some of the advantages buyers will gain:
Improved Purchasing Experience
A company's return policy significantly impacts customers' online buying experiences. If a store does not provide a return policy, clients will always have doubts about the quality of its items, and they will be less likely to make a purchase. A customer-friendly return policy, such as store credit, provides customers with genuine peace of mind and encourages them to purchase from you.
Improve Customer Satisfaction
In online purchasing, it is common for customers to have concerns about the products they purchase, and the vast majority of customers need a refund. The organization must react effectively to client inquiries. Otherwise, they risk losing their clients permanently, which is not conducive to the long-term profitability of an online company.
Customers can return their purchases at any time and get a store credit that can be used to purchase other items. Online shopping would also make customers happy, ensuring their continued loyalty.
Conclusion
To summarize, our plugin WholesaleX will assist you in making the most of the amazing features, like Wallet management, to add WooCommerce store credit. It will increase customer retention, improve customer loyalty, and maximize your business to its fullest potential.
You can check out WordPress video tutorials on our YouTube Channel. Also, find us on Facebook and Twitter for regular updates!