What are WooCommerce Products blocks?
WooCommerce Products blocks are the Gutenberg blocks to showcase products of online stores and create organized and modern-looking WooCommerce sites. It is the new way of displaying products and making landing pages to increase sales.
ProductX the best WooCommerce Product Blocks Plugin
There are so many plugins available for WooCommerce Products Blocks. But not all of them have all the required features for an idle WooCommerce store. Using multiple Plugins for multiple features is not a good idea. Because we need to keep the plugins count as low as possible. So, we should go for an all-in-one solution.
ProductX Gutenberg WooCommerce Blocks is the best all-in-one solution for creating a conversion-focused online store using the WooCommerce blocks. But why is it the best choice for 2021?
It is the best choice as a WooCommerce Product Blocks Plugin because of the following reasons.
Various useful features
Full customizations options
Regular Updates
On-demand addition of features
Rich Documentation
Youtube Tutorial Videos
Useful Blog Posts
Dedicated Support team
You may also like to read:
How to Change Add to Cart Button text in WooCommerce?
How to add WooCommerce Pagination
Features of ProductX Gutenberg WooCommerce Products Blocks
ProductX has lots of useful features to increase SEO visibility and sales of online stores. That is why this plugin has already satisfied more than 1000 users within a short period of time. Let me discuss some of the interesting and useful features of ProductX.
All in One Solution for Online WooCommerce Shop: As I have already mentioned, ProductX is the all-in-one solution for creating an Online WooCommerce Store. It means that you will get all the required features and addons for your desired store. If you don't find any required feature just let the WPXPO team know about that. They will surely bring the addition of that feature as soon as possible.
No Coding Knowledge Required: Using all the features and customization options is easy to understand. No technical or coding knowledge is required for that. You can easily use and customize all the product blocks of the ProudctX without writing any code.
WooCommerce Wishlist: The wishlist feature lets you add a wishlist button to the product page. So, that the users can add any desired product they may want to buy to the wishlist before adding it to the cart. It will be empty after the checkout process is done. The Wish List of ProductX is highly conversion-focused. So, it will increase the sales of your WooCommerce store.
Product Quickview: It is a useful add-on to the ProductX plugin. When the users hover on a product, they will see a pop-up of that product, including product details, image gallery, price, review, etc.
Easy to Compare: It lets the users add products to comparison. So that, they can see comparisons of similar products before adding them to the cart. This feature can increase the conversion rate of online stores by giving the flexibility to make the final choice to the potential buyers.
Ready Starter Packs: ProductX offers multiple starter packs for different niches. You can use any of these ready-made starter packs to create a customized home page for your WooCommerce store. Currently, you can choose from 6 starter packs layouts. But more options will be available soon with the coming updates.
Advanced Query Builder: You can sort the product blocks by different queries by using the advanced query builder. You can use different criteria to showcase products such as The Number of posts, Category, Tag, Order By, popularity, most viewed, etc.
Product Grid Style: Displaying products in a grid style is modern and effective. It lets the users explore multiple products at a glance. ProuctX offers multiple grid-style products block. You can choose any of these blocks and make a customized home page for your online store.
Product List Style: It is another modern-looking style of products blocks. By using you can showcase an attractive and conversion-focused listing of products.

Product Slider Variations: Your current WordPress theme doesn't have a Product slider? Don't worry, ProductX offers a customizable product slider. You can use it for any WordPress theme and customize it according to your need.
Flexible Pricing: You can go for the Pro version of the ProductX plugin. It has three types of plans with flexible pricing. You can choose any of them to buy for one year or a lifetime.
How to Create a Complete online store using WooCommerce Products Blocks
With all the available blocks and starter packs you can easily create any kind of WooComerce store using the ProductX plugin. The main attraction of this plugin is that you don't need to be an expert developer or any kind of coding knowledge. Just follow the below steps to create a customized online store.
Step -1. Install ProductX Gutenberg WooCommerce Products Blocks
First of all, you need to install the ProductX plugin. The installation process is the same as any other WordPress plugin.
Go to the Plugin section and Click on add new.
Search for ProductX and click on install.
After the installation click on activate.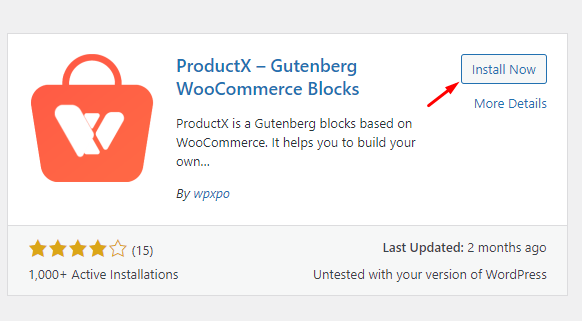 After the activation, you can use the plugin. It is the free version of ProductX. You can unlock more features by installing the Pro version. For that, you need to purchase and download it.
Step – 2. Create a Home Page
To create a customized Home page you need to create a new page and customize it. So, that you can set it as the home page. For that go to the page section and click on add new page. Before starting customizing the page you need to change the default template to the WooCommerce template.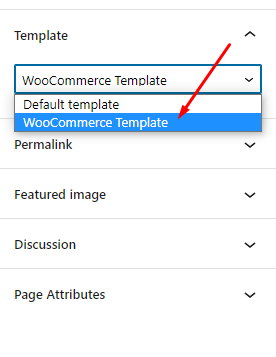 Step – 3. Import any Premade Starter Pack
Now you can customize the home page using the WooCommerce Products blocks of ProductX. You go for any starter packs or import multiple available products blocks.
Go to the block library and click on the starter packs.
Choose any of them and click on Import.
The starter pack will be added to the page.
You can also import multiple blocks in the same way. For that, go to Readymade Block Design from the Block library and import your desired product blocks.
After the customization, you need to publish the page. Now go to the theme customization and select the customized page as the Home page.
"With the coming updates, you will be able to create customized archive pages and single product pages."
Conclusion
All the product blocks of ProductX are highly customizable and responsive for any device. You can easily make a conversion-focused online store and customize it by using the available blocks. If you have any questions about this blog post leave a comment below.