The world of e-commerce is evolving rapidly, and for businesses engaged in wholesale operations, staying ahead of the curve requires innovation and adaptability. Communication is a key to successful e-commerce operations, and this is where the powerful integration of YayMail and WholesaleX comes into play.
In this blog post, we'll explore the seamless WholesaleX YayMail integration. This is the integration between YayMail – a WooCommerce Email Customizer with WholesaleX – the comprehensive WooCommerce Wholesale Plugin that offers dynamic pricing and advanced B2B solutions.
So, let's get started without further ado!
What are YayMail and WholesaleX?
First, let us give you a brief introduction to YayMail and WholesaleX.
YayMail: Enhancing WooCommerce Email Communication
Communication is essential for successful e-commerce operations, and YayMail is an excellent plugin for this. This WooCommerce email template customizer has an easy-to-use drag-and-drop interface allowing you to create custom email templates easily.
From order confirmations and shipping notifications to promotional emails, YayMail helps you create emails that reflect your brand's identity. Its user-friendly features ensure that your communications stand out and help you build better customer relationships.
WholesaleX: Redefining WooCommerce Wholesale Solutions
WholesaleX is the ultimate WooCommerce Wholesale solution that transforms your store into a sophisticated B2B or B2B+B2C hybrid platform. At the core of WholesaleX is its ability to implement various pricing and discount structures seamlessly.
Whether you're offering simple wholesale pricing, tiered pricing, or intricate dynamic pricing and wholesale discount rules, WholesaleX provides a user-friendly interface to manage it all. This flexibility means you can cater to diverse wholesale pricing needs effortlessly.
How to Use WholesaleX YayMail Integration
Now that we know about YayMail and WholesaleX let's guide you on using the WholesaleX and YayMail integration.
Prerequisites
Before you can use the integration, here are a few things you need at your disposal:
Step 1: Install Prerequisites
The first and basic step is to install and activate the prerequisite plugins. Once you activate these plugins, you can customize your emails using the WholesaleX – YayMail integration.
Here's a image of installing WholesaleX, do the same for YayMail. And upload the "YayMail addon for WholesaleX," then install and activate the plugin.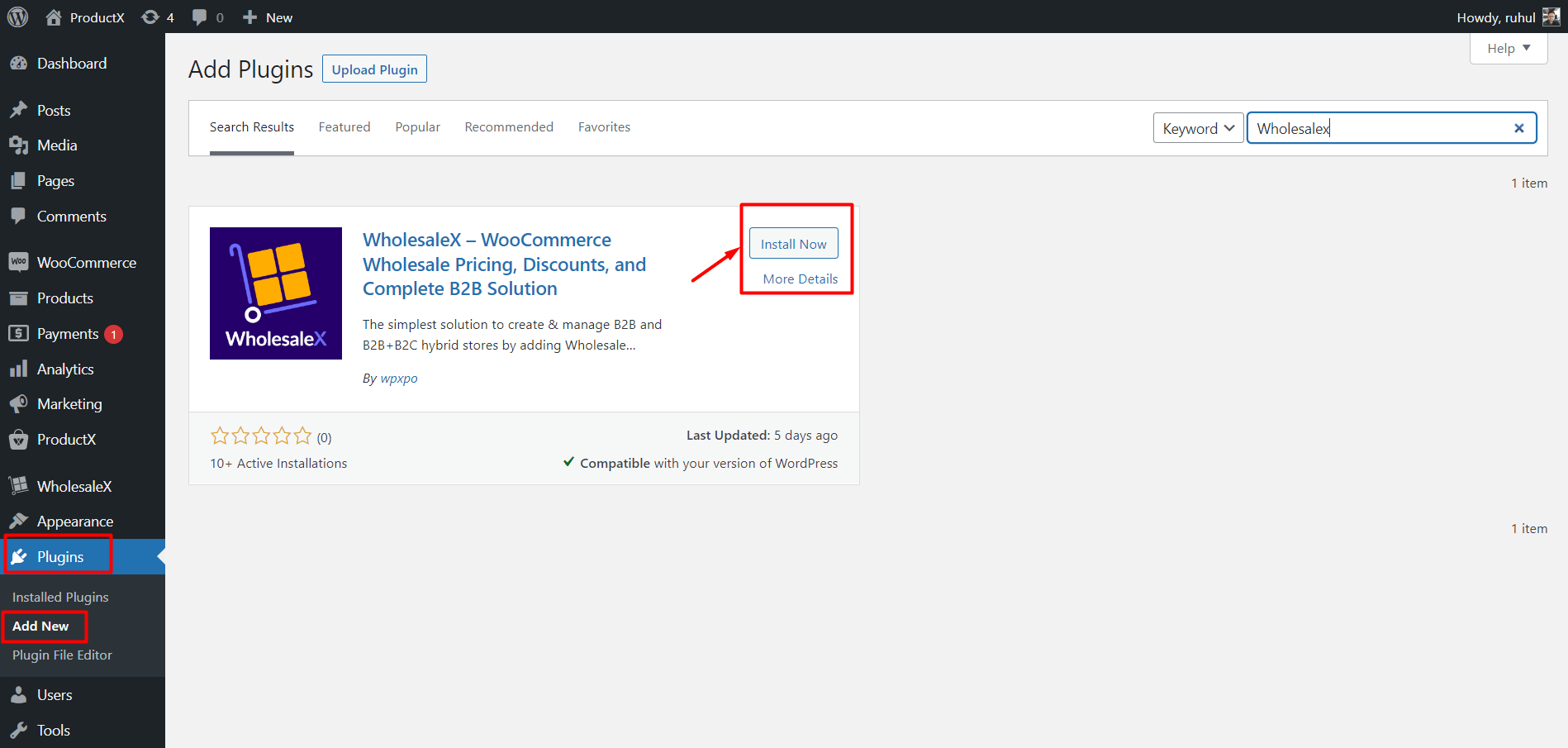 Step 2: Enable WholesaleX Email Templates
To use the WholesaleX Email templates, you must enable them. Go to WholesaleX > Emails.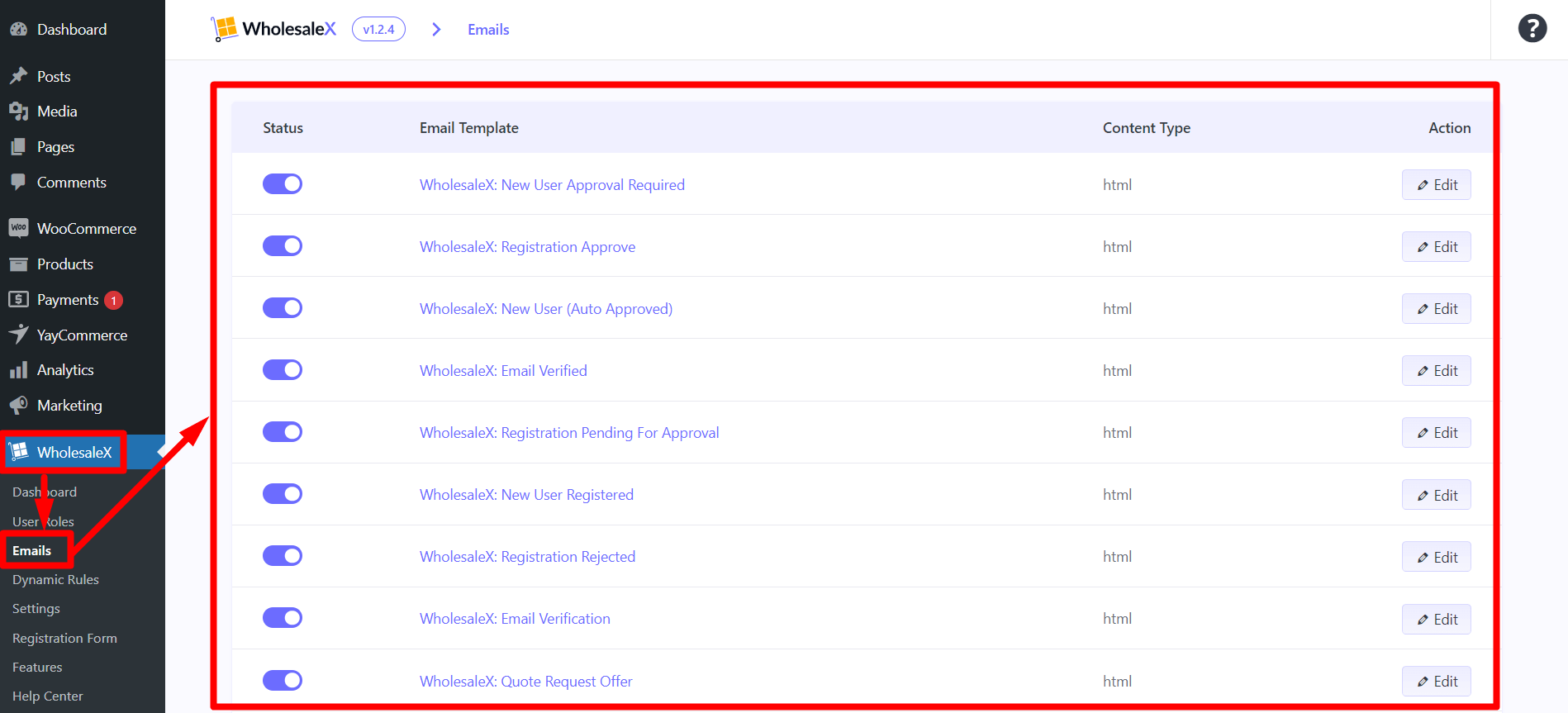 Here, you will see all the email templates available for WholesaleX users. Simply click the toggle bar to enable it. Currently, WholesaleX provides 16 email templates.
Step 3: Customize WholesaleX Email with YayMail Integration Addon
There are 2 ways you can customize WholesaleX email templates.
From WooCommerce Email Settings
If you want to customize a specific email, you can do it from the WooCommerce email settings.
Go to WooCommerce > Settings > Emails to see all the available email templates. You will see all the default templates and also the WholesaleX email templates.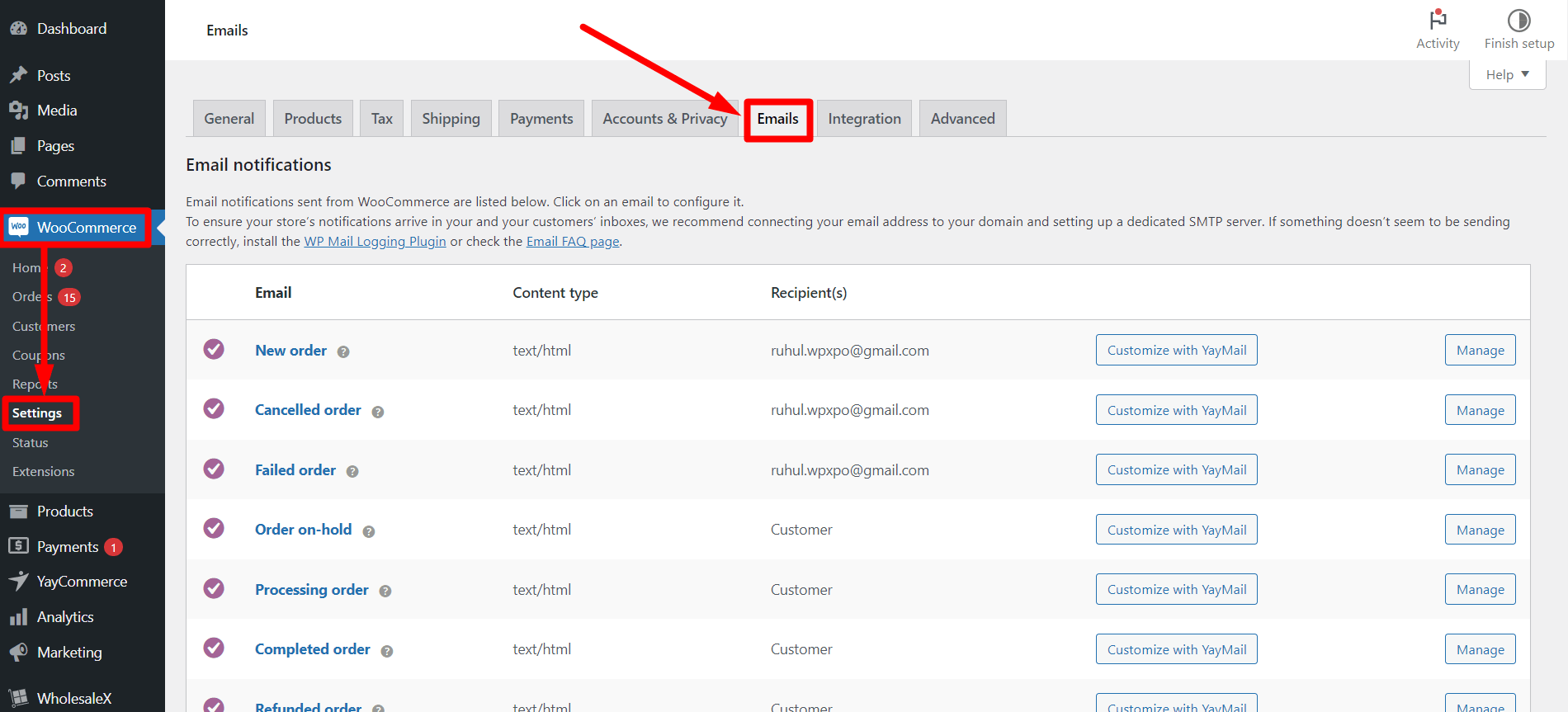 Choose the template you want to customize and click "Customize with YayMail" from that template.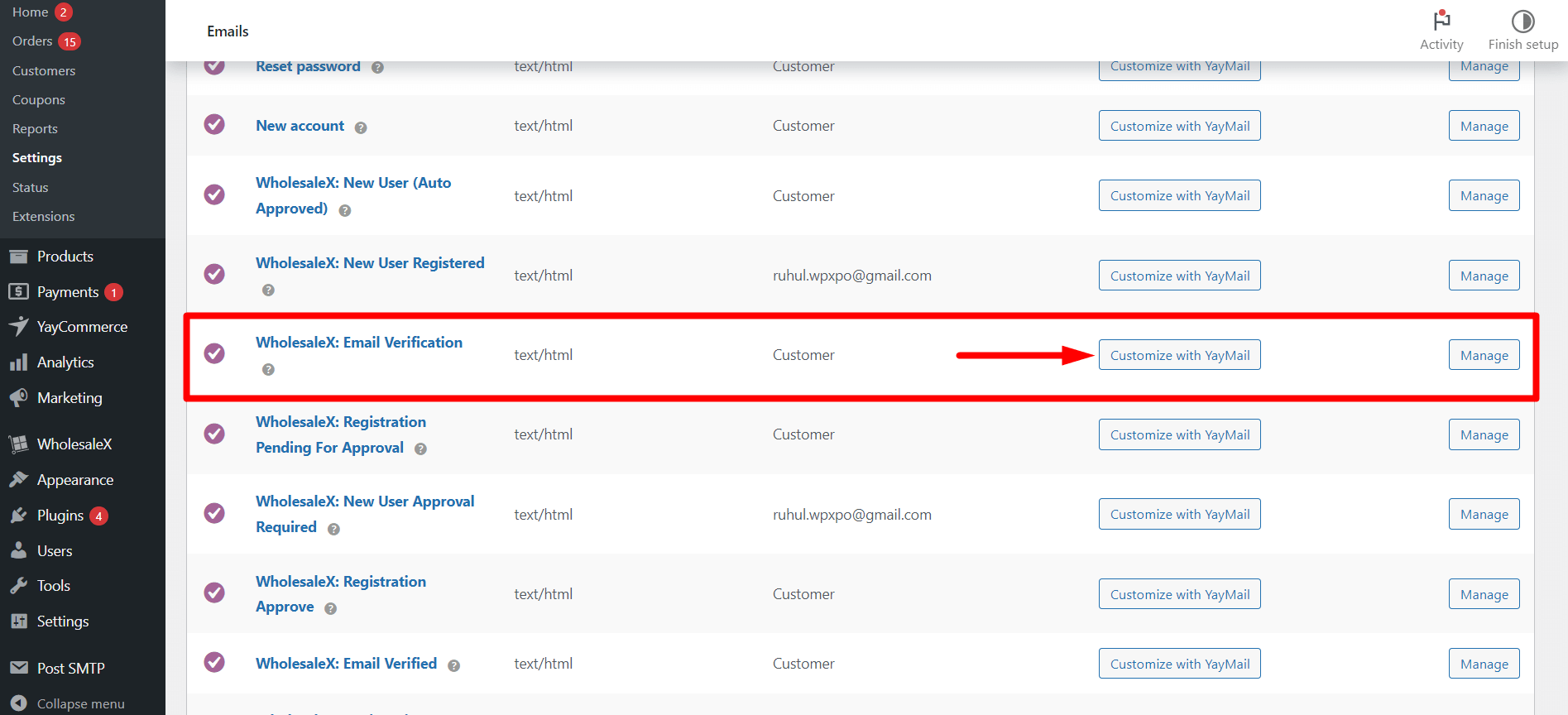 This will open the YayMail WooCommerce email customizer. From here, you can customize the email template as you like.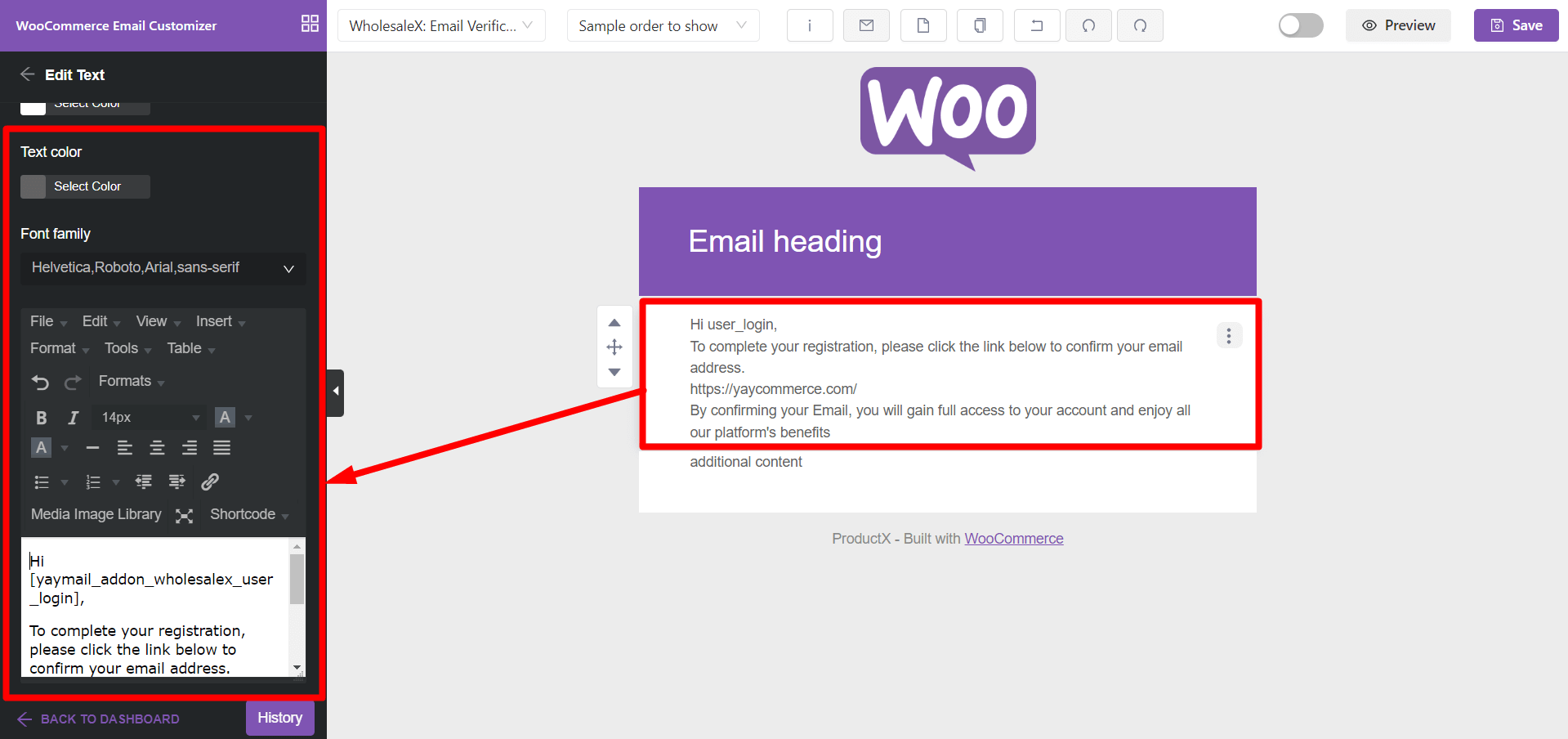 From YayMail Plugin
Customizing templates directly from YayMail customizer is basically a similar process. Go to "YayCommerce" from the WordPress dashboard. And it will open the YayMail WooCommerce email customizer.
Now, select an email template from the dropdown. If you're having trouble finding the location, kindly refer to the image below.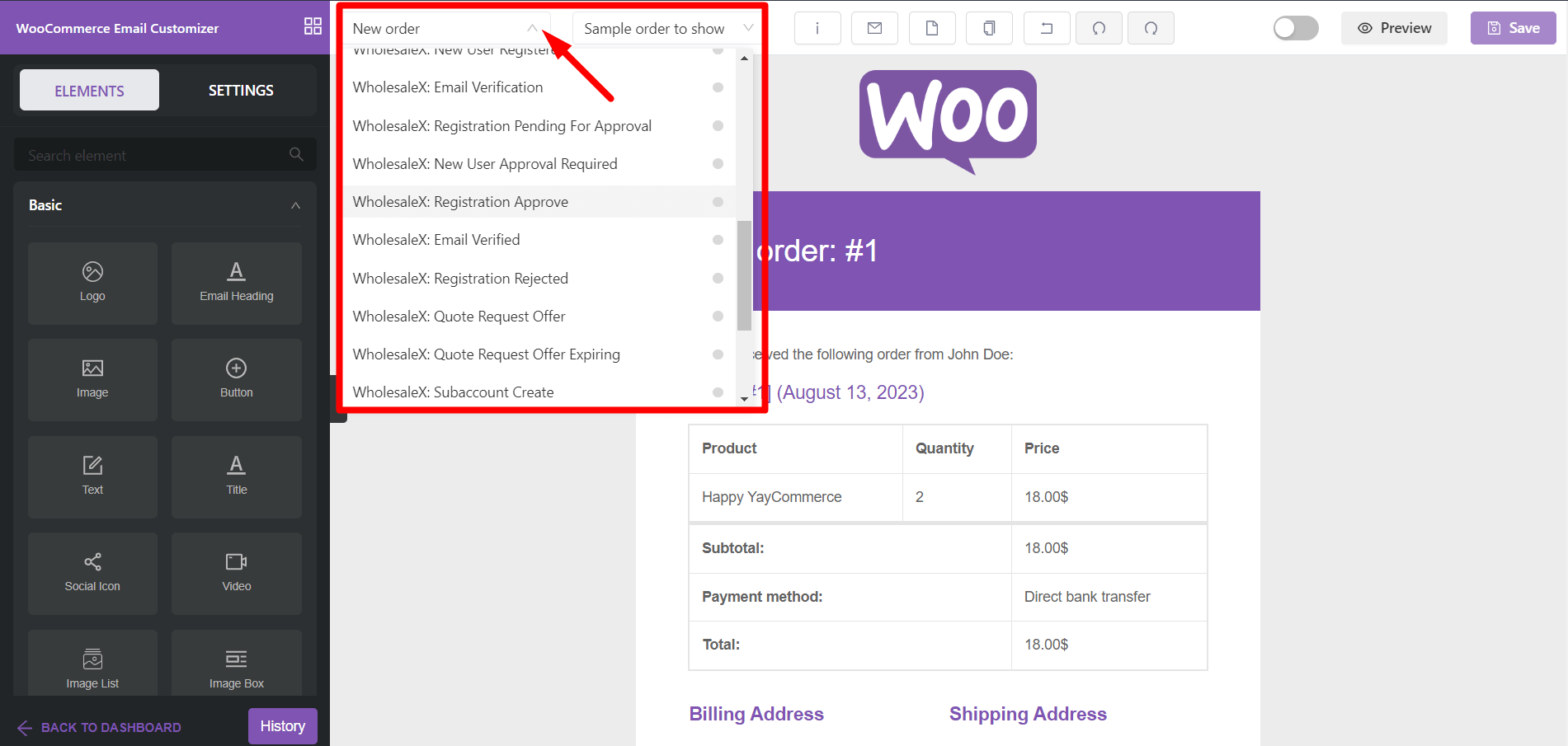 After selecting a template, click on the template section to customize it.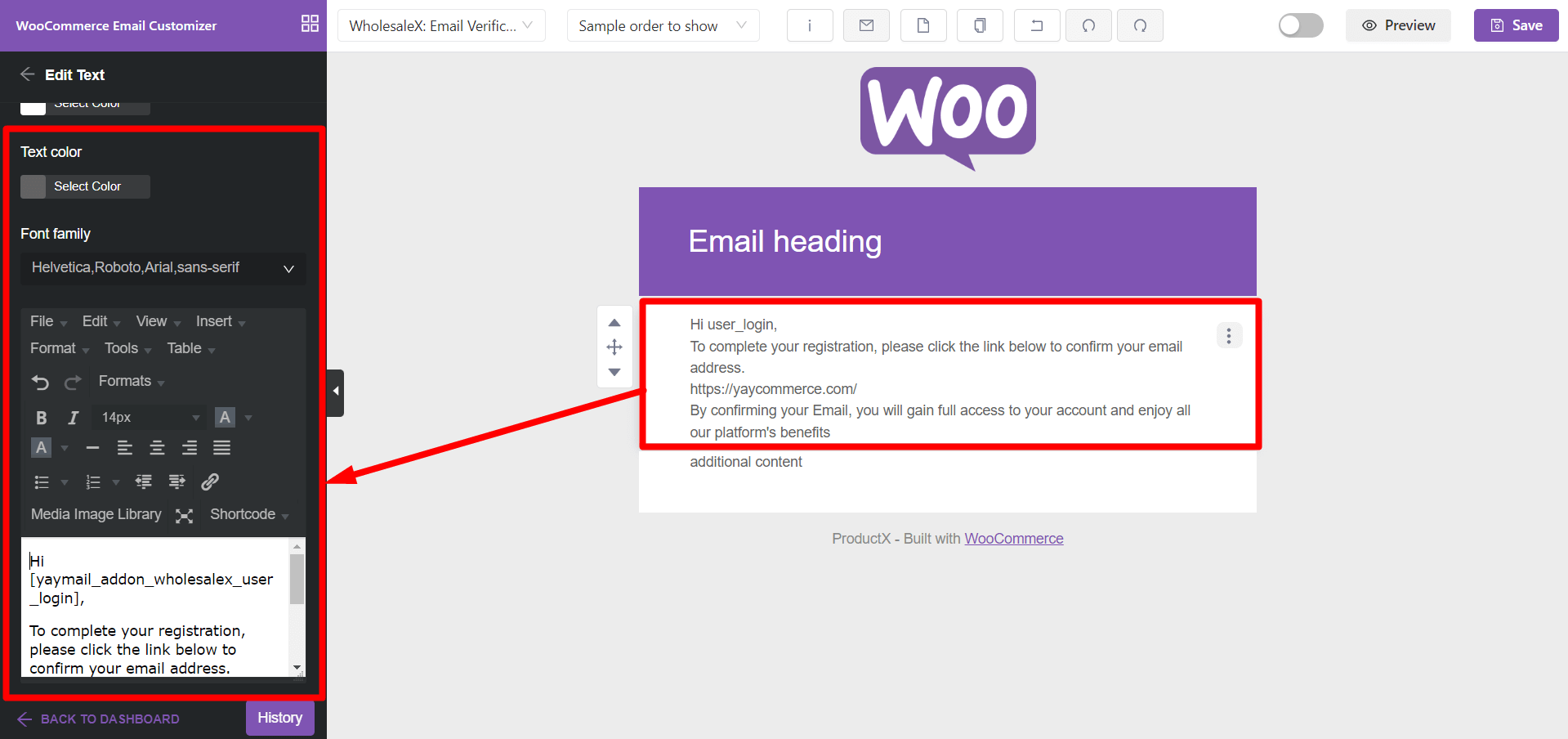 You can add shortcodes by clicking the "shortcode" button on YayMail. You can add regular texts beside the shortcodes if you want.
Step 4: Save and Enable the Template
After completing the customization, click the "Save" button to save the changes made. And to use the modified template, click the "Enable this template" toggle.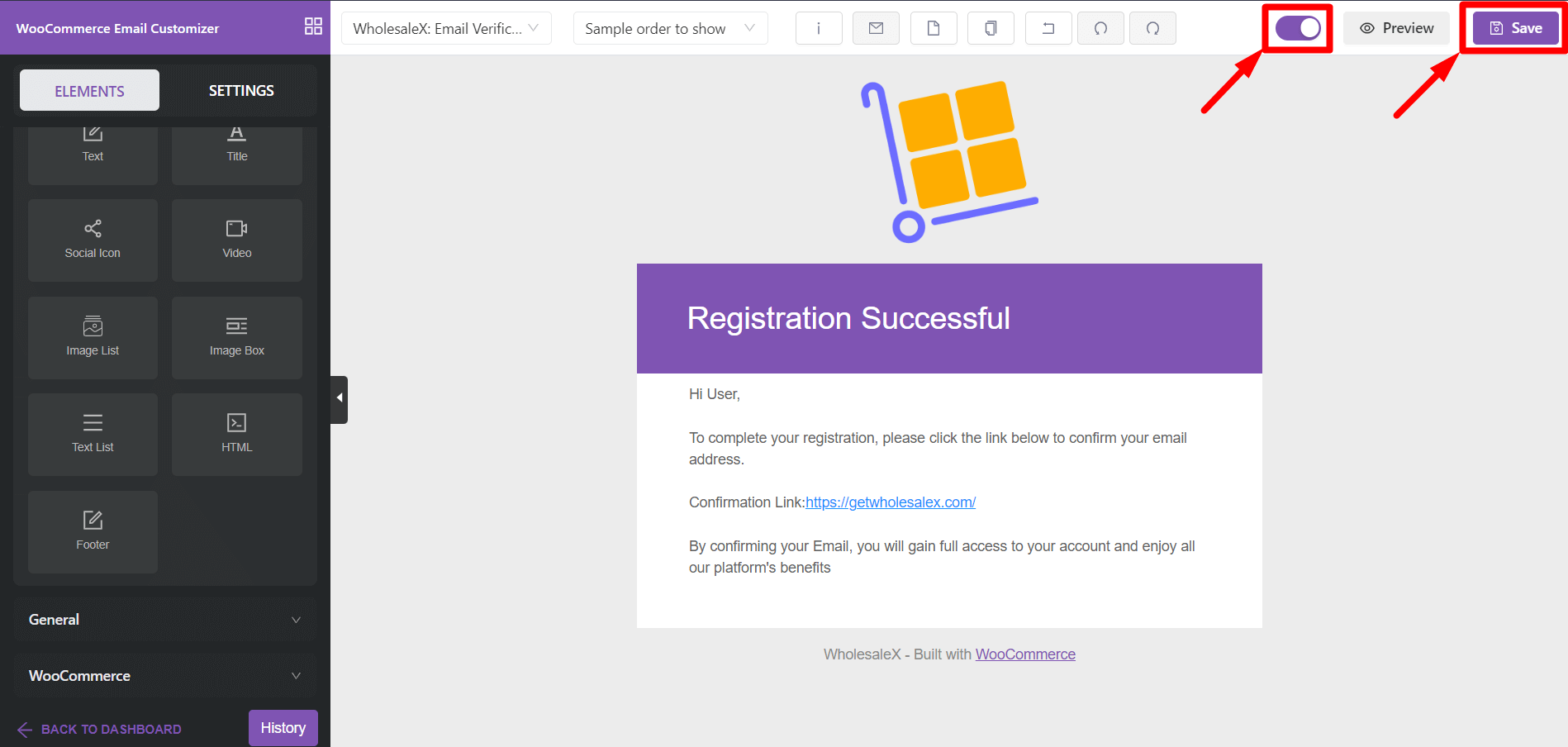 And you're done. That's how simple the WholesaleX – YayMail integration works.
Click the button below to learn more about how WholesaleX Email Templates work.
Benefits of Customized Email in a Wholesale B2B Store?
As wholesale businesses continue to expand and engage with clients globally, the significance of personalized and tailored communication has become even more critical. Let's explore how personalized emails can elevate your wholesale B2B store and foster stronger client relationships.
Professionalism and Brand Consistency: Customized emails showcase your brand's identity and create a professional impression. You can align your communication with your brand's tone and aesthetics to reinforce a consistent brand image.
Enhanced Client Engagement: Personalized emails boost open rates, click-through rates, and conversions by showing your commitment to clients. Use their names and tailor content to their preferences.
Tailored Pricing Information: Customized emails can communicate complex pricing details directly to clients. For instance, tiered or dynamic pricing can be communicated based on order quantity. This fosters transparency and trust.
Relevant Updates and Information: Wholesale B2B clients want timely order, shipping, and account status updates. Customized emails do this efficiently. Personalized emails keep clients informed and engaged.
Building Stronger Relationships: Personalized emails humanizes your brand and builds relationships. Acknowledging milestones and sending birthday wishes shows you value partnerships.
Resources You'll love
Here are a few articles you might love:
Conclusion
The WholesaleX YayMail integration offers a comprehensive approach to enhancing your wholesale operations. By customizing email templates, communicating tailored pricing, and streamlining B2B experiences, you're setting a new standard for efficiency and professionalism.
Embrace the power of YayMail and WholesaleX integration, and witness the transformation of your wholesale business into a thriving, client-centric venture.
You can check out WordPress video tutorials on our YouTube Channel. Also, find us on Facebook and Twitter for regular