Introduction
Introducing the latest health news template for PostX. The 'Health' template for blogging opens new avenues for health news writers to share their opinions on the latest news in medical trends, health advice, well-being, and more.
As a medical writer, you want to have the best possible experience for your users. Not only is it necessary to share proper, to-the-point insights, but there is also the necessity to share the content via proper channels.
And that is where our new health template can help you out.
It comes with all the necessary features to showcase the best of your medical writing. Also, since you are getting the choice to create your website just by importing the template, the usability will be excellent.
An Overview of the Health Template
As a medical news blogger/writer, we believe you have the following needs:
Create and publish efficient health news websites
Market the blog content on social media
Showcase the blog content in a professional manner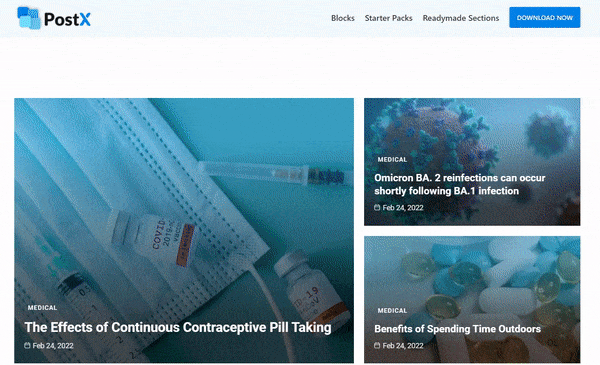 Our new health template, combined with the blog customization power of PostX, addresses all of these issues.
Post Grids to Showcase Your Valuable Health Content
As you are well aware, the post grid blocks are excellent when showcasing key blog posts. The grids allow you to showcase your health-related posts with the proper detail they deserve.
It's crucial to share the latest health-related news accurately. With that in mind, PostX has carefully placed the post grid blocks for maximum efficiency.
Check out the extensive features of the PostX plugin to see if it fits your needs.
Post Lists and Modules for Pin-point Blogging
Post lists and modules have been conveniently placed to showcase prominent blog sections. Although it's not much to talk about, you are getting a better overall experience for showcasing the best of your medical news portal.
The placements in this health blogging template will surely complement your news blogging efforts as a health expert.
One-click Layout Import
One of the great things about the layouts of PostX is the fact that you can import them with just one click. All you have to do is hit import from the PostX block library. And voila! You have your new health news site ready to go.
And it's all thanks to the medical news template.
Note: If you're an existing user, you can easily get the latest layouts using the synchronize functionality. All you have to do is click on the 'synchronize' button in the block library window. The latest designs will then appear in your block library.
Extensive Design Customizations
Another great and important feature is the design customization capabilities of PostX. As a health blogger, you may need to tweak how a certain block looks to the end-user.
Fortunately, PostX has your back.
PostX, other than its wonderful starter packs and layouts, comes with a lot of customization features. And you can customize each individual design property to the granular level.
For example, if you want to show specific posts to a certain grid or list, you can use the advanced query builder to pinpoint the type of posts you want to show.
Also, if you want to showcase images in a certain way, you can do so as well. You can set the height, color overlay, animations, and more.
Even the pagination and filtering settings are changeable as well. All you have to do is choose an individual block with the pagination feature. Under the main setting tab, you'll find the option to change the look of your pagination.
Social Sharing
The 'health' template has ways to make your helpful health advice appear on the social space. You can easily prompt users to help themselves to your new content via the various social media channels.
Who Should Use this Template?
We understand the fact that this health news WordPress template isn't something users have to use. As a matter of fact, if you choose to make use of this template, you are getting into a very prominent sector.
This template should appeal to you if you are:
Passionate about becoming a medical news writer in the future
Educating your audience about the trends in the healthcare industry
Become a social well-being expert
Share important facts and techniques for a proper lifestyle
In short, if you're passionate about offering value to your society through the health niche, this template can help you grow in ways you cannot even imagine!
Here, have a look at the template one more time:
Final Thoughts
As an aspiring health news blogger, using the 'health' template is a safe and effective bet. Not only are you getting the functionality of a quick setup, but you're also getting the flexibility to design almost all the assets individually.
Tell us what you think about the health template from PostX. Do you like it? Do you want to recommend some changes? Sound off in the comments below.
Cheers!