The shipping process is crucial for any WooCommerce store as it greatly affects the customer's experience. However, it can also be difficult for eCommerce owners due to technical and logistical obstacles. Fortunately, several plugins are available in WordPress to assist store owners in handling shipping-related concerns.
In this article, we will talk about the best WooCommerce shipping plugins that can enhance your customers' shopping experience. However, before we get into the list of plugins, it's important to be aware of the essential features to consider when choosing a WooCommerce shipping plugin for your online store.
So, let's check some of the best shipping plugins for WooCommerce.
Why Should You Use a WooCommerce Shipping Plugin?
If you're looking to expand your customer base and increase your reach, a WooCommerce shipping plugin is a great option for delivering your products. With the help of the WooCommerce Shipping plugins, you can enhance your online store's capabilities. It lets you provide various shipping options to your customers on your WooCommerce store.
With these plugins, your delivery process can become smoother and more efficient, allowing you to concentrate on your business needs. Additionally, integrating your WooCommerce store with well-known shipping services such as DHL, FedEx, etc., will enable you to provide worldwide delivery easily.
Best WooCommerce Shipping Plugins
Here's a list of the best WooCommerce shipping plugins to help you choose your preferred one.
The ELEX WooCommerce USPS Shipping Plugin with Print Label is a powerful tool for WooCommerce store owners who want to streamline their shipping process. This plugin integrates seamlessly with USPS (United States Postal Service) and provides a range of features to simplify shipping, including label printing and order tracking. With its user-friendly interface and robust functionality, this plugin is an essential tool for any WooCommerce store owner looking to enhance their shipping operations.
Features
USPS Integration: This plugin seamlessly integrates with USPS, allowing you to access real-time shipping rates and services directly from your WooCommerce store. Say goodbye to manual rate calculations and ensure accurate shipping costs for your customers.
Restrict Media Mails: Create shipping classes and assign them to specific products to restrict the use of the Media Mail service if needed.
Set Fallback Rate: Define a fallback rate to be applied in case the USPS API fails to return any rates, ensuring a seamless checkout process for your customers.
Label Printing(Premium): With the ELEX WooCommerce USPS Shipping Plugin, you can easily generate and print shipping labels directly from your WooCommerce dashboard. This saves you time and effort by eliminating the need for external shipping software.
Order Tracking(Premium): Keep your customers informed about the status of their shipments with built-in order tracking. The plugin retrieves tracking information from USPS and provides it to your customers, ensuring transparency and customer satisfaction.
Address Validation(Premium): Ensure accurate deliveries by validating customer addresses in real-time. This feature helps prevent shipping errors and ensures that packages are sent to the correct locations.
Rate Adjustment(Premium): Customize and adjust shipping rates based on your business requirements. You can set flat rates, add handling fees, or apply percentage-based adjustments to shipping costs.
Pricing
The ELEX WooCommerce USPS Shipping Plugin with Print Label offers a free version with limited features, allowing you to try it out and get a feel for its capabilities. For those who need more advanced functionality, there is a premium version available at a cost of $69 for a single-site license. The premium version unlocks additional features such as label generation and printing, advanced shipment tracking, and more.
Using the ReachShip Multi-Carrier Shipping Plugin for WooCommerce, you can provide a game-changing experience for your customers. This plugin provides real-time shipping rates on the checkout page, allowing your customers to choose from a variety of shipping services before placing their order. With the added feature of estimated delivery date calculation, your customers can have peace of mind and a clear idea of when they can expect their order to arrive.
Features
Print Shipping Labels from WooCommerce Order Admin Page: Easily print shipping labels for your orders directly from the ReachShip order tab or the individual order page in WooCommerce. Say goodbye to the hassle of managing shipping labels and streamline your shipping process.
Label Generation & Automation: Automate the process of generating labels for packages right when the order is successfully placed by the customer. This saves you valuable time and effort by streamlining the label-generation process.
Live Shipment Tracking: Provide real-time tracking information for packages, allowing your customers to stay up-to-date on the status of their orders. With its seamless integration with WooCommerce, you can monitor all of your shipments in one place.
Bulk Shipment Creation, Pickup Scheduling, & More: Efficiently manage your orders and packages with powerful bulk actions. Features include bulk shipment creation, label generation and printing, and pickup scheduling. Streamline your shipping process and improve productivity, whether you handle a large volume of orders or need to quickly process a large number of packages.
Conditional Shipping | Table Rate Shipping: Take control of your shipping process with advanced conditional shipping and table rate shipping. Define rules based on multiple parameters such as item, shipping class, cart value, product category, and destination address. Customize your shipments to meet your specific needs.
Multi Carrier, Multi Account Setup: Easily set up and manage multiple accounts that cater to your specific needs. The platform makes it simple to set up and manage a wide variety of accounts, so you can easily coordinate the shipping of your items from several distribution centers.
Bulk Label History: Generate shipments in bulk for multiple orders with just a single click. Maximize your efficiency and productivity by eliminating the need to manually create individual shipments for each order.
Intuitive Dashboard for Reports & Analytics: The ReachShip Plugin's dashboard provides quick and easy access to all important details about your shipments. View data about carriers and shipments at a glance, thanks to the intuitive layout and user-friendly interface.
Pricing
This plugin is totally free to start with.
WooCommerce FedEx Shipping Plugin with Print Label is an advanced solution designed to optimize and simplify your WooCommerce shipping processes. This plugin has been officially approved by FedEx, guaranteeing seamless integration of their shipping services with your online store. With the power of this plugin, your customers can benefit from accurate shipping rates and the convenience of generating labels directly from your website.
Features
Real-time Shipping Rates at the checkout: Fetch real-time shipping rates from FedEx based on the weight, dimensions, and destination of the package. This ensures that your customers always get accurate and up-to-date shipping quotes.
Print FedEx Shipping Labels: Generate and print FedEx shipping labels directly from your WooCommerce admin panel. This eliminates the need to switch between different systems or manually create labels, saving you time and effort.
Automatic FedEx Tracking: Automatically track the shipment status and update it in real-time. Keep your customers informed about the whereabouts of the package, ensuring a smooth and transparent shipping experience.
Shipping Restrictions and Services: Set up shipping restrictions based on shipping destination, product dimensions, weight, and more. Additionally, the plugin supports various FedEx services like Ground, Express, International, and FedEx SmartPost, giving you flexibility in choosing the right service for your shipments.
Customizable Shipping Options: Tailor the shipping options according to your preferences. Configure options like Proof of Delivery, FedEx Hold at Location, Insurance, Residential or Commercial Address Validation, and more to meet specific business requirements.
Multi-Vendor/ Dokan Compatibility: If you run a multi-vendor marketplace using plugins like WooCommerce Product Vendors and Dokan, the FedEx Shipping Plugin seamlessly integrates with these setups, allowing each vendor to generate their own shipping labels.
And a lot more.
Pricing
The WooCommerce FedEx Shipping Plugin is available for a one-time cost of $99. This includes a single site license and one year of updates and support.
WooCommerce UPS Shipping Plugin with Print Label is a certified UPS solution that transforms shipping in your WooCommerce store. This powerful plugin effortlessly integrates UPS shipping services, precisely calculates rates, and simplifies label printing directly from your website.
Enjoy a secure and reliable shipping process, providing both you and your customers with peace of mind.
Features
Real-time UPS Shipping Rates: Fetch real-time shipping rates from UPS based on package weight, dimensions, and destination. This ensures accurate and up-to-date shipping quotes for your customers.
Print UPS Shipping Labels: Simplify your shipping process with the ability to generate and print UPS labels directly from your WooCommerce admin panel. No more switching between systems or manually creating labels. This feature saves you valuable time and effort, allowing for a more efficient workflow.
Live UPS Tracking: Stay updated on the status of your shipments effortlessly. The plugin automatically tracks the shipment's progress in real-time. This ensures that you and your customers are aware of the package's whereabouts throughout the shipping journey, enhancing transparency and providing peace of mind.
UPS Ready Partner: Being a certified UPS Ready partner, the plugin ensures seamless integration and easy access key creation, enabling you to quickly connect your WooCommerce store with UPS shipping services.
Display Estimated Delivery Dates: Enhance the customer experience by providing estimated delivery dates directly on your WooCommerce cart and checkout pages. Also, customize the delivery dates based on your preferences and stock availability, setting clear expectations for your customers.
Multiple Parcel Packing Methods: Configure the plugin to determine how items should be packed automatically. You can choose to calculate shipping based on the order total weight, pack items into boxes with weights and dimensions, or pack them individually.
UPS Freight Shipping for WooCommerce:
Ship heavy products using UPS freight shipping services based on your own UPS account. Provide pickup and delivery along with real-time shipping rates for your customers.
And much more.
Pricing
The WooCommerce UPS Shipping Plugin with Print Label is priced at $99 for a one-time cost. This includes a single site license and one year of updates and support. You have the option to renew your license at a discounted rate after the first year to continue receiving updates and support.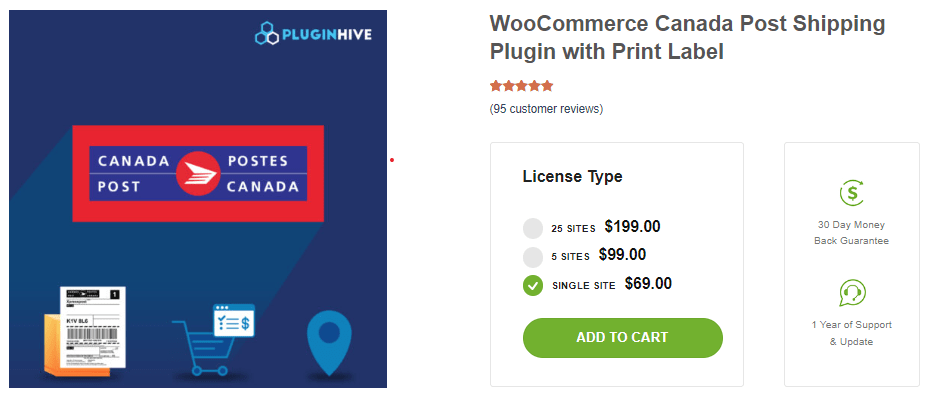 WooCommerce Canada Post Shipping Plugin by PluginHive is one of the best shipping solutions for Canadian WooCommerce merchants. This certified plugin integrates effortlessly with WooCommerce, providing you with a range of features to enhance your shipping capabilities.
Features:
Streamlined Shipping Process: With flawless integration with Canada Post, the WooCommerce Canada Post Shipping Plugin streamlines your shipping process, saving you time and effort.

Reliable Shipping Experience: Provide a reliable shipping experience to your valued Canadian customers with this comprehensive plugin, ensuring their orders reach them safely and on time.

User-Friendly Interface: The plugin offers a user-friendly interface, making it easy to set up and manage your shipping settings without any technical difficulties.

Real-time Canada Post Shipping Rates: Your customers can experience real-time Canada Post shipping rates directly on your website. This ensures accurate cost calculations, making the checkout process smooth and hassle-free.

Canada Post Label Printing: Easily print shipping labels for your Canada Post shipments, saving time and effort in managing your shipping tasks.

Real-time Canada Post Tracking: Keep your customers informed by providing real-time tracking of their Canada Post shipments. This feature adds transparency and builds trust with your customers.

Scheduled Canada Post Pick-ups: Schedule Canada Post pick-ups directly from your WooCommerce dashboard. This convenient feature saves you from the hassle of going to the post office for drop-offs.

Domestic and International Shipping: The plugin supports both domestic and international shipping, catering to a wide range of customers. No matter where your customers are located, you can ship with ease.

Compatibility with Contract and Non-Contract Accounts: Whether you have a contract or non-contract account with Canada Post, this plugin is compatible with both, ensuring flexibility in your shipping options.

Estimated Delivery Dates: Impress your customers with estimated delivery dates for their orders. This feature allows them to plan accordingly and creates a positive shopping experience.

Multi-Parcel Packing Methods: Optimize your packing process with multi-parcel packing methods. You can pack products into boxes based on quantities or weight, providing efficiency in your shipping operations.

WooCommerce Canada Post Shipping Plugin, featuring a range of pricing plans to suit your needs. You can get started for as low as $69 for a single site, $99 for 5 sites, and $199 for 25 sites. Plus, you'll enjoy the added benefit of a 30-day money-back guarantee, along with one year of continuous support and updates.

ShipStation is a fast, affordable shipping solution that automates shipping workflows and sync tracking information. It offers discounted rates with top carriers and can sync orders from multiple selling channels. It also provides branded tracking, instant tracking updates, and a branded returns portal. ShipStation can expand businesses' markets across borders by generating and transmitting customs declarations and forms and offering GlobalPost for fast and affordable international parcels.
Features
Manage WooCommerce Shipping Anywhere: With ShipStation, you can easily manage and ship your WooCommerce orders from anywhere, thanks to its web-based and mobile-friendly platform. Importing and organizing your orders has never been easier.
Customizable Shipping Confirmation Email: Set up either ShipStation or WooCommerce to automatically send a shipping confirmation email to your customers once their package has been shipped. Additionally, you have the option to personalize the email sent from ShipStation.
Detailed Product Information: When you import your products from WooCommerce, all the important details, such as product weights, images, and options, are included. This makes it easier for you to manage and fulfill your orders.
Shipping Updates: Once a shipping label is created in ShipStation, the Carrier, Tracking Number, and Shipped Status are automatically updated in WooCommerce.
Customer Shipping Preference: Get information about the customer's selected shipping method preference.
Order Sync: Easily import orders from Woo and any other shipping platform with just one click.
Order Notes: When an order is imported into ShipStation, both the customer notes and internal notes are included to ensure that any special instructions are considered.
Pricing
You can start using this plugin completely free of charge. But it also has different price plans for different shipment amounts, starting from 9.99/month (50 shipments) to a quoted amount for unlimited shipments.
This WooCommerce label plugin lets you generate shipping labels, dispatch labels, and delivery notes for your WooCommerce store. The plugin comes with pre-built templates and allows you to customize the appearance of the labels. You can add meta fields and attributes to the shipping labels.
The plugin lets you access the documents from the Order edit page and allows you to bulk print all the labels. You can also add a print button on the order emails sent out to customers to enable your customers to print the labels.
Features
Auto-generate shipping and delivery documents: Automatically generate WooCommerce shipping labels, dispatch labels, and delivery notes. Add additional product and order meta fields and product attributes to these documents.
Pre-built layouts and customization options: You have pre-built templates to customize the shipping documents. Add, remove, or edit various elements of the documents to make them suitable for your business. You can save the edited layout as a template and use it for a later time.
Easily print shipping documents: You can easily print the shipping documents in bulk, helping you to make the order processing smoother. Also, you can allow your customers to print the documents from the order status emails sent out from the store.
Support for multiple languages: The plugin is compatible with WPML and supports translation for multiple languages.
Resources You'll Love
Conclusion
Choosing the best shipping plugins for WooCommerce can be a bit challenging. But we hope you find a suitable one from our best WooCommerce shipping plugins useful for improved product shipping and customer experience while assisting you with your WooCommerce store.
You can check out WordPress video tutorials on our YouTube Channel. Also, find us on Facebook and Twitter for regular updates!