Introduction 
Before we start discussing some of the necessary tools for Project Management in WordPress, it's probably better to start with the basic definition of project management.
According to Project Management Institute, Project Management is all about offering a solution/service that offers value to people by using contextual knowledge, methods, skills, etc. For example, the development of software to automate web-based common tasks or services is an appropriate example. 
With that said, it's probably better to learn why would you need a WordPress Project Management plugin the in first place.
Why Do You Need a WordPress Project Management Plugin?
In general, project management is a set of essential skills and tactics for members of a team (let's say a software firm) to meet the pre-defined goals and objectives. This happens to be true for online businesses, freelancers, coders, and developers as well.
And if you're running your endeavors on a web-based solution like WordPress, you'll need it more than ever. WordPress Project Management plugins are essential for web devs, marketing, social media, UI/UX designers, and everyone connected online. 
It's essentially a way to keep track and maintain the progress towards the goals and objectives of an organization.
Today, we'll not just be talking about the Best WordPress Project Management Plugin. But we'll also talk about what features you'll need in a WordPress project management plugin to get your organization on track to meet the company's visions.
So, let's get started! 
Best Project Management Plugin for WordPress: Options to Consider 
There are some top-notch options out there that will help you get started with your WordPress project management journey. So we'll look at these options for now and then move on to some of the more interesting topics we have in store for you.
Now do keep in mind that all these options have their merits and demerits when it comes to project management. So, ranking them from top to bottom doesn't do them justice in the right way.
We would ask you to choose a wordpress plugin that works for you. In short, you may want to pay attention to what each project management solution has in store for you. 
1.WP Project Manager Pro by weDevs 
WP Project Manager Pro is a solid offering from weDevs with a lot of cool features for managing small, medium, and large-scale projects. The free version of the plugin comes with a lot of cool features that will get you started on managing your workflow. 
Among the basic features, you get the option to: create projects and allow users to leave comments, enable messaging, attach files to cards, and add users to them. Other than the usual features, you do get the option to add milestones alongside the messaging functionality.
Email notification, another important feature in a project management plugin is also fully functional on WP Project Manager, allowing you to set the notifications and have control over who can receive them. And there's also the capability to incorporate a push notification as well. 
The ability to create and manage Kanban boards is an essential feature when it comes to project tools. With WP Project Manager, you can do so seamlessly by creating unlimited boards and drag-and-drop them to your needs.
There's also the Gnatt chart functionality as well, where users can see the timeline of a given task, assess changes and dependencies. Then there's the Time Tracking and Customer Invoicing Capabilities, where users can keep track of the progress and charge their clients accordingly in that manner.
As far as integration goes, then you have support for WooCommerce, Github, Slack, and more. All in all, it's pretty much a complete suite for project managers of any discipline.
The plugin currently has more than 10000 active installations that are growing at a steady pace. Also, the customer support is decent overall, issues do get quick attention from the team and get resolved in a timely manner.
You can get started for FREE and use the basic features. The Pro version of the WP Project Manager plugin starts at $79, very competitive in comparison to some of the competition.
2.Kanban Boards for WordPress by kanbanwp 
The 'Kanban Boards for WordPress' plugin is one of the new and prominent players in the running for the best WordPress project management plugin. Although it's not the most budget-friendly plugin in the world, it's a super useful option for software project firms, both small and large. 
*** The Japanese word 'Kanban' means 'visual representation' / 'visual cue'. Often times when you work on tasks for a specific project, you can end up with tasks that don't have any visibility and is untrackable. A Kanban board helps to make sense of the tasks and allows you to organize them so the whole team is on track.   
One of the key features of this WordPress project management plugin is the ability to edit on the go. You have the capability to edit Kanban boards in place, assign members and deadlines on the spot. From tracking the progress to assigning users, you can do it all. 
Another important feature is the ability to bookmark and filter tasks, making it easy for the user to make sense of where the project is heading and how to tackle the tasks ahead. And all of this comes with appropriate support for notifications, to-do lists, flagging, and other essentials.
When it comes to project management in WordPress, the 'Kanban Boards' plugin from kanbanwp is an appropriate choice for Customer Relationship Management, Sales tracking, task collaboration, and more.
Again, it's a growing plugin with 1000+ active installations. And the reviews from the users are appreciable, offering high praise to the support team behind the plugin. Although the 1-year support plan starts at $149 (a bit steep), it's worth the shot simply because there's a 90-day moneyback guarantee. 
It's enough for anyone to try and see if the plugin's really worth it. 
3.SP Project and Document Manager
The 'SP Project and Document Manager' from 'SmartyPants plugins' is a file manager than anything else. It's one of those plugins that allow organization-wide file transfer without much of a hiccup. And that's something you need badly when it comes to sharing files quickly across teams or customers.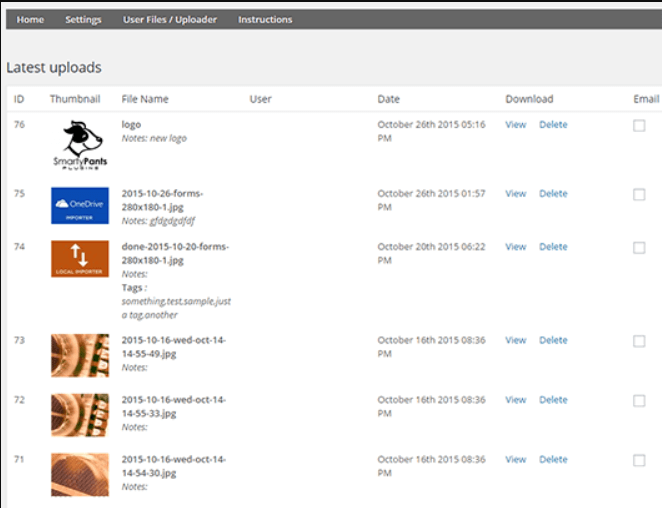 This management plugin allows you to do just that!
You have the liberty to create unlimited folders and subfolders and store as many files as you wish. Also, there's no restriction on different file types, as you are free to upload anything from documents to images, videos, and other forms of files.
Among other important features, you have email customization features and language localization support. Both these features work in unison to help you create and customize emails in any language you want. 
And if you choose to go premium, then you can group files and add tags to them so that you can interact with them easily. Furthermore, you can track the progress of your team members as well. All in all, it's pretty much a solid file-sharing management system that works pretty well across the board.
Furthermore, you can create custom list file templates, save drafts, add files from Dropbox, Google Drive, One Drive, and more. Moreover, there's integration support for WooCommerce and AWS as well. And there's also the AES file encryption, which we cannot ignore to mention.
With a starting price of $75 for a single-site license, this is a solid file management integration for WordPress. You have all the necessary features you need to create a reliable file-sharing system. With 3000+ active installations and growing, we believe it's a great choice. 
4.Panorama by Project Panorama 
The Panorama WordPress Project Management and Client Dashboard plugin from the makers at Project Panorama have some excellent offerings. It's one of the few project management plugins on the market that can offer an in-detailed look into the full timeline of a project. 
The key focus of the Panorama Project Management Tool is to help stakeholders understand the entire scale of the project and get access to the necessary information. 
This tool has a very specific design to achieve the necessary goals when it comes to Project management in WordPress. For each user, there is the option to offer a fully customized dashboard. It offers a fully visualized approach to showcase the project timeline to the stakeholders.
And that happens because of the detailing of the project phases and status, tasks, and document status, all of which have decent customizability. Furthermore, Panorama offers progression tracking for customers, letting them know the exact status of a project in clear vision.
Panorama is gaining a decent number of users because of its robust customer support. Although the user base is relatively small, around 1000+, it's growing at a rapid pace. Although some may think that the $149 starting price is a bit unfair, the focused features are well worth the investment.  
5.CoSchedule by Team CoSchedule
The CoSchedule WordPress Project Management plugin is heavily focused on product marketing teams. 
With over 10000+ active users, CoSchedule complements the agile approach by offering a Kanban Project Board look. With the marketing calendar and content organizer, the team can create a linked workflow for content production, social shares, etc.
And with the content organizer, the team can easily create plans and integrate email, social, and other relevant platforms. 
The work organizer is also of the key features where team members can share unique updates about the project timeframe. The Kanban board helps to visualize the entire workflow in adequate detail.
Social sharing is one of the key aspects of managing product marketing. With the help of social automation, you can organize the calendar and share content as you please. As always, all of these features are easily organizable. So, you don't have to work too hard to get used to the project management plugin.
For a mere $29 a month, you can have an excellent plugin to work with that allows noteworthy integration capabilities. Although it is specifically designed for marketing teams, the multipurpose nature of the plugin makes it a multipurpose option. 
6.WordPress Project Management by UpStream
UpStream is a suite of project management tools for WordPress that offers a few decent features. Although it has a similar suite of features, a starting price of $49 for the pro version is pretty much a steal. 
It takes care of the usual project management tasks like assigning tasks to team members, upload media and other forms of documents, set goals and tracking, etc. So, with this WordPress project management tool, you can easily set up a highly functional project board and set up your team's progress tracking. 
The bug tracking tool is one of the key features of the UpStream for Project Management in WordPress. You can create a system to track these bugs and obstacles. When something comes up, you can assign it to the person who takes/is taking care of all these things. 
UpStream also has a secure way of letting only relevant stakeholders get access to sensitive information about the project. So, you don't have to be a tech wizard to let someone in or out within your WordPress site.
Users are sharing their satisfaction with this plugin. Although it may not have the flair of some of the other WordPress Project Management plugins in our list, it's a highly functional option to use.  
7.Business Manager by Team Business Manager
This is a plugin that brings the 'best of all worlds'. It's an all-in-one project management solution to track HR, Documents Sharing, etc. And you can expect full functionality from it, whatever project-related tasks you want to throw at it.
The Project tool of the 'Business Manger' is very robust, allowing you to track each progress by the hour. It does manage all of it using a Kanban board with drag-and-drop functionality. So, you can arrange your flow just the way you want it. 
And the HR tool is all about employee performance tracking, staff control, holiday monitoring, and more. You can effectively measure the performance of each individual employee, find out their strengths, and create a more effective employee retention strategy with the help of this tool.
So far, people who are using it are liking it very much. Although it's got only 600+ active installations, it has the potential to be a solid management tool for your WordPress project needs. 
FAQ
Q: What does a Kanban Board Show?
Ans.: A Kanban board helps to create a visualization of the project tasks. It's an agile methodology that helps keep track of the pace of the project, make adjustments, and tackle any obstacles that may come.
Q: What is the Best WordPress Project Management Plugin for me?
Ans.: It will depend mostly on the type of project you're working on. For instance, if you're looking for an all-in-one solution, then the WP Project Manager Pro / Business Manager may be the appropriate option. But if you're WordPress site is all about marketing, then you can consider CoSchedule.
Q: Should I use a plugin or Standalone Software for Project Management?
Ans.: If you're running your business on the WordPress platform, then you can consider a plugin for Project Management in WordPress. But if your business needs are different, then a standalone project management software like Nifty, or anything similar may be more effective.
Q: What should I look for in a WordPress Project Tool?
Ans.: You should look at Usability as a whole. You need to check if the features are easy to use, whether or not the drag-and-drop builder is intuitive enough. After some trial and error, you'll know which WordPress solution to use. 
Final Thoughts
When it comes to Project Management in WordPress, there are plenty of options [more incoming!] to choose from. But the matter of what to choose will depend on you. So make sure to check out the free versions of the plugins above to find the right one for you.
If you have a better suggestion than the WordPress Project Management plugins we have for you, sound off in the comments section.
Cheers!