If you want to add grid layouts to your website you need to use a plugin. There are lots of grid plugins available in the WordPress directory. But you may become confused while choosing a plugin. That is why I have listed the 10 Best WordPress Grid Plugins for 2021.
| | | | | |
| --- | --- | --- | --- | --- |
| Serial Number | Plugin | Developer | Active Installations | Ratings |
| 1 | PostX – Gutenberg Blocks for Post Grid | WPXPO | 20,000+ | 4.6 |
| 2 | Post Grid Combo | PickPlugins | 60,000+ | 4.3 |
| 3 | WordPress Popular Posts | Hector Cabrera | 300,000+ | 4.5 |
| 4 | Display Posts | Bill Erickson | 100,000+ | 5 |
| 5 | Ultimate Blocks – Gutenberg Blocks Plugin | Ultimate Blocks | 30,000+ | 4.9 |
| 6 | List category posts | Fernando Briano | 100,000+ | 4.7 |
| 7 | Contextual Related Posts | WebberZone | 90,000+ | 5 |
| 8 | Top 10 – Popular posts plugin | Ajay D'Souza | 30,000+ | 4.6 |
| 9 | The Post Grid | RadiusTheme | 20,000+ | 4.4 |
| 10 | WP Ultimate Post Grid | Bootstrapped Ventures | 4,000+ | 4.3 |
List of Best WordPress Grid Plugins
How to Choose a Grid Plugin?
Before start reading about the details of the best WordPress grid plugins, you should know how to choose a grid plugin?
You can choose a grid plugin with four simple steps:
1. List Down Features
You should have a clear idea about the required features from a plugin. You may want to have a grid layout to the home, category page, or sidebar. Customization options are also important. And choosing multiple themes for multiple features is not a wise decision. It will increase the loading time of the website.
2. Make a Short List
In this step, you should make a shortlist of the plugins. So that, it will be easier for you to choose the best one for your site. Try to make a shortlist of 4 or 5 of the 10 best WordPress Grid Plugins.
3. User Experience
You should check the Active Installation and User Ratings to get an idea about the experience of users who are already using the plugin. The important thing is to check the last update. Because an idle plugin should have regular updates.
4. Make Final Decision
In this step, you can install and test all the plugins from the shortlist you have created. Make the final decision about which grid plugin is best for your WordPress site.
You may also like to read about:
Best Way to Display WordPress Posts in a Grid Layout
Best WordPress News and Magazine Plugins
Overview of 10 Best WordPress Grid Plugins for 2021
Now you should read about the details of all the WordPress Grid Plugins given below. So that, It will be easier for you to choose the best plugin for your site.

Active Installations: 20,000+ | Rating: 4.6 out of 5 stars
At the top of our list, we have PostX Gutenberg Post Blocks. With the help of this WordPress plugin, creating a post grid to arrange your blog posts is easy. And the fascinating part is, the PostX comes with easily editable Gutenberg Post Blocks. Making changes to the layout of your site has never been easier.
The plugin gives you access to different live editable Gutenberg blocks. Additionally, you can insert your custom queries to generate complex queries for your post blocks. And with this post grid, creating a blog is easy. This handy plugin makes creating personal blogs and news blogs a no-brainer.
Whether you want to create a blog post listing, post slider, and post carousel, the Gutenberg post blocks plugin has got you covered. And the best part, the plugin offers you an easy-to-use interface that allows you to apply custom CSS.
"Don't forget to try the Dynamic Site Builder of PostX Pro to redesign your full site within a few clicks"
Active Installations: 60,000+ | Rating: 4.3 out of 5 stars
The Post Grid Combo is another great choice for creating post-grid layouts. It comes with a drag-and-drop editor and fully customizable post-grid blocks.

Recently, it has introduced more than 25+ advanced blocks. All of these blocks are responsive and fully customizable to meet your requirements. Moreover, the query builder is added to let us sort posts based on the desired criteria. In addition to that, a layout library and a complex grid layout builder also has been added.

Active Installations: 300,000+ | Rating: 4.5 out of 5 stars
Custom widgets on WordPress can make the entire process of creating WordPress blog posts easy. And the best custom widget that helps you translate the idea in your head into reality is the WordPress Popular posts
The wonderful widget is highly capable, and once you install this plugin on your site, you can have multiple widgets on your WordPress site. Other than that, the plugin also allows you to create your personalized list of blog posts within a specific time range. In addition, the widget also offers custom post-type support. The plugin also allows you to display thumbnails of your posts. You need to get your content strategy right, and the biggest determiner in determining whether your posts working with your fans is to take note of what your statistics are trying to tell you.
Furthermore, you will also be able to sort your list according to comments, views, or average views. The plugin will also offer you your custom themes and the ability to use your layout.

Active Installations: 100,000+ | Rating: 5 out of 5 stars
The third plugin on our list is the Display Posts Plugin. If you are looking to bring all the posts scattered across your site in one place, then the Display Posts Plugin can be a handy tool. And if you want a webpage to display all the posts you have scattered over your website, then the Display posts plugin will help you do that.
And if you only want a certain page to display posts belonging to a certain category only, then the Display Posts plugin can be a handy tool. It also offers other functionality found in other plugins, but the best part of this plugin is the DISPLAY POSTS SHORTCODE REMOTE, which allows you to bring in content to your site using the WordPress Remote API.

Active Installations: 30,000+ | Rating: 4.9 out of 5 stars
Ultimate Blocks is another useful Gutenberg Blocks Plugin. It offers 18 awesome blocks such as Content Filter, Review, HowTo Schema, Table of Contents, Call to Action, Progress Bar, Post Grid, Image Slider, etc. And, more blocks will be available with the upcoming future updates.
Ultimate Blocks is built with optimized coding to maintain better loading time. It is also proving Review & FAQ schemas to ensure better on-page optimization. So it is highly SEO optimized resulting in a better ranking on SERP!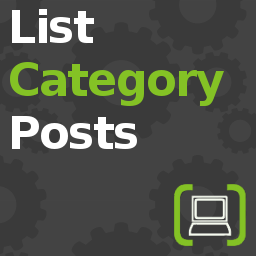 Active Installations: 100,000+ | Rating: 4.7 out of 5 stars
If you have a bit of technical know-how under your belt, then the list category posts plugin is for you. To use this plugin you have to make use of the [catlist] shortcode. Adding different arguments to your [catlist] shortcode will help you figure out what you need.
The developers of the plugin are still regularly adding new useful features to the plugin. So, it's a great install for your blog site. Moreover, List Category Posts also comes with documentation that you can read to get a full understanding of how to maximize the effectiveness of this plugin.

Active Installations: 90,000+ | Rating: 5 out of 5 stars
To market your site properly, it's of paramount importance for you to understand the context. A great way of making visitors to your site your raving fans is with the help of contextually related posts.
And the defining characteristic of this plugin is that it's one of the most feature-rich plugins The plugin is packed with support for thumbnails, shortcodes, and widgets. In addition, adding custom post types, and CSS styles is also easy with the wonderfully coded plugin. The cache setting offered by the plugin minimizes the excess load on your server.
Also, understanding that you want traffic on your site to spend some time interacting with the content you produce and contextually related posts is an excellent way to meet that goal.
And if you are a developer, then this plugin is the bona fide champion of champions. Making your own adjustments to this plugin is quite easy.

Active Installations: 30,000+ | Rating: 4.6 out of 5 stars
One of the many problems people face when using the WordPress CMS is the lack of an in-built system to track page views or display popular posts.
But the WordPress store contains plenty of plugins that can help you solve this problem. And one such excellent plugin that can help you meet that goal is the top 10 plugin. And what makes the Top 10 plugin such an excellent choice is the fact that it's so easy to use. It's a powerful WordPress plugin. This plugin will help you figure out the number of page views of your posts and pages. You will also get to figure out the number of custom posts.
Active Installations: 20,000+ | Rating: 4.3 out of 5 stars
The Post Grid is a Responsive and Mobile friendly plugin specially designed for Grid Layout. You can display your blog post in a grid layout without writing any code.
You need to make a customized template of the grid layout. There are many customization options. After making the grid layout you will get a shortcode. Place the short on the desired page where you want to use the grid layout. You can use this plugin for any page of your website like category, tag, author, and keyword also Order posts by Id, Title, Created Date, Modified Date, and Menu order.

Active Installations: 4,000+ | Rating: 4.3 out of 5 stars
WP Ultimate Post Grid is another useful plugin to create grids for any post or page. The grids created by this plugin are fully responsive and mobile-friendly.
There are lots of customization options available like live preview, filtering by taxonomy, shortcode support, custom pagination, custom post type, and many more.
Comparison of Top 3 WordPress Grid Plugins (PRO)
If you want to unlock more exciting features and are willing to spend money, you can go for the pro version of the Grid Plugin for the WordPress website. That is why I have created a comparison chart of the Top 3 Pro plugins. I have tested All the plugins manually to make a perfect comparison chart.
| | | | |
| --- | --- | --- | --- |
| Features | PostX Pro | Post Grid Pro | The Post Grid Pro |
| Price | $49 to $279 | $19 to $119 | $21 to $99 |
| Grid Layout | ✅ | ✅ | ✅ |
| Archive Builder | ✅ | ✅ | ❌ |
| Custom Filter | ✅ | ✅ | ✅ |
| Advanced Query Builder | ✅ | ✅ | ❌ |
| Dynamic Site Builder | ✅ | ❌ | ❌ |
| Blog Listing | ✅ | ❌ | ❌ |
| Dynamic Post Slider | ✅ | ❌ | ❌ |
| Pre-made Layouts | ✅ | ❌ | ❌ |
| Pagination | ✅ | ✅ | ✅ |
| Typography | ✅ | ❌ | ❌ |
| Gutenberg Support | ✅ | ✅ | ❌ |
| Regular Update | ✅ | ✅ | ❌ |
Comparison of Top 3 Pro plugins
Concluding Remarks
And with that our list of top 10 Gutenberg plugins for WordPress comes to an end. If you are looking to give that custom design and feel to your WordPress site, then these plugins are worth considering. All the best to you and thank you for reading. Get started on the road to WordPress greatness now!