Hello PostX Lovers! The Starter Pack Thursday is here with the first Movie News layout. It is a special one for the writer, bloggers, and news publishers who want to share reviews, thoughts, and news about movies, web series, celebrities, etc.
What is Starter Pack Thursday?
For the PostX users, we have decided to release new starter packs every Thursday. That's why we are calling it Starter Pack Thursday. So that the user can be ready to check out a new starter pack on the same day of every week. We hope you would be happy with this initiative also you can share your thoughts.
What Makes the Movie News layout so Special?
There are lots of movie news layouts available for WordPress users. So, it's totally okay if you are thinking about the reasons behind trying the movie news starter pack.
Like always, our design and development teams came together to make the template live. After doing multiple research and meetings they have come to a point where both of the teams agreed and were happy with the work. It took lots of hard work to ensure the best result.
Because we don't treat a layout only as a template but as a complete home page solution. That is why we have named them Starter Packs instead of Templates. You may also like to check out the below features that you can get from the starter pack.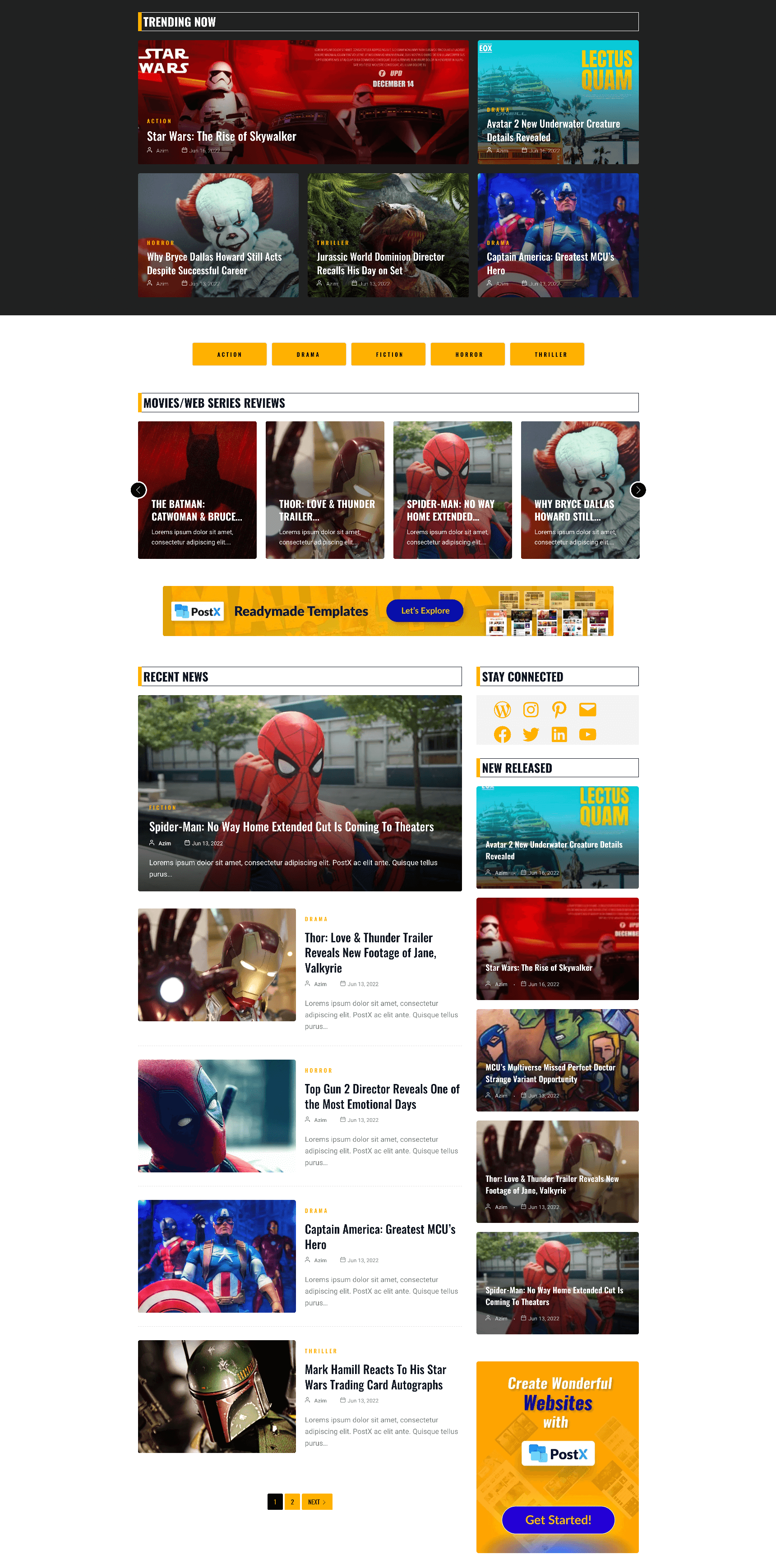 Trending Hero Section
The hero section has a new look compared to previous layouts of PostX. Where you can showcase your trending news, reviews, and blog posts.

Elegant Category Block
We have added a category block where you can display the popular or trending categories of your movie news site.

Stylish Post Carousel
The post carousel is a new addition and we have tried to make it visually appealing. Where you can display blog posts or news on movies, web series, etc.

Recent News Section
The recent news section is perfect for you to display the latest movie news and blog posts or reviews. However, you can also display any kind of post by sorting with the PostX query builder.

Full Customization Options
We know that different people have different choices. We have tried to make the template as good as it could be. However, you can still make further changes according to your need. Like all other starter packs, PostX also provides full customization options.
Synchronization Feature
The existing PostX users can add the template to their start packs list by clicking on synchronize button from the block library. After the synchronization, you can import it like all other starter packs.

1 Click Import
Like all other starter packs, you can also import the Movie News Layout with a single click. You can find it on the block library while editing a page.
Stay Tuned For More!
That's all about Movie News layout but don't forget to check out new starter packs every Thursday. And, do let us know what you think about the PostX Starter Pack Thursday.