PostX was previously used for building the Home page to display posts in a grid layout. But with the high demand of PostX users, we have added the all-in-one WordPress Archive Builder feature.
You can create and customize any archive pages with this feature, including Category, taxonomy, author, search result, and date pages.
You may also like to read:
Display WordPress Posts in a Grid Layout
WordPress Pagination on any Theme
How to create a Category Template in WordPress?
You can create customized templates for any archive pages. For example, we are creating a Category Template.
To create or customize a category template you can use the PostX plugin. By following these three simple steps you can create a category Template.
Step – 1: Install the PostX free and pro version.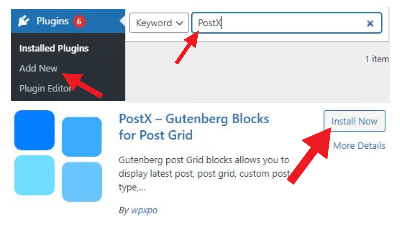 "Both free and pro versions of the PostX plugin should be updated to the latest version. Without that, you can not use the Builder Feature"
Step – 2: Go to the plugin section and click on "Addons". Now turn on the Builder feature.
Step – 3: Go to the builder section and click on "Add New Builder". Give a name to the template. You can see the archive page list which includes all archive pages, all author pages, all date pages, search results, all category pages, all post_tag pages. For creating a Category template you can select the all-category pages. Click on Create template. Customize it and click on Publish
That's it, all your category pages will be similar to the template you have created. You can create the same or different template for all taxonomy or archive pages.
There are more options in the Builder feature. You can add titles, descriptions, and category-specific images as well. Add Archive Title block to the top of the post grid.
Add Category Specific Title and Descriptions
You can add the category specific title and descriptions by using the Archive title block.
"This block is only available for the Archive Builder"
To add this block you should click on the plus icon and select Archive Title Block. The title block will be added to the page.
Category-specific title and description will be atomically integrated. You can see the example preview in the below image.
However, you can edit the title and description any time using the default category editor feature of WordPress.
Which is the best WordPress page builder?
The builder feature of PostX is the best page builder for WordPress. It is an all-in-one solution for both developers and website owners.
You can create amazing and all kinds of websites using the Builder feature. It is highly customizable and easy to use. Set conditions for all category pages by customizing according to your need. All the category pages will have the same design. However, you can also customize a specific category page to give different look to different categories.
Not only categories, but all other archive pages are also customizable. including taxonomy, author, search result, and date pages.
Why Builder feature of PostX is better than other WordPress Archive Builders?
You can find many page builder plugins in the WordPress directory. But PostX builder is different because it can be used with Gutenberg post blocks. More reasons make PostX builder better.
The starting price is $49 for a single website. If you purchase this plugin you will get more features along with the Builder feature. The main features are:
Quick Premade Query (Pro)
Filter Category Without Reloading Page AJAX Powered
Pagination, Load More and Next Previous are AJAX Powered
Readymade Starter Packs (Pro)
Dynamic Post Slider
Readymade Blocks Design (Pro)
Custom Category Style (Pro)
Grid Layout is very easy to build
Blocks Layout Variations (Pro)
Content Animation (Pro)
Lots of Blog Listing variation
Image Lazy Loading (Pro)
So, It is an all one solution for creating any kind of website or blog. You can not find all these features at a low price and within a single plugin. That is why PostX Gutenberg Post Blocks is better than any other page builder plugins.
Why you should use a WordPress Archive Builder?
A page builder is used for creating and customizing archive pages. It allows users to customize the existing category or other archive pages. You can make your pages without writing a single code.
So, with the Builder feature of the PostX plugin, you don't need to compromise with your imagination. Just add grid layouts or import premade design and customize it according to your need. You can set conditions for all archive pages and all the pages will have the same design. So you can customize all pages at once. However, give conditions to specific pages is also possible.
You have two choices for creating and customization archive pages. Either hire a developer and or use an Archive Builder builder plugin for WordPress. As we know that, hiring a professional website developer can cost you a huge amount of money. So, the choice is clear you should use the PostX plugin and customize your website pages yourself.
Which is the easiest Archive Builder for WordPress?
As we know, the main attraction of WordPress is that we don't need them knowing knowledge. Most WordPress users don't want to learn coding language to customize their websites. That is why we use plugins for adding extra features to customize our existing WordPress theme.
You are at the right place if you are looking for a page builder that is easy to use. The Builder feature PostX is easy to use and allows you to create and customize any archive pages to your site.
After installing the pro version you need to turn on the Builder feature from the addons section. Now you can create builder conditions. Just go to the builder section and click on "Add new builder". Select the condition, you can choose all archives or any specific category or tag. Then import any grid layout and customize it and click on "Publish". The existing design will be changed to the design you have just created. So, you can create or customize with a few clicks of your mouse. That is why PostX is the easiest page builder plugin for WordPress.
How to rank WordPress category pages?
By using the Builder feature of PostX, you can easily optimize your category pages for better google rankings.
As we know all that, The main on-page SEO factors are:
Well-written meta description.
Image with proper Alt text.
Well-written and long content.
All theme comes with the category customization option. Where you can add SEO title and description. You can add meta descriptions using any SEO plugin like Yoast SEO and Rank math. But what about image and content. You can add long content using the default category customizer. But it will be displayed at the top of the page. Which will not good for the user experience.
You should add content at the end of the page. So that, the users can easily navigate the post displayed under the category page. So, you can use the PostX plugin to add images and SEO-optimized content. It will ensure better google rankings and your site will get more organic visitors.
Learn More: PostX Review: Best Post Grid WordPress Plugin
Conclusion
That was all about the new Archive Builder feature of PostX Gutenberg Post Blocks. If you have any questions about the builder or PostX plugin, Leave a comment below.