Product Comparison means letting the users compare prices and features between two or more products. And, WooCommerce Products Compare means comparing products of WooCommerce store. It gives the potential buyers flexibility to choose their desired product by comparing it with similar products. So, how to Compare two products in WooCommerce?
To let the users compare between two products you need to follow the below steps
Install ProductX Plugin.
Turn on Compare Addon.
Create and Setup Compare page.
Choose Comparison Type.
Check Comparison Example.
Two Types of Woocommerce Product Comparison
There are two types of Woocommerce comparison available. Keep reading to learn how you can add both of these comparison features.
The first one is sending products to a certain page (Compare Page) to see the comparison chart. Another is Popup comparison. I will explain both of these ways step by step without skipping any steps.
How to Add WooCommerce Products Compare feature to your site
As I have mentioned the steps at the beginning of blog posts. Now I would like to explain all the steps.
Step-1. Install ProductX Gutenberg WooCommerce Blocks
If you want to use both of the ways of Comparison Addon of ProductX you need to install the Free and Pro version. Because the Popup comparison comes with the pro version. However, you can use the normal comparison feature with the free version that shows the selected products to a specific page (Compare page).
First of all install and activate the free version from the WordPress directory.
Click "Add New" from the Plugin section.
Search for "ProductX"
Click on the "Install" button.
After Installation Click on the "Activate" Button.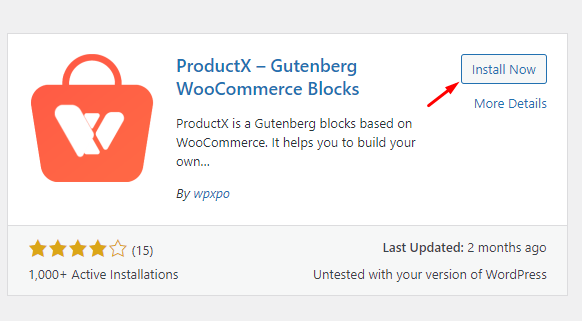 To Install the Pro version you need to Purchase and Download it. There are multiple options and Flexible pricing available.
After purchasing the ProductX plugin you can download it from the download page and get the license key from my order page.
To install the downloaded file you need to follow these steps.
Go to the Plugin section and Click on "Add New".
Then click on "Upload Plugin".
After uploading, Install it.
After installation click on the "Active" button.
Step-2. Turn on Compare Addon
After successfully installing and activating the ProductX plugin, you need to turn on the Compare Addon. Because the Product Comparison features works as an addon. So, Go the addon section of ProductX and click on Addons. Then turn on the Compare addon.
Step-3. Create and Setup Compare page
In this step, you have created a new page and set it as the Compare page. First of all, go to the page section and click on add new. Give a name to the page. For example, "Products Compare".
Now, go to the setting section of ProductX and click on the "Compare" setting. Now, select the page you have just created. Then, copy the shortcode to the page you have just create. Click on publish and that's all. The compare page of your online store is ready.
Step -4. Choose Comparison Type
Now, you have to decide which type of Product Comparison you want to add. If you want to add the products to the selected page, enable the "Compare in Single Page" option. Then select "Added to Compare" and "Redirect to Page". So that, when the potential buyers select products for comparison they will be automatically redirected to the Compare page and see the comparison of the selected products. But If you want to add the Pop-Up compare features, then select the "Popup Compare" and "Pop Up" options. So that, visitors can see the Popup comparison.
Step-5. Check Comparison Example
It is the last step where you need to manually check whether the selected comparison options are working or not. As I have described two ways of adding comparison. I would like to show you examples of both of the ways.
Benefits of WooCommerce Products Compare
So, you can now add the Products comparison feature to your WooCommerce comparison. But do you why it is necessary for all online stores?
There are numerous advantages of comparison. I have mentioned some of the major benefits below.
Conversion Rate: It is frustrating when your online store is getting a huge amount of traffic but most of them are not converting as buyers. So, if you want to increase the conversion rate of your online store, Product Comparison feature is one of the most effective way.
Time on site and Bounce Rate: All SEO experts have confirmed that Time on Site and Bounce Rate are two of the most important ranking signals. For this reason, we always try to increase the time on site and decrease the bounce rate. These data represent that, the visitors are satisfied with the content we are providing. It can be easily done by the Product comparison feature. Letting users compare between products will surely keep them longer on the site and it also increases the page views as well.
Make the Users Happy: We always love to get extra attention, especially when we want to purchase something. As an online store owner, you have to know whether your users are happy or not. But the question is how you can make them happy? The simplest answer giving the users flexibility to choose the right products. So that, they will be on your site for a long time and visit multiple pages. And, this can be achieved by the Product Comparison feature.
Increase Returning Customer: Customers are likely to buy products from the trusted online shops. If you can satisfy the customer with the right products they are looking for, they will come again later for more products. So, all online stores should let the users find the right products by comparing them with similar types of products.
You may also like to read: How to Change Add to Cart Button text in WooCommerce?
Why You Should Use ProductX for Product Comparison
You can find many comparison plugins by searching on Google or WordPress directory. But the question is, Why you should choose ProductX?
The answer is simple ProductX is all one solution for an online store. It offers numerous features, product blocks, and customization options. So you will get full freedom to showcase products in the way you want to. Not only that, as it is an all-in-one plugin you can eliminate other plugins from your site. It will make your site SEO friendly resulting increase in organic traffic. You can take look at the main features and attractions of ProductX.
No Coding Knowledge Required
WooCommerce Wishlist
Product Quickview
Ready Starter Packs
Advanced Query Builder
Product Grid Style
Product List Style
Product Filter
Product Navigation
More Details: ProductX Gutenberg WooCommerce Blocks
Conclusion
That's all about WooCommerce Product comparison. I hope, now you can give your users the flexibility to compare multiple products from your Online Store. If you still have any kind of confusion or queries just leave a comment below.