Today we are very happy to announce the release of the new Sports News Layout 2 commonly known as the PostX start packs.
It is finely crafted for the Sports Enthusiast who wants to share their thoughts, feelings, experiences, or trending sports news.
PostX: Starter Pack Thursday
We are planning to release a starter pack every Thursday for the existing and new PostX users. So that, you can be ready to check out the new layouts ASAP! Let us know in the comment section what you think about it?
What Makes the New Sports News Layout So Special?
There are numerous WordPress layouts available for Sports News Blog/News. So, why you should try out the starter pack of PostX?
Starter Packs, Layouts, or Premade templates whatever you say, are mostly used for creating custom home pages. So that, we can display the blog posts or news in an organized way while highlighting popular and trending ways.
While keeping mentioned things in mind, our design and development teams came together to make an outstanding layout. Make sure to keep reading the blog posts to learn more about why this Sports News layout is special and better compared to numerous ordinary layouts.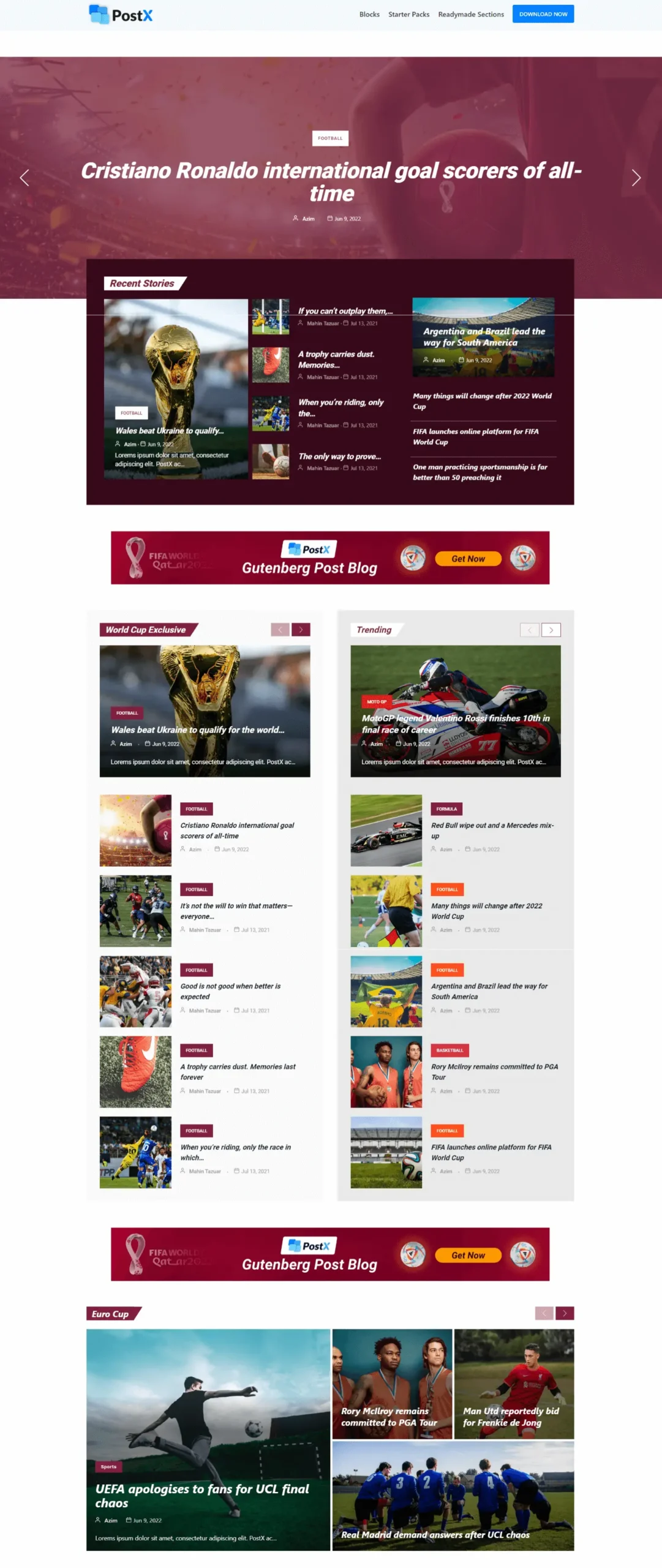 Amazing Featured Slider
Like always, we have used our slider block to make a full-width featured slider at the top. Where you can display your desired posts. Experience the freedom of showcasing recent, popular, random posts or a few specific posts using the advanced Query Builder of PostX.
Outstanding Hero Section
As we all know the hero section is the most important section of any layout/template. While keeping it in mind we have blended the section with the slider to make it more appealing. For that, we have used our wrapper blocks, module 2 and list 4.
Two Columns Post List
In the next section, we have displayed posts in a two columns list layout. One column is for trending posts and another one is for the World Cup exclusive as the Qatar World Cup is starting soon.
A New Heading Style
You would be happy to know that we have added a new heading style finely crafted for the Sports News layout. We have implanted the new heading style in this new starter pack with a focus color. However, you can also change the color and do further customization if required.
Full Customization Options
We know that every person has their own preferences. Although we believe that we have crafted a greater starter pack but you would want to make a few changes here and there. Don't worry, you are welcome to make the changes according to your need because PostX gives you full customization options even for the starter packs as well.
1 Click Import
Like all other starter packs, the Sports News layout is also available for 1 click import. So that you can create your custom home page within a minute or less using the PostX plugin.
Synchronization Feature
If you are already using the PostX plugin, you will be able to synchronize the latest starter packs with existing ones. So, just go to the block library and click on the Synchronize button. All the latest layouts will be available for you to import.
Stay Tuned For More!
That's all for today, but don't forget to come back every Thursday to check out a new starter pack. Or, you can also subscribe to our News Letter to be notified of all the latest updates.