Bricks Builder has been gaining popularity for a while now. It is a great Builder for WordPress, without a doubt. Recently we have seen a spike in users who want to use PostX blocks in Bricks.
One user asked us if we can bring the PostX Bricks Builder Integration:
"Bricks Builder is very similar to Oxygen Builder, for which you already have an integration. However, Bricks Builder is more modern and has a large community on Facebook. Please integrate Bricks Builder as an addon."
We understood the situation, read user feedback and suggestions, and we made up our minds.
Introducing the PostX Bricks Builder Integration.
Now, you can seamlessly use PostX blocks and the PostX Starter packs and templates in Bricks Builder without any coding.
How to Use PostX Post Blocks in Bricks Builder
With this integration, we have opened a fantastic opportunity for the Bricks Builder users to include PostX pots blocks, PostX Starter Packs & Templates directly in the Bricks Builder.
Let us see how you can use PostX with Bricks Builder right away!
Video Tutorial
Here's a video tutorial of PostX Bricks Builder integration for a better understanding.
Step 1: Install and Activate PostX
To use the PostX block in Bricks Builder, you must install and activate PostX plugin.
To install and activate PostX, go to Plugins > Add New, search for PostX and complete the installation process.
Once the plugin is activated, you can use its Bricks Builder addon to add the blocks to your Bricks pages.
Step 2: Enable PostX Bricks Builder Integration Addon
Now you must enable the Bricks Builder Integration and Saved Template addons.
Go to PostX > Addons. Then Enable the Bricks Builder and Saved Template addon using the toggle bar.
The Bricks Builder addon will add a new "PostX Template" tab to your Bricks Builder, which will contain all of the Saved Templates of PostX. Select any saved templates from the list to display post blocks in Bricks Builder.
Step 3: Create a Saved Template
To use PostX in Bricks Builder, you must create a saved template with PostX. Please follow these steps:
Go to PostX > Saved Templates and click "Add New Template" to create a new template.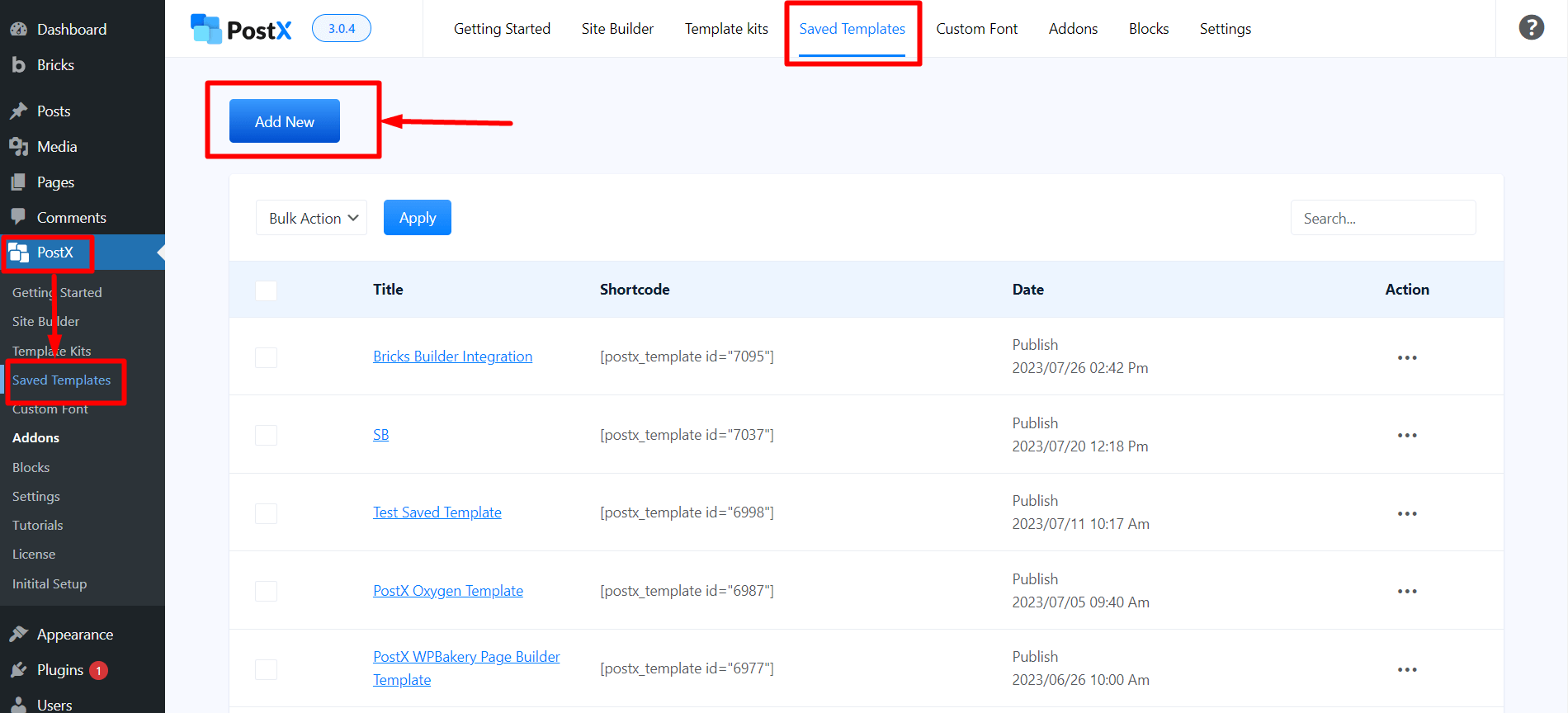 Use the Gutenberg editor to create your Template. You can use PostX blocks, or Premade Templates/Starter Packs by PostX.
We will use the Premade Starter Packs and Templates from PostX to simplify matters. Click the "Template Kits" button from the top of the page.
Select your desired Starter Pack/Premade Template and click "Import." Let us use the "Food" layout. You can also use Food Layout 2 or any other layouts of your choice.
Give your Template a name and click "Publish." And you have successfully created a saved template with PostX.
You can now use this saved Template in Bricks Builder.
Step 4: Use the Saved Template in Bricks Builder
To use the PostX Saved Template in Bricks Builder, please follow these steps:
From the WordPress Dashboard, go to Pages and click "Add New Page."
Once in the page editor, you will see an icon at the top from Bricks Builder to "Edit with Bricks." Click on it, and it will redirect you to Bricks Builder.
Once inside the Bricks Builder, you can find "PostX Templates" in the General section or search PostX Templates in the search bar. Select the "PostX Template" in the Builder. Bricks Builder will then let you select your templates.
From "Select Template," choose the Template you created in step 3. Once you choose it, you can see the Template contents in Bricks Builder.
Finally, publish the page by clicking the "Publish" button.
Step 5: Customizations
You can edit the PostX Saved Template you created to make changes or updates to your Template.
Go to the PostX Saved Templates, and click "Edit" on the saved Template you need to customize. Make the necessary changes and click "Update."
You do not have to create the saved Template from the start again. The changes will be automatically synced in the Bricks Builder.
This is a great way to save time and effort when updating old pages.
Resources You Will Love
Here are a few articles you might find helpful:
Conclusion
In conclusion, the PostX Bricks Builder Integration is valuable for both Bricks Builder and PostX users. It allows Bricks Builder users to take advantage of the wide range of PostX blocks to create a more flexible and powerful way to create websites.
If you are a Bricks Builder user, we encourage you to try the PostX Bricks Builder Integration. It is easy to use and can easily add different templates and layouts to your website.
You can check out WordPress video tutorials on our YouTube Channel. Also, find us on Facebook and Twitter for regular updates!