Getting top of Google's ranking is very hard. Especially, if you have a new site and with less or no backlinks at all. But do you know you can optimize small pieces of content to rank on Google Featured Snippets?
That's what I will teach you in this blog post. It is the new trend of On-Page Optimization to get more organic traffic.
I will be starting with the types of featured snippets by Google. Later you will also get a step-by-step guide to optimize your content. After completing the post you will learn how to optimize for featured snippets.
I will be using two WordPress plugins two optimized and highlight content to the algorithm of Google. But don't worry I will use the free version of the Plugins.
What is a Featured snippet?
Featured snippets are the direct and short answers that users are searching for. It can also be called the summary of a blog post. Some also call it the excerpt of blog posts that Googles think is the perfect answer to a specific query.
Types of Featured Snippet
There are numerous types of Featured snippets shown in Google. But, I am going to categorize them into four common types.
1. Paragraph Snippet
It is the most commonly seen type of Google Snippet that directly answers a specific query. Google shows the best possible answers to the query to fulfill the search intent in Google SERP.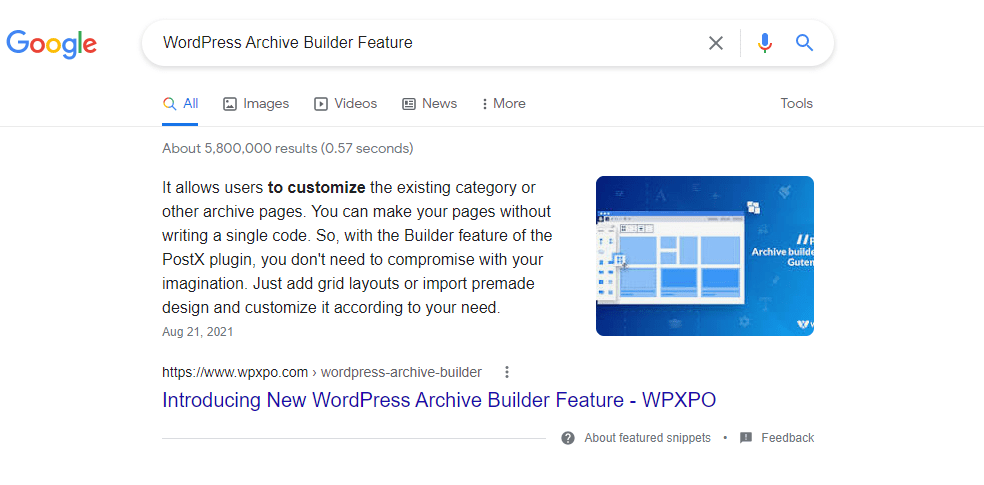 2. List Snippet
The list's snippets usually represent buying or users guides by proving a list of multiple products or services comparisons. These products or services can be free or paid for.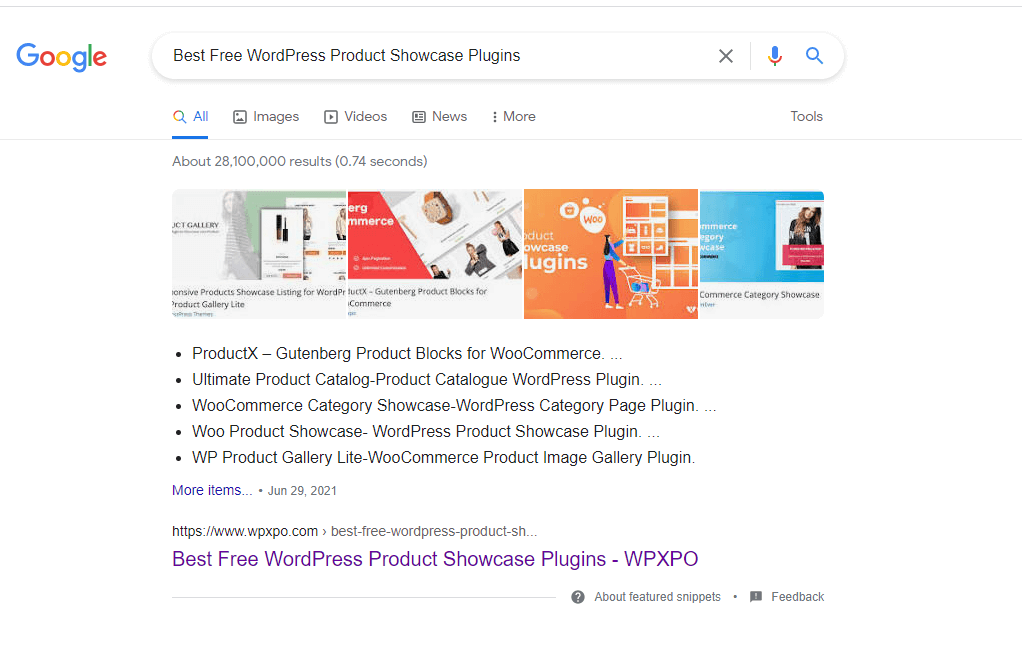 3. Table Snippets
This is less common and almost similar to List Snippets. It represents a listing of products or services with price and sometimes features as well within a table format.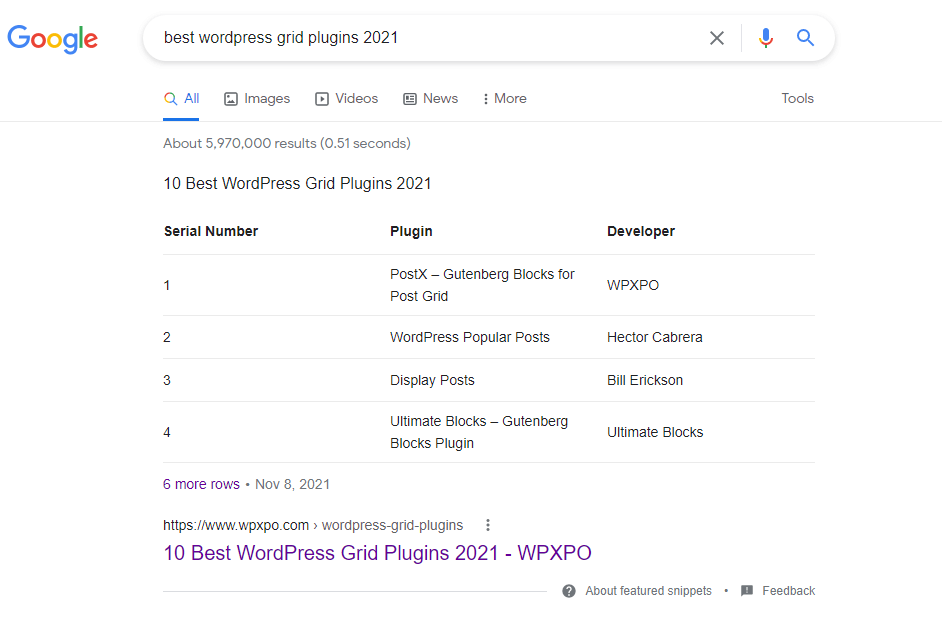 4. Video Snippet
It represents a certain portion of a video that may be the best answer for specific queries. For now, Google is only showing the Youtube Videos as snippets.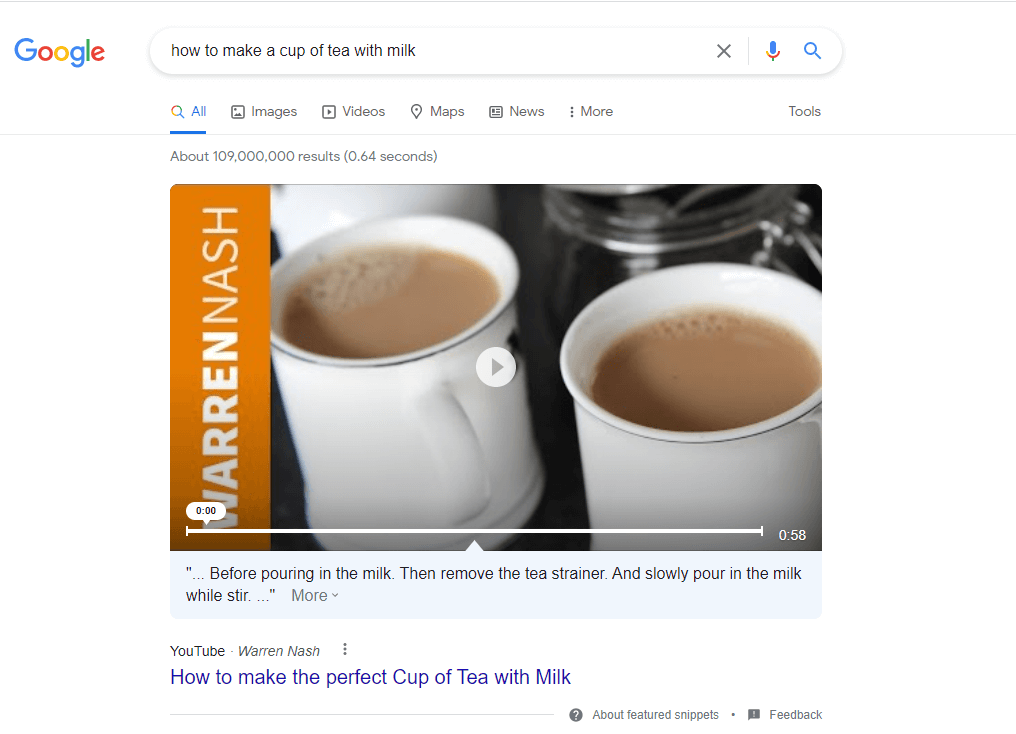 Finding Snippet Opportunities
To find Opportunities to win Google snippets, you need to do keyword research. Finding the questions is not so hard if you follow the right way. I have categorized the ways into two methods. You can choose any of them according to your need.
Free Method
It is not necessary to use any paid tools for Keywords. You can also find snippets opportunities from Google SERP itself. First of all search the keyword or topic you want to write on. Look at the search results whether there is any snippet or not. If there is already a snippet showing for the search term, we can take the keyword. And, if not, we should look at the people also asked section.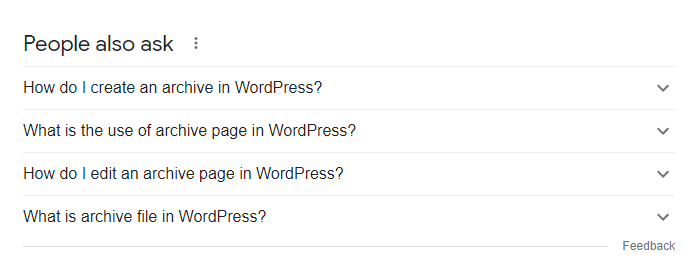 From this section, we can find multiple questions and answers. We can take any of these questions and write accordingly. Make a note of that, the first question is the most asked (search volume) question. So, if you think the first one is the best choice depending on content quality and domain authority, you can take this one. If not you can check the second one.
However, you can go for multiple questions (keywords) and use them in the FAQ section of your blog post. Keep reading this blog post to know more about winning snippets using FAQ schema.
Paid Method
If you want to spend money on keywords research then you can use an SEO tool. There are multiple good SEO tools available in the market. Such as Ahref, Semrus, Moz etc. For a low budget, Ubersuggest by Neil Patel is the best choice.
For now, let me discuss the Ahref SEO tool. By using it you can find out the snippet opportunities and you can also steal snippets rankings from your competitors. So, let's get started.
Log in to your Ahref account
Go to Site Explorer
Paste the Url of Your Competitor and hit the Search button
Click on organic Keywords
Click on the SERP Features
Select the "Featured snippet" and click on apply. That's all
You will get the list of all keywords of the featured snippets that the competitor site is ranking for. You will also get more important information such as Search Volume, Referring Domain, Keyword Difficulties, etc. These data will help you measure the competition and decide which keywords you should go for. You can also watch the below video for a better understanding of stealing featured snippets of competitors.
How to Optimize for Featured Snippets
Now comes the best part where you are ready with the targeted question (keyword) for which your content should be featured on Google SERP. For a different type of
1. Optimize Content for Single Keywords
This is the basic and most commonly used optimization method for ranking on snippets. First of all, you need the select the keyword for which you want to optimize your content. Look at the existing content of the snippet on Google SERP. So that, you can make a better piece of Content.
By using this method you can win Paragraph, List, and Table snippets. But the ways are slightly different for different types of snippets.
Win Paragraph Snippet: First of all write an introduction paragraph to introduce the blog post. At the end of this paragraph write a question keeping the targeted keyword on it. And, in the second paragraph, write the answer that you want to show in the snippet view. You also have to make the answer bolded. So that, the Google algorithm will know that this is an important piece of content.
List Snippet: If the number of list items is 2-5 you can use the same method as the paragraph snippet optimization. But If the number of items in a list is more than five, there is a different approach to optimize. You need to make sure all the list items are in H2 format. And, do not forget to write a heading with the targeted keywords.
Table Snippet: Optimizing content to win Table Snippet like a piece of cake. Like the paragraph, snippet optimization writes an introduction section and adds the targeted question (keyword) at the end of the first paragraph. Then add a Table with all the required data that fulfills the searcher's intend.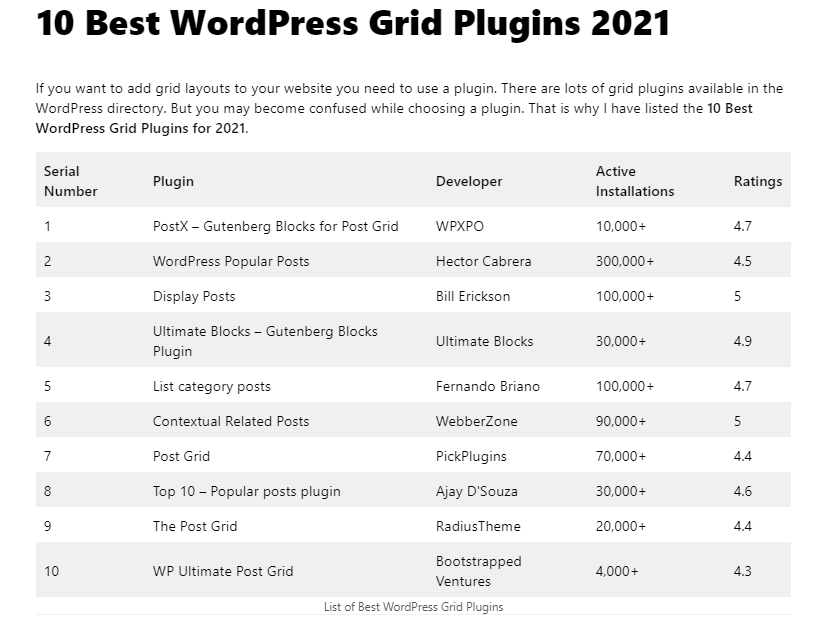 2. Using Table of Contents
It is the new and treading way of optimization the content of blog posts. Most bloggers and content writers are using it without knowing the fact that, it helps to optimize every portion of the content of blog posts.
Maybe you are also using a table of contents to keep readers better users' experience while reading blog posts. But do you know, that it can help you to optimize the blog posts to win snippets for multiple keywords? Yes, you read it right, you can target multiple keywords as well.
As you already know that, a table of contents shows all the heading of blog posts. So, you just need to add the targeted keyword add the heading tags. Afterwhile, when users start to engage with a list of headings, the content under the healing gets extra attraction from the Google algorithm. So, if the Content of a certain heading is good enough it starts appearing on Google's snippet.
Now, the question is How to add a table of Contents to blog posts?
You can easily add a table of contents to a blog post by using a free plugin. If you are a user of the Gutenberg Editor, you should go for the PostX Gutenberg Post Blocks plugin. It offers a customizable and SEO-optimized Table of Contents addon. You can easily use it for any post on your site. It is also compatible with Rank Math. And, according to Rank Math, all blog posts should have a Table of Content to break down content for the users.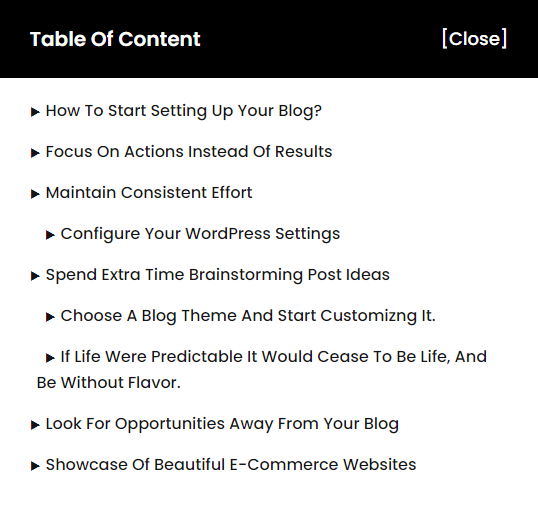 3. Using FAQ Schema
Faq Schema is a markup of Frequently Questions. So, you can target multiple questions (keywords) that people are searching on Google. It will increase the chances to feature your content on Google. For that, you need to have an FAQ section for your blog post. And, you also need to optimize the section using the FAQ Schema.
Don't worry, you don't need to write any code to do that. You can use a free plugin called Structured data. First of all, install the Structured data plugin from the WordPress directory.
Go to the blog post where you want to add the schema. Click on the plus icon and the FAQ Gutenberg block. That's all. Now you add the questions and optimized answers to win snippets.
4. Video Snippet
If you all create and upload videos on Youtube, then it is the perfect method for you. You can also win snippets with Youtube videos as well. For that, you need to optimize the video according to the targeted keyword. Just follow the below steps to optimize a video.
Make a separate section while creating the video.
The section should be about a specific question (keyword) and answer to that (solution). If your voiceover that's a plus for the optimization. If so, mention the target question and then say the answer or solution according to the topic. Break down the video with the time code and use the targeted keywords.
Bonus Tip to Optimize for Featured Snippets
After optimizing by using the above method doesn't mean you can win a snippet every time. But these methods will surely increase the possibility. However, you do some further optimizations to stay ahead of the competition.
Optimize Existing Content: Updating existing content is one of the most recommended SEO practices. To support my statement, you can read about the opinion of Neil Patel about updating existing content.
"Neil Patel Said: By updating old content, you can get Google to crawl your site more frequently without needing to publish more often.

The more Google crawls your site, the more likely your most recent information will show up in search results after publishing, which gives you an advantage in your search engine results rankings."
Now, let's come to the main point. While start optimizing for featured snippets take a look at the existing content. If any certain post is on the first page of Google, there's a chance for you to win a snippet with less effort. You just need to find and place the question (keyword) while updating the existing blog post. If the piece of content you are adding for the specific query is enough there's a high chance to win the snippet.
Use the Power of Interlinking: Interlinking is the best method to highlight blog posts or pages to the Google algorithm. So the algorithm thinks that the post or page is important. But do you know that you can also interlink to a certain piece of content instead of the whole post?
It's very easy if you are using a Table of Contents for your posts. You may notice that whenever you click on a jump link from the table of content, you jump to the exact section of the post. But you may not notice that it also creates specific URLs for all the listed sections. So, use take the URL from the section where you have to target the Snippet and use them and interlinks. So that, the Google algorithm will frequently crawl the section resulting in a higher chance to win a snippet.
Target Easy to Rank Keywords: If your site is new then you should target low competitive keywords as questions to win snippets. You can get outrank a reputed site if you can provide a better piece of content. But, reputed sites also provide good content for the users. So, it is competing with them is not a good SEO practice. That's why all SEO experts spent lots of money on keyword analysis tools to find out easy to rank keywords.
Focus on Content: No matter how much optimization you do you can not rank without good content. So, first of all, make sure you have written good content that fulfills searchers' intend.
Conclusion
That's all about the Google Snippets. I hope, now you know how to optimize for featured snippets. If you still have any problems or queries feel free to Comment Below.