ProductX is finally complete with the Newly Introduced Builder Addon. Previously you could only use the plugin for creating a custom home page. But with the latest WooCommerce Builder update, you can create custom Product Archive Pages and Single Product Pages.
We have also added 13 new blocks for creating full customized Single Product Pages. So, in order to make full use of this update keep reading this blog post.
First of all, you must be wondering how the Builder addon actually works.
It helps to create templates of Archive and Single Product pages. So that, the default template of the theme will be replaced with the template created by the Builder addon of ProductX.
How to Create Product Archive Template with WooCommerce Builder
So, as I have already mentioned that you can create the template for Product Archive pages with WooCommerce Builder. Now, I would like to guide you through that. You can follow the below steps to create a fully customized archive page for your online store.
Turn on Builder Addon: First of all, you need to turn on the Builder addon of ProductX. For that, go to the addon section of ProductX. And then turn on the WooCommerce Builder addon.
Create New Archive Template: After turning on the builder addon you will see an option called Builder in the ProductX plugin section. Go to the Builder section to create a fully customized product archive page with the WooCommerce Builder.
Click on "Add New"
Give a name to the Builder
Select Builder Type
Select where to display the template
Click on Save Template
Click on Save and Edit Template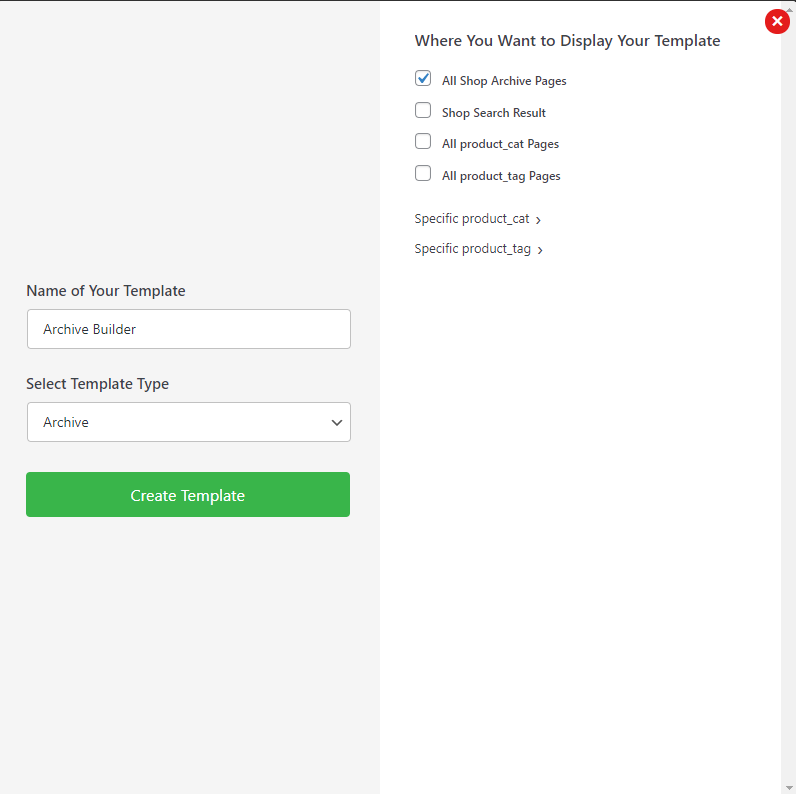 Note: I have selected all archive pages as I want to create one template for all archive pages. However, you can also create category specific template, for that choose your desired category from the Specific Product_cat option that's all. The rest of the processes are the same.
Customize The Template: Now, you have to customize the template. For that, you can import any premade starter packs or Individual Blocks Designs from the Block Library.
You can also customize these Starter Packs and Product blocks using the setting section of ProductX.
You may also like to read: The best WooCommerce Products Blocks Plugin
How to Create Single Product Page Template with WooCommerce Builder
ProductX allows creating a customized template for all or specific single Product Page. Before going into that, make sure you have turned on the Builder addon from all addons sections of ProductX. Then you can follow the below steps to create a template.
First of all, go to the Builder section and click on the "Add New" button to start creating the template.
Now, give a name to the Template and select the template type as "Single Product". After that, you need to decide whether you want to create a template for a single Product or all products of your online store.
You can also select a product tag or product category. For now, I am selecting "All Product Single Pages". So that, all the products will have the same design as the template I am going to create.
After selecting all desired options Save and Start Editing the Template.
Now, you have to create the Single Product Page Template by using single product blocks by ProductX. However, you can also use the Gutenberg blocks.
ProductX is currently offering 13 new Single Product blocks to create a customized Single Product page template. Below are the available Single Product Blocks that you can while creating a template.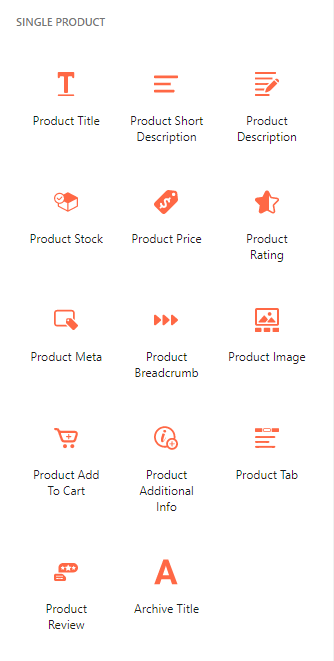 All of the Product Blocks have WooCommerce support. So that, all the details of single Product pages created by WooCommerce Builder will be dynamitacally added. So you just need to add the available Product Blocks of ProductX to the Single Page template.
Here is an example of a Single Product Page created by the ProductX plugin.
Benefits of the WooCommerce Builder Addon
Now, I would like to share the benefits of using the Builder of ProductX instead of the default theme design of your online store.
Self and Easy Customization
The WordPress theme does not let you change the default design. So you have to use premade design whether you like it or not. But, with the ProductX plugin, you can create customized Templates for both Archive and Single Product Pages.
ProductX gives you full control to customize Archive and Single Pages. The installation and useability are easy and you don't need to write any code.
Increase Conversion Rate
If your online store is getting lots of traffic but less number sells then you need to increase the conversation rate. Because only getting traffic does not ensure a higher number of sales. You have to make sure that the shoppers are satisfied while shopping from your online store. For that, your WooCommerce shop should be well structured with the required options in place.
But, most of the WoCommerce themes don't allow customization options. Well don't worry, the WooCommerce Builder Addon of ProductX is here. You can design all templates of your store with ease. So that, you can optimize it to increase the conversation rate.
Helps to Rank Archive Pages
You will find that the archive pages of leading WoCommerce stores are ranking higher and getting lots of visitors resulting in a higher number of sales.
So, don't you want to reach that position? The archive pages of your online store can also reach there by proper on-page optimizations. We all know the necessary steps to optimize a page for higher rankings on SERP.
But the default archive page settings of WordPress come with some limitations. That's why we can not properly optimize our archive pages.
The industry leaders don't limit themself with this kind of restriction. They all are using custom templates to design and optimize their archive pages. The Builder of ProductX can help you to eliminate all the restrictions. So you can design and optimize the Product Category and Product Tag pages. It will make your online store stay ahead of your competitors.
You may also like: Change Add to Cart Button text in WooCommerce
Conclusion
That's all about the WooCommerce Archive and Single Product Page Builder for ProductX. Now you know that why and how to create custom Templates with the WooCommerce Builder. If you still have any questions feel free to leave a comment below.