It takes more time and effort to construct an e-commerce website than a standard one because of its increased design complexity. To create an online store, you may use the plugin WooCommerce, which is part of the WordPress environment. WooCommerce builder can be used to sell both physical and digital goods. Your WooCommerce-powered site's look may be modified with the help of a plugin called ProductX.
However, are you ready for the newest ProductX UPDATE? WPXPO's very own ProductX WooCommerce Builder.
What do WooCommerce Builder Plugins do?
Plugins facilitate the modification of many WooCommerce features. Use WooCommerce's template editor to design your replacements for the pre-existing preset templates. The WooCommerce single-product template, for instance, may be overwritten with a user-made alternative.
You should know the following about WooCommerce and its primary components before proceeding with a WooCommerce Builder.
Home Page
Shop page
Single product page
Product archive page (category and tag)
Checkout page
Cart page
Success page
Customer account page
The templates you can make for WooCommerce depend on the builder you choose. The default WooCommerce Builder lets you use the basic layouts for the store page, the product archive page, and the single product page. However, it doesn't let you customize them.
What is ProductX?
ProductX Gutenberg WooCommerce Blocks is an all-in-one solution for constructing an online store by showing WooCommerce product grids, WooCommerce advanced product sliders, WooCommerce ajax product filters, ajax paginations list products, etc., and by making custom templates for product archives, shops, and individual product pages.
WooCommerce plugins like ProductX's product comparison, flexible wishlist, flip picture, fast product view, backorder pre-orders, partial payments, backorders call for pricing, etc., are also available.
You probably already know this. However, WooCommerce is not an ideal option for running an online business. Limitations in functionality and personalization are there. To increase WooCommerce's capabilities, shop owners must purchase additional premium plugins.
And now we have introduced our new ProductX WooCommerce Builder. Let's See what the hype is all about, shall we?
What's Inside of the New ProductX WooCommerce Builder
So, with the newest introduction of ProductX WooCommerce Builder, you guys might have been wondering what you are getting, right? Well, let's not wait longer; it's time to reveal.
All New WooCommerce Builder
More freedom easier journey with the new WooCommerce builder!
Create, Publish and Edit any pages for your Woo-Store within minutes. With this WooCommerce Builder, you can manage the following pages from scratch:
Home
Singular
Shop
Cart
Checkout
My Account
Thank You
Product Search
Archive
Premade Templates for All Pages with Template Kits and Patterns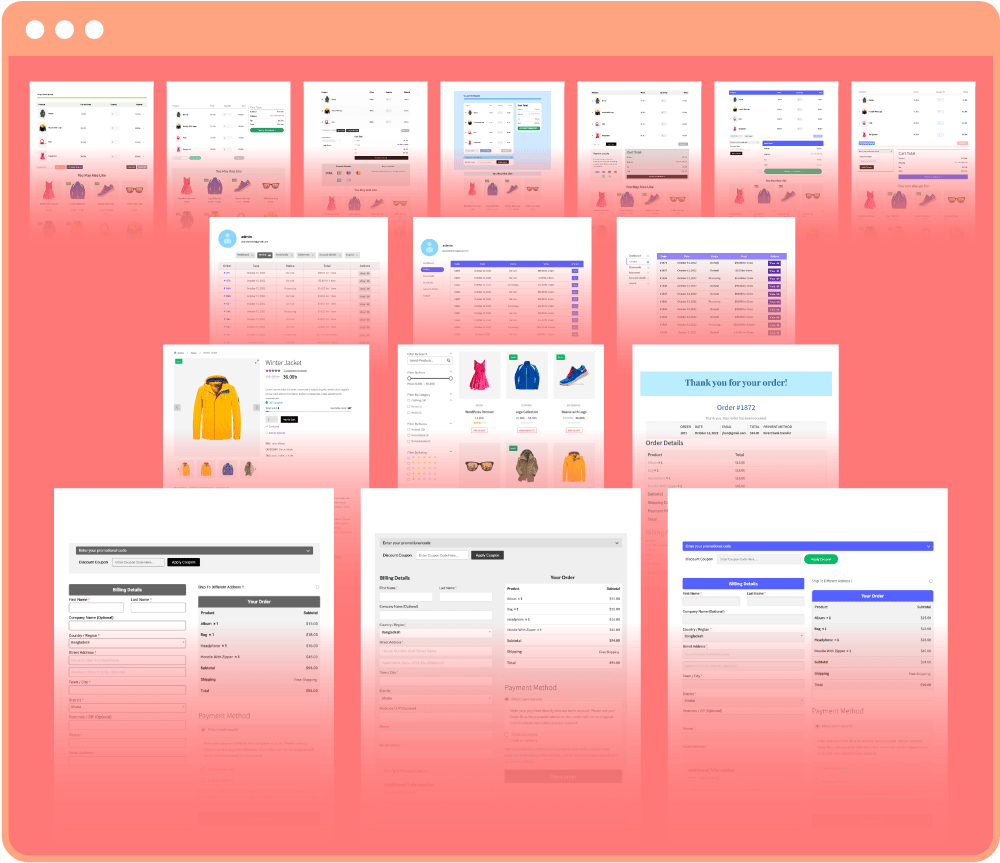 Want to avoid having to create new templates from scratch? It turns out that you don't have to anymore. Because the WooCommerce builder also offers premade templates for Home Page, Shop Page, Cart Page, Checkout Page, My Account Page, Thank You, Page, Product Search Page, and Archive Page.
Well, you thought we were only giving you templates for a singular page? Well, guess what? It's not, and we are not stopping yet. We are offering Template kits for the whole site. And copying patterns of certain Lists, Grids, Patterns, and Layout designs are just a few clicks away.
40+ Amazing Store Building Blocks (Gutenberg)
How can we forget new blocks that'll make it easy to create and manage your store? Yes, we added 40+ Gutenberg Blocks to build your Woo-Store, which gives more freedom and ease.
New Drag and Drop Option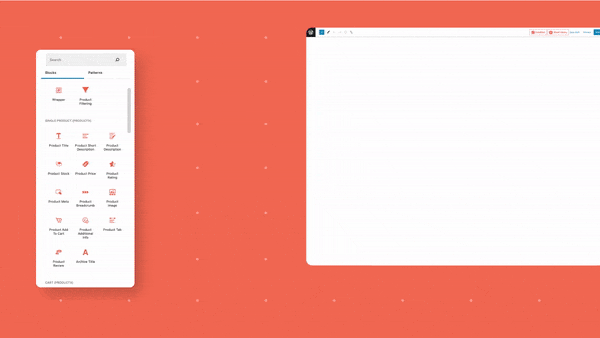 Tired of old bloring clicks and all? We are introducing the drag-and-drop feature to give you something new to try. Now you can easily drag your blocks and drop them on your page. Well, you can also use the old click-to-add method if you want, as we have no plans to remove it anytime soon.
More Coming Soon!
We are not stopping here. Currently, we're working on some very cool new features. And we won't stop improving it until it's the go-to option for WordPress users who want their sites to look great and stand out from the crowd.
You can check out WordPress video tutorials on our YouTube Channel. Also, find us on Facebook and Twitter for regular updates!