Advanced
Query builder
Sort Posts, Pages, or both of them together based on multiple criteria.
The Advanced Query Builder of PostX lets you display your desired posts, pages, or both based on numerous queries. You can sort them by specific or multiple categories, tags, or from both of them together.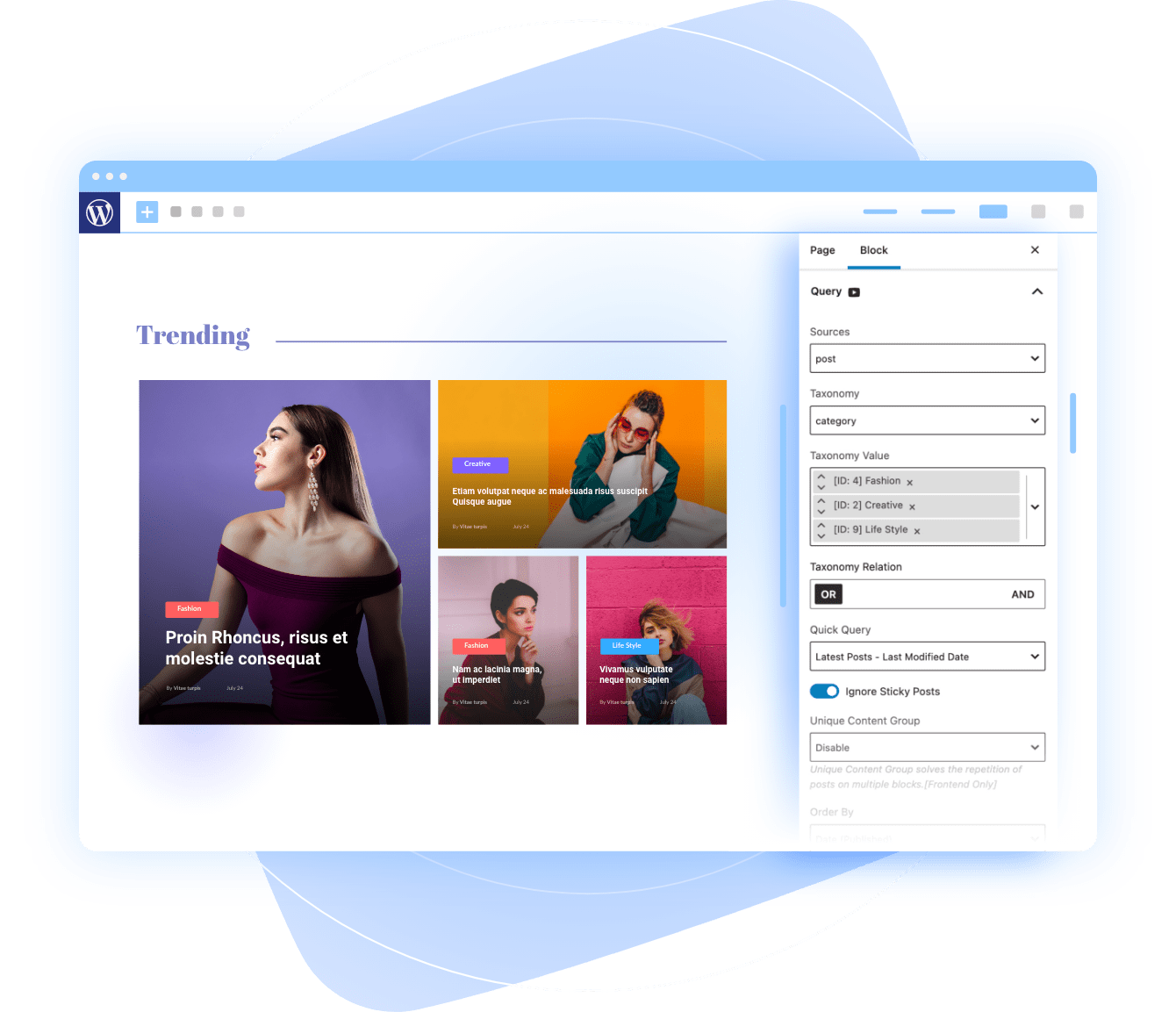 Display Posts/Pages
Display posts, pages, or both of them together using the source options.
PostsDisplay posts from desired categories, tags, or from both of them together.
PagesDisplay pages as posts to attract visitors towards pages as well.
Specific PostsShowcase desired specific posts using post ID or post title.
Custom SelectionWith the help of this option, you can display posts and pages together using IDs or Titles of the posts and pages of your site.
Display Posts from Specific Categories
Sort posts on your site based on single or multiple desired categories effortlessly. Just select your desired categories and PostX Query will take care of the rest of the things.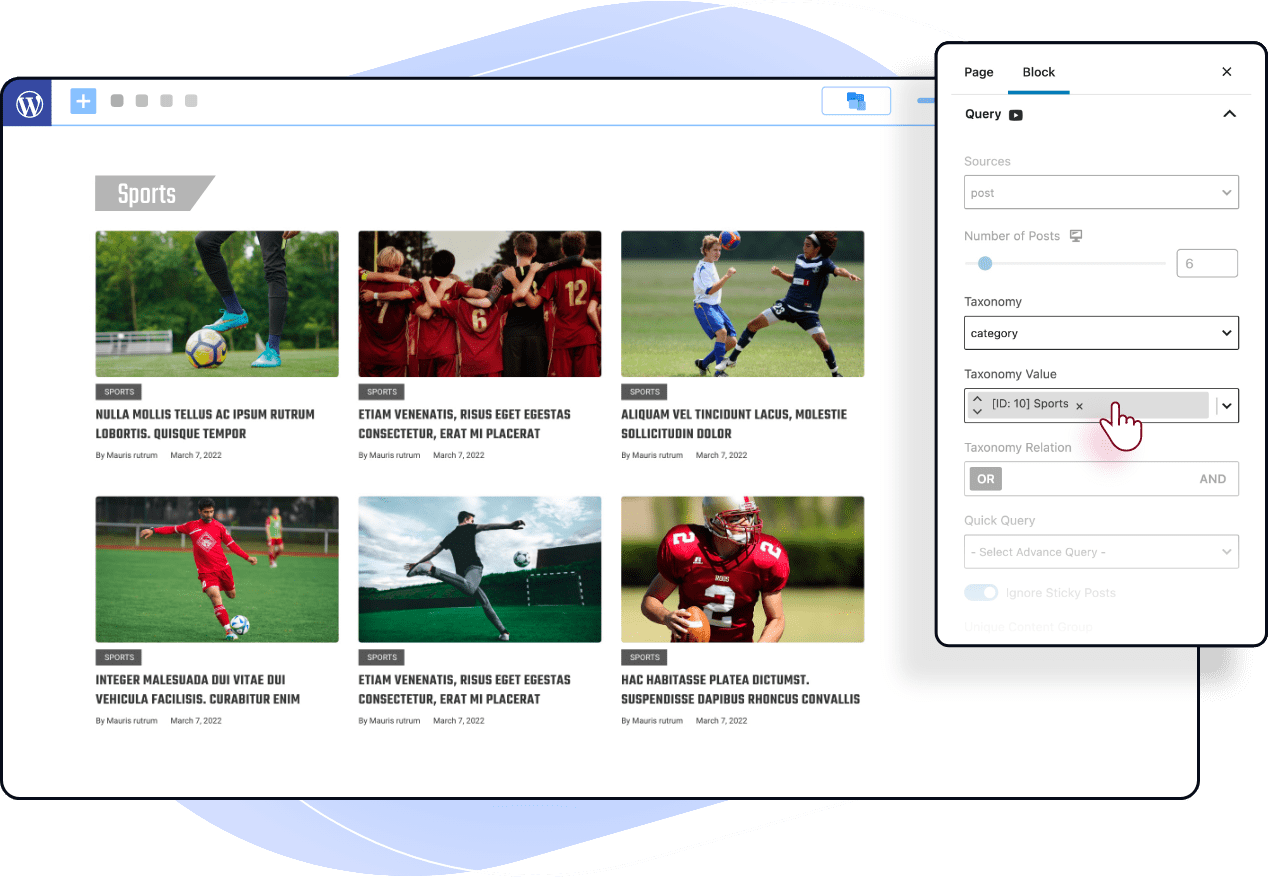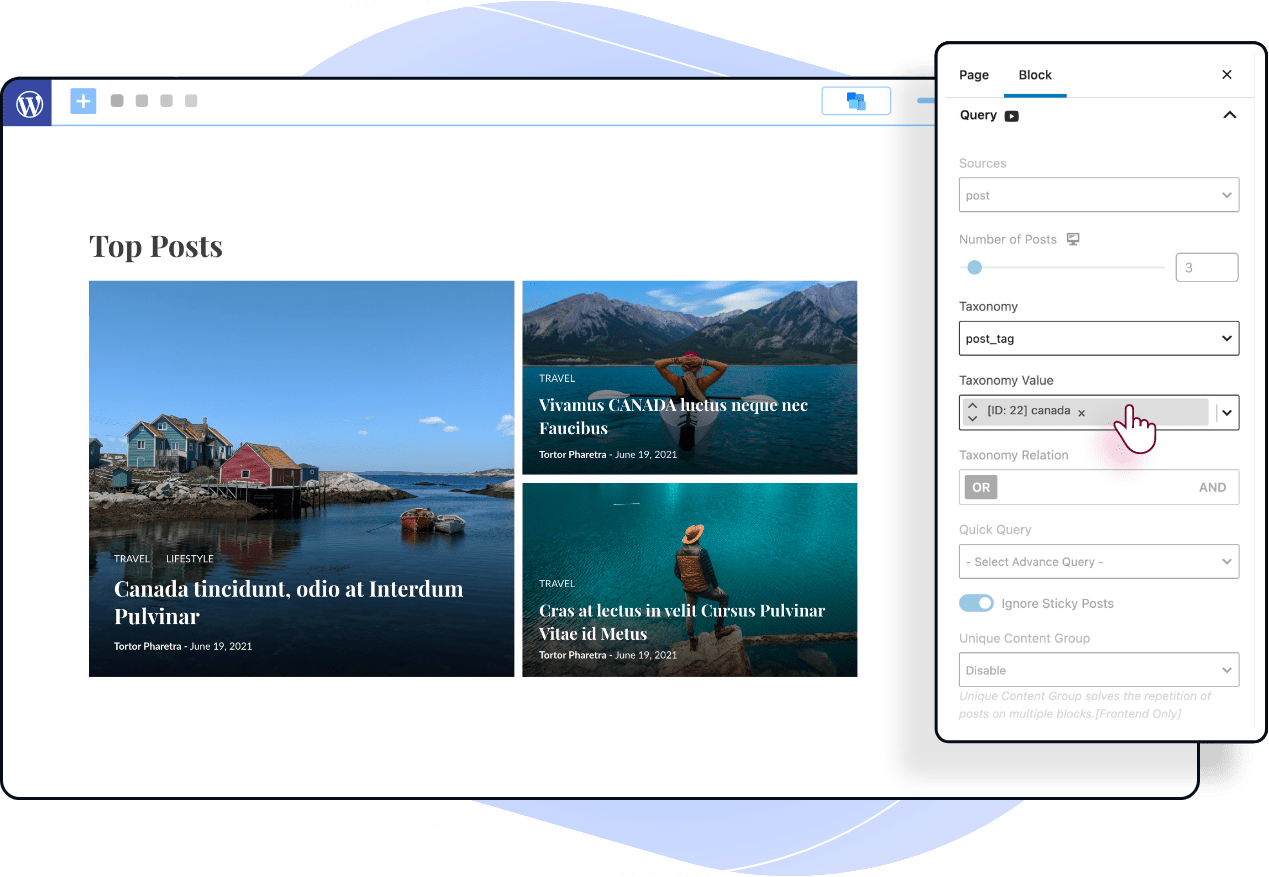 Display Posts from Specific Tags
You can also sort the posts based on tags instead of categories. Just select your desired single or multiple tags, and the rest of the work will be done automatically.
Display Posts from Categories and Tags
Want to sort posts based on categories and tags together? Don't worry, the PostX query builder also helps to choose multiple taxonomies. You can select both categories and tags together and the posts will be sorted accordingly.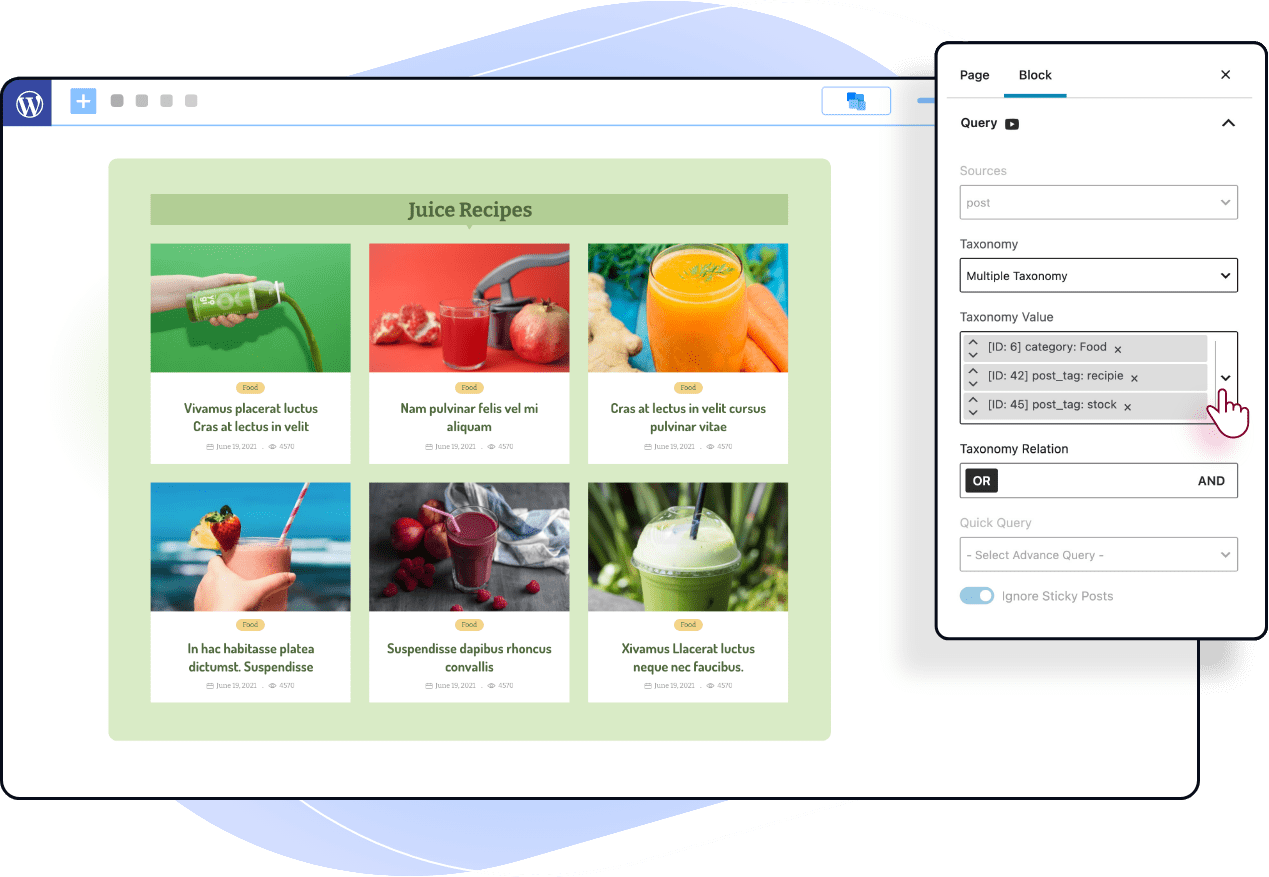 Create Amazing Sites with The Most Advanced Gutenberg Plugin
Start Creating amazing websites, beautiful post sections, stylist categories, custom archive pages, unique author pages, and more with PostX.
Get PostX Now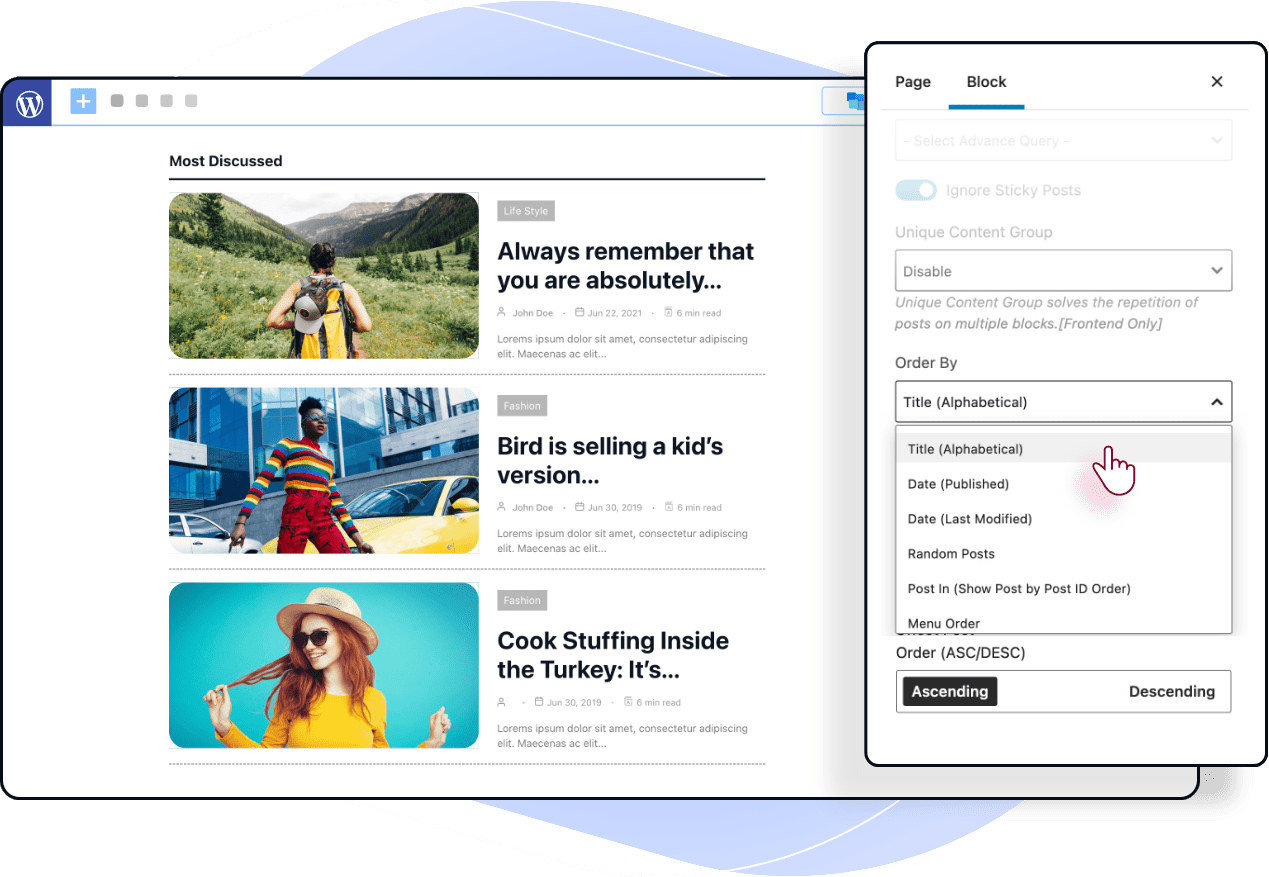 Reorder Posts
Don't want to like the order of the sorted posts? Don't worry just reorder them using the order by option based on alphabetically, publish/modified date, menu order, etc. Or, you can reorder them based on just alphabetical ascending and descending order.
Exclude Posts / Author / Terms
Don't showcase certain posts or posts from certain authors, categories, and tags? Use excluding options to exclude your desired posts.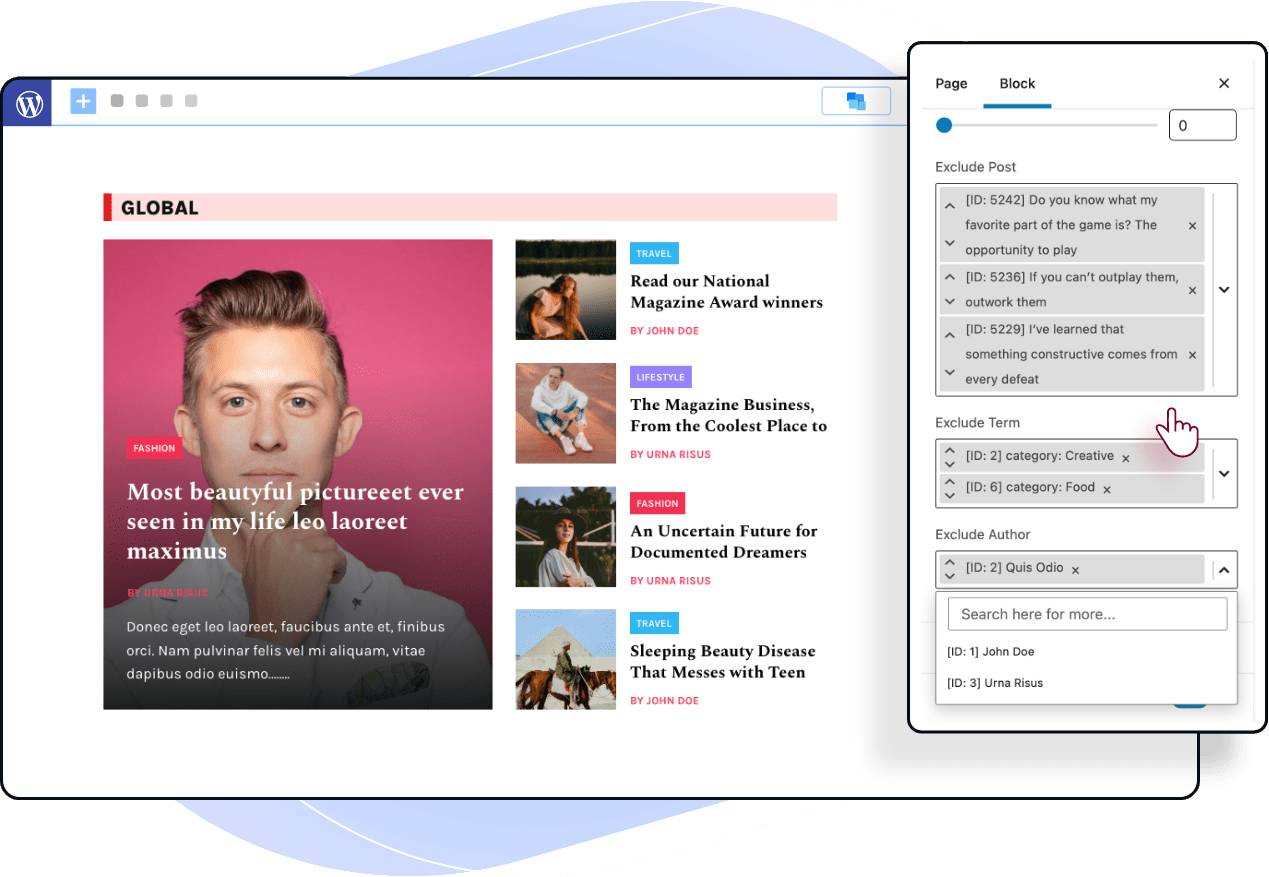 Quick Query
Display posts, pages, or both of them together using the source options.
Popular Posts

Random Post

Latest / Recent Posts

Oldest Posts

Sticky Post

Most Commented Posts

Related Posts
Outstanding Features that Will Make Your Site Stand out from the Competition!
Blog Page Builder
The Blog Page Builder helps you to display posts in a better way to keep the audience and your site.

Ready to Use Patterns
Copy-Paste premade patterns to your desired page/post to create a fantastic posts section within a few clicks.
Customizable Table of Contents
An essential addon with essential design features to showcase important parts of your content to the audience.

Posts Grid
Use the Posts Grid blocks to showcase posts in a grid layout to grab the attention of audiences.
Dynamic Sliders
Highly customizable Dynamic Slider blocks are ready for release in a matter of moments without specialized needs.

Category Grid
Use the taxonomy blocks to showcase categories in a grid layout to grab the attention of audiences.

Elementor Integration
Display Gutenberg Blocks in Elementor via the and remove the boundary between Gutenberg and Elementor.

Progress Bar
Improve click-through rate from home and blog pages to posts by replacing post excerpts with meta descriptions.
Short Code Support
Convert Gutenberg blocks into shortcodes to use them anywhere with popular builders like Elementor and Divi.
Start Creating Amazing News Magazine Sites, Blogs, and More!
Get PostX, The #1 Gutenberg plugin to craft websites that you always dreamed about.
Get Started Now