By 2023, you should see around 3-billion gamers across the world. And it's super popular among male adults, where 3 in 5 males are gamers.
So, not taking advantage of the trend isn't fine. As a matter of fact, if you are an aspiring news writer, you can cover this industry. It will pay for itself once you've had the opportunity to show your writing talents to the world.
Keeping that in mind, we're proud to introduce the new gaming news template for PostX. By combining some of the best features, we've come up with a gaming layout pack that's going to give creative gamers a chance to shine.
The Gaming News Template: Overview
The gaming news template is all about bold designs and tasteful executions. Both these aspects receive complement by the proper use of grids, sliders, and post lists. They all come together to offer a very tantalizing experience.
The Layout
The layout is a combination of post sliders, lists, and grid blocks. You can find all of these blocks separately in the PostX blocks library.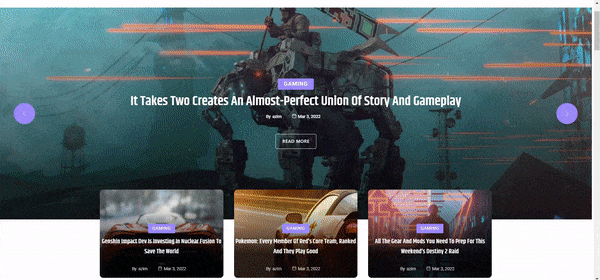 However, we don't want you doing that. Sure, you can come up with your own design. As a matter of fact, you can create your own gaming news persona using these ready-made blogs.
That's great and all. But we want to make your life easier. We want you to focus on creativity.
It is the primary goal of this gaming layout. All you have to do is import it, that's it!
Your gaming news portal is ready to go. You can inform the world of the latest trends and practices in the gaming industry.
The layout itself should come as an appealing thing. Any news relating to the gaming industry will have a proper highlight.
Importing the Layout
Importing the layout is super simple. But there are some things that you need to do first:
Make sure to use the latest version of PostX.
It's a pro starter layout. So, you will need an active license of the PostX plugin to use this layout pack.
If you're running the latest version of PostX, all you have to do is use the synchronize feature in the blocks library. Once you hit synchronize, the latest designs and layout packs will become available to you.
And importing the layout is like a 1-click affair. Just hit import and you're good to go.
Feature Exploration
You can already understand how dynamic this gaming news template is. However, if you want to take a look at the overall features, here they are:
Quick Adaptability
This feature is for all the starter packs in PostX. If you have your posts up and ready. You just have to import a news-magazine template. PostX will take it and apply the template quickly, offering excellent adaptive capability.
A Catchy Template
It's not about a flashy design with the gaming starter template. It's all about grabbing the user's attention and letting them know about the latest news and trends in the gaming world.
Something Unique
The gaming news template is a unique offering from PostX. It's for those who are:
Passionate about gaming
Creatives who are looking into a career in game news writing, podcasting, etc
News writers looking into creating game news blogs
Writers who are looking to explore a different niche
Final Thoughts
So, you know how impactful this PostX gaming news template can be. We know, something like this may come out to be a niche option.
But for showcasing gaming news, it's a fine option. As a matter of fact, something unique like this will certainly help create an appetite for your readers.
PostX makes sure to offer its users something unique, something different. And that's what the gaming news starter pack is all about.