Hello, PostX lovers! hope you are still enjoying the heat of the Gutenberg Dynamic Site Builder. If not, you are missing out on the opportunity of a new kind of web designing experience.
As we have already said, we will not stop improving PostX until it becomes the number one choice. So with this continuous development process, we are presenting the newest addition of the PostX Post Slider Block 2.
It is a completely different and improved variation of Post Slider with whole new layout variations. If you skip without exploring this new block, I am pretty sure that you will miss out on an amazing experience. So without further ado let's start talking about the newest PostX addition which is more than just a Post slider.
Introducing Post Slider 2 Block of PostX
First of all, it is a Gutenberg slider block that helps you to provide an amazing visual experience instead of just displaying posts in a slide view.
You can easily add it to any WordPress page or post just like any other block and start designing your success stories.
If you are wondering why it is more than just a post slider. Well, the answer is simple, it offers more than just an ordinary post slider. How?
It makes your blog post visually appealing and engaging to visitors. This kind of visual presentation will surely increase the average spending time of the visitor. Not only that, good-looking websites are highly recommended, and the visitors want to come back again again. So without spoiling the offerings let's start experiencing them.
Layout Opportunities of Post Slider 2
Although the new post slider block has full customization options it also comes with six layout variations to jumpstart displaying posts more smartly. So let's start getting surprises with all of the amazing layouts.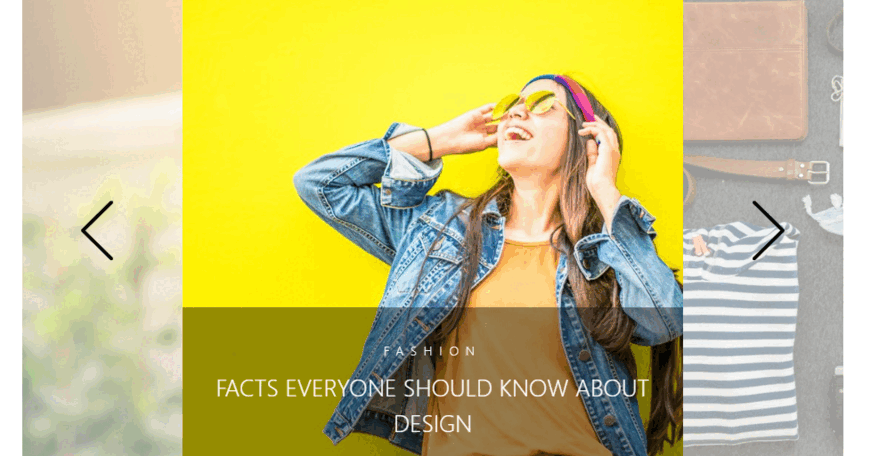 👉 Get PostX Pro to unlock all exciting features and make amazing Websites
Layout 1: Starting with a gorgeous one that represents three posts at a time. Once are highlighted and the rest of them are displayed as the next and previous posts.
Layout 2: The second layout is the unique one that represents one blog post at a time and also highlights the title and excerpt of the blog post.
Layout 3: The 3rd is a beautiful post carousel that is displaying three posts at a time. However, you can also increase or decrease the slide number.
Layout 4: The fourth one is the better version of the first layout. It also displays one highlighted and the next & previous post but in a better way.
Layout 5: It is another unique layout that mainly highlights the features of blog posts. This simple slider variation can surely wow your audience.
Layout 6: This layout also displays one blog post at a time and mostly highlights the title of the blog posts instead of the featured image.
Layout 7: It is another variation of the post carousel that is displaying three posts in rounded condor designs of the featured images.
Layout 8: This unique layout is almost similar to the fourth one. The only difference is that it highlights both the featured image and title simultaneously.
What can you do with the new slider variations?
Already amazed with the layout offerings? Well, this is just the beginning. This one is a multiple-post slider that can be used to accomplish multiple purposes. So check out some of the options for which you can use this extraordinary slider.
Beautiful Home Page Slider: By default, WordPress displays the latest posts on the home page. But if you want to make the home page appealing and engaging for the use visitors, creating a custom home page is the solution. And, a beautiful slider would be a great addition to the custom home page you want to create.
Amazing Featured Slider: This slider block can also be used for featuring specific posts on any page of your WordPress site. For that, you just need to add the slider block to your desired position and sort the posts that you want to feature using the advanced query builder of PostX.
Unique Related Post Slider: Displaying related posts at end of the blog posts is a common and effective technique to increase the dwell time and page views. And, if you display the related posts in a beautiful slider that would be an added advantage to the blog post. Fortunately,
PostX doesn't only provides a visually appealing slider but also a Dynamic Gutenberg Builder that helps you redesign all pages of a site. So that, you can easily design the structure of your blog post and display related posts in the slider while customizing the blog post layout.
Attractive Hero Section: Making an attractive hero section is one of the most effective techniques to wow audiences at the first impression. A hero section can be a large image banner, a video, or an illustration then why not a slider? You can also get the same results more smartly by adding a visually appealing slider as a hero section. For that, the newest slider block can be the solution.
Post Slider 2 of PostX: Why It is the Special One?
There are lots of slider plugins available in the WordPress directory. So it is totally okay if you are confused about whether you want to start using this slider or not. As I have already explained all the offerings, there is no doubt the offering of this slider is far better than an ordinary slider plugin. Not only that but there are also some more reasons that make this slider a special one for your blog.
Premade Patterns: Don't want to waste time customizing the slider? You don't need to, just go to the patterns section of the slider. Here you can see multiple design variations, and import any of the premade patterns to save time. However, you are also welcome to customize patterns as well if required.
Better Visual Experience: The recent addition of PostX is not just a slider, it is more than that. It provides an amazing visual experience to your audience. So, using the advanced slider variation will help you wow your audience.
Multi-Device Responsive: The new slider block is also responsive like any other blocks of PostX. So that you don't worry about the responsiveness issue whether they are visiting your site using a desktop, mobile, or tablet.
Full Customization Options: One of the main reasons behind the popularity of PostX is its customization freedom. It is true not only for the new slider block but also for any other blocks. You can customize any of the elements of blocks according to your need that matches the style of your site.
Stay Tuned For More
That's all we wanted to say about the new slider block. Now you can update the PostX plugin and start exploring it. Don't forget to share your thoughts and feedback regarding the Post Slider Block 2. You can leave your feedback in the comment section or you can also contact our support team. And, stay tuned with PostX, so that you don't miss any updates and special offerings.
👉 Get PostX Pro to unlock all exciting features and make amazing Websites