Bloggers and online business owners find technology to be one of the most lucrative and exciting fields. There's always something happening in the tech industry, and people are always coming up with new products and solutions to problems.
If you are passionate about spreading the latest technological discoveries, your website should reflect that in every way possible, from its sleek and professional aesthetic to its user-friendly interface, from its high search engine rankings to its responsiveness on mobile devices. If WordPress is your chosen content management system (CMS), then PostX is your plugin. Why? A new "Tech News Layout 2" design is now available.
Tech News Layout 2
What Makes the Tech News Layout 2 So Special?
So, what's so Great About the Tech News Layout 2?
Countless free and premium Tech News templates and layouts can be found online. So, why should you use our layout? PostX lets you create your own homepage with the help of a layout, template, or starter pack. The homepage is the most crucial part of every website or blog, not just those dedicated to covering tech news.
We're aware of this as well. Therefore we put forth an effort to provide a streamlined presentation of all relevant content. With Tech News Layout 2, we've done wonders. In many ways, that's a more innovative and superior design. Still in doubt?
Look at what sets Tech News Layout 2 from other standard templates and layouts.
Stylish Hero Section
If you want people to really take notice of your website, the hero section is where to do it. Our creative team is aware of this fact, which is why they collaborated to produce a hero section with a post grid. PostX allows you to rearrange the hero posts in whatever order you choose. That way, you can feature whatever posts you pick in the featured area.
Interesting Trending Posts Section
The new design also has a trending posts area that is aesthetically appealing and functions similarly to the new posts section. This area has a lovely look, with five blog entries, and the posts are ordered using the query builder. The query builder makes it simple to arrange articles in compliance with user-defined criteria such as categories, tags, etc.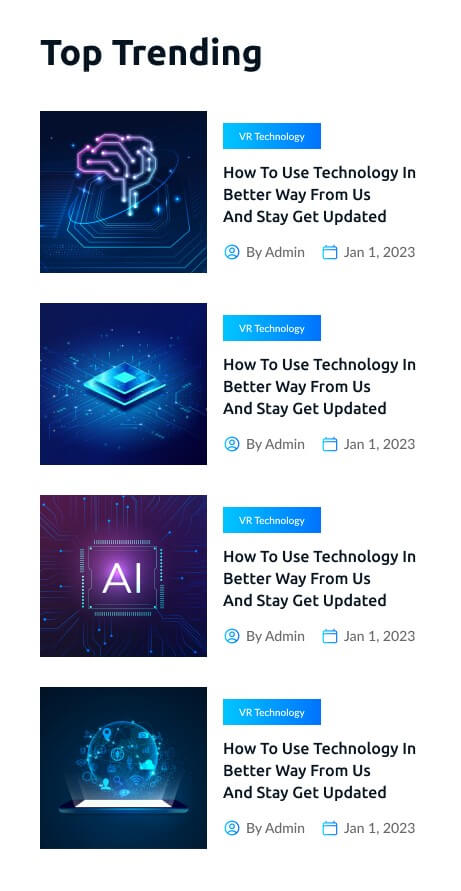 Full Customization Option
Although we have developed a fantastic layout, you might find it necessary to make minor adjustments. You can rest assured knowing that PostX offers many customization options. Modify it to meet your requirements. We don't put limits on people who wish to create their own designs.
Featuring Spotlight Section
Want to showcase the news of the day, month, or year? With the new Tech News 2 layout you can use the spotlight section to entice your readers by giving related news, and information. Nothing more will skip like the sands in a closed hand. We got your back in every way possible.
Multi-Device Responsiveness
It's common for attractive designs to have issues with responsiveness. However, with PostX, your worries are now over. For the simple reason that all of its basic packages are fully responsive and optimized for all kinds of devices. So, whether customers access your site on a desktop, tablet, or mobile phone, your content will always look great.
Easy 1 Click Import
With just a single click, you can effortlessly import any PostX layouts, including new ones. Find a page you like and click the "Add Layout" button. Learn more about the available templates and load one into your project. Eventually, you can make that page your default home page. So, you can create a customized home page in just a few clicks. Not only the front page, but you can remodel your entire site within a short time using the dynamic site builder of PostX.
Tech News Layout 2
More Layouts Coming Soon
That's all the information regarding the new Tech News Layout 2. We also have an impressive collection of starter packs. You should definitely verify them. Don't hold back from expressing your opinions; share them with us in the comment section below. And if you want to take advantage of the forthcoming offers, make sure to stay connected with PostX. Countless stunning designs are on the way.