Do you have an NFT-related blog or news magazine site or planning make one? Get PostX and jump-start with the newest starter pack finely crafted for NFT-related sites.
This new starter pack is finely crafted for the tech enthusiast who wants to share their thoughts and news related to NFT and Cryptocurrency.
NFT & Crypto News Layout
Why This NFT Layout is So Special?
As there are so many layouts/templates available so it is okay if you are thinking about why the new PostX layout is a special one. Yes, you can find so many layouts out there. Maybe you are also using a beautiful layout in your existing sites. But ask yourself whether your existing layout is good or not. PostX offers finely crafted starter packs for various niches instead of just ordinary layouts. So that, you can jump your site creation and save up to 80%. For now, let's continue exploring the offerings of this new layout.
NFT & Crypto News Layout
Trendy Hero Section
The hero section is important to make the visitors fall in love with your website. Our designers know that, so the design and development team came together and crafted a trendy hero section with a post carousel. PostX gives you the control to sort the posts in the hero section. So that, you can display your desired posts in the hero section.
Gorgeous Latest Posts Section
PostX mostly focuses on the post-displaying options without compromising anything. In this latest posts section, you can see a gorgeous presentation of the latest posts. You can sort the latest post by two criteria, publish date/modified date.
Attractive Popular Posts Section
The new layout also contains an attractive popular posts section similar to the latest posts section. The section has five blog posts organized in a beautiful layout and posts are sorted with the query builder. With the query builder, you can easily sort the posts by category, tags, and some more criteria based on user engagement.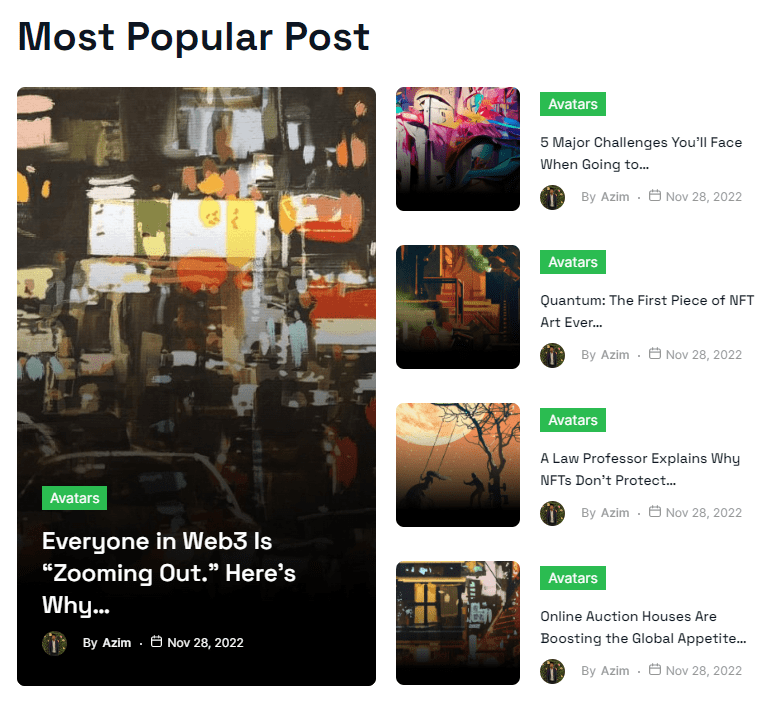 Full Customization Option
Although we have crafted a standard layout you may want to make some changes here and there. Don't worry ProductX gives full customization options. You can make any changes you want. We believe in freedom, we don't restrict users who want to make their own unique layout.
Multi-Device Responsive
One of the most common problems of gorgeous layouts is responsiveness. But with PostX you don't need to worry anymore. Because all of its starter packs are highly optimized and responsive for all major devices. So your visitors will see your content in a visually appealing way no matter if they use desktop, tablet, or mobile devices.
Synchronization
Already using PostX but couldn't find the new NFT layout? Because you probably don't know the synchronization feature of PostX. With this feature, you can synchronize new layouts with a single click instead of updating the full plugin. So click on the synchronize button and start using the new starter pack of PostX.
1 Click Import
Last but not the least, you can easily import any of the PostX layouts including the new one within a single click. Just go to a page where you want to add the layout. Explore the template kit and import your desired one. Later you can set the page as your home page. So that, you can create a custom home page within a few clicks. Not just the home page you can redesign your complete site within a short period using the dynamic site builder of PostX.
NFT & Crypto News Layout
Stay Tuned for More
That's all about the new NFT & Crypto layout. We have you will also like the new one like the previous starter packs. Don't forget to share your thoughts in the comment section. And stay connected with PostX if you don't want to miss the upcoming offerings. So many amazing layouts are about to come. Some of them are right around the corner.