Hello PostX lovers, you would be glad to know that, we have added a new layout to the PostX Starter Packs library. It is the 5th News layout and it's a special one for those who want to share news in a gorgeous layout.
The new layout has some unique touches that make it stand out from other PostX Starter Packs. So it can be could be a good choice for you if you want to make an amazing visual experience instead of just an ordinary News Magazine site.
Explore News Layout 5 Demo
Why This News Layout is So Special?
PostX is mostly popular for its design variations and news start packs. PostX offers various news layouts. Probably you are already you are using one of them. But still, I would say you must try this new layout at least once. Why?
It has some new touches, that make it better than most of the existing starter packs. Our design and development team have tried some new this while developing this one. And, when we saw the final output, it was hard for us to wait for its released. Don't trust me? Well, you don't need just explore the offerings and you will realize it is so special.
Explore News Layout 5 Demo
Simple and Elegant Hero Section
First of all, the new layout has a simple and elegant hero section. It's a combination of 5 posts that can be changed to your desired one using the query builder. This simple layout displays all of its posts in a small area. So that, the audience will not miss the post that is displayed below the hero section.
Special Section for Qatar World Cup
The fever of the Qatar World Cup is still in the air. One last clash of giants is upcoming. So we are pretty sure that, you have so much news to share before and after the final match. So we have placed a Qatar World Cup section in this new layout. However, you can also check the sports news layout combo pack if you have a niche news site related to sports.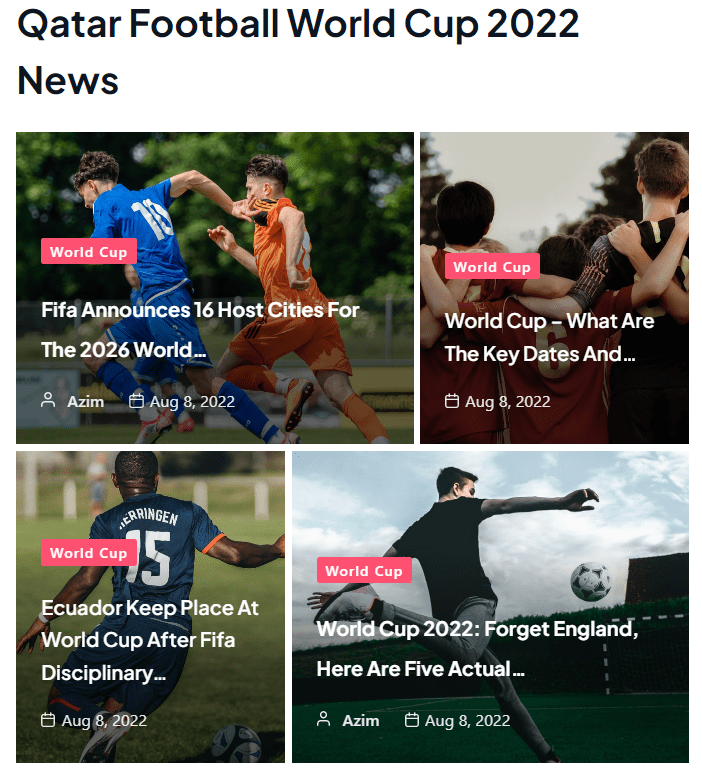 Multi-Device Responsive
If you already using PostX for some time, you would know that with its starter packs you don't need to worry about from which device people are browsing your site. Because all of the starter packs including the new ones also have a responsive design for all types of devices.
Customization Freedom
Different people have different choices. We have tried to make the best choices while making the layout. However, you may want to make some changes here and there. And, you are welcome to do that. Not only for this layout but you can also customize any of the layouts of PostX with full control.
Synchronization
If you are using PostX for some time, you would know that the PostX layouts have a synchronization feature. So you can add the new layouts to the design library by clicking on the synchronize button. We have added these features to ensure user flexibility as we are releasing new layouts regularly.
1 Click Import
One of the best things about the PostX starter pack is that you can import any of the layouts of your choice with a single click. For that just go to the page where you want to use a starter pack. Go to the template kits option, explore all layouts and import your desired one.
Stay Tuned for More!
Hope you will like the latest news layout of PostX. Feel free to share your thoughts and feedback in the comment section. And keep using the PostX plugin to make amazing visual experiences instead of just a news magazine site. And, be ready to be surprised by the upcoming offerings of PostX. Some of them are right around the corner.
Explore News Layout 5 Demo