The Simplest
Wholesale Solution

to Make Selling Easier

Simple, flexible, and Easy to Use WooCommerce Wholesale Plugin for B2B+B2C Stores.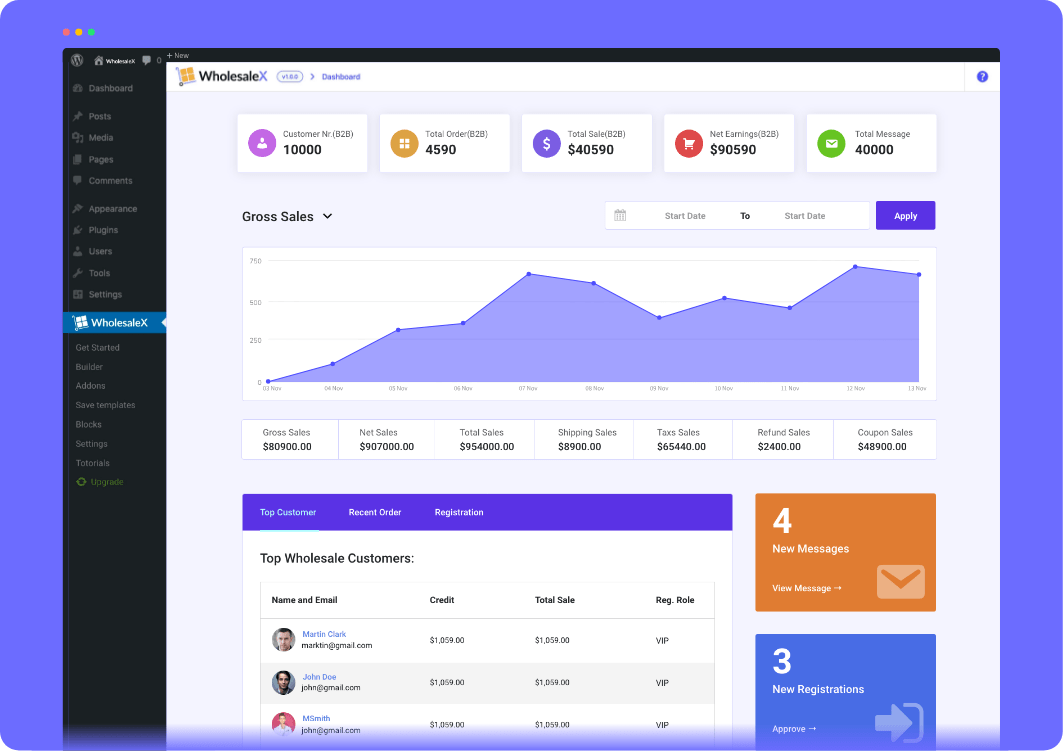 Wholesale Pricing
Dynamic Discount Rules
Multiple Pricing Tiers
Form
Builder
Control Shipping Methods
WholesaleX Wallet
More
Features
Feature-rich Wholesale Plugin That Saves Time & Money and Grows Your Business
Easy to Manage
Managing a store is easy with WholesaleX. No special experience or coding knowledge is required.
All-In-One Solution
It is an all-in-one solution for creating and managing B2B and B2B+B2C stores in WooCommerce.
Manage Rules Globally
Dynamic rules are the most attractive and effective feature to assign pricing and discounts, tax, and shipping rules globally.
Effective User Roles
Managing customers is not easy, WholesaleX knows that, and it brings the user roles for effective management.
B2B + B2C Hybrid Store
Can create and manage a B2B or B2B+B2C hybrid store instead of just an ordinary Wholesale store.
Stay Tuned With Customers
Stay connected with your wholesale customer with the built-in conversation functionality.
Set Pricing & Discounts Globally or Products Based Using the Advanced Dynamic Rules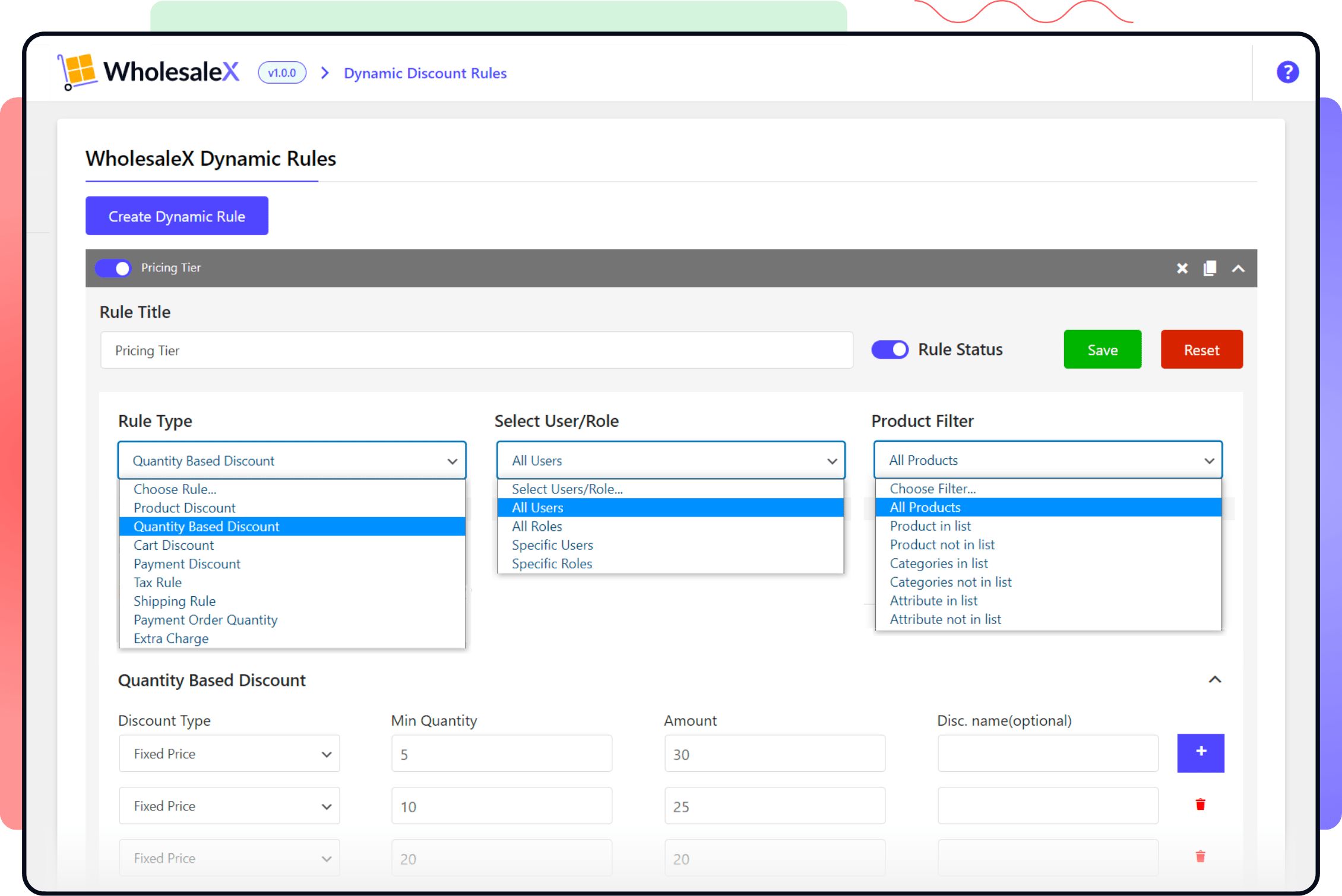 Quantity-Based Discounts
Offer quantity-based discounts for desired users and products.
Minimum Order Quantity
Set a minimum order quantity to avail of discounts on specific or multiple products.
User-Based Pricing
You can set the pricing of the same products differently for specific users.
Payment Method Discounts
Offer special discounts based on desired payment methods.
Cart Discounts
The cart page offers quantity or value-based discounts to specific or all users and products.
Category-Based Discounts
Add all products of a specific or multiple categories under the same discounts rule.
Transform Your Ordinary WooCommerce Store Into A Profitable B2B Business
Wholesale Pricing
Set Wholesale Pricing Dynamically for All Products
Add Discount Percentage or Discounted Price
Set Category or Attribute-Based Pricing
Add Prices to Specific Products
Offer Different Prices for Different Users
Show/Hide Prices With or Without Taxes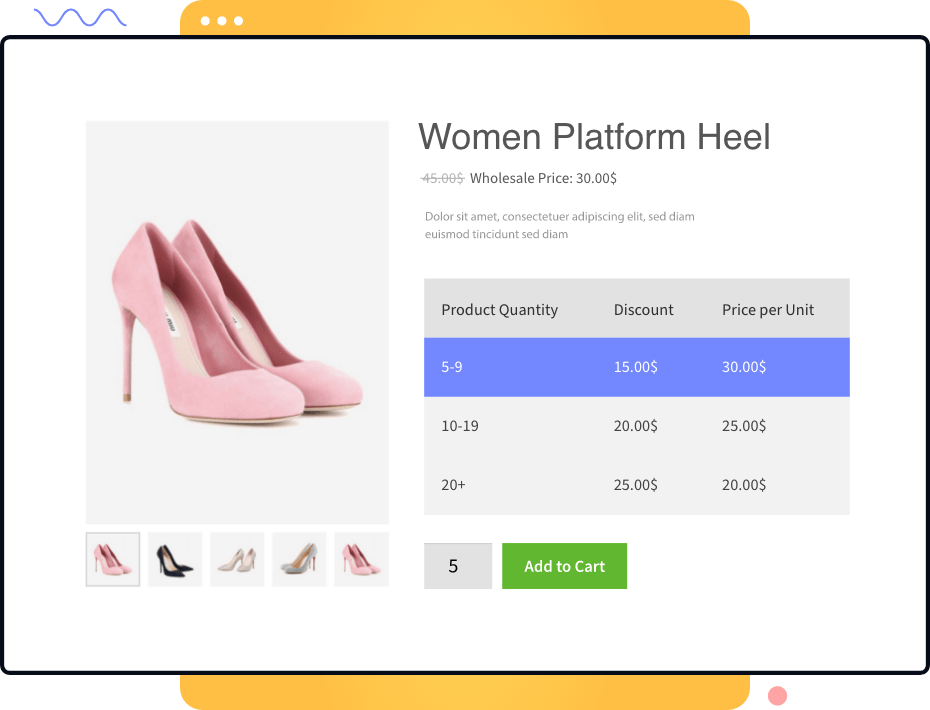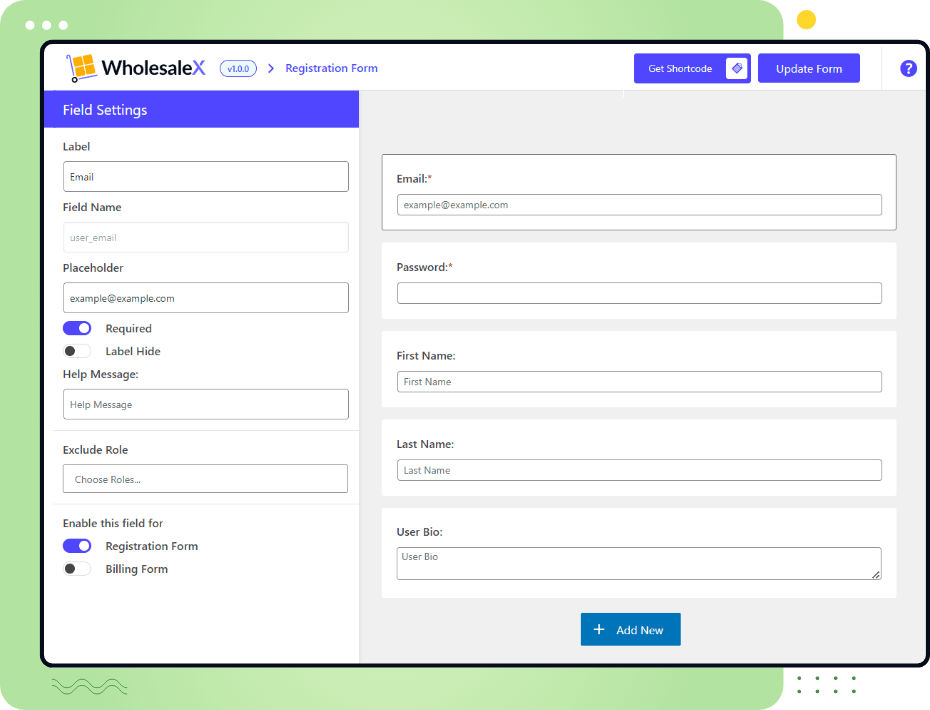 Registration Form Builder
Create B2C & B2B Forms for Registration
Hide Field for Specific Users
Set Desired Fields as Mandatory
Create a Separate Registration Page Via Shortcode
Manually or Automatically Approved the users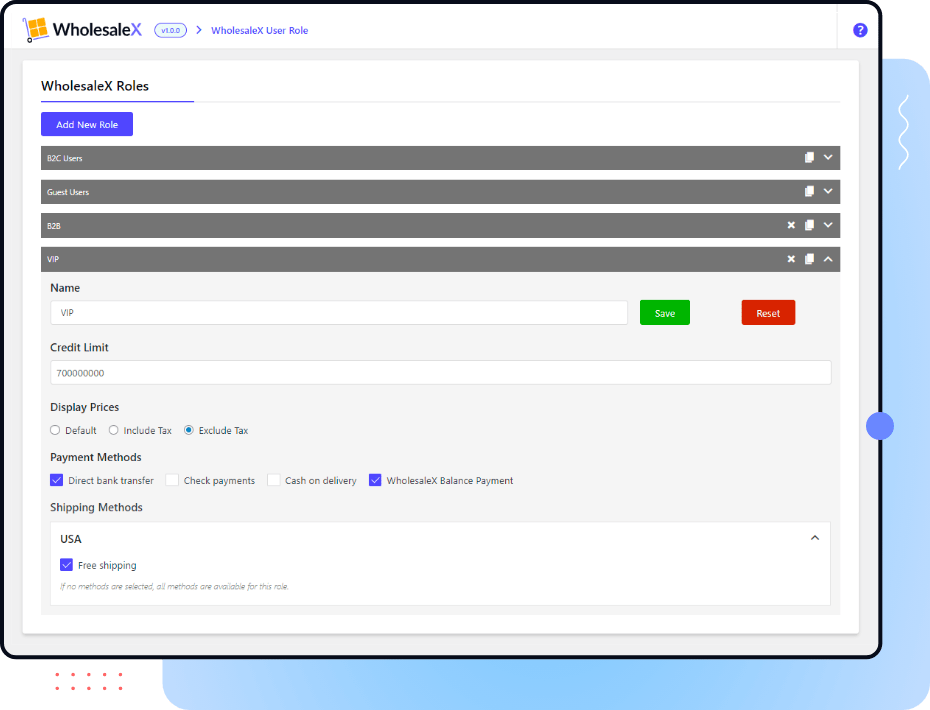 Users Role Management
Create Unlimited User Roles
Display Prices With or Without Taxes to Specific Users
Add Wallet Credit Limit for Specific Users
Assign Payments Methods for Users
Set Shipping Methods for Users
Encourage the B2B Customers to Use the Store Wallet to Purchase Products from Your Store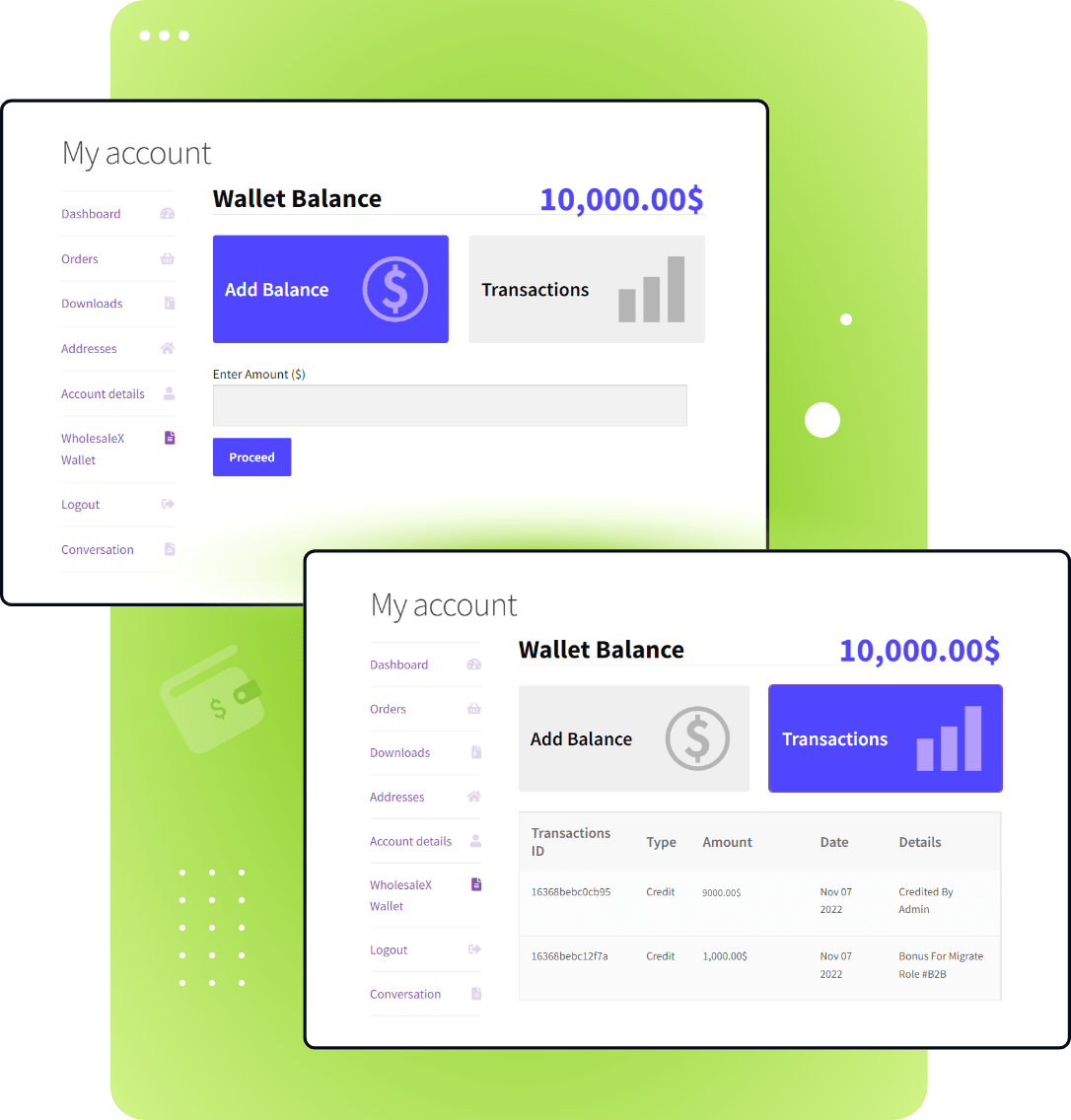 Wallet Management
WholesaleX wallet comes with the functionality of adding funds and can also be used as a payment method.
Display WholesaleX Wallet on WooCommerce My Account Page
Let Users Add Funds to their Wallet and use it for future Payments.
Manually Add Funds to the Wallet of Desired Users from their Profile.
Change "Wallet Balance" and "Add Funds" for Non-English Stores.
Offer Different Prices for Different Users
Show/Hide Prices With or Without Taxes
Start B2B Business Without Coding
Create your Wholesale site in WooCommerce effortlessly with the simplest solution.
Get WholesaleX Now
Stay Tuned To Your Customers With the Built-In Conversation System Of WholesaleX
Conversation
It helps the B2B customers easily communicate with the store admin.
Display Conversation Option on WooCommerce My Account Page
Communicate With Your Customers
Get Quote Requests from Potential Buyers
Differentiate Conversation into three types, Inquiry, Message, Quote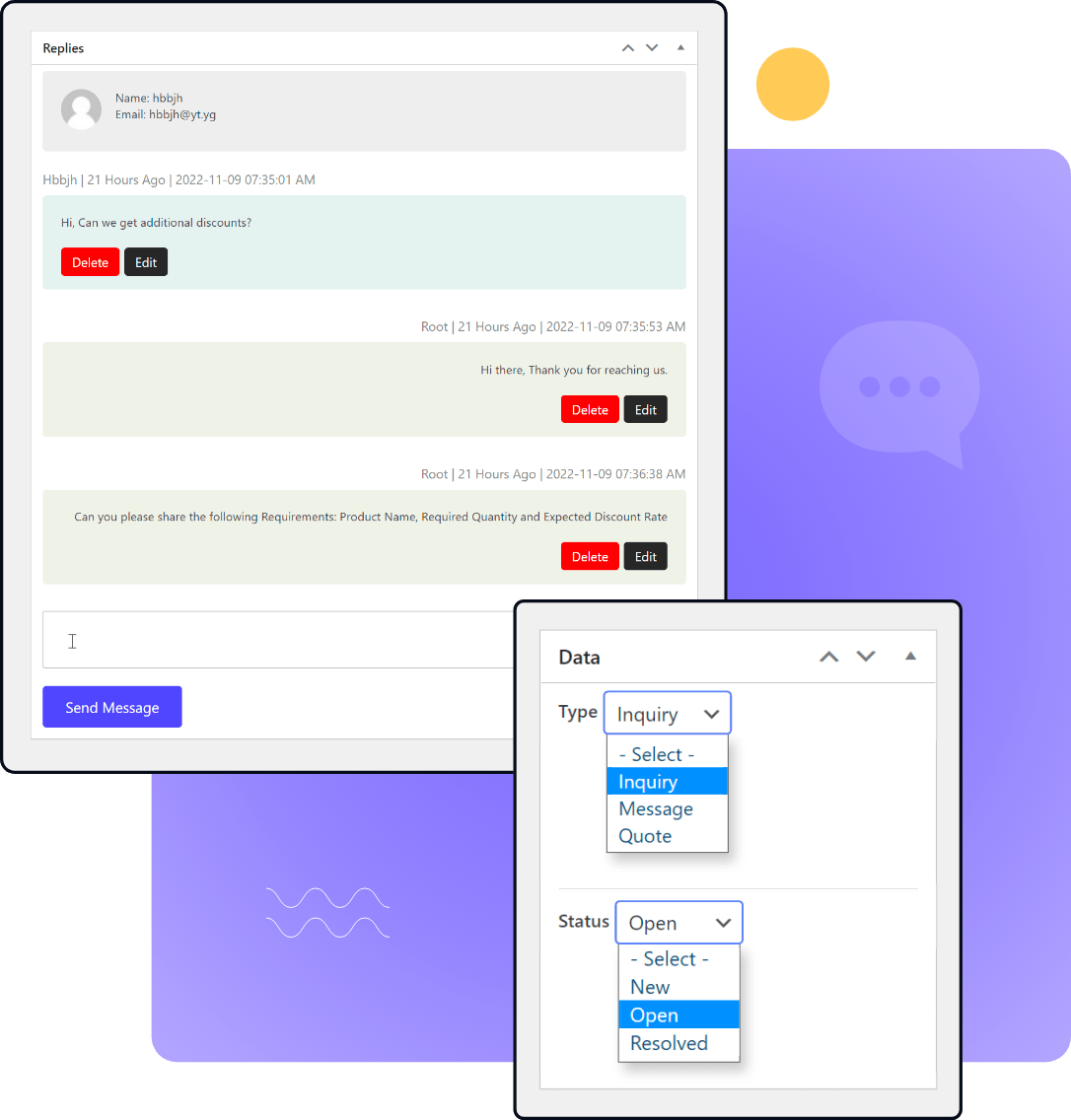 Empower the Customers of Your WooCommerce Store to Send Quote Requests Directly from the Cart Page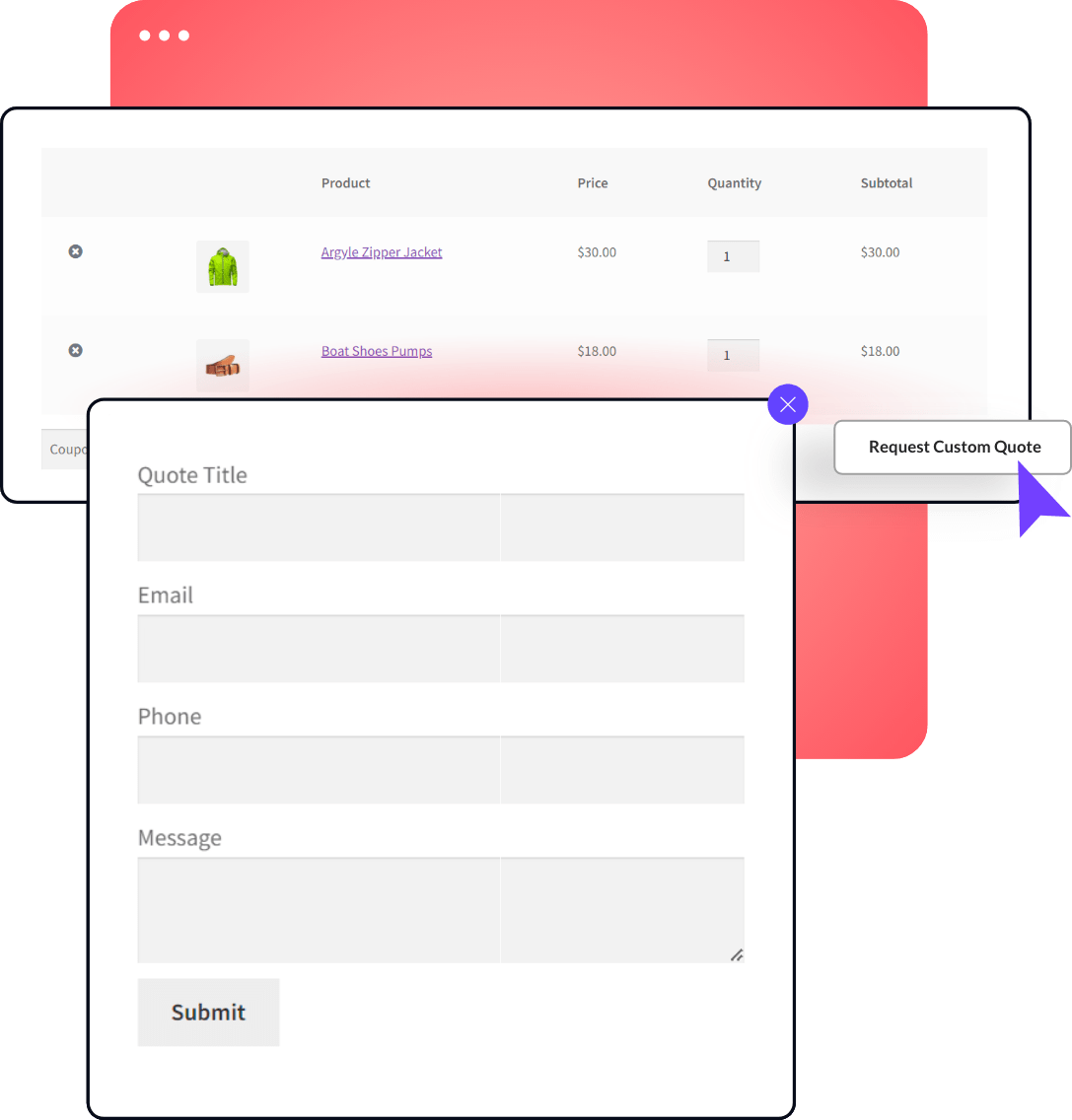 Request a Quote
It enables the functionality & flexibility of requesting custom quotes.
Enable the Request a Quote Button on the Cart Page
Send Custom Offer Quotes to Mail and Conversation Area
Send Reminder Mail for Offer Expiry Date
Effortlessly differentiate Quote Requests of Logged-in and Guest Users
Dive into Core Components of WholesaleX that makes your store stand out from competition
Payment Methods
Control Payment methods available for users and products.
Product visibility
Display or hide products from guests or any other users.
Tax Exemptions
Exempt taxes for specific products or users if required.
Custom Fields
Add unlimited fields to the B2B registration form.
Tiered Pricing System
Set tiered pricing globally or at the product level.
Price Range
Assign your desired price range for specific or all products.
Email Notifications
Enable/disable email notifications for customers and admin.
reCAPTCHA
Safe your B2B store from the risk of spam and abuse.
Free Shipping
Offer free shipping for users or a group of users.
Minimum Purchase Rules
Set minimum purchase rules required to avail discounts.
Frequently Asked Questions
WholesaleX is the simplest solution for you if you want to create a B2B, B2C, or B2B and B2C hybrid store in WooCommerce.
No coding knowledge is required to use the WholesaleX plugin. However, you can quickly start using all the features if you know how to use WordPress and WooCommerce.
You can easily add WholesaleX to your existing store if you have created your store in WordPress using WooCOmmerce.
Yes, you run a B2B and B2C store together using WholesaleX. It is a quick mode switching option between B2B, B2C, and B2B+B2C Hybrid.
Yes, we have a 14-day easy refund policy. So you can easily claim a refund within 14 days of the purchase date, and we will give you 100% of your money if you are eligible.
Your site will work as usual even after the 1-year site license expires. However, you will no longer be able to use the pro features.
Yes, you will get regular updates for WholesaleX. And you can get priority support from our dedicated support team.
No, you must create your store using WooCommerce. Without that, you can not use the WholesaleX plugin to enjoy the B2B features.
Add All Outstanding Features of WholesaleX to Your B2B Store and Grow Your Business
Get WholesaleX Now