WholesaleX – One Solution, Unlimited Possibilities
Create & manage your Wholesale stores with feature rich but simplest solution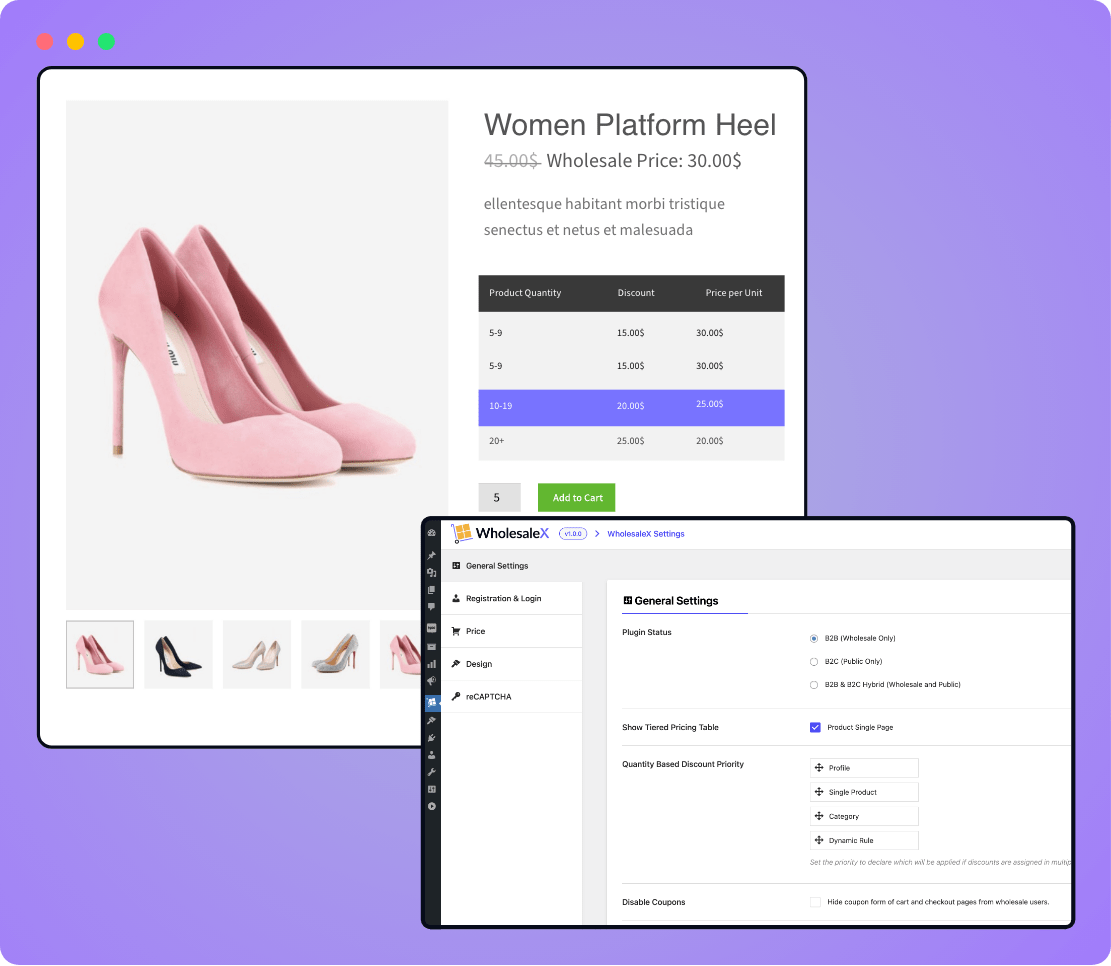 Dynamic Rules
The dynamic rule system allows to set pricing and discounts dynamically for specific or multiple users and products.
User Roles
You can create multiple user roles and offer different facilities for different user roles.
Registration Form
Build a custom registration form and then create a registration page via shortcode.
Tiered Pricing
Set quantity-based tiered pricing dynamically or at the product level for specific or multiple users.
Wallet Management
Let the wholesale customers add funds to the store wallet and use it for purchasing goods from your site.
Conversation
Let your customer communicate with you regarding any query or negotiation using the built-in messaging option.
Advanced and Essential Features that You Can't Leave Without
B2B and B2C Hybrid
Multimode Selection of B2B, B2C, and B2B+C Hybrid
Manage Store Together or Separately
Show Tiered Pricing Table
Display Multimode Discount Together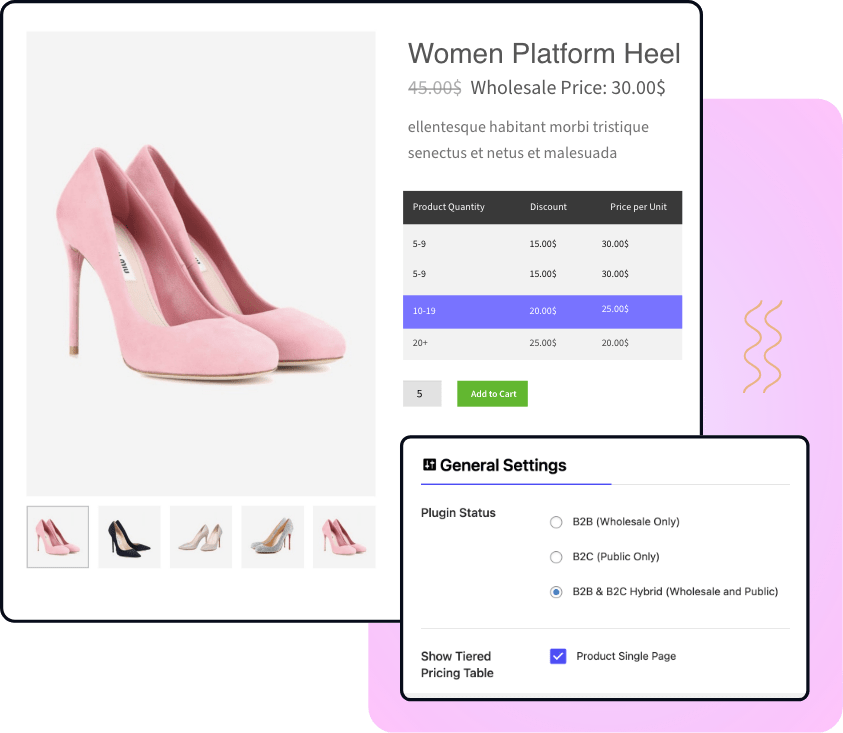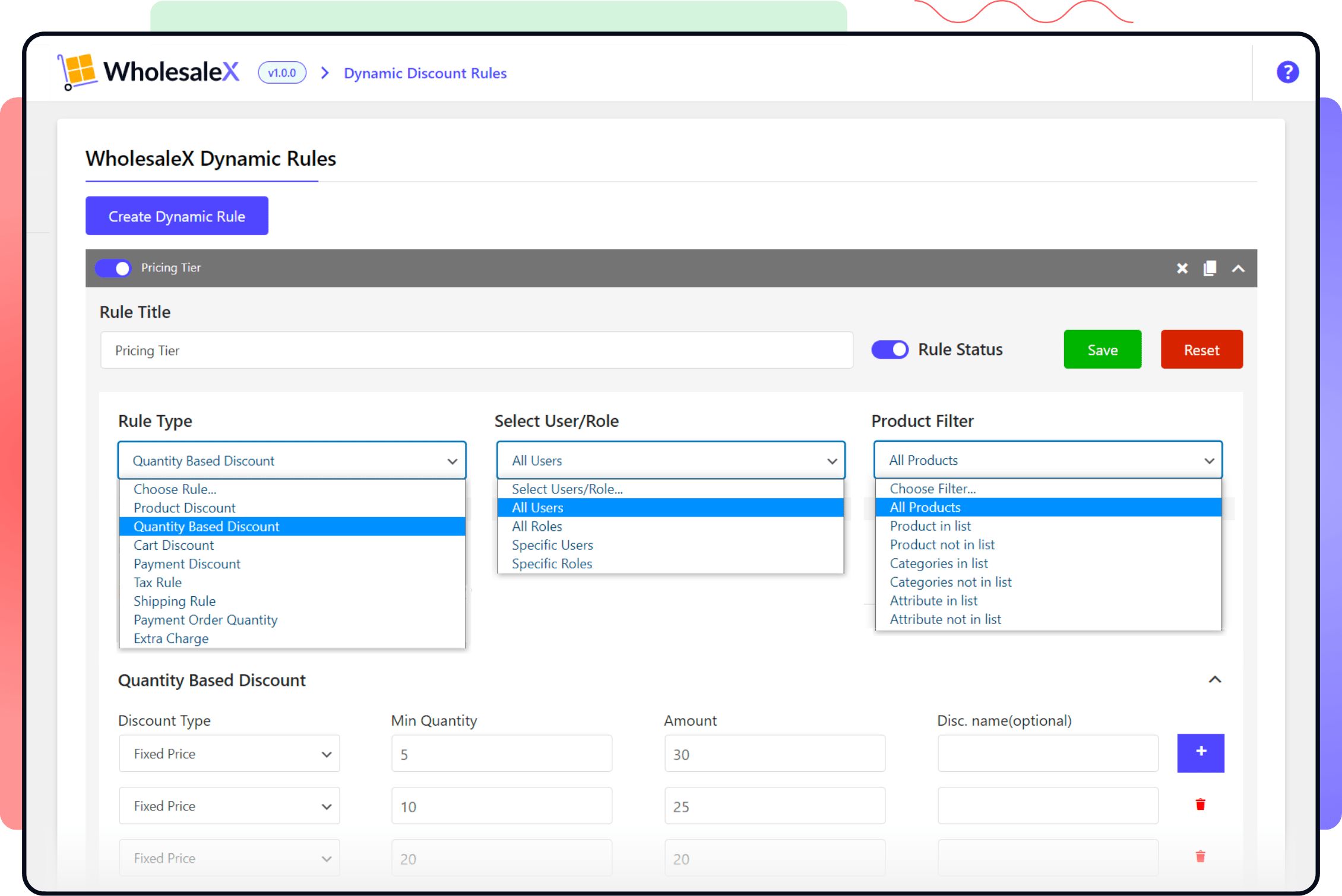 Dynamic Discount Rules
Multiple Customizable Discount Options
Assign Wholesale Pricing Globally
Set Different Prices for Each product
Hide Products From Specific/Multiple Users
Tax Exemption Option for Different Countries
Different Shipping Zone Free Delivery Options
Wholesale Pricing
Dynamic Wholesale Pricing for All Products
Multiple Options to Add Discounted Price
Set Category or Attribute-Based Pricing
Add Prices to Specific Products
Differentiate Prices Based on Users
Show Prices With or Without Taxes for Payment Based Option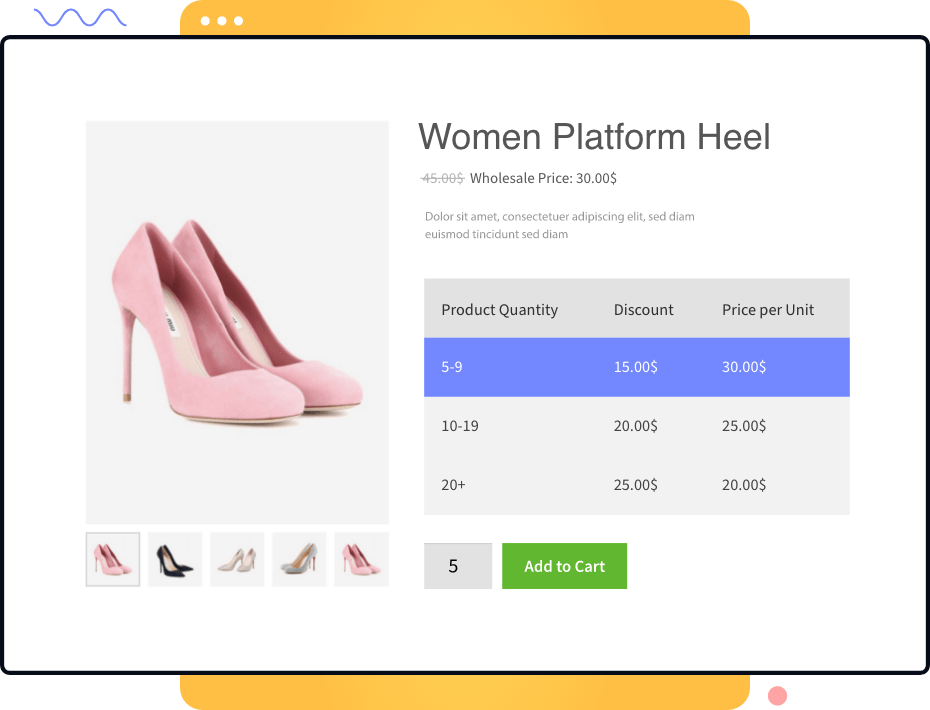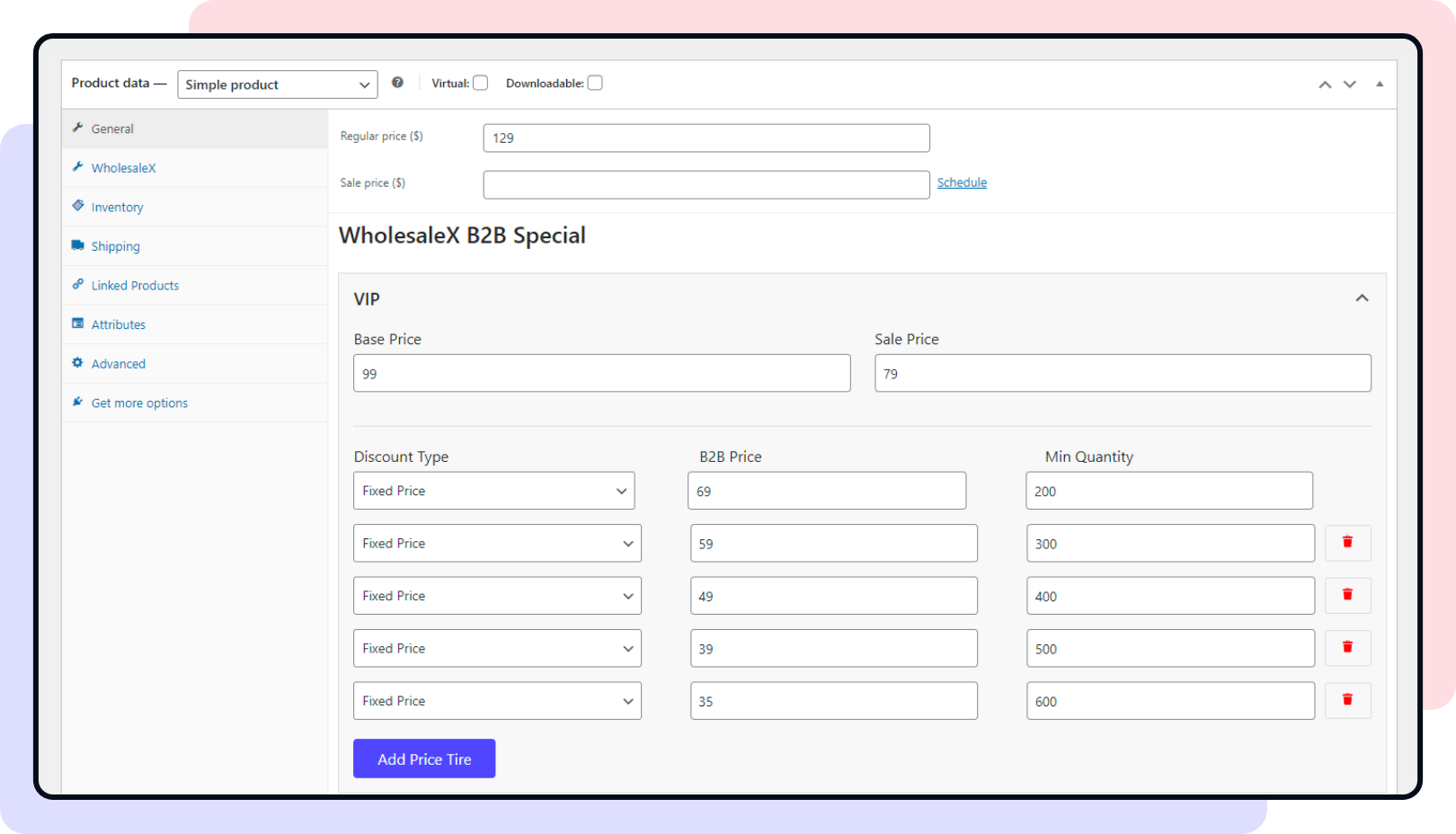 Tiered Pricing
Create Tiered Pricing Globally or at the Product Label
Select Desired Premade Layout for Tiered Pricing
Marge Multiple Tiered Pricing on the Product Page
Show/Hide Price Range From Product Listing Page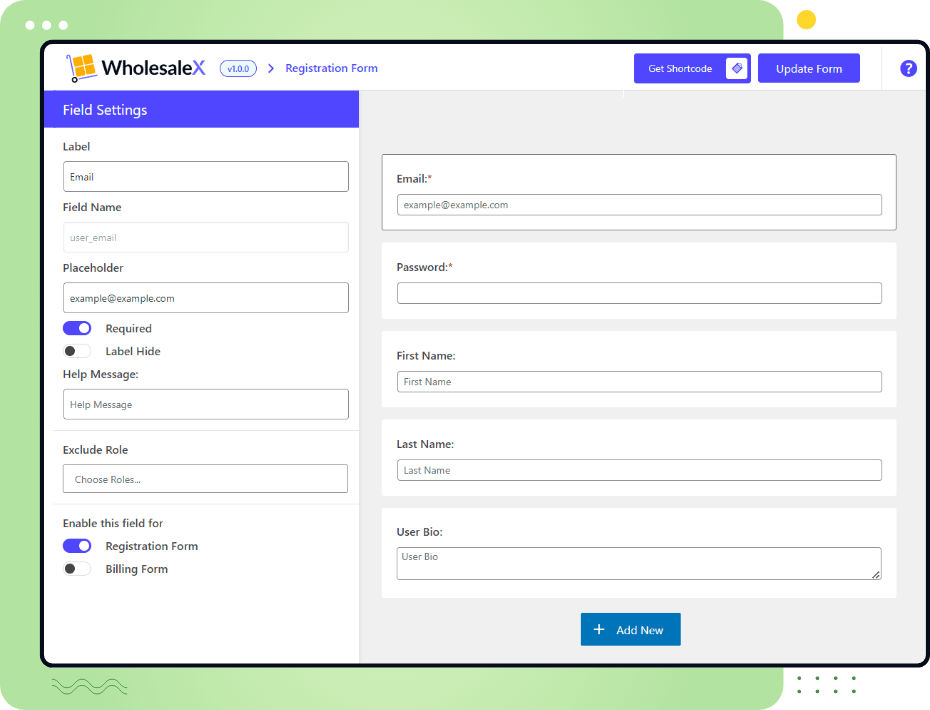 Registration Form Builder
Create B2C & B2B Forms for Registration
Hide Field for Specific Users Roles
Set Desired Fields as Mandatory
Create a Separate Registration Page
User Profile
Create Custom User Profile via Registration
Manage User Profile Separately
Set Different Roles for Each User
Adjust Custom User Based Discount
Add Wallet Funds for Specific Users
Tax Management Option for Each User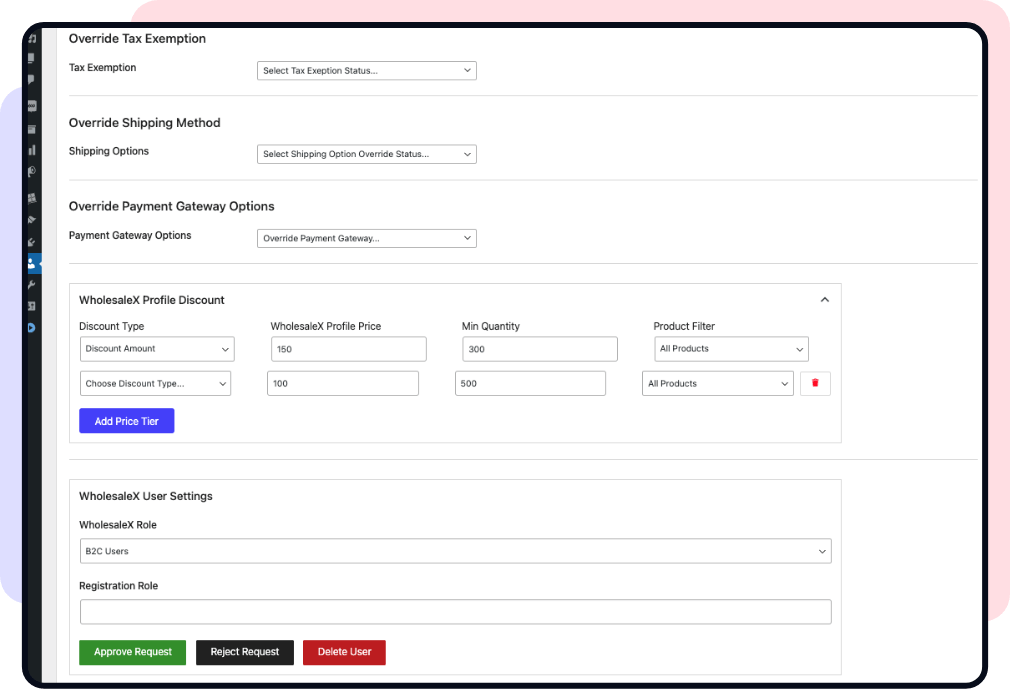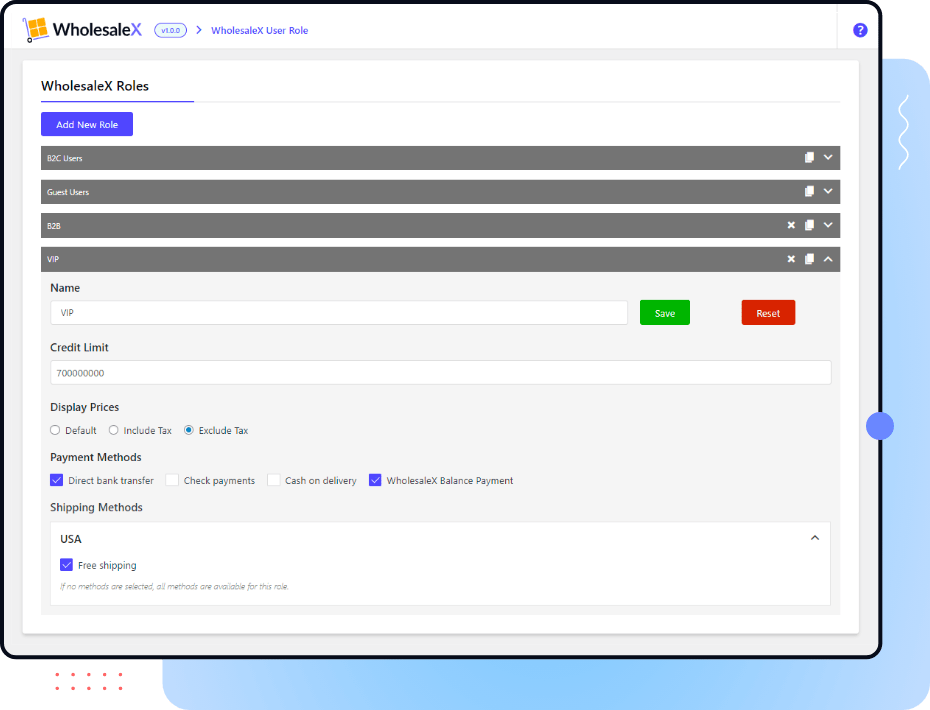 User Roles
Create Unlimited User Roles
Display Prices With or Without Taxes to Specific Users
Add Wallet Credit Limit for Specific Users or Groups
Assign Specific Payments Methods Based on User Roles
Set Specific Shipping Methods Based on User Roles
Upgrade Your Ordinary Store to a B2B Wholesale Store
WholesaleX helps you to create & manage B2B or B2B+B2C stores. Get started today to grow your business and unlock limitless earning opportunities.
Get WholesaleX Now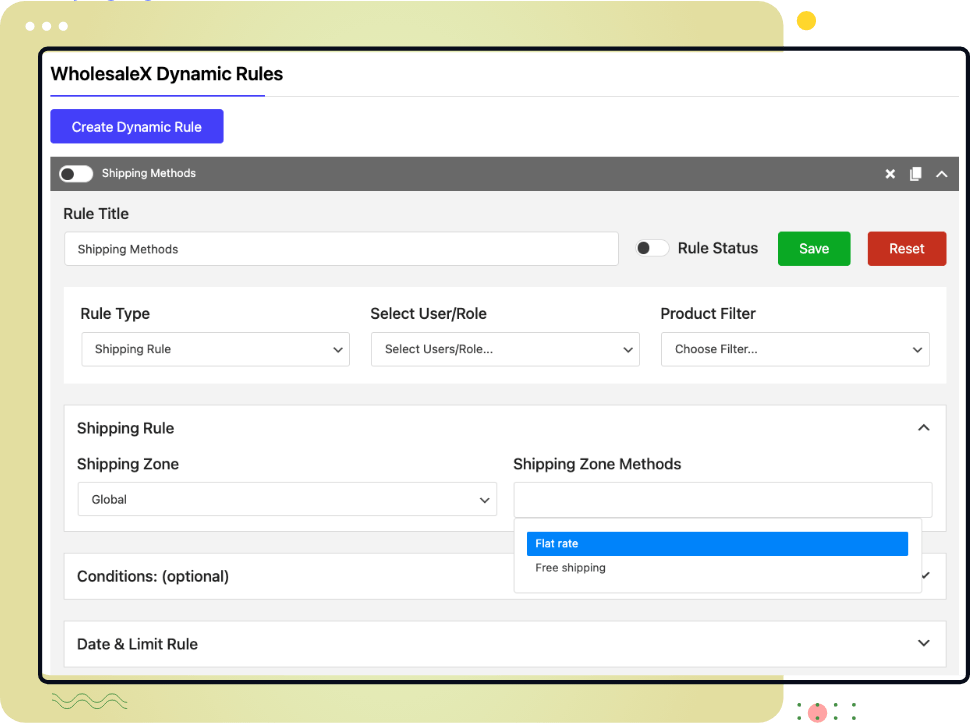 Shipping Methods
Show/Hide Shipping Methods Based on User Roles
Show/Hide Shipping Methods Based on Products
Offer Special Discounts Based on Shipping Methods
Offer Free Shipping for Specific Users or Groups
Tax Exemption
Tax Exemption Based on User Roles
Tax Exemption Based on Products
Exempt Tax Based on Cart Quantity, Value, or Wight
Exempt Tax Only for a Limited Time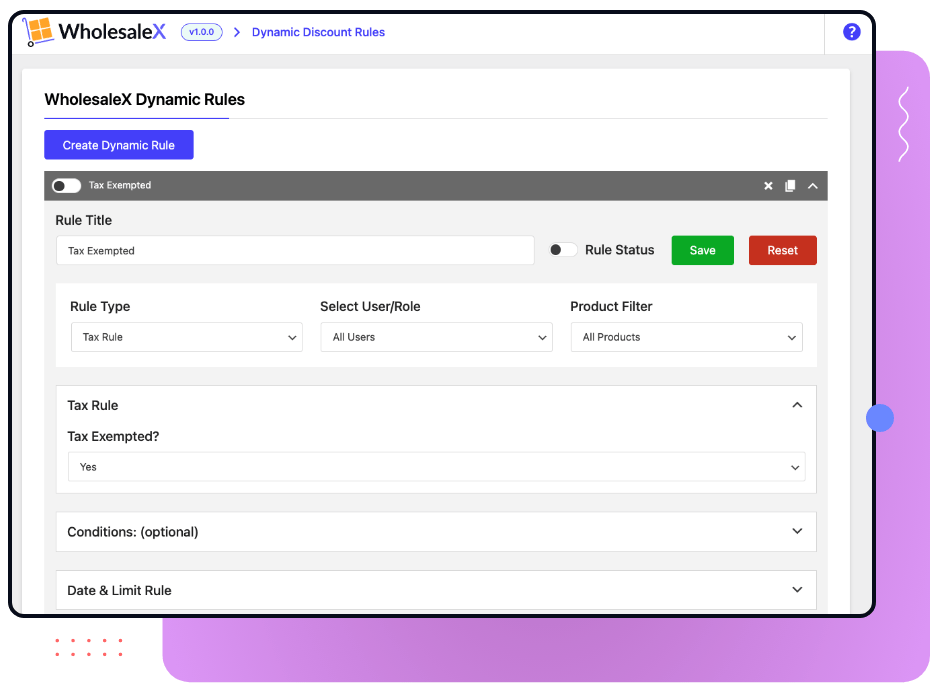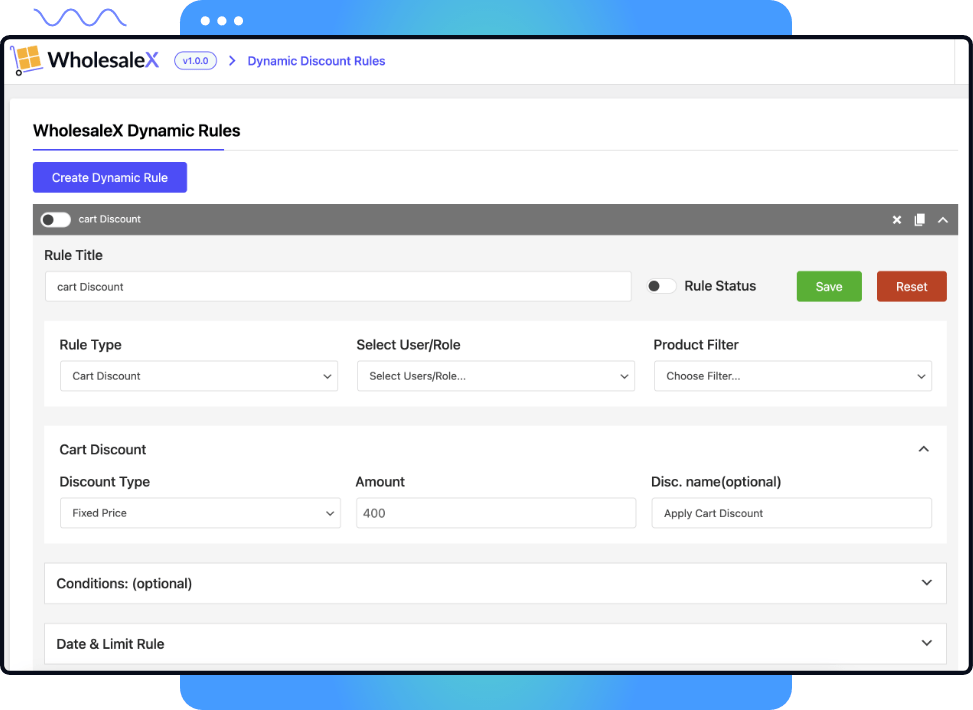 Cart Discount
User Role Based Discount
Cart Quantity / Value / Weight Based Discount Conditions
Different Types of Discount Option
Product Based Discount
Wallet Management
Add WholesaleX Wallet Option on WooCommerce My Account Page
Users can Add Wallet Funds and use them for future Payments
Manually Add Wallet Funds from Admin Panel
Change "Wallet Balance" and "Add Funds" Texts for Non-native Stores.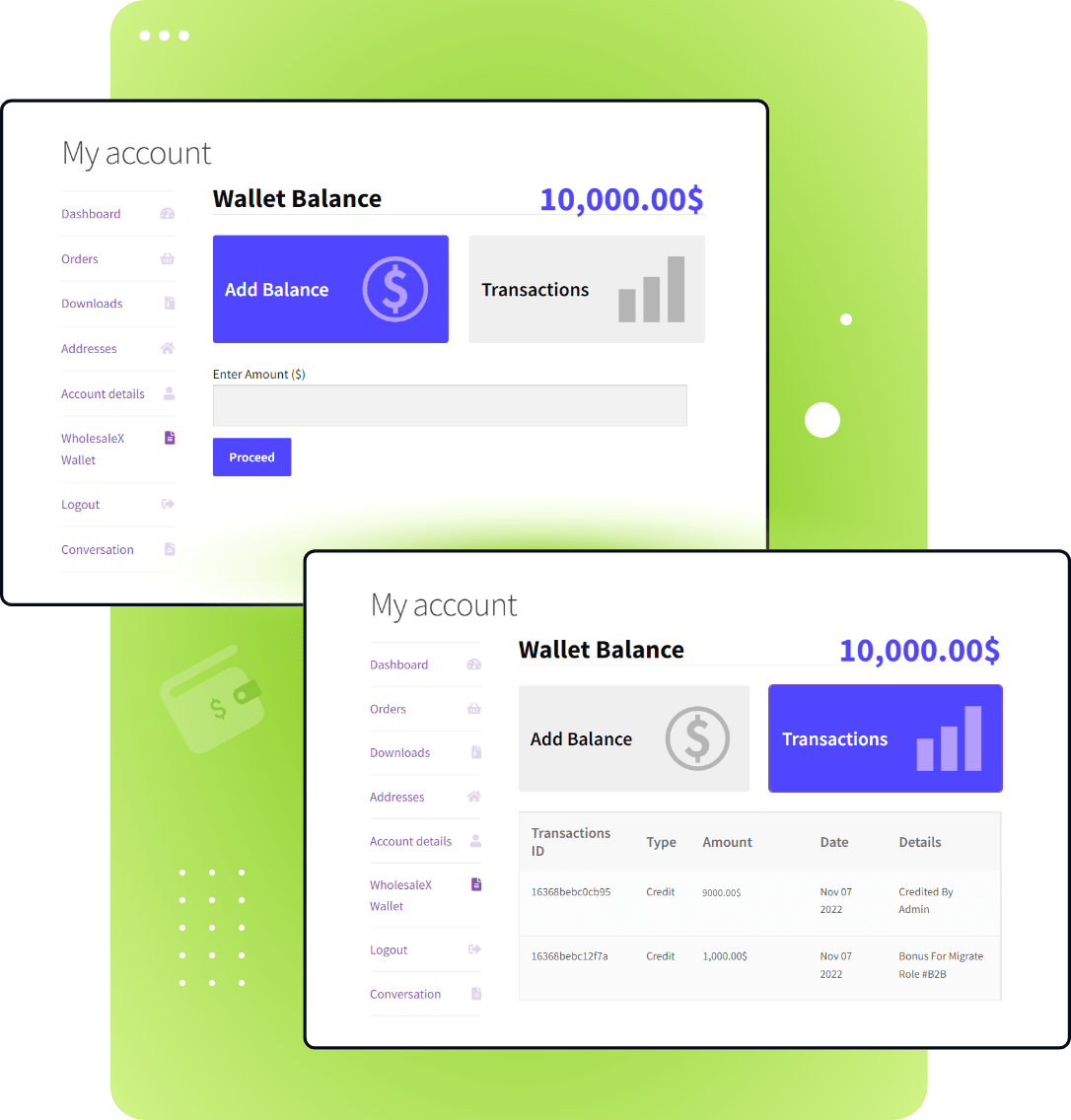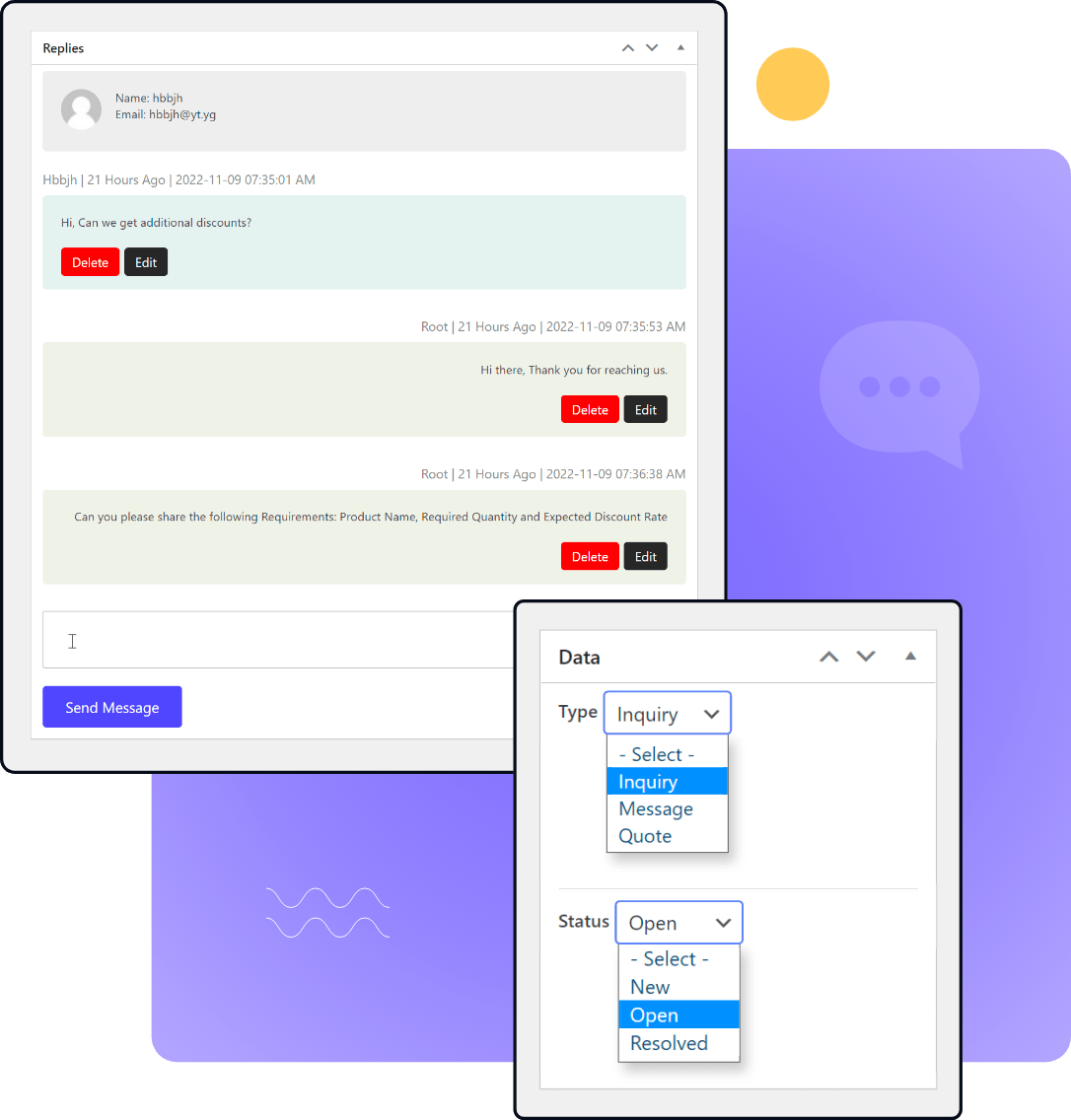 Conversation
Add Conversation Option on WooCommerce My Account Page
Easy Communication With Your Customers
Get Quote Requests from Potential Buyers
3 Different Conversation Modes: Inquiry, Message, Quote
Category Tier and Visibility
Create Custom Category Tiers
Custom Discount Management for Each Tier
Product Visibility for Specific Users
Add Prices to Specific Products
Separate Discount Visibility for Specific Users
Show/Hide Tier/User Role Visibility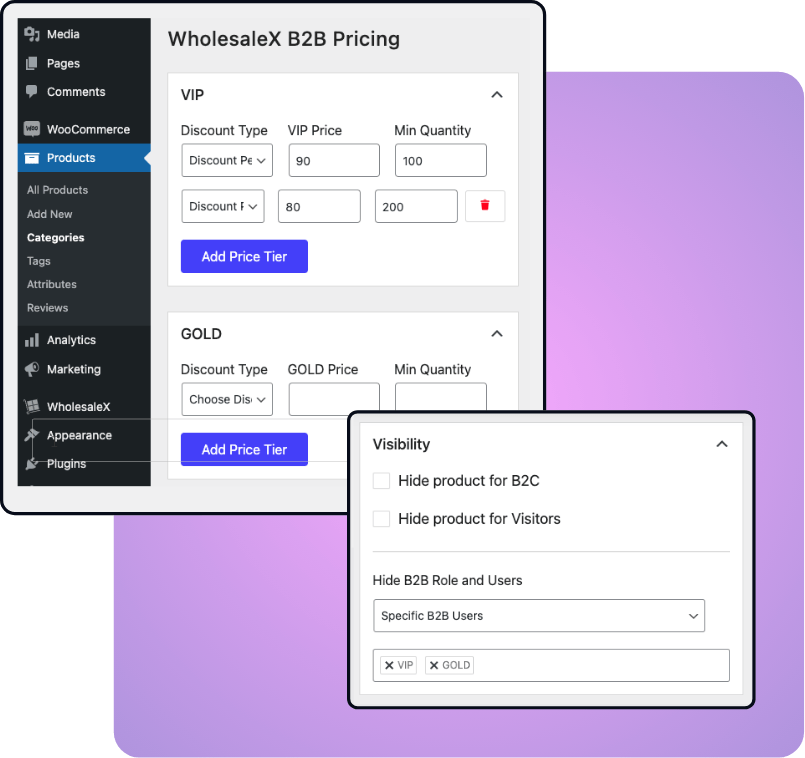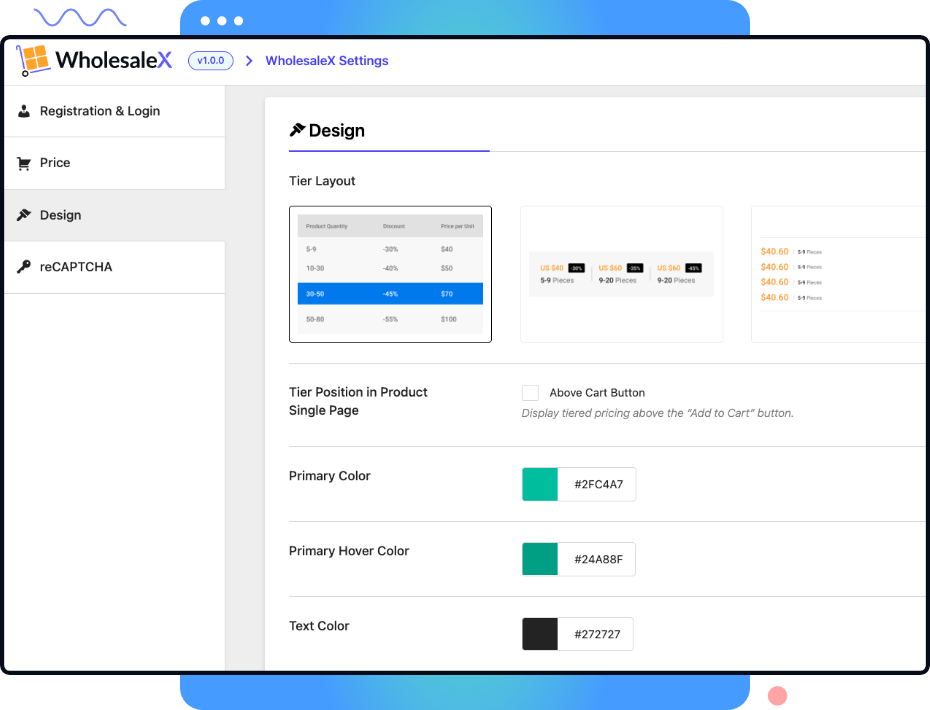 Design and Styling
Adjust Tier Positioning
Color Selection Tool for Various Sections and Active Tiers
Multiple Premade Tier Layouts
Email Template
Custom Email Template Configuration
Easy Activation/Deactivation Method for Each Template
Smart Tag for Easier Email Configuration