Displaying grid layout is an effective way to project the contents on a website. To do so you need to know coding in most cases. But if you are not a programmer, you need to seek some other ways to arrange your content. Using plugins is the easiest way to arrange the contents. If your purpose is to display grid layout while you are trying to arrange the contents, our Post Grid post blocks are the best tool to do so.
When you are starting a website the arrangements of the contents are as important as the content itself. Our PostX – Gutenberg Post Blocks has got that covered for you. Our plugin will offer you versatile ways to arrange your content attractively.
Grid blocks will allow you to equally distribute the contents of a list within the grid. For example, when you intend to place the images or paragraphs of your post in a style that they will be placed in a parallel way and the gap between them will be even, you will need a Grid Block to do so.
What is Post Grid?
In simple words, Post Grid is one of the post blocks that helps you to arrange the posts on your website in a particular format. To elaborate more, Post Grid is a post block that has been built for displaying posts and pages in a grid layout. With this post block, you will be able to display your posts in a parallel manner. If you do not know anything about coding it will be impossible for you to arrange the contents on your website in the way you desire. But with a post grid, you can effortlessly arrange the posts in various ways.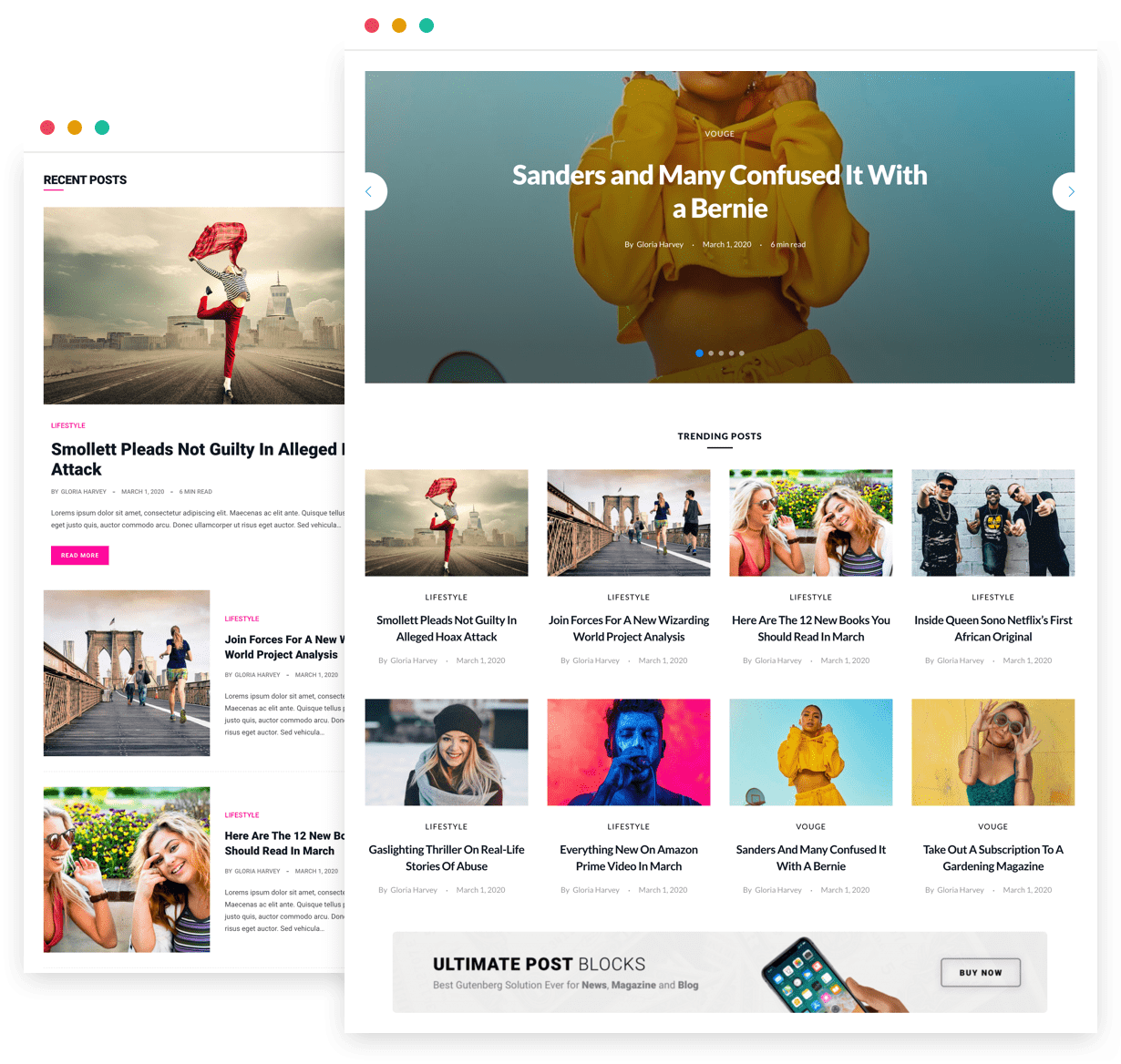 What is the difference between Post Grid and Post List?
Post Grid and Post Lists are two different post blocks in WordPress. Both of them are similar in their function. The only difference lies in their manner of function.
Post Grid and Post List both arrange your content. Here both of them do almost the same thing but in two different ways. It has been already stated that Post Grid arranges the posts in a parallel manner. On the other hand, Post List arranges the contents of a post linearly.
Why do you need Post Grid?
Most of the plugins will allow you to display your posts vertically. But it gets a bit monotonous to see the same pattern again and again. To make your website more visually versatile you need to try out different arrangements.
Our PostX – Gutenberg Post Blocks has so many variations in its post blocks that you will find it difficult to go out of options. To display grid layout you can use Post Grid blocks. It is one way of arranging the contents. Within this Post Grid post block, you will find many more variations to place your posts on your website.
Another practical reason to go for our "Post Grid" post block is, it saves space. It will offer you a way in which you can display maximum contents using minimum space. A grid layout will effectively use your space. It will allow you to project many images and paragraphs using a small space.
Displaying grid layout is more visually attractive than any other patterns for the business sites and magazines. Wouldn't you like it better if you can project as many images as you can by utilizing a very small space? This is why most of the bloggers find it beneficial to display their posts using the Grid Block.
How to Display Grid Layout?
If you are interested in displaying the contents of your website in a grid layout you need to use the Post Grid block with our plugins.
Now let's talk about the functions of the Post Grid post block and how to use it to display grid layout
The very first step is to go to the Gutenberg editor. After that, you need to go and look for the block that you desire to work with. In this case, it is the Post Grid.
The post Grid block will offer you numerous variations at many different levels. The first variation is the seven different styles. Besides, there are many more layouts including the seven prominent Post Gird blocks.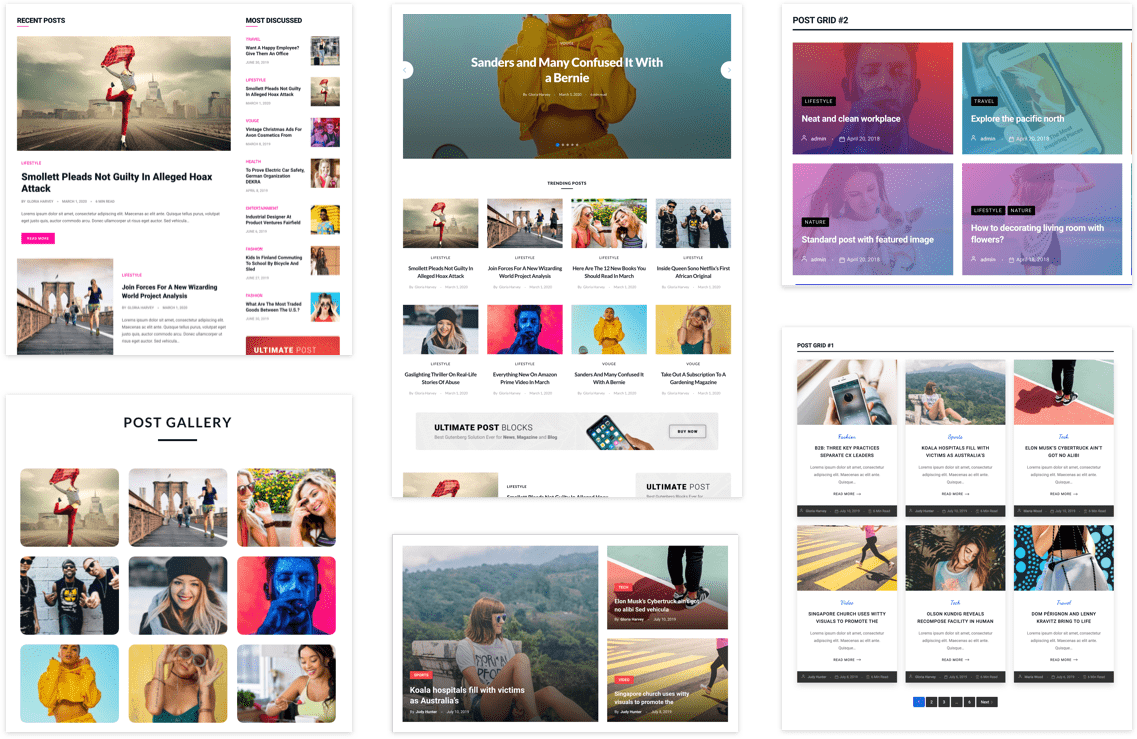 How to Use The Post Grid Post Blocks?
After selecting a block among the seven Post Grid blocks, you need to go to the "design" section. With all of these Post Grid blocks, you can display grid layout in different styles. For example, Post Grid#1 will offer the classic style of grid layout. On the other hand, Post Grid#2 has gradient images in overlay style. To check how a particular style would look on the live page, you need to click on "see demo".
There are seven major variations of this post block. For example, Post Grid#1, Post Grid#2, Post Grid#3, Post Grid#4, Post Grid#5, Post Grid#6, and Post Grid#7. Each of them has several layouts of various designs to display a grid layout. In the "design" section you can only see the icons of the layouts providing you an idea about the designs these layouts have. By clicking on an icon you can instantly add a particular layout to your website.
A Few Words on The Ready-made Block Design
Just beneath the layouts, you will see some ready-made designs. The layouts are in fact for these ready-made block designs. In simple words, you can choose different layouts for the ready-made designs.
One thing should be mentioned here, there are two ways to get access to the ready-made block designs. Either you can find them by accessing the post blocks or you can go to the "block library" and find the ready-made block designs of the Post Grid blocks. After going to the block library you need to choose the style and click on "Import" to add that design.
The free version of our plugin will offer you a handful of ready-made block designs. But the premium version has many. You will get 80+ ready-made block designs altogether in the premium version.
How to Use The "Setting" Section in Displaying Grid Layout?
The ready-made block designs and their layout are supposed to be enough to display your content in a grid layout. But if you want further customization you should use the tweak with the settings.
First, let's talk about the "general" section. This one is important because you will get a general overview here of the whole settings. It will provide you a summary of all the features available in the "setting" section. Also, most of the widgets have been displayed here.
1. General Settings
In this "general" section first, you can customize the column number in the grid layout. It simply means you can choose according to your needs in how many columns you would like to split the paragraphs and images. There is a place here that says "columns". By setting the number of columns from there you can change it.
You can even set the gap between the columns by changing it according to your convenience.
2. Heading & Title Settings
In a grid layout whether to show the heading and title or not is up to you. By turning off the widgets that say "heading" and "title" you can make them disappear. For further customization of the heading and the title, there are two separate sections named "heading" and "title" below among the other sections. If you want to bring more changes then you need to head there.
3. Excerpt Settings
There is one feature beneath the "title" there that says "excerpt". You need to know what this widget is for. It shows the summary of the content. By turning it on you can show the summary in a small paragraph below the image. If you want to customize the images more you need to check out the separated "image" section below.
4. Category Settings
Your content might have several categories for example health, sports, food, fashion, and so on. If you add a category to your content it will be easier for the visitors to find out the content they want to give a shot. By turning on the "category" widget you can specify the contents on your website. Many customizable settings await you here.
5. Meta Settings
Just beneath the category, you can see the "meta" section. You may wonder what meta is. A meta tag shows the publication date of content, the name of the writer of the content, and other small information like that. On your website, if you want to show it or not is completely your choice. If you want to show it you can turn on the widget saying "meta".
6. Image Settings
There is a widget here that says "image". The function of this widget is very simple. If you keep it on it will show the images on your website. Along with this, you can experiment with the settings to display your image in different ways.
7. Read More Settings
Generally, the highlights of the contents are shown beneath the heading of the content. If the visitors like it, they feel the desire to go on and read more. To do so they need an option that will show them how to read further. If you turn on the "read more" widget, visitors to your website will easily find out where to click if they want to do so.
8. Filter Settings
The filter is a very significant widget. To find out what its function is, you need to turn on this widget first from this "general" section. When it is on, you will be able to see a separate section beneath "content" that says "filter". The filter regulates the content of your post grid to make it easier for your visitors to find what they are looking for. To use the filter you simply need to choose the filter type and add one or more entries to the "filter value" section, you can specify your content in different categories, like entertainment, fashion, fitness, and so on. You can also use tags, post format, and subject to filter your post grid.
9. Pagination Settings
Last but not least is the widget "pagination". It is a must for your visitors to feel comfortable going back and forth while they are reading or watching the contents on your website. To change the pagination settings you need to turn it on from the settings section. You can change the look and feel of the pagination system to the highest degree.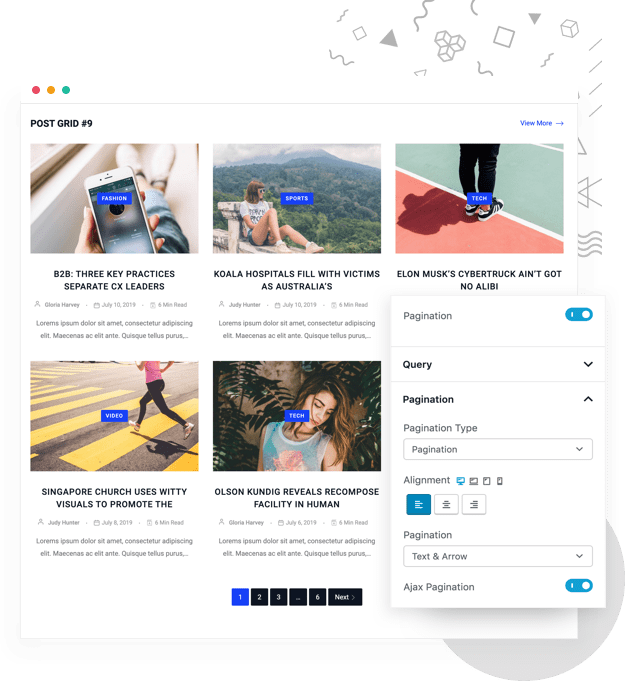 10. Alignment Settings
There are three different ways of alignment at the end of the "general" section. You can choose either according to your convenience.
Another important section besides the general section is the "query" section. You will find this one just beneath the general section. Two important settings of this section are "taxonomy" and "taxonomy value". Taxonomy includes tag, category, post format, and subject. By changing the taxonomy value you can make your posts more specific.
Conclusion
To make a website more organized a grid layout is one of the best options. Our plugin is here to help you do so in every possible way. The objective of this article is to make it easy for you by giving detailed instructions on the whole procedure of displaying grid layout. If you want to make the contents on your website visually more appealing as well you effective you can certainly try out this procedure. Happy blogging!